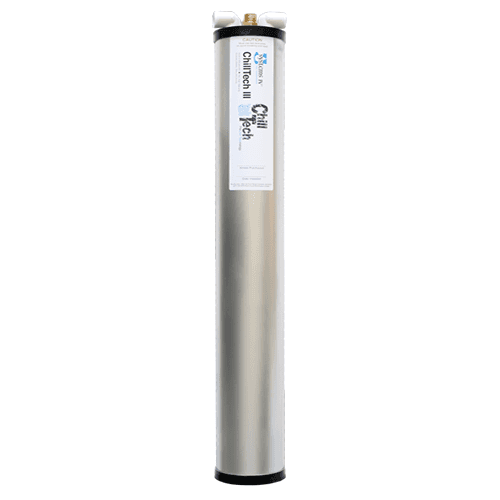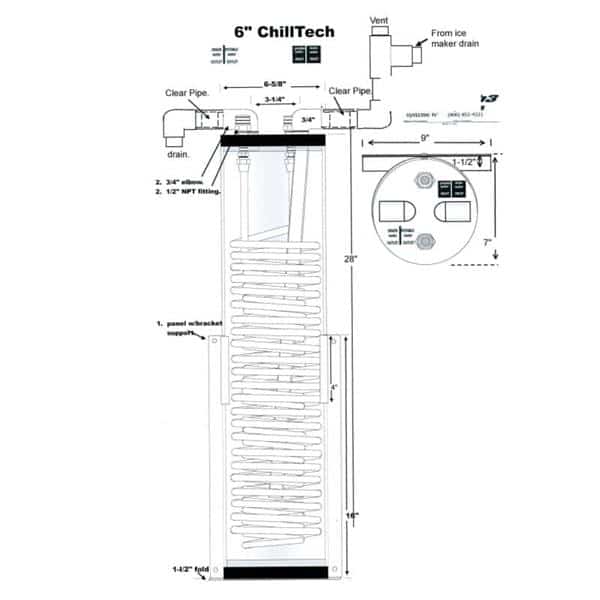 Systems IV
ChillTech III Exclusive Heat Exchanger for Ice Machines
Can reduce energy by 30% and increase ice production 30% while extending the life of your ice maker!
Specifications
Brand
Systems IV
Type
Heat Exchanger
Description
The Systems IV ChillTech III Exclusive Heat Exchanger is an ingenious piece of equipment that allows your commercial ice maker to produce ice beyond its normal capacity. It might seem like magic, but this unit doesn't require any gas, chemicals, or electricity, it doesn't even have any moving parts. It utilizes something you let flow down the drain every day.
The ChillTech III uses the cold wastewater from the Systems IV ice maker to cool the warm potable intake water going to the commercial ice maker. The warm potable water passes through coils inside the unit and exits into the Systems IV ice maker. Cold waste water from the commercial ice maker's drain line enters the unit and cools the coils with the potable water inside and exits the unit into the drain. It's that simple.
With the ChillTech III, you can expect to produce 20% more ice with 20% less power. With the use of this device a cuber unit can be expected to make up to 2,400 lbs/day and for Hoshizaki models around 2,000 to 2,400 lbs/day with a Hoshizaki model. And it will have the side effect of lowering the temperature around the vicinity of your Systems IV ice maker since less heat needs to be removed to make ice (temperatures around self-contained air-cooled commercial ice makers will be the most affected).
The ChillTech III has a diameter of 4-¾ inches and is 37-½ inches long. Installing this device is simple and the mounting bracket and 2 pieces of clear tubing are included so you can install it right away. Potable water enters the device via a ½" pipe with male threads and potable water leaves the device and into the commercial ice maker through a ½" NPT fitting. Wastewater expelled by the commercial ice machine goes into the device through a ¾" slip and exits through another ¾" slip.
This unit is rated to handle a maximum water pressure of 125 PSI and the maximum intake water temperature is 100F° with a 5.5 GPM flow rate.
The Systems IV Systems IV ChillTech III Exclusive Systems IV Heat Exchanger has a two-year warranty for defects in material and workmanship.
Customer Reviews
recommend
this product
1 of 1 review
If you've used this product, share your summary, photo and video of it. Earn up to $16.00 per product.
Write a text review — earn $0.02, post a product photo — earn $0.04, post a product video — earn $0.10
Write your own review and get paid
glad i bought this. definitely worth the money. great investment
Recommended Product
Questions and Answers