Waring Coffee Airpots
Enhance Your Establishment's Coffee Service with Waring Coffee Airpots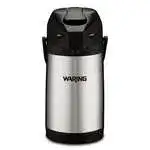 View Product
Superior Brand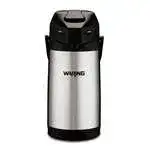 View Product
Superior Brand
Sorry. No products found.
Waring Coffee Airpots Filters
Filters
Waring Coffee Airpots are an excellent addition to any commercial kitchen or foodservice establishment. These high-quality airpots are designed to keep your coffee hot and fresh for hours, ensuring that your customers or guests always have a delicious cup of coffee available. These airpots are made with durable stainless steel and feature a vacuum insulation that maintains the temperature of your coffee for hours. They also have a convenient push-button dispenser that makes serving coffee easy and mess-free. The sturdy handle and non-slip base make it easy to transport and keep the airpot in place, respectively. Available in a variety of sizes, Waring Coffee Airpots are perfect for any size of operation, from small cafes to large banquet halls. They are also easy to clean, making them a convenient choice for busy kitchens. The sleek and professional design of Waring Coffee Airpots adds a touch of elegance to any serving area, making them a great choice for hotels, restaurants, and other foodservice establishments. Whether you're serving hot coffee, tea, or other hot beverages, Waring Coffee Airpots are the perfect choice to keep your beverages hot and fresh. Invest in a Waring Coffee Airpot and elevate your coffee service to the next level!