Sink Accessories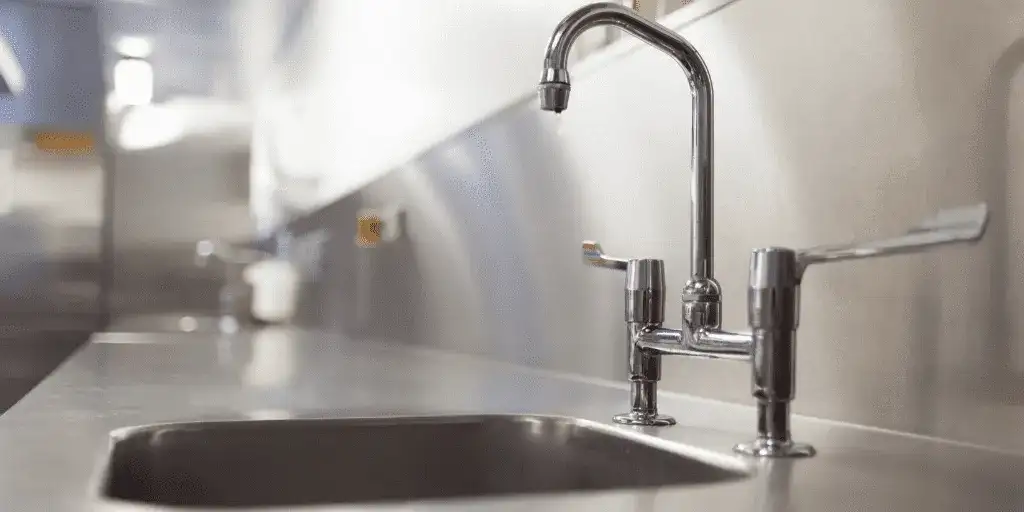 Your commercial sink is likely to be a focal point to your restaurant's kitchen. While choosing the right sink is an entirely different conversation unto itself, choosing the right accessories can improve workplace efficiency, increase worker safety, and make for a more comfortable working environment in general. Before you delve into which accessories may be right for you, be sure to check your sink specifications and manual so that you have a better understanding of the manufacturer, model, and unit abilities. These can be limiting to what you're able to add to your sink. Once you've got that information in-hand, then it's time to take a look at some of the accessories available for commercial sinks!
Faucets
There are a variety of different styles of faucets available on the market today, and many will opt for several different versions to accommodate different sinks and their primary purposes. Here are just a few faucet styles to consider:
Traditional: These are good for smaller sinks, as there's no frill and they generally come with the sink itself.

Pre-Rinse Faucet Hose: Stretching up and over the sink, these hose-style faucets use a hand lever for intense showers of water to spray large bits of food from items before they're moved down the washing line.

Hands-Free: These are typically reserved for hand washing stations and bathrooms, as they help to improve sanitation and reduce the spread of bacteria via hands.

Wok Filler Faucets: With a long horizontal extension that spans over a large wok, these are ideal for Asian restaurants.

Nozzle with Soap Tray: Back at the handwashing station, you can invest in a nozzle equipped with a soap tray on top for quick and easy access to soap.

Pot Fillers: These are designed to stretch up and over the rim of large pots, making it easy to fill pots without having to put them in the cavity of the sink itself.
Drain
Your drain can be as simple as an outlet for water to drain away from the sink, or it can be equipped with any number of filters and disposals to make for cleaner water outflow. Here are a few additions to consider:
Garbage Disposer: This addition is meant to help chop up food debris that may make its way into the plumbing below your sink, helping to reduce clogs in the long run.

Lever/Twist Waste Valve: Similar to a garbage disposer, think of these like a manual food shredder for your plumbing.
Additionally, consider having rubber drain covers or stainless steel mesh covers to help filter or direct food and water particles down the drain or into sifters.
Other Items
While your faucet and drain are integral to your sink, there are some other accessories you may consider adding to your commercial sink:
Pedal Sink Valves

Pre-Rinse Basket

Detachable Drain Boards
DAMON SHRAUNER
Sales Consultant
E Friedman Associates Inc
T: 516-882-1955
D: 712-389-6805
F: 605-782-9015
damon@ckitchen.com