The Ultimate Scotsman Ice Machine Buying Guide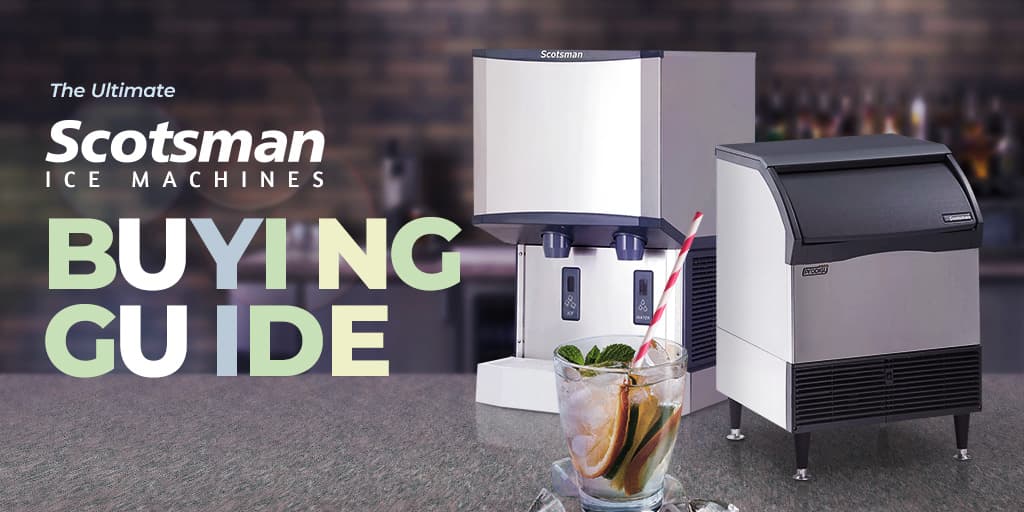 Scotsman is one of the world's leading manufacturers of commercial ice machines on the market. The pioneer of the original chewable ice in 1981, the company has developed an impressive portfolio of powerful commercial ice makers to serve a wide range of applications and demands. If you are looking for a new Scotsman commercial ice machine for your business, use this guide to find the right product for you.
Start by choosing your ice type
Scotsman commercial ice machines can produce small and medium ice cubes, nugget, flake, and gourmet ice. Click on an ice type below and we'll take you through all the available commercial ice machines sizes for that ice type.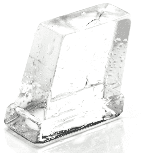 Small Cube Size: 7/8" x 7/8" x 3/8"

Medium Cube Size: 7/8" x 7/8" x 7/8"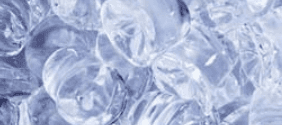 Gourmet Size: 1" x 1 1/8" x 1 1/4"
MEDIUM CUBE ICE MAKERS
Undercounter Medium Cube Ice Makers

CU0415

Dimensions: 15"W x 24"D x 38"H

Storage Bin Capacity: 36 lbs.

AIR-COOLED
Model
Ice Type
Max Production
Electric
CU0415MA-1
Medium Cube
58 lbs. 24/HR
115/60/1
CU0415MA-6
Medium Cube
58 lbs. 24/HR
220-240/50/1

CU0515

Dimensions:

15.19"W x 23.63"D x 28.88"H

Storage Bin Capacity: 24 lbs.

AIR-COOLED
Model
Ice Type
Max Production
Electric
CU0515GA-1
Medium Cube
84 lbs. 24/HR
115/60/1

CU0715

Dimensions: 15"W x 24"D X 38"H

Storage Bin Capacity: 36 lbs.

AIR-COOLED
Model
Ice Type
Max Production
Electric
CU0715MA-1
Medium Cube
80 lbs. 24/HR
115/60/1
CUR0715MA-6
Medium Cube
80 lbs. 24/HR
230/50/1

CU0920

Dimensions: 20"W x 24"D x 38"H

Storage Bin Capacity: 57 lbs.

AIR-COOLED
Model
Ice Type
Max Production
Electric
CU0920MA-1
Medium Cube
100 lbs. 24/HR
115/60/1
CUR0920MA-6
Medium Cube
100 lbs. 24/HR

230/50/1

CU1526/CU2026

Dimensions: 26"W x 27 3/8"D x 33"H

Storage Bin Capacity: 80 lbs

AIR-COOLED
Model
Ice Type
Max Production
Electric
CU1526MA-1

(Energy Star)

Medium Cube
150 lbs. 24/HR
115/60/1
CU2026MA-6
Medium Cube
198 lbs. 24/HR
230/50/1
CU2026MA-1

(Energy Star)

Medium Cube
218 lbs. 24/HR
115/60/1
WATER-COOLED
Model
Ice Type
Max Production
Electric
CU1526MW-1
Medium Cube
184 lbs. 24/HR
115/60/1

CU3030

Dimensions: 30"W x 30"D x 33"H

Storage Bin Capacity: 110 lbs

AIR-COOLED
Model
Ice Type
Max Production
Electric
CU3030MA-6
Medium Cube
287 lbs. 24/HR
230/50/1
CU3030MA-1

(Energy Star)

Medium Cube
313 lbs. 24/HR
115/60/1
CU3030MA-32

(Energy Star)

Medium Cube
313 lbs. 24/HR
208-230/60/1
Modular Medium Cube Ice Makers

C0322AC

Dimensions: 22"W x 24"D x 23"H

Recommended Bin/s: B322S

AIR-COOLED
Model
Ice Type
Max Production
Electric
C0322MA-6
Medium Cube
356 lbs. 24/HR
230/50/1
C0322MA-1

(Energy Star)

Medium Cube
356 lbs. 24/HR
115/60/1
C0322MA-32

(Energy Star)

Medium Cube
356 lbs. 24/HR
208-230/60/1

C0322WC

Dimensions: 22"W x 24"D x 23"H

Recommended Bin/s: B322S

WATER-COOLED
Model
Ice Type
Max Production
Electrical
Medium Cube
366 lbs. 24/HR
115/60/1

C0330AC

Dimensions: 30"W x 24"D x 23"H

AIR-COOLED
Model
Ice Type
Max Production
Electric
C0330MA-1

(Energy Star)

Medium Cube
400 lbs. 24/HR
115/60/1
C0330MA-32

(Energy Star)

Medium Cube
400 lbs. 24/HR
208-230/60/1

C0330WC

Dimensions: 30"W x 24"D x 23"H

WATER-COOLED
Model
Ice Type
Max Production
Electric
C0330MW-1
Medium Cube
420 lbs. 24/HR
115/60/1

C0522AC

Dimensions: 22"W x 24"D x 23"H

Recommended Bin/s: B322S

AIR-COOLED
Model
Ice Type
Max Production
Electric
C0522MA-6
Medium Cube
471 lbs. 24/HR
230/50/1
C0522MA-1
Medium Cube
475 lbs. 24/HR
115/60/1
C0522MA-32
Medium Cube
475 lbs. 24/HR
208-230/60/1

C0522WC

Dimensions: 22"W x 24"D x 23"H

WATER-COOLED
Model
Ice Type
Max Production
Electric
C0522MW-1
Medium Cube
480 lbs. 24/HR
115/60/1

C0530AC

Dimensions: 30"W x 24"D x 23"H

Recommended Bin/s:

AIR-COOLED
Model
Ice Type
Max Production
Electric
C0530MA-6
Medium Cube
477 lbs. 24/HR
230/50/1
C0530MA-1

(Energy Star)

Medium Cube
525 lbs. 24/HR
115/60/1
C0530MA-32

(Energy Star)

Medium Cube
525 lbs. 24/HR
208-230/60/1

C0530WCRC

Dimensions: 30"W x 24"D x 23"H

Recommended Bin/s:

WATER-COOLED
Model
Ice Type
Max Production
Electric
C0530MW-1
Medium Cube
500 lbs. 24/HR
115/60/1

REMOTE-COOLED

(Requires ERC111-1 Condenser)

Model
Ice Type
Max Production
Electric
C0530MR-1
Medium Cube
500 lbs. 24/HR
115/60/1

C0630AC

Dimensions: 30"W x 24"D x 23"H

Recommended Bin/s:

AIR-COOLED
Model
Ice Type
Max Production
Electric
C0630MA-32
Medium Cube
640 lbs. 24/HR
208-230/60/1
C0630MA-6
Medium Cube
660 lbs. 24/HR
230/50/1

C0630WCRC

Dimensions: 30"W x 24"D x 23"H

Recommended Bin/s:

WATER-COOLED
Model
Ice Type
Max Production
Electric
C0630MW-32
Medium Cube
633 lbs. 24/HR
208-230/60/1

REMOTE-COOLED

Model
Ice Type
Max Production
Electric
C0630MR-32

(Energy Star)

Medium Cube
614 lbs. 24/HR
208-230/60/1

C0722

Dimensions: 22"W x 24"D x 29"H

Recommended Bin/s: B842S/B948S

Recommended Dispenser/s: ID150

AIR-COOLED
Model
Ice Type
Max Production
Electric
C0722MA-6
Medium Cube
725 lbs. 24/HR
230/50/1
C0722MA-32
Medium Cube
758 lbs. 24/HR
208-230/60/1

C0830AC

Dimensions: 30"W x 24"D x 29"H

AIR-COOLED
Model
Ice Type
Max Production
Electric
C0830MA-6
Medium Cube
792 lbs. 24/HR
230/50/1
C0830MA-3
Medium Cube
905 lbs. 24/HR
208-230/60/3
C0830MA-32

(Energy Star)

Medium Cube
905 lbs. 24/HR
208-230/60/1

C0830WCRC

Dimensions: 30"W x 24"D x 29"H

Recommended Bin/s:

REMOTE-COOLED

Model
Ice Type
Max Production
Electric
C0830MR-32

(Energy Star)

Medium Cube
870 lbs. 24/HR
208-230/60/1
WATER-COOLED
Model
Ice Type
Max Production
Electric
C0830MW-32
Medium Cube
924 lbs. 24/HR
208-230/60/1

C1030AC

Dimensions: 30"W x 24"D x 29"H

Recommended Bin/s:

AIR-COOLED
Model
Ice Type
Max Production
Electric
C1030MA-6
Medium Cube
915 lbs. 24/HR
230/50/1
C1030MA-32

(Energy Star)

Medium Cube
1,077 lbs. 24/HR
208-230/60/1

C1030WCRC

Dimensions: 30"W x 24"D x 29"H

Recommended Bin/s:

WATER-COOLED
Model
Ice Type
Max Production
Electric
C1030MW-32
Medium Cube
1,029 lbs. 24/HR
208-230/60/1

REMOTE-COOLED

Model
Ice Type
Max Production
Electric
C1030MR-32

(Energy Star)

Medium Cube
996 lbs. 24/HR
208-230/60/1
C1030MR-3
Medium Cube
996 lbs. 24/HR
208-230/60/3

EH330

Dimensions: 30"W x 24"D x 23"H

Recommended Condenser/s:

Recommended Dispenser/s: ID250

REMOTE-COOLED
Model
Ice Type
Max Production
Electric
EH430ML-1

(Energy Star)

Medium Cube

1,425-1,775 lbs. 24/HR

115/60/1

C1448WCRC

Dimensions: 48"W x 24"D x 29"H

Recommended Bin/s:

REMOTE-COOLED

Model
Ice Type
Max Production
Electric
C1448MR-32

(Energy Star)

Medium Cube
1,357 lbs. 24/HR
208-230/60/1
C1448MR-3
Medium Cube
1,357 lbs. 24/HR
208-230/60/3
WATER-COOLED
Model
Ice Type
Max Production
Electric
C1448MW-32
Medium Cube
1,444 lbs. 24/HR
208-230/60/1
C1448MW-3
Medium Cube
1,444 lbs. 24/HR
208-230/60/3

C1448AC

Dimensions: 48"W x 24"D x 29"H

Recommended Bin/s:

AIR-COOLED
Model
Ice Type
Max Production
Electric
C1448MA-6
Medium Cube
1,553 lbs. 24/HR
230/50/1
C1448MA-32

(Energy Star)

Medium Cube
1,553 lbs. 24/HR
208-230/60/1
C1448MA-3
Medium Cube
1,553 lbs. 24/HR
208-230/60/3

C1848WCRC

Dimensions: 48"W x 24"D x 29"H

Recommended Bin/s:

REMOTE-COOLED

Model
Ice Type
Max Production
Electric
C1848MR-32

(Energy Star)

Medium Cube
1,828 lbs. 24/HR
208-230/60/1
C1848MR-3

(Energy Star)

Medium Cube
1,828 lbs. 24/HR
208-230/60/3
WATER-COOLED
Model
Ice Type
Max Production
Electric
C1848MW-32
Medium Cube
1,900 lbs. 24/HR
208-230/60/1

C1848AC

Dimensions: 48"W x 24"D x 29"H

Recommended Bin/s:

AIR-COOLED
Model
Ice Type
Max Production
Electric
C1848MA-6
Medium Cube
1,909 lbs. 24/HR
230/50/1
C1848MA-32
Medium Cube
1,909 lbs. 24/HR
208-230/60/1

C2148

Dimensions: 48"W x 24"D x 29"H

Recommended Bin/s:

REMOTE-COOLED

(Requires PRC241-32 Condenser)

Model
Ice Type
Max Production
Electric
C2148MR-32
Medium Cube
1,965 lbs. 24/HR
208-230/60/1
C2148MR-3
Medium Cube
1,965 lbs. 24/HR
208-230/60/3

C2648

Dimensions: 48"W x 28.5"D x 34"H

Recommended Bin/s:

REMOTE-COOLED

(Requires PRC241-32 Condenser)

Model
Ice Type
Max Production
Electric
C2648MR-3
Medium Cube
2,630 lbs. 24/HR
208-230/60/3
SMALL CUBE ICE MACHINES
Undercounter Small Cube Ice Machines

CU1526 / CU2026

Dimensions: 26"W x 27 3/8"D x 33"H

Storage Bin Capacity: 80 lbs

AIR-COOLED
Model
Ice Type
Max Production
Electric
Small Cube
150 lbs. 24/HR
115/60/1
CU2026SA-6
Small Cube
198 lbs. 24/HR
230/50/1
CU2026SA-1
Small Cube
218 lbs. 24/HR
115/60/1
WATER-COOLED
Model
Ice Type
Max Production
Electric
CU1526SW-1
Small Cube
184 lbs. 24/HR
115/60/1
CU2026SW-1
Small Cube
224 lbs. 24/HR
115/60/1

CU3030

Dimensions: 30"W x 30"D x 33"H

Storage Bin Capacity: 110 lbs.

AIR-COOLED
Model
Ice Type
Max Production
Electric
CU3030SA-6
Small Cube
287 lbs. 24/HR
230/50/1
CU3030SA-1

(Energy Star)

Small Cube
313 lbs. 24/HR
115/60/1
CU3030SA-32
Small Cube
313 lbs. 24/HR
208-230/60/1
WATER-COOLED
Model
Ice Type
Max Production
Electric
CU3030SW-1
Small Cube
347 lbs. 24/HR
115/60/1
Modular Small Cube Ice Machines

C0322AC

Dimensions: 22"W x 24"D x 23"H

Recommended Bin/s: B322S

AIR-COOLED
Model
Ice Type
Max Production
Electric
C0322SA-6
Small Cube
301 lbs. 24/HR
230/50/1
C0322SA-1

(Energy Star)

Small Cube
356 lbs. 24/HR
115/60/1

C0322WC

Dimensions: 22"W x 24"D x 23"H

Recommended Bin/s: B322S

WATER-COOLED
Model
Ice Type
Max Production
Electric
C0322SW-1
Small Cube
366 lbs. 24/HR
115/60/1

C0330AC

Dimensions: 30"W x 24"D x 23"H

AIR-COOLED
Model
Ice Type
Max Production
Electric
C0330SA-1

(Energy Star)

Small Cube
400 lbs. 24/HR
115/60/1

C0330WC

Dimensions: 30"W x 24"D x 23"H

WATER-COOLED
Model
Ice Type
Max Production
Electric
C0330SW-1
Small Cube
420 lbs. 24/HR
115/60/1

C0522AC

Dimensions: 22"W x 24"D x 23"H

Recommended Bin/s: B322S

AIR-COOLED
Model
Ice Type
Max Production
Electric
C0522SA-6
Small Cube
471 lbs. 24/HR
230/50/1
C0522SA-1
Small Cube
475 lbs. 24/HR
115/60/1
C0522SA-32
Small Cube
475 lbs. 24/HR
208-230/60/1

C0522WC

Dimensions: 22"W x 24"D x 23"H

Recommended Bin/s: B322S

WATER-COOLED
Model
Ice Type
Max Production
Electric
C0522SW-1
Small Cube
480 lbs. 24/HR
115/60/1
C0522SW-32
Small Cube
480 lbs. 24/HR
208-230/60/1

C0530AC

Dimensions: 30"W x 24"D x 23"H

Recommended Bin/s:

AIR-COOLED
Model
Ice Type
Max Production
Electric
C0530SA-6
Small Cube
477 lbs. 24/HR
230/50/1
C0530SA-1

(Energy Star)

Small Cube
525 lbs. 24/HR
115/60/1
C0530SA-32

(Energy Star)

Small Cube
525 lbs. 24/HR
208-230/60/1

C0530WCRC

Dimensions: 30"W x 24"D x 23"H

Recommended Bin/s:

WATER-COOLED
Model
Ice Type
Max Production
Electric
C0530SW-1
Small Cube
500 lbs. 24/HR
115/60/1

REMOTE-COOLED

(Requires ERC111-1 Condenser)

Model
Ice Type
Max Production
Electric
C0530SR-1
Small Cube
500 lbs. 24/HR
115/60/1

C0630WCRC

Dimensions: 30"W x 24"D x 23"H

Recommended Bin/s:

REMOTE-COOLED

Model
Ice Type
Max Production
Electric
C0630SR-32

(Energy Star)

Small Cube
614 lbs. 24/HR
208-230/60/1
WATER-COOLED
Model
Ice Type
Max Production
Electric
C0630SW-32
Small Cube
633 lbs. 24/HR
208-230/60/1

C0630AC

Dimensions: 30"W x 24"D x 23"H

Recommended Bin/s:

AIR-COOLED
Model
Ice Type
Max Production
Electric
C0630SA-32
Small Cube
640 lbs. 24/HR
208-230/60/1
C0630SA-6
Small Cube
660 lbs. 24/HR
230/50/1

C0722

Dimensions: 22"W x 24"D x 29"H

Recommended Bin/s: B842S/B948S

Recommended Dispenser/s: ID150

AIR-COOLED
Model
Ice Type
Max Production
Electric
C0722SA-6
Small Cube
725 lbs. 24/HR
230/50/1
C0722SA-32
Small Cube
758 lbs. 24/HR
208-230/60/1

C0830AC

Dimensions: 30"W x 24"D x 29"H

Recommended Bin/s:

AIR-COOLED
Model
Ice Type
Max Production
Electric
C0830SA-6
Small Cube
792 lbs. 24/HR
230/50/1
C0830SA-3
Small Cube
905 lbs. 24/HR
208-230/60/3
C0830SA-32

(Energy Star)

Small Cube
905 lbs. 24/HR
208-230/60/1

C0830WCRC

Dimensions: 30"W x 24"D x 29"H

Recommended Bin/s:

REMOTE-COOLED

Model
Ice Type
Max Production
Electric
C0830SR-32

(Energy Star)

Small Cube
870 lbs. 24/HR
208-230/60/1
WATER-COOLED
Model
Ice Type
Max Production
Electric
C0830SW-32
Small Cube
924 lbs. 24/HR
208-230/60/1

C1030AC

Dimensions: 30"W x 24"D x 29"H

Recommended Bin/s:

AIR-COOLED
Model
Ice Type
Max Production
Electric
C1030SA-6
Small Cube
915 lbs. 24/HR
230/50/1
C1030SA-32

(Energy Star)

Small Cube
1,077 lbs. 24/HR
208-230/60/1

C1030WCRC

Dimensions: 30"W x 24"D x 29"H

Recommended Bin/s:

WATER-COOLED
Model
Ice Type
Max Production
Electric
C1030SW-32
Small Cube
1,029 lbs. 24/HR
208-230/60/1

REMOTE-COOLED

Model
Ice Type
Max Production
Electric
C1030SR-32

(Energy Star)

Small Cube
996 lbs. 24/HR
208-230/60/1
C1030SR-3

(Energy Star)

Small Cube
996 lbs. 24/HR
208-230/60/3

C1448AC

Dimensions: 48"W x 24"D x 29"H

Recommended Bin/s:

AIR-COOLED
Model
Ice Type
Max Production
Electric
C1448SA-6
Small Cube
1,553 lbs. 24/HR
230/50/1
C1448SA-32

(Energy Star)

Small Cube
1,553 lbs. 24/HR
208-230/60/1
C1448SA-3

(Energy Star)

Small Cube
1,553 lbs. 24/HR
208-230/60/3

C1448WCRC

Dimensions: 48"W x 24"D x 29"H

Recommended Bin/s:

WATER-COOLED
Model
Ice Type
Max Production
Electric
C1448SW-32
Small Cube
1,444 lbs. 24/HR
208-230/60/1
C1448SW-3
Small Cube
1,444 lbs. 24/HR
208-230/60/3

REMOTE-COOLED

Model
Ice Type
Max Production
Electric
C1448SR-32

(Energy Star)

Small Cube
1,357 lbs. 24/HR
208-230/60/1
C1448SR-3
Small Cube
1,357 lbs. 24/HR
208-230/60/3

C1848AC

Dimensions: 48"W x 24"D x 29"H

Recommended Bin/s:

AIR-COOLED
Model
Ice Type
Max Production
Electric
C1848SA-6
Small Cube
1,909 lbs. 24/HR
230/50/1
C1848SA-32
Small Cube
1,909 lbs. 24/HR
208-230/60/1

C1848WCRC

Dimensions: 48"W x 24"D x 29"H

Recommended Bin/s:

WATER-COOLED
Model
Ice Type
Max Production
Electric
C1848SW-32
Small Cube
1,900 lbs. 24/HR
208-230/60/1

REMOTE-COOLED

Model
Ice Type
Max Production
Electric
C1848SR-32

(Energy Star)

Small Cube
1,828 lbs. 24/HR
208-230/60/1
C1848SR-3

(Energy Star)

Small Cube
1,828 lbs. 24/HR
208-230/60/3

EH222

Dimensions: 22"W x 16.5"D x 29"H

Recommended Bin/s:

Recommended Dispenser/s:

REMOTE-COOLED

(Requires ECC0800-3/ECC0800-6 for 850 lbs

or ECC1410-32/ECC1410-3 for 1,030 lbs)

Model
Ice Type
Max Production
Electric
EH222SL-6
Small Cube
800 lbs. 24/HR
230/50/1
EH222SL-1

(Energy Star)

Small Cube
850-1,030 lbs. 24/HR
115/60/1

EH330

Dimensions: 30"W x 24"D x 23"H

Recommended Bin/s: ED200/ED250

Recommended Dispenser/s: IDC255

REMOTE-COOLED

(Requires ECC1200-32 Condenser)

Model
Ice Type
Max Production
Electric
EH330SL-1
Small Cube
1,411 lbs. 24/HR
115/60/1

EH430

Dimensions: 30"W x 24"D x 23"H

Recommended Bin/s:

Recommended Dispenser/s: ID250

REMOTE-COOLED

(Requires ECC1410-32/ECC1410-3 for 1,425 lbs or

ECC1800-3 for 1,775 lbs)

Model
Ice Type
Max Production
Electric
EH430SL-1

(Energy Star)

Small Cube
1,425-1,775 lbs. 24/HR
115/60/1

C2148

Dimensions: 48"W x 24"D x 29"H

Recommended Bin/s:

REMOTE-COOLED

(Requires PRC241-32 Condenser)

Model
Ice Type
Max Production
Electric
C2148SR-32
Small Cube
1,965 lbs. 24/HR
208-230/60/1
C2148SR-3
Small Cube
1,965 lbs. 24/HR
208-230/60/3

C2648

Dimensions: 48"W x 28.5"D x 34"H

Recommended Bin/s:

REMOTE-COOLED

(Requires PRC241-32 Condenser)

Model
Ice Type
Max Production
Electric
C2648SR-3
Medium Cube
2,630 lbs. 24/HR
208-230/60/3
NUGGET ICE MACHINES
Undercounter Nugget Ice Machines

HID312

Bin Storage Capacity: 40 lbs.

Dimensions: 24.38"D x 35"H

AIR-COOLED
Model
Ice Type
Max Production
Width
HID312A-1
Nugget
260 lbs. 24/HR
16.25
HID312AW-1

(w/ wall mount)

Nugget
260 lbs. 24/HR
18.25"

HID525

Bin Storage Capacity: 25 lbs.

Dimensions: 24.38"D x 35"H

AIR-COOLED
Model
Ice Type
Max Production
Width
HID525A-1
Nugget
500 lbs. 24/HR
21.25"
HID525AW-1

(w/ wall mount)

Nugget
500 lbs. 24/HR
23.25"
WATER-COOLED
Model
Ice Type
Max Production
Width
HID525W-1
Nugget
500 lbs. 24/HR
21.25"

HID540

Bin Storage Capacity: 40 lbs.

Dimensions: 24.38"D x 41"H

AIR-COOLED
Model
Ice Type
Max Production
Width
HID540A-1
Nugget
500 lbs. 24/HR
21.25"
HID540AW-1

(w/ wall mount)

Nugget
500 lbs. 24/HR
23.25"
WATER-COOLED
Model
Ice Type
Max Production
Width
HID540W-1
Nugget
500 lbs. 24/HR
21.25"
Modular Nugget Ice Machines

N0422AC

Dimensions: 22.9"W x 24"D x 23"H

Recommended Bin/s:

Recommended Dispenser/s:

AIR-COOLED
Model
Ice Type
Max Production
Electric
N0422A-1
Nugget
420 lbs. 24/HR
115/60/1

N0422WC

Dimensions: 22.9"W x 24"D x 23"H

Recommended Bin/s:

Recommended Dispenser/s:

WATER-COOLED
Model
Ice Type
Max Production
Electric
N0422W-1
Nugget
455 lbs. 24/HR
115/60/1

N0622AC

Dimensions: 22.9"W x 24"D x 23"H

Recommended Bin/s:

Recommended Dispenser/s:

AIR-COOLED
Model
Ice Type
Max Production
Electric
N0622A-6
Nugget
643 lbs. 24/HR
230/50/1
N0622A-1
Nugget
643 lbs. 24/HR
115/60/1
N0622A-32
Nugget
643 lbs. 24/HR
208-230/60/1

N0622WC

Dimensions: 22.9"W x 24"D x 23"H

Recommended Bin/s:

Recommended Dispenser/s:

WATER-COOLED
Model
Ice Type
Max Production
Electric
N0622W-1
Nugget
715 lbs. 24/HR
115/60/1
REMOTE-COOLED
Model
Ice Type
Max Production
Electric
N0622R-1
Nugget
660 lbs. 24/HR
115/60/1

N0922AC

Dimensions: 22.9"W x 24"D x 27"H

Recommended Bin/s: B530P/B948S/B842S

Recommended Dispenser/s:

AIR-COOLED
Model
Ice Type
Max Production
Electric
N0922A-32

(Energy Star)

Nugget
956 lbs. 24/HR
208-230/60/1
N0922A-6
Nugget
956 lbs. 24/HR
230/50/1

N0922WCRC

Dimensions: 22.9"W x 24"D x 27"H

Recommended Bin/s: B530P/B948S/B842S

Recommended Dispenser/s:

WATER-COOLED
Model
Ice Type
Max Production
Electric
N0922W-32
Nugget
1,094 lbs. 24/HR
208-230/60/1

REMOTE-COOLED

Model
Ice Type
Max Production
Electric
N0922R-32

(Energy Star)

Nugget
1,044 lbs. 24/HR
208-230/60/1

N0922L

Dimensions: 22.9"W x 24"D x 27"H

Recommended Bin/s:

Recommended Dispenser/s:

REMOTE-COOLED LOW SIDE
Model
Ice Type
Max Production
Electric
N0922L-1
Nugget
1,090 lbs. 24/HR
115/60/1

N1322L

Dimensions: 22.9"W x 24"D x 27"H

Recommended Bin/s:

REMOTE-COOLED LOW SIDE
Model
Ice Type
Max Production
Electric
N1322L-1
Nugget
1,330 lbs. 24/HR
115/60/1

N1322AC

Dimensions: 22.9"W x 24"D x 27"H

Recommended Bin/s:

AIR-COOLED
Model
Ice Type
Max Production
Electric
N1332A-6
Nugget
1,180 lbs. 24/HR
230/50/1
N1322A-32

(Energy Star)

Nugget
1,385 lbs. 24/HR
208-230/60/1

N1322WCRC

Dimensions: 22.9"W x 24"D x 27"H

Recommended Bin/s:

REMOTE-COOLED

(Requires ERC311-32A Condenser)

Model
Ice Type
Max Production
Electric
N1322R-32

(Energy Star)

Nugget
1,360 lbs. 24/HR
208-230/60/1
WATER-COOLED
Model
Ice Type
Max Production
Electric
N1322W-32
Nugget
1,513 bs. 24/HR
208-230/60/1
N1322W-3
Nugget
1,513 bs. 24/HR
208-230/60/3

NME1854

Dimensions: 42"W x 24"D x 27"H

Recommended Bin/s: B842S/B948S

REMOTE-COOLED

(Requires PR2C240-32 Condenser)

Model
Ice Type
Max Production
Electric
NME1854RS-32
Nugget
2,185 lbs. 24/HR
208-230/60/1
GOURMET ICE MACHINES
Undercounter Gourmet Ice Machines

CU50

Overall Dimensions:

14.875"W x 22"D x 34.375"H

Storage Bin Capacity: 26 lbs.

AIR-COOLED
Model
Ice Type
Max Production
Electric
CU50GA-1

(Energy Star)

Flake
65 lbs. 24/HR
115/60/1
WATER-COOLED
Model
Ice Type
Max Production
Electric
CU50PA-1

(w/ pump and 10' drain tube)

(Energy Star)

Flake
65 lbs. 24/HR
115/60/1
FLAKE ICE MACHINES
Undercounter Flake Ice Machines

UF424

Dimensions: 24"W x 28.5"D x 39"H

Storage Bin Capacity: 80 lbs.

AIR-COOLED
Model
Ice Type
Max Production
Electric
UF424A-6
Flake
370 lbs. 24/HR
230/50/1
UF424A-1
Flake
440 lbs. 24/HR
115/60/1
WATER-COOLED
Model
Ice Type
Max Production
Electric
UF424W-1
Flake
440 lbs. 24/HR
115/60/1
Modular Flake Ice Machines

F0522AC

Dimensions: 22.9"W x 24"D x 23"H

Recommended Bin/s:

AIR-COOLED
Model
Ice Type
Max Production
Electric
F0522A-1
Flake
450 lbs. 24/HR
115/60/1

F0522WC

Dimensions: 22.9"W x 24"D x 23"H

Recommended Bin/s:

WATER-COOLED
Model
Ice Type
Max Production
Electric
F0522W-1
Flake
530 lbs. 24/HR
115/60/1

F0822AC

Dimensions: 22.9"W x 24"D x 23"H

Recommended Bin/s:

AIR-COOLED
Model
Ice Type
Max Production
Electric
F0822A-1
Flake
800 lbs. 24/HR
115/60/1

F0822WCRC

Dimensions: 22.9"W x 24"D x 23"H

Recommended Bin/s:

REMOTE-COOLED

(Requires ERC111-1 Condenser)

Model
Ice Type
Max Production
Electric
F0822R-1
Flake
760 lbs. 24/HR
115/60/1
WATER-COOLED
Model
Ice Type
Max Production
Electric
F0822W-1
Flake
775 lbs. 24/HR
115/60/1
F0822W-32
Flake
775 lbs. 24/HR
208-230/60/1

F1222L

Dimensions: 22.9"W x 24"D x 27"H

Recommended Bin/s:

REMOTE-COOLED LOW SIDE
Model
Ice Type
Max Production
Electric
F1222L-1
Flake
1,180 lbs. 24/HR
115/60/1

F1222AC

Dimensions: 22.9"W x 24"D x 27"H

Recommended Bin/s:

AIR-COOLED
Model
Ice Type
Max Production
Electric
F1222A-6
Flake
1,000 lbs. 24/HR
230/50/1
F1222A-32

(Energy Star)

Flake
1,100 lbs. 24/HR
208-230/60/1
F1222A-3

(Energy Star)

Flake
1,100 lbs. 24/HR
208-230/60/3

F1222WCRC

Dimensions: 22.9"W x 24"D x 27"H

Recommended Bin/s:

WATER-COOLED
Model
Ice Type
Max Production
Electric
F1222W-32
Flake
1,240 lbs. 24/HR
208-230/60/1

REMOTE-COOLED

Model
Ice Type
Max Production
Electric
F1222R-32

(Energy Star)

Flake
1,250 lbs. 24/HR
208-230/60/1
F1222R-3

(Energy Star)

Flake
1,250 lbs. 24/HR
208-230/60/3

F1522L

Dimensions: 22.9"W x 24"D x 27"H

Recommended Bin/s:

REMOTE-COOLED LOW SIDE
Model
Ice Type
Max Production
Electric
F1522L-1
Flake
1,445 lbs. 24/HR
115/60/1

F1522

Dimensions: 22.9"W x 24"D x 27"H

Recommended Bin/s:

AIR-COOLED
Model
Ice Type
Max Production
Electric
F1522A-32

(Energy Star)

Flake
1,612 lbs. 24/HR
208-230/60/1

FME2404RLS

Dimensions: 42"W x 24"D x 27"H

Recommended Bin/s:

B842S/B948S/BH1100BB/BH1100SS/

REMOTE-COOLED LOW SIDE

Model
Ice Type
Max Production
Electric
FME2404RLS-32
Flake
2,365 lbs. 24/HR
208-230/60/1

FME2404

Dimensions: 42"W x 24"D x 27"H

Recommended Bin/s:

AIR-COOLED
Model
Ice Type
Max Production
Electric
FME2404AS-32

(Energy Star)

Flake
2,455 lbs. 24/HR
208-230/60/1