The Definitive Vulcan Range Buying Guide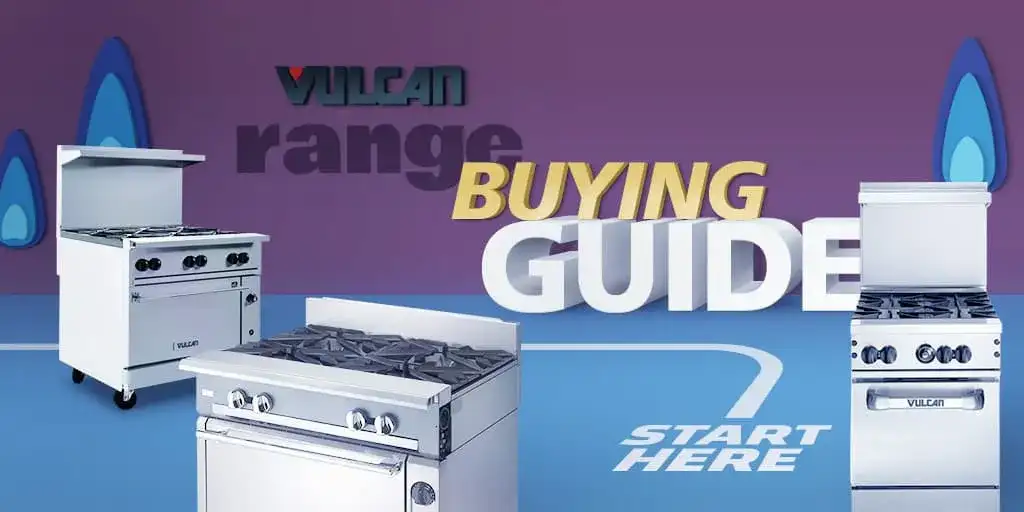 Trusted by professionals worldwide for 150 years, Vulcan boasts a huge selection of best-in-class commercial ranges with various top and base configurations to suit every kitchen. If you are looking for your next commercial range, use this guide to find the perfect match.
1 - Select Gas (including LP) or Electric.
2 - Determine whether you need Restaurant series (Value & Endurance) or Heavy-Duty. Endurance Restaurant models are suited for medium-duty needs. Heavy-Duty units are designed for frequent or large-scale operations. Value ranges are perfect for light-duty cooking.
3 - Decide on the amount of space you can dedicate. Note that your hood should overlap the two sides of your cooking battery by at least 6". Island hoods require 12" all around. There are also distance requirements between some equipment and combustibles.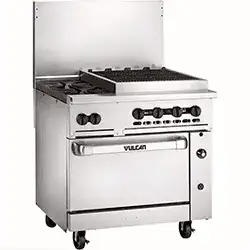 Go to specific size (inches):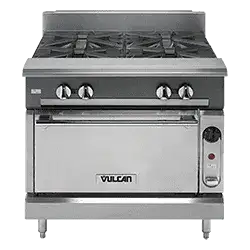 Go to specific size (inches):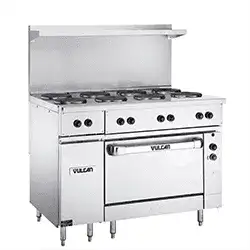 Go to specific size (inches):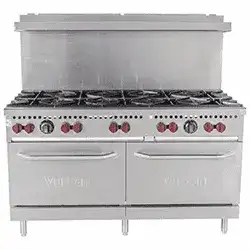 Go to specific size (inches):
VALUE RESTAURANT GAS RANGES
36" WIDE VALUE RESTAURANT GAS RANGES

Size: 36"W x 58"H x 32"D

Total BTUH: 198,000

Burner Rating: 28,000

NATURAL GAS

Model

Base

Top

1 Standard Oven

6 Open Burners

LIQUID PROPANE

Model

Base

Top

1 Standard Oven

6 Open Burners

60" WIDE VALUE RESTAURANT GAS RANGES

Size: 60"W x 58"H x 32"D

Total BTUH: 258,000

Burner Rating: 28,000

NATURAL GAS

Model

Base

Top

2 Standard Ovens

24" Griddle

LIQUID PROPANE

Model

Base

Top

2 Standard Ovens

24" Griddle

Size: 60"W x 58"H x 32"D

Total BTUH: 340,000

Burner Rating: 28,000

NATURAL GAS

Model

Base

Top

2 Standard Ovens

10 Open Burners

LIQUID PROPANE

Model

Base

Top

2 Standard Ovens

10 Open Burners
ENDURANCE RESTAURANT GAS RANGES
12" WIDE ENDURANCE RESTAURANT GAS RANGES

Natural Gas and Liquid Propane Available

Size: 12"W x 58"H x 34"D

Total BTUH: 60,000

Burner Rating: 30,000

Model

Base

Top

Open Cabinet Case

2 Open Burners

24" WIDE ENDURANCE RESTAURANT GAS RANGES

Natural Gas and Liquid Propane Available

Size: 24"W x 58"H x 34"D

Total BTUH: 143,000

Burner Rating: 30,000

Model

Base

Top

1 Standard Oven

4 Open Burners

36" WIDE ENDURANCE RESTAURANT GAS RANGES

Natural Gas and Liquid Propane Available

Size: 36"W x 58"H x 34"D

Total BTUH: 95,000

Model

Base

Top

1 Standard Oven

36" Griddle

1 Convection Oven

36" Griddle

W/ THERMOSTAT GRIDDLE CONTROLS

1 Standard Oven

36" Griddle

Natural Gas and Liquid Propane Available

Size: 36"W x 58"H x 34"D

Total BTUH: 60,000-124,000

Model

Base

Top

60,000 BTU

Refrigerated Base w/ 2 Drawers

24" Manual Control Griddle

2 Open Burners

100,000 BTU

Refrigerated Base w/ 2 Drawers

24" Griddle

2 Open Burners

124,000 BTU

Refrigerated Base w/ 2 Drawers

24" Charbroiler

2 Open Burners

W/ THERMOSTAT GRIDDLE CONTROLS

60,000 BTU

Refrigerated Base w/ 2 Drawers

36" Thermostat Control Griddle

2 Open Burners

100,000 BTU

Refrigerated Base w/ 2 Drawers

24" Thermostat Control Griddle

2 Open Burners

Natural Gas and Liquid Propane Available

Size: 36"W x 58"H x 34"D

Total BTUH: 95,000

Model

Base

Top

180,000 BTU

Refrigerated Base w/ 2 Drawers

6 Open Burners

Size: 36"W x 58"H x 34"D

Total BTUH: 159,000

NATURAL GAS

Model

Base

Top

1 Standard Oven

2 Open Burners

24" Charbroiler

1 Convection Oven

2 Open Burners

24" Charbroiler

LIQUID PROPANE

Model

Base

Top

1 Standard Oven

2 Open Burners

24" Charbroiler

1 Convection Oven

2 Open Burners

24" Charbroiler

Size: 36"W x 58"H x 34"D

Total BTUH: 215,000

NATURAL GAS

Model

Base

Top

1 Standard Oven

6 Open Burners

1 Convection Oven

6 Open Burners

LIQUID PROPANE

Model

Base

Top

1 Standard Oven

6 Open Burners

48" WIDE ENDURANCE RESTAURANT GAS RANGES

Natural Gas and Liquid Propane Available

Size: 48"W x 58"H x 34"D

Total BTUH: 155,000

Model

Base

Top

1 Standard Oven

2 Open Burners

36" Griddle

1 Convection Oven

2 Open Burners

36" Griddle

1 Standard Oven

2 Open Burners

36" Griddle

Natural Gas and Liquid Propane Available

Thermostat Griddle Controls

Size: 48"W x 58"H x 34"D

Total BTUH: 155,000

W/ THERMOSTAT GRIDDLE CONTROLS

Model

Base

Top

1 Convection Oven

2 Open Burners

36" Griddle

1 Convection Oven

2 Open Burners

36" Griddle

1 Convection Oven

2 Open Burners

36" Griddle

Natural Gas and Liquid Propane Available

Size: 48"W x 58"H x 34"D

Total BTUH: 195,000

Model

Base

Top

1 Standard Oven

4 Open Burners

24" Griddle

1 Convection Oven

4 Open Burners

24" Griddle

W/ THERMOSTAT GRIDDLE CONTROLS

1 Convection Oven

4 Open Burners

24" Griddle

1 Convection Oven

4 Open Burners

24" Griddle

Natural Gas and Liquid Propane Available

Size: 48"W x 58"H x 34"D

Model

Base

Top

120,000 BTU

Refrigerated Base w/ 2 Drawers and Cabinet

2 Open Burners

36" Griddle

160,000 BTU

Refrigerated Base w/ 2 Drawers and Cabinet

4 Open Burners

24" Griddle

160,000 BTU

Refrigerated Base w/ 2 Drawers and Cabinet

4 Open Burners

24" Griddle

240,000 BTU

Refrigerated Base w/ 2 Drawers and Cabinet

8 Open Burners

Natural Gas and Liquid Propane Available

Size: 48"W x 58"H x 34"D

Total BTUH: 275,000

Model

Base

Top

1 Standard Oven

8 Open Burners

1 Convection Oven

8 Open Burners

60" WIDE ENDURANCE RESTAURANT GAS RANGES

Natural Gas and Liquid Propane Available

Size: 60"W x 58"H x 34"D

Total BTUH: 238,000

Model

Base

Top

2 Standard Ovens

4 Open Burners

36" Griddle

1 Convection Oven

1 Standard Oven

4 Open Burners

36" Griddle

W/ THERMOSTAT GRIDDLE CONTROLS

2 Standard Ovens

4 Open Burners

36" Griddle

1 Convection Oven

1 Standard Oven

4 Open Burners

36" Griddle

Natural Gas and Liquid Propane Available

Size: 60"W x 58"H x 34.75"D

Total BTUH: 268,000

Model

Base

Top

2 Standard Ovens

6 Burners

24" Griddle-Broiler

1 Convection Oven

1 Standard Oven

6 Burners

24" Griddle-Broiler

Natural Gas and Liquid Propane Available

Size: 60"W x 58"H x 34"D

Total BTUH: 278,000

Model

Base

Top

2 Standard Ovens

6 Open Burners

24" Griddle

1 Convection Oven

1 Standard Oven

6 Open Burners

24" Griddle

W/ THERMOSTAT GRIDDLE CONTROLS

2 Standard Ovens

6 Open Burners

24" Griddle

1 Convection Oven

1 Standard Oven

6 Open Burners

24" Griddle

Natural Gas and Liquid Propane Available

Size: 60"W x 58"H x 34"D

Total BTUH: 180,000-300,000

Model

Base

Top

180,000 BTU

1 Refrigerated Base

2 Drawers (Left)

1 Standard Oven

4 Open Burners

36" Manual Control Griddle

220,000 BTU

1 Refrigerated Base

2 Drawers (Left)

1 Standard Oven

6 Open Burners

24" Manual Control Griddle

300,000 BTU

1 Refrigerated Base

2 Drawers (Left)

1 Standard Oven

10 Open Burners

W/ THERMOSTAT GRIDDLE CONTROLS

180,000 BTU

1 Refrigerated Base

2 Drawers (Left)

1 Standard Oven

4 Open Burners

36" Thermostat Control Griddle

220,000 BTU

1 Refrigerated Base

2 Drawers (Left)

1 Standard Oven

6 Open Burners

24" Thermostat Control Griddle

Size: 60"W x 58"H x 34"D

Total BTUH: 302,000

NATURAL GAS

Model

Base

Top

2 Standard Ovens

6 Open Burners

24" Charbroiler

1 Convection Oven

1 Standard Oven

6 Open Burners

24" Charbroiler

LIQUID PROPANE

Model

Base

Top

2 Standard Ovens

6 Open Burners

24" Charbroiler

1 Convection Oven

1 Standard Oven

6 Open Burners

24" Charbroiler

Size: 60"W x 58"H x 34"D

Total BTUH: 358,000

NATURAL GAS

Model

Base

Top

2 Standard Ovens

10 Open Burners

1 Standard Oven

1 Convection Oven

10 Open Burners

LIQUID PROPANE

Model

Base

Top

2 Standard Ovens

10 Open Burners

1 Standard Oven

1 Convection Oven

10 Open Burners

72" WIDE ENDURANCE RESTAURANT GAS RANGES

Natural Gas and Liquid Propane Available

Size: 72"W x 58"H x 34"D

Total BTUH: 294,000

Model

Base

Top

2 Standard Ovens

4 Open Burners

24" Griddle

24" Charbroiler

2 Convection Ovens

4 Open Burners

24" Griddle

24" Charbroiler

1 Convection Oven

1 Standard Oven

4 Burners

24" Charbroiler

24" Griddle

W/ THERMOSTAT GRIDDLE CONTROLS

2 Standard Ovens

4 Open Burners

24" Griddle

24" Charbroiler

2 Convection Ovens

4 Open Burners

24" Griddle

24" Charbroiler

1 Convection Oven

1 Standard Oven

4 Burners

24" Charbroiler

24" Griddle

Natural Gas and Liquid Propane Available

Size: 72"W x 58"H x 34"D

Total BTUH: 310,000

Model

Base

Top

2 Standard Ovens

6 Open Burners

36" Griddle

1 Standard Oven

1 Convection Oven

6 Open Burners

36" Griddle

2 Convection Ovens

6 Open Burners

36" Griddle

W/ THERMOSTAT GRIDDLE CONTROLS

2 Standard Ovens

6 Open Burners

36" Griddle

1 Standard Oven

1 Convection Oven

6 Open Burners

36" Griddle

2 Convection Ovens

6 Open Burners

36" Griddle

Natural Gas and Liquid Propane Available

Size: 72"W x 58"H x 34"D

Total BTUH: 350,000

Model

Base

Top

2 Convection Ovens

8 Burners

24" Griddle

1 Standard Oven

1 Convection Oven

8 Burners

24" Griddle

2 Standard Ovens

8 Burners

24" Griddle

W/ THERMOSTAT GRIDDLE CONTROLS

2 Convection Ovens

8 Burners

24" Griddle

1 Standard Oven

1 Convection Oven

8 Burners

24" Griddle

2 Standard Ovens

8 Burners

24" Griddle

Natural Gas and Liquid Propane Available

Size: 72"W x 58"H x 41"D

Model

Base

Top

240,000 BTU

1 Refrigerated Base

2 Drawers (Left)

1 Convection Oven (Right)

6 Burners

36" Manual Control Griddle

315,000 BTU

1 Refrigerated Base

2 Drawers (Left)

1 Convection Oven (Right)

8 Burners

24" Manual Control Griddle

360,000 BTU

1 Refrigerated Base

2 Drawers (Left)

1 Convection Oven (Right)

12 Open Burners

W/ THERMOSTAT GRIDDLE CONTROLS

240,000 BTU

1 Refrigerated Base

2 Drawers (Left)

1 Convection Oven (Right)

6 Burners

36" Manual Control Griddle

315,000 BTU

1 Refrigerated Base

2 Drawers (Left)

1 Convection Oven (Right)

8 Burners

24" Manual Control Griddle

Natural Gas and Liquid Propane Available

Size: 72"W x 58"H x 41"D

Model

Base

Top

240,000 BTU

1 Refrigerated Base

2 Drawers (Left)

1 Standard Oven (Right)

6 Burners

36" Manual Control Griddle

280,000 BTU

1 Refrigerated Base

2 Drawers (Left)

1 Standard Oven (Right)

8 Burners

24" Manual Control Griddle

360,000 BTU

1 Refrigerated Base

2 Drawers (Left)

1 Standard Oven (Right)

12 Open Burners

W/ THERMOSTAT GRIDDLE CONTROLS

240,000 BTU

1 Refrigerated Base

2 Drawers (Left)

1 Standard Oven (Right)

6 Burners

36" Manual Control Griddle

280,000 BTU

1 Refrigerated Base

2 Drawers (Left)

1 Standard Oven (Right)

8 Burners

24" Manual Control Griddle

Natural Gas and Liquid Propane Available

Size: 72"W x 58"H x 41"D

Total BTUH: 430,000

Model

Base

Top

1 Standard Oven

1 Convection Oven

12 Open Burners

2 Convection Ovens

12 Open Burners

2 Standard Ovens

12 Open Burners

1 Standard Oven

1 Convection Oven

12 Open Burners

2 Convection Ovens

12 Open Burners

2 Standard Ovens

12 Open Burners
RESTAURANT ELECTRIC RANGES
12" WIDE RESTAURANT ELECTRIC RANGES

Size: 12"W x 37"H x 34"D

Model

Base

Top

Electric

Enclosed

2 French Plates

208V

Enclosed

2 French Plates

240V

Enclosed

2 French Plates

480V

Enclosed

1 Hot Top

208V

Enclosed

1 Hot Top

240V

Enclosed

1 Hot Top

480V

24" WIDE RESTAURANT ELECTRIC RANGES

Size: 24"W x 58"H x 34"D

Thermostatic Hot Top Controls

W/ THERMOSTAT HOT TOP CONTROLS

Model

Base

Top

Electric

1 Standard Oven

2 Hot Tops

208V

1 Standard Oven

2 Hot Tops

240V

1 Standard Oven

2 Hot Tops

480V

Size: 24"W x 58"H x 34"D

Model

Base

Top

Electric

1 Standard Oven

4 French Plates

208V

1 Standard Oven

4 French Plates

240V

1 Standard Oven

4 French Plates

480V

36" WIDE RESTAURANT ELECTRIC RANGES

Size: 36"W x 58"H x 34"D

Model

Base

Top

Electric

1 Standard Oversized Oven

2 French Plates

24" Griddle

208V

1 Standard Oversized Oven

2 French Plates

24" Griddle

240V

1 Standard Oversized Oven

2 French Plates

24" Griddle

480V

Size: 36"W x 58"H x 34"D

Thermostatic Hot Top Controls

Model

Base

Top

Electric

1 Standard Oversized Oven

2 French Plates

2 Hot Tops

208V

1 Standard Oversized Oven

2 French Plates

2 Hot Tops

240V

1 Standard Oversized Oven

2 French Plates

2 Hot Tops

480V

Size: 36"W x 58"H x 34"D

Thermostatic Hot Top Controls

Model

Base

Top

Electric

1 Standard Oversized Oven

2 Hot Tops

12" Griddle

208V

1 Standard Oversized Oven

2 Hot Tops

12" Griddle

240V

1 Standard Oversized Oven

2 Hot Tops

12" Griddle

480V

Size: 36"W x 58"H x 34"D

Thermostatic Hot Top Controls

Polished Steel Plate

Model

Base

Top

Electric

1 Standard Oversized Oven

36" Griddle

208V

1 Standard Oversized Oven

36" Griddle

240V

1 Standard Oversized Oven

36" Griddle

480V

Size: 36"W x 58"H x 34"D

Thermostatic Griddle Controls

Model

Base

Top

Electric

1 Standard Oversized Oven

3 Hot Tops

208V

1 Standard Oversized Oven

3 Hot Tops

240V

1 Standard Oversized Oven

3 Hot Tops

480V

Size: 36"W x 58"H x 34"D

Model

Base

Top

Electric

1 Standard Oversized Oven

4 French Plates

12" Griddle

208V

1 Standard Oversized Oven

4 French Plates

12" Griddle

240V

1 Standard Oversized Oven

4 French Plates

12" Griddle

480V

Size: 36"W x 58"H x 34"D

Infinite Hot Top Controls

Model

Base

Top

Electric

1 Standard Oversized Oven

4 French Plates

12" Hot Top

208V

1 Standard Oversized Oven

4 French Plates

12" Hot Top

240V

1 Standard Oversized Oven

4 French Plates

12" Hot Top

480V

48" WIDE RESTAURANT ELECTRIC RANGES

Size: 48"W x 58"H x 34"D

Thermostat Griddle Controls

Polished Steel Plate

Model

Base

Top

Electric

1 Standard Oversized Oven

4 French Plates

24" Griddle

208V

1 Standard Oversized Oven

4 French Plates

24" Griddle

240V

1 Standard Oversized Oven

4 French Plates

24" Griddle

480V

Size: 48"W x 58"H x 34"D

Thermostat Hot Top Controls

Model

Base

Top

Electric

1 Standard Oversized Oven

4 Hot Tops

208V

1 Standard Oversized Oven

4 Hot Tops

240V

1 Standard Oversized Oven

4 Hot Tops

480V

Size: 48"W x 58"H x 34"D

Model

Base

Top

Electric

1 Standard Oversized Oven

8 French Plates

208V

1 Standard Oversized Oven

8 French Plates

240V

1 Standard Oversized Oven

8 French Plates

480V

60" WIDE RESTAURANT ELECTRIC RANGES

Size: 60"W x 58"H x 34"D

Model

Base

Top

Electric

1 Standard Oversized Oven

1 Standard Oven

10 French Plates

208V

1 Standard Oversized Oven

1 Standard Oven

10 French Plates

240V

1 Standard Oversized Oven

1 Standard Oven

10 French Plates

480V

Size: 60"W x 58"H x 34"D

Thermostat Hot Top Controls

Model

Base

Top

Electric

1 Standard Oversized Oven

1 Standard Oven

5 Hot Tops

208V

1 Standard Oversized Oven

1 Standard Oven

5 Hot Tops

240V

1 Standard Oversized Oven

1 Standard Oven

5 Hot Tops

480V

Size: 60"W x 58"H x 34"D

Thermostat Griddle Controls

Model

Base

Top

Electric

1 Standard Oversized Oven

1 Standard Oven

6 French Plates

24" Griddle

208V

1 Standard Oversized Oven

1 Standard Oven

6 French Plates

24" Griddle

240V

1 Standard Oversized Oven

1 Standard Oven

6 French Plates

24" Griddle

480V
HEAVY-DUTY GAS RANGES
12" WIDE HEAVY-DUTY GAS RANGES

Natural Gas and Liquid Propane Available

Size: 12"W x 40.5"H x 36.75"D

Total BTUH: 30,000

Model

Base

Top

Modular

12" Full Hot Top

Cabinet

12" Full Hot Top

Natural Gas and Liquid Propane Available

Size: 12"W x 36"H x 36.75"D

Total BTUH: 70,000

Model

Base

Top

Modular

2 Burners

Cabinet

2 Burners

18" WIDE HEAVY-DUTY GAS RANGES

Natural Gas and Liquid Propane Available

Size: 18"W x 40.5"H x 36.75"D

Total BTUH: 17,500

Model

Base

Top

Modular

18" Plancha

Cabinet

18" Plancha

Natural Gas and Liquid Propane Available

Size: 18"W x 40.5"H x 36.75"D

Total BTUH: 30,000

Model

Base

Top

Modular

18" Full Hot Top

Cabinet

18" Full Hot Top

Natural Gas and Liquid Propane Available

Size: 18"W x 36"H x 36.75"D

Total BTUH: 25,000

Model

Base

Top

Modular

18" French Top

Cabinet

18" French Top

Natural Gas and Liquid Propane Available

Size: 18"W x 36"H x 36.75"D

Total BTUH: 70,000

Model

Base

Top

Modular

2 Burners

Cabinet

2 Burners

24" WIDE HEAVY-DUTY GAS RANGES

Natural Gas and Liquid Propane Available

Size: 24"W x 40.5"H x 36.75"D

Total BTUH: 60,000

Model

Base

Top

Modular

2 Hot Tops

2 Burners

Cabinet

2 Hot Tops

2 Burners

36" WIDE HEAVY-DUTY GAS RANGES

Natural Gas and Liquid Propane Available

Size: 36"W x 40.5"H x 41.88"D

Model

Base

Top

100,000 BTU

Modular

2 Burners

18" Manual Control Griddle

100,000 BTU

Cabinet

2 Burners

18" Manual Control Griddle

132,000 BTU

Convection Oven

2 Burners

18" Manual Control Griddle

150,000 BTU

Standard Oven

2 Burners

18" Manual Control Griddle

Natural Gas and Liquid Propane Available

Size: 36"W x 36"H x 36.75"D

Model

Base

Top

45,000 BTU

Modular

Radial Fin French Top

45,000 BTU

Cabinet

Radial Fin French Top

77,000 BTU

Convection Oven

Radial Fin French Top

95,000 BTU

Standard Oven

Radial Fin French Top

Natural Gas and Liquid Propane Available

Size: 36"W x 40.5"H x 41.88"D

Model

Base

Top

60,000 BTU

Modular

2 18" Full Hot Tops

60,000 BTU

Cabinet

2 18" Full Hot Tops

92,000 BTU

Convection Oven

2 18" Full Hot Tops

110,000 BTU

Standard Oven

2 18" Full Hot Tops

Natural Gas and Liquid Propane Available

Thermostatic Griddle Controls

Size: 36"W x 40.5"H x 36.75"D

Model

Base

Top

90,000 BTU

Modular

36" T-Stat Griddle

90,000 BTU

Cabinet

36" T-Stat Griddle

122,000 BTU

Convection Oven

36" T-Stat Griddle

140,000 BTU

Standard Oven

36" T-Stat Griddle

Natural Gas and Liquid Propane Available

Size: 36"W x 40.5"H x 41.88"D

Model

Base

Top

130,000 BTU

Modular

2 Burners

24" Manual Griddle

130,000 BTU

Cabinet

2 Burners

24" Manual Griddle

162,000 BTU

Convection Oven

2 Burners

24" Manual Griddle

180,000 BTU

Standard Oven

2 Burners

24" Manual Griddle

Natural Gas and Liquid Propane Available
Thermostatic Griddle Controls

Size: 36"W x 36"H x 36.75"D

Model

Base

Top

130,000 BTU

Modular

2 Burners

24" T-Stat Griddle

130,000 BTU

Cabinet

2 Burners

24" T-Stat Griddle

162,000 BTU

Convection Oven

2 Burners

24" T-Stat Griddle

180,000 BTU

Standard Oven

2 Burners

24" T-Stat Griddle

Natural Gas and Liquid Propane Available
Thermostatic Griddle Controls

Size: 36"W x 36"H x 36.75"D

Model

Base

Top

100,000 BTU

Modular

2 Burners

18" T-Stat Griddle

100,000 BTU

Cabinet

2 Burners

18" T-Stat Griddle

132,000 BTU

Convection Oven

2 Burners

18" T-Stat Griddle

150,000 BTU

Standard Oven

2 Burners

18" T-Stat Griddle

Natural Gas and Liquid Propane Available

Size: 36"W x 36"H x 36.75"D

Model

Base

Top

V2FT36
50,000 BTU

Modular

2 18" French Tops

50,000 BTU

Cabinet

2 18" French Tops

82,000 BTU

Convection Oven

2 18" French Tops

100,000 BTU

Standard Oven

2 18" French Tops