The Ultimate Garland Range Buying Guide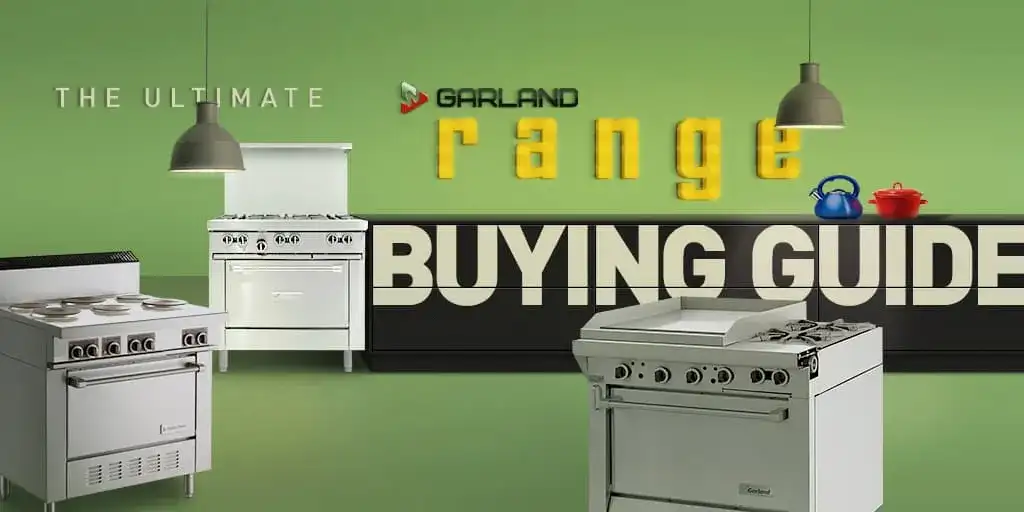 In140 years of service, Garland has shaped commercial cooking performance with powerful commercial ranges designed with various top and base configurations to keep up with every demand. If you are looking for your next Garland range, find the perfect one with this guide.
1 - Select Gas (Natural Gas or LP) or Electric.
2 - Determine whether you need Restaurant or Heavy-Duty. U Series, GF Series, and X Series models are suited for medium-duty needs. Cuisine and Master units are made for heavy-duty operations.
3 - Decide on the amount of space you can dedicate. Note that your hood should overlap the two sides of your cooking battery by at least 6". Island hoods require 12" all around. There are also distance requirements between some equipment and combustibles.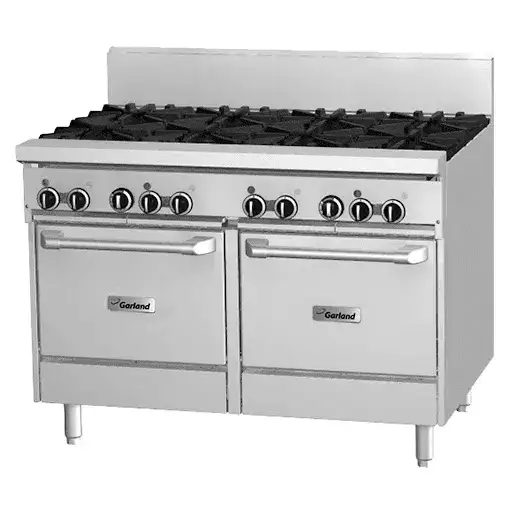 Go to size (inches):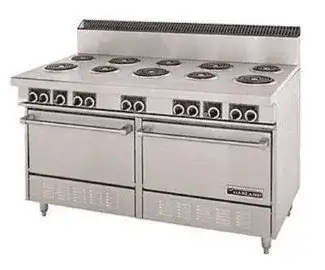 Go to size (inches):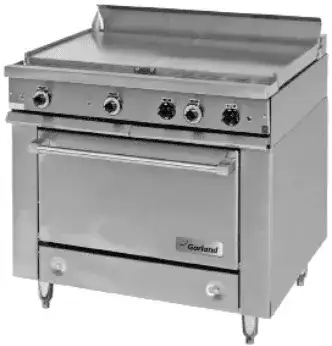 Go to size (inches):
GAS RESTAURANT RANGES
24" WIDE RESTAURANT GAS RANGES

Natural Gas and Liquid Propane Available

(Image shows X24-4L)

Range Size: 23.63"W x 33.5"D x 57"H

Burner Rating: 30,000 BTUH

Model

Base

Top

145,000 BTU

Space Saver Oven

4 Open Burners

120,000 BTU

Storage Base

4 Open Burners

Natural Gas and Liquid Propane Available

(Image shows U24-4L)

Range Size: 24"W x 57"H x 34.5"D

Burner Rating: 32,000 BTUH

Model

Base

Top

160,000 BTU

Space Saver Oven

4 Open Burners

128,000 BTU

Storage Base

4 Open Burners

114,000 BTU

Space Saver Oven

4 Open Burners

Natural Gas and Liquid Propane Available

(Image shows U24-4L)

Range Size: 24"W x 57"H x 34.5"D

Burner Rating: 32,000 BTUH

Model

Base

Top

Storage Base

12" Griddle

2 Open Burners

Space Saver Oven

12" Griddle

2 Open Burners

Storage Base

12" Griddle

2 Open Burners

Natural Gas and Liquid Propane Available

(Image shows G24-4L)

Range Size: 24"W x 57"H x 34.5"D

Modular Size: 24"W x 25"H x 34.5"D

Burner Rating: 33,000 BTUH

Model

Base

Top

164,000 BTUH

Space Saver Oven

4 Starfire-Pro Open Burners

132,000 BTUH

Storage Base

4 Starfire-Pro Open Burners

132,000 BTUH

Modular

4 Starfire-Pro Open Burners

Natural Gas and Liquid Propane Available

(Image shows G24-2G12L)

Range Size: 24"W x 57"H x 34.5"D

Modular Size: 24"W x 25"H x 34.5"D

Burner Rating: 33,000 BTUH

Model

Base

Top

116,000 BTUH

Space Saver Oven

12" Griddle

2 Starfire-Pro Open Burners

84,000 BTUH

Storage Base

12" Griddle

2 Starfire-Pro Open Burners

84,000 BTUH

Modular

12" Griddle

2 Starfire-Pro Open Burners

Natural Gas and Liquid Propane Available

(Image shows G24-G24L)

Range Size: 24"W x 57"H x 34.5"D

Modular Size: 24"W x 25"H x 34.5"D

Model

Base

Top

68,000 BTUH

Space Saver Oven

24" Griddle

36,000 BTUH

Storage Base

24" Griddle

36,000 BTUH

Modular

24" Griddle

36" WIDE RESTAURANT GAS RANGES

Natural Gas and Liquid Propane Available

(Image shows X36-6R)

Range Size: 35.44"W x 57"H x 33.5"D

Burner Rating: 26,000-30,000 BTUH

Model

Base

Top

230,000 BTUH

Standard Oven

6 Open Burners

180,000 BTUH

Storage Base

6 Open Burners

Natural Gas and Liquid Propane Available

(Image shows X36-2G24R)

Range Size: 35.44"W x 57"H x 33.5"D

Burner Rating: 26,000-30,000 BTUH

Model

Base

Top

129,000 BTUH

Standard Oven

24" Griddle

2 Open Burners

96,000 BTUH

Storage Base

24" Griddle

2 Open Burners

Natural Gas and Liquid Propane Available

(Image shows U36-6R)

Range Size: 36"W x 57"H x 34.5"D

Burner Rating: 26,000-32,000 BTUH

Model

Base

Top

230,000 BTUH

Standard Oven

6 Open Burners

192,000 BTUH

Storage Base

6 Open Burners

Natural Gas and Liquid Propane Available

(Image shows U36-6R)

Range Size: 36"W x 57"H x 34.5"D

Burner Rating: 26,000-32,000 BTUH

Model

Base

Top

184,000 BTUH

Standard Oven

12" Griddle

4 Open Burners

146,000 BTUH

Storage Base

12" Griddle

4 Open Burners

Natural Gas and Liquid Propane Available

(Image shows U36-6R)

Range Size: 36"W x 57"H x 34.5"D

Burner Rating: 26,000-32,000 BTUH

Model

Base

Top

138,000 BTUH

Standard Oven

24" Griddle

2 Open Burners

100,000 BTUH

Storage Base

24" Griddle

2 Open Burners

Natural Gas and Liquid Propane Available

(Image shows U36-6R)

Range Size: 36"W x 57"H x 34.5"D

Burner Rating: 26,000-32,000 BTUH

Model

Base

Top

92,000 BTUH

26" Standard Oven

36" Griddle

54,000 BTUH

Storage Base

36" Griddle

Natural Gas and Liquid Propane Available

(Image shows G36-6R)

Range Size: 36"W x 57"H x 34.5"D

Modular Size: 36"W x 25"H x 34.5"D

Burner Rating: 26,000-33,000 BTUH

Model

Base

Top

236,000 BTUH

Standard Oven

6 Open Burners

198,000 BTUH

Storage Base

6 Open Burners

198,000 BTUH

Modular

6 Open Burners

Natural Gas and Liquid Propane Available

(Image shows G36-6R)

Range Size: 36"W x 57"H x 34.5"D

Modular Size: 36"W x 25"H x 34.5"D

Burner Rating: 26,000-33,000 BTUH

Model

Base

Top

188,000 BTUH

Standard Oven

12" Griddle

4 Open Burners

150,000 BTUH

Storage Base

12" Griddle

4 Open Burners

150,000 BTUH

Modular

12" Griddle

4 Open Burners

Natural Gas and Liquid Propane Available

(Image shows G36-6R)

Range Size: 36"W x 57"H x 34.5"D

Modular Size: 36"W x 25"H x 34.5"D

Burner Rating: 26,000-33,000 BTUH

Model

Base

Top

140,000 BTUH

Standard Oven

24" Griddle

2 Open Burners

102,000 BTUH

Storage Base

24" Griddle

2 Open Burners

102,000 BTUH

Modular

24" Griddle

2 Open Burners

Natural Gas and Liquid Propane Available

(Image shows G36-6R)

Range Size: 36"W x 57"H x 34.5"D

Modular Size: 36"W x 25"H x 34.5"D

Model

Base

Top

92,000 BTUH

Standard Oven

36" Griddle

54,000 BTUH

Storage Base

36" Griddle

54,000 BTUH

Modular

36" Griddle

48" WIDE RESTAURANT GAS RANGES

Natural Gas and Liquid Propane Available

(Image shows GF48-8LL)

Range Size: 48"W x 57"H x 45.38"D

Burner Rating: 26,000 BTUH

Model

Base

Top

272,000 BTUH

2 Space Saver Ovens

8 Open Burners

238,000 BTUH

1 Standard Oven

Storage Base

12" Griddle

6 Open Burners

204,000 BTUH

2 Storage Bases

24" Griddle

4 Open Burners

170,000 BTUH

2 Space Saver Ovens

36" Griddle

2 Open Burners

Natural Gas and Liquid Propane Available

(Image shows U48-8LL)

Range Size: 48"W x 57"H x 34.5"D

Burner Rating: 26,000-32,000 BTUH

Model

Base

Top

320,000 BTUH

2 Space Saver Ovens

8 Open Burners

294,000 BTUH

1 Standard Oven

Storage Base

8 Open Burners

256,000 BTUH

2 Storage Bases

8 Open Burners

Natural Gas and Liquid Propane Available

(Image shows U48-8LL)

Range Size: 48"W x 57"H x 34.5"D

Burner Rating: 26,000-32,000 BTUH

Model

Base

Top

274,000

2 Space Saver Ovens

12" Griddle

6 Open Burners

280,000 BTUH

1 Standard Oven

Storage Base

12" Griddle

6 Open Burners

138,000 BTUH

2 Storage Bases

12" Griddle

6 Open Burners

Natural Gas and Liquid Propane Available

(Image shows U48-8LL)

Range Size: 48"W x 57"H x 34.5"D

Burner Rating: 26,000-32,000 BTUH

Model

Base

Top

100,000 BTUH

2 Space Saver Ovens

24" Griddle

4 Open Burners

92,000 BTUH

1 Standard Oven

Storage Base

24" Griddle

4 Open Burners

2 Storage Bases

24" Griddle

4 Open Burners

Natural Gas and Liquid Propane Available

(Image shows U48-8LL)

Range Size: 48"W x 57"H x 34.5"D

Burner Rating: 26,000-32,000 BTUH

Model

Base

Top

54,000 BTUH

2 Space Saver Ovens

36" Griddle

2 Open Burners

120,000 BTUH

1 Standard Oven

Storage Base

36" Griddle

2 Open Burners

136,000 BTUH

2 Storage Bases

36" Griddle

2 Open Burners

Natural Gas and Liquid Propane Available

(Image shows U48-8LL)

Range Size: 48"W x 57"H x 34.5"D

Burner Rating: 26,000-32,000 BTUH

Model

Base

Top

110,000 BTUH

2 Space Saver Ovens

48" Griddle

72,000 BTUH

1 Standard Oven

Storage Base

48" Griddle

72,000 BTUH

2 Storage Bases

48" Griddle

Natural Gas and Liquid Propane Available

(Image shows G48-8LL)

Range Size: 48"W x 57"H x 34.5"D

Burner Rating: 26,000-33,000 BTUH

Model

Base

Top

328,000 BTUH

2 Space Saver Ovens

8 Open Burners

302,000 BTUH

1 Standard Oven

Storage Base

8 Open Burners

264,000 BTUH

2 Standard Ovens

8 Open Burners

Natural Gas and Liquid Propane Available

(Image shows G48-8LL)

Range Size: 48"W x 57"H x 34.5"D

Burner Rating: 26,000-33,000 BTUH

Model

Base

Top

280,000 BTUH

2 Space Saver Ovens

12" Griddle

8 Open Burners

138,000 BTUH

1 Standard Oven

Storage Base

12" Griddle

8 Open Burners

100,000 BTUH

2 Standard Ovens

12" Griddle

8 Open Burners

Natural Gas and Liquid Propane Available

(Image shows G48-8LL)

Range Size: 48"W x 57"H x 34.5"D

Burner Rating: 26,000-33,000 BTUH

Model

Base

Top

92,000 BTUH

2 Space Saver Ovens

24" Griddle

4 Open Burners

54,000 BTUH

1 Standard Oven

Storage Base

24" Griddle

4 Open Burners

120,000 BTUH

2 Standard Ovens

24" Griddle

4 Open Burners

Natural Gas and Liquid Propane Available

(Image shows G48-8LL)

Range Size: 48"W x 57"H x 34.5"D

Burner Rating: 26,000-33,000 BTUH

Model

Base

Top

136,000 BTUH

2 Space Saver Ovens

36" Griddle

2 Open Burners

110,000 BTUH

1 Standard Oven

Storage Base

36" Griddle

2 Open Burners

72,000 BTUH

2 Standard Ovens

36" Griddle

2 Open Burners

60" WIDE RESTAURANT GAS RANGES

Natural Gas and Liquid Propane Available

(Image shows GF60-6G24RR)

Range Size: 60"W x 45.38"H x 34.5"D

Burner Rating: 26,000 BTUH

Model

Base

Top

336,000 BTUH

2 Standard Ovens

10 Open Burners

302,000 BTUH

2 Standard Ovens

8 Open Burners

12" Griddle

268,000 BTUH

2 Standard Ovens

6 Open Burners

24" Griddle

234,000 BTUH

2 Standard Ovens

4 Open Burners

36" Griddle

Natural Gas and Liquid Propane Available

(Image shows GF60-6R24RR)

Range Size: 60"W x 47"H x 34.5"D

Burner Rating: 26,000 BTUH

Model

Base

Top

227,000 BTUH

1 Standard Oven

1 Storage Base

6 Open Burners

24" Raised Griddle/Broiler

265,000 BTU

2 Standard Ovens

6 Open Burners

24" Raised Griddle/Broiler

W/ ELECTRIC SPARK IGNITION

265,000 BTUH

2 Standard Ovens

6 Open Burners

24" Raised Griddle/Broiler

227,000 BTUH

1 Standard Oven

1 Storage Base

6 Open Burners

24" Raised Griddle/Broiler

Natural Gas and Liquid Propane Available

(Image shows X60-10RR)

Range Size: 59.06"W x 57"H x 34.5"D

Burner Rating: 26,000-30,000 BTUH

Model

Base

Top

366,000 BTUH

2 Standard Ovens

10 Open Burners

333,000 BTUH

1 Standard Oven

1 Storage Base

10 Open Burners

282,000 BTUH

2 Storage Bases


6 Open Burners

24" Griddle

249,000 BTUH

1 Standard Oven

1 Storage Base

6 Open Burners

24" Griddle

Natural Gas and Liquid Propane Available

(Image shows X60-6R24RR)

Range Size: 59.06"W x 57"H x 33.5"D

Burner Rating: 26,000-30,000 BTUH

Model

Base

Top

279,000 BTUH

2 Standard Ovens

6 Open Burners

24" Raised Griddle/Broiler

246,000 BTUH

1 Standard Ovens

1 Storage Base

6 Open Burners

24" Raised Griddle/Broiler

Natural Gas and Liquid Propane Available

(Image shows G60-10RR)

Range Size: 60"W x 57"H x 34.5"D

Burner Rating: 26,000-33,000 BTUH

Model

Base

Top

406,000 BTUH

2 Standard Ovens

10 Open Burners

368,000 BTUH

1 Standard Oven

1 Storage Base

10 Open Burners

330,000 BTUH

2 Storage Bases

10 Open Burners

Natural Gas and Liquid Propane Available

(Image shows G60-10RR)

Range Size: 60"W x 57"H x 34.5"D

Burner Rating: 26,000-33,000 BTUH

Model

Base

Top

358,000 BTUH

2 Standard Oven

8 Open Burners

12" Griddle

320,000 BTUH

1 Standard Oven

1 Storage Base

12" Griddle

8 Open Burners

282,000 BTUH

2 Storage Bases

12" Griddle

8 Open Burners

Natural Gas and Liquid Propane Available

(Image shows G60-10RR)

Range Size: 60"W x 57"H x 34.5"D

Burner Rating: 26,000-33,000 BTUH

Model

Base

Top

310,000 BTUH

2 Standard Oven

24" Griddle

6 Open Burners

272,000 BTUH

1 Standard Oven

1 Storage Base

24" Griddle

6 Open Burners

234,000 BTUH

2 Storage Bases

24" Griddle

6 Open Burners

Natural Gas and Liquid Propane Available

(Image shows G60-10RR)

Range Size: 60"W x 57"H x 34.5"D

Burner Rating: 26,000-33,000 BTUH

Model

Base

Top

262,000 BTUH

2 Standard Ovens

36" Griddle

4 Open Burners

224,000 BTUH

1 Standard Ovens

36" Griddle

4 Open Burners

186,000 BTUH

2 Storage Bases

4 Open Burners

36" Griddle

Natural Gas and Liquid Propane Available

(Image shows G60-10RR)

Range Size: 60"W x 57"H x 34.5"D

Burner Rating: 26,000-33,000 BTUH

Model

Base

Top

214,000 BTUH

2 Standard Ovens

2 Open Burners

48" Griddle

176,000 BTUH

1 Standard Oven

1 Storage Base

2 Open Burners

48" Griddle

138,000 BTUH

2 Storage Bases

2 Open Burners

48" Griddle

Natural Gas and Liquid Propane Available

(Image shows G60-10RR)

Range Size: 60"W x 57"H x 34.5"D

Burner Rating: 26,000-33,000 BTUH

Model

Base

Top

166,000 BTUH

2 Standard Ovens

60" Griddle

128,000 BTUH

1 Standard Oven

1 Storage Base

60" Griddle

90,000 BTUH

2 Storage Bases

60" Griddle

Natural Gas and Liquid Propane Available

(Image shows G60-6R24RR)

Range Size: 60"W x 57"H x 34.5"D

Burner Rating: 26,000-33,000 BTUH

Model

Base

Top

307,000 BTUH

2 Standard Ovens

6 Open Burners

24" Raised Griddle/Broiler

269,000 BTUH

1 Standard Oven

1 Storage Base

6 Open Burners

24" Raised Griddle/Broiler

231,000 BTUH

2 Storage Bases

6 Open Burners

24" Raised Griddle/Broiler

Natural Gas and Liquid Propane Available

(Image shows U60-10RR)

Range Size: 59.10"W x 57"H x 34.5"D

Burner Rating: 26,000-33,000 BTUH

Model

Base

Top

396,000 BTUH

2 Standard Ovens

10 Open Burners

358,000 BTUH

10 Open Burners

1 Standard Oven

10 Open Burners

320,000 BTUH

2 Storage Bases

10 Open Burners

Natural Gas and Liquid Propane Available

(Image shows U60-10RR)

Range Size: 59.10"W x 57"H x 34.5"D

Burner Rating: 26,000-33,000 BTUH

Model

Base

Top

350,000 BTUH

2 Standard Oven

12" Griddle

8 Open Burners

312,000 BTUH

1 Standard Oven

1 Storage Base

12" Griddle

8 Open Burners

274,000 BTUH

2 Storage Bases

12" Griddle

8 Open Burners

Natural Gas and Liquid Propane Available

(Image shows U60-10RR)

Range Size: 59.10"W x 57"H x 34.5"D

Burner Rating: 26,000-33,000 BTUH

Model

Base

Top

304,000 BTUH

2 26" Standard Oven

24" Griddle

6 Open Burners

266,000 BTUH

1 26" Standard Oven

1 Storage Base

24" Griddle

6 Open Burners

228,000 BTUH

2 Storage Bases

24" Griddle

6 Open Burners

Natural Gas and Liquid Propane Available

(Image shows U60-10RR)

Range Size: 59.10"W x 57"H x 34.5"D

Burner Rating: 26,000-33,000 BTUH

Model

Base

Top

258,000 BTUH

2 26" Standard Ovens

36" Griddle

4 Open Burners

220,000 BTUH

1 26" Standard Oven

1 Storage Base

36" Griddle

4 Open Burners

182,000 BTUH

2 Storage Bases

4 Open Burners

36" Griddle

Natural Gas and Liquid Propane Available

(Image shows 10-burner model with 2-oven base)

Range Size: 59.10"W x 57"H x 34.5"D

Burner Rating: 26,000-33,000 BTUH

Model

Base

Top

212,000 BTUH

2 26" Standard Ovens

2 Open Burners

48" Griddle

174,000 BTUH

1 26" Standard Oven

1 Storage Base

2 Open Burners

48" Griddle

136,000 BTUH

2 Storage Bases

2 Open Burners

48" Griddle

Natural Gas and Liquid Propane Available

(Image shows U60-10RR)

Range Size: 59.10"W x 57"H x 34.5"D

Burner Rating: 26,000-33,000 BTUH

Model

Base

Top

166,000 BTUH

2 26" Standard Ovens

60" Griddle

128,000 BTUH

1 26" Standard Oven

1 Storage Base

60" Griddle

90,000 BTUH

2 Storage Bases

60" Griddle
HEAVY-DUTY GAS RANGES
12" WIDE HEAVY-DUTY GAS RANGES

Natural Gas and Liquid Propane Available

(Image shows M12S)

Range Size: 12"W x 36.38"H x 38"D

Modular Size: 12"W x 9.5"H x 38"D

Burner Rating: 24,000

Model

Base

Top

48,000 BTUH

Storage Base

2 Open Burners

48,000 BTUH

Modular

2 Open Burners

Natural Gas and Liquid Propane Available

(Image shows C12836-6)

Range Size: 12"W x 42"H x 37.88"D

Modular Size: 12"W x 10"H x 37.88"D

Burner Rating: 30,000

Model

Base

Top

45,000 BTUH

Cabinet Base

12" French Tops

45,000 BTUH

Modular

12" French Tops

Natural Gas and Liquid Propane Available

(Image shows C12836-6)

Range Size: 12"W x 42"H x 37.88"D

Modular Size: 12"W x 10"H x 37.88"D

Model

Base

Top

25,000 BTUH

Cabinet Base

12" Hot Tops

25,000 BTUH

Modular

12" Hot Tops

Natural Gas and Liquid Propane Available

(Image shows C12836-6)

Range Size: 12"W x 42"H x 37.88"D

Modular Size: 12"W x 10"H x 37.88"D

Burner Rating: 30,000

Model

Base

Top

60,000 BTUH

Cabinet Base

12" Open Burners

60,000 BTUH

Modular

12" Open Burners

Natural Gas and Liquid Propane Available

(Image shows C12846-6)

Range Size: 12"W x 42"H x 37.88"D

Modular Size: 12"W x 10"H x 37.88"D

Model

Base

Top

30,000 BTUH

Cabinet Base

12" Manual Valve Controlled Griddle

30,000 BTUH

Modular

12" Manual Valve Controlled Griddle

30,000 BTUH

Cabinet Base

12" Thermostatic Controlled Griddle

30,000 BTUH

Modular

12" Thermostatic Controlled Griddle

Natural Gas and Liquid Propane Available

(Image shows M12S-6)

Range Size: 12"W x 36.38"H x 38"D

Modular Size: 12"W x 9.5"H x 38"D

Model

Base

Top

30,000 BTUH

Storage Base

1 Even Heat Hot Top

30,000 BTUH

Modular

1 Even Heat Hot Top

Natural Gas and Liquid Propane Available

(Image shows M12S-7 with low-profile backguard)

Range Size: 12"W x 36.75"H x 38"D

Modular Size: 12"W x 9.5"H x 38"D

Model

Base

Top

30,000 BTUH

Storage Base

12" Manual Control Griddle

30,000 BTUH

Storage Base

12" Manual Control Griddle

Natural Gas and Liquid Propane Available

(Image shows M12S-8 with low-profile backguard)

Range Size: 12"W x 36.75"H x 38"D

Modular Size: 12"W x 9.5"H x 38"D

Model

Base

Top

30,000 BTUH

Storage Base

12" Thermostat Control Griddle

30,000 BTUH

Modular

12" Thermostat Control Griddle

17" WIDE HEAVY-DUTY GAS RANGES

Natural Gas and Liquid Propane Available

P

iezo Spark Ignition

(Image shows M17B)

Range Size: 17"W x 46.25"H x 38"D

Modular Size: 17"W x 24"H x 38"D

Model

Base

Top

45,000 BTUH

Storage Base

Charbroiler

45,000 BTUH

Modular

Charbroiler

Natural Gas and Liquid Propane Available

(Image shows M4S)

Range Size: 17"W x 36.38"H x 38"D

Modular Size: 17"W x 9.5"H x 38"D

Burner Rating: 35,000

Model

Base

Top

70,000 BTUH

Storage Base

2 Open Burners

70,000 BTUH

Modular

2 Open Burners

Natural Gas and Liquid Propane Available

(Image shows M5S)

Range Size: 17"W x 36.38"H x 38"D

Modular Size: 17"W x 9.5"H x 38"D

Model

Base

Top

45,000 BTUH

Storage Base

17" Front-Fired Hot Top

45,000 BTUH

Modular

17" Front-Fired Hot Top

Natural Gas and Liquid Propane Available

(Image shows M6S)

Range Size: 17"W x 36.38"H x 38"D

Modular Size: 17"W x 9.5"H x 38"D

Model

Base

Top

30,000 BTUH

Storage Base

17" Even Heat Hot Top

30,000 BTUH

Modular

17" Even Heat Hot Top

Natural Gas and Liquid Propane Available

(Image shows M7S with low-profile backguard)

Range Size: 17"W x 36.38"H x 38"D

Modular Size: 17"W x 9.5"H x 38"D

Model

Base

Top

33,000 BTUH

Storage Base

17" Valve Controlled Griddle

33,000 BTUH

Modular

17" Valve Controlled Griddle

Natural Gas and Liquid Propane Available

(Image shows M8S)

*Control panel not as depicted*

Range Size: 17"W x 36.38"H x 38"D

Modular Size: 17"W x 9.5"H x 38"D

Model

Base

Top

33,000 BTUH

Storage Base

17" Thermostat Controlled Griddle

33,000 BTUH

Modular

17" Thermostat Controlled Griddle

Natural Gas and Liquid Propane Available

(Image shows 34" MST24B storage model)

Range Size: 17"W x 46.25"H x 38"D

Modular Size: 17"W x 24"H x 38"D

Model

Base

Top

45,000 BTUH

Storage Base

17" Charbroiler

45,000 BTUH

Modular

17" Charbroiler

W/ ELECTRIC SPARK IGNITION

45,000 BTUH

Storage Base

17" Charbroiler

18" WIDE HEAVY-DUTY GAS RANGES

Cuisine Series Heavy Duty Broiler w/ Non-Adjustable Racks

Natural Gas and Liquid Propane Available

(Image shows 36" C0836-36A model)

Range Size: 18"W x 36"H x 38"D

Modular Size: 18"W x 19"H x 38"D

Model

Base

Top

54,000 BTUH

Storage Base

18" Charbroiler w/ Cast Iron Radiants

54,000 BTUH

Modular

18" Charbroiler w/ Cast Iron Radiants

Natural Gas and Liquid Propane Available

(Image shows C1836-7)

Range Size: 18"W x 36"H x 38"D

Modular Size: 18"W x 10"H x 38"D

Model

Base

Top

30,000 BTUH

Cabinet Base

18" Manual Valve Controlled Griddle

30,000 BTUH

Modular

18" Manual Valve Controlled Griddle

30,000 BTUH

Cabinet Base

18" Thermostatic Controlled Griddle

30,000 BTUH

Modular

18" Thermostatic Controlled Griddle

Natural Gas and Liquid Propane Available

(Image shows C1836-7)

Range Size: 18"W x 36"H x 38"D

Modular Size: 18"W x 10"H x 38"D

Model

Base

Top

32,500 BTUH

Cabinet Base

18" Hot Top

32,500 BTUH

Modular

18" Hot Top

Natural Gas and Liquid Propane Available

(Image shows C1836-7)

Range Size: 18"W x 36"H x 38"D

Modular Size: 18"W x 10"H x 38"D

Burner Rating: 30,000

Model

Base

Top

60,000 BTUH

Cabinet Base

2 Open Burners

60,000 BTUH

Modular

2 Open Burners

24" WIDE HEAVY-DUTY GAS RANGES

Natural Gas and Liquid Propane Available

(Image shows 36" C836-436A with CI Radiants)

Range Size: 24"W x 36"H x 38"D

Model

Base

Top

90,000 BTUH

Storage Base

Charbroiler w/ Briquettes

72,000 BTUH

Storage Base

Charbroiler

w/ Cast Iron Radiants

Natural Gas and Liquid Propane Available

(Image shows 34" M34B model)

Range Size: 24"W x 46.25"H x 38"D

Modular Size: 24"W x 24"H x 38"D

Model

Base

Top

60,000 BTUH

Storage Base

24"W Charbroiler w/ Briquettes

60,000 BTUH

Modular

24"W Charbroiler w/ Briquettes

Natural Gas and Liquid Propane Available

(Image shows 36" C0836-36A model)

Range Size: 24"W x 36"H x 38"D

Modular Size: 24"W x 19"H x 38"D

Model

Base

Top

72,000 BTUH

Storage Base

24"W Charbroiler w/ Cast Iron Radiants

72,000 BTUH

Modular

24"W Charbroiler w/ Cast Iron Radiants

Natural Gas and Liquid Propane Available

(Image shows 34" M34B model)

Range Size: 24"W x 42"H x 37.88"D

Model

Base

Top

60,000 BTUH

Storage Base

24"W Charbroiler

60,000 BTUH

Storage Base

24"W Charbroiler

W/ ELECTRIC SPARK IGNITION

60,000 BTUH

Storage Base

24"W Charbroiler

Cuisine Series Heavy

-Du

ty 24

" Add-A-Unit

Natural Gas and Liquid Propane Available

(Image shows C12836-6)

Range Size: 24"W x 42"H x 37.88"D

Modular Size: 24"W x 10"H x 37.88"D

Model

Base

Top

60,000 BTUH

Cabinet Base

24" Manual Control Griddle

60,000 BTUH

Cabinet Base

24" Thermostatic Control Griddle

60,000 BTUH

Modular

24" Thermostatic Control Griddle

60,000 BTUH

Modular

24" Manual Control Griddle

34" WIDE HEAVY-DUTY GAS RANGES

Natural Gas and Liquid Propane Available

(Image shows M34B)

Range Size: 34"W x 46.25"H x 38"D

Modular Size: 34"W x 24"H x 38"D

Model

Base

Top

90,000 BTUH

Storage Base

34"W Charbroiler w/ Briquettes

90,000 BTUH

Modular

34"W Charbroiler w/ Briquettes

Natural Gas and Liquid Propane Available

(Image shows M42-6R)

Range Size: 34"W x 36.38"H x 38"D

Modular Size: 34"W x 10"H x 38"D

Burner Rating: 35,000

Model

Base

Top

100,000 BTUH

Storage Base

Even Heat Hot Top

2 Open Burners

100,000 BTUH

Modular

Even Heat Hot Top

2 Open Burners

140,000 BTUH

Standard Oven w/ Piezo Spark Ignition

Even Heat Hot Top

2 Open Burners

Natural Gas and Liquid Propane Available

(Image shows M42R)

Range Size: 34"W x 36.38"H x 38"D

Modular Size: 34"W x 10"H x 38"D

Burner Rating: 35,000

Model

Base

Top

103,000 BTUH

Storage Base

2 Open Burners

17" Valve Control Griddle

103,000 BTUH

Modular

2 Open Burners

17" Valve Control Griddle

143,000 BTUH

Standard Oven w/ Piezo Spark Ignition

2 Open Burners

17" Valve Control Griddle

Natural Gas and Liquid Propane Available

(Image shows M43-2R)

Range Size: 34"W x 36.38"H x 38"D

Modular Size: 34"W x 10"H x 38"D

Model

Base

Top

66,000 BTUH

Storage Base

3 Even Heat Hot Tops

66,000 BTUH

Modular

3 Even Heat Hot Tops

106,000 BTUH

Standard Oven

3 Even Heat Hot Tops

Natural Gas and Liquid Propane Available

(Image shows M43-2R)

Range Size: 34"W x 36.38"H x 38"D

Modular Size: 34"W x 10"H x 38"D

Burner Rating: 24,000

Model

Base

Top

92,000 BTUH

Storage Base

2 Open Burners

2 Even Heat Hot Tops

92,000 BTUH

Modular

2 Open Burners

2 Even Heat Hot Tops

132,000 BTUH

Standard Oven

2 Open Burners

2 Even Heat Hot Tops

Natural Gas and Liquid Propane Available

(Image shows M43-2R)

Range Size: 34"W x 36.38"H x 38"D

Modular Size: 34"W x 10"H x 38"D

Burner Rating: 24,000

Model

Base

Top

118,000 BTUH

Storage Base

4 Open Burners

1 Even Heat Hot Top

118,000 BTUH

Modular

4 Open Burners

1 Even Heat Hot Top

158,000 BTUH

Standard Oven

4 Open Burners

1 Even Heat Hot Top

Natural Gas and Liquid Propane Available

(Image shows M43-2R)

Range Size: 34"W x 36.75"H x 38"D

Modular Size: 34"W x 10"H x 38"D

Burner Rating: 18,000

Model

Base

Top

99,000 BTUH

Standard Oven

3 Open Burners

3 Hot Tops

59,000 BTUH

Storage Base

3 Open Burners

3 Hot Tops

59,000 BTUH

Modular

3 Open Burners

3 Hot Tops

Natural Gas and Liquid Propane Available

(Image shows M43R)

Range Size: 34"W x 36.75"H x 38"D

Modular Size: 34"W x 10"H x 38"D

Burner Rating: 24,000

Model

Base

Top

184,000 BTUH

Standard Oven

6 Open Burners

144,000 BTUH

Storage Base

6 Open Burners

144,000 BTUH

Modular

6 Open Burners

Natural Gas and Liquid Propane Available

(Image shows M44R)

Range Size: 34"W x 36.38"H x 38"D

Modular Size: 34"W x 10"H x 38"D

Burner Rating: 35,000

Model

Base

Top

180,000 BTUH

Standard Oven

4 Open Burners

140,000 BTUH

Storage Base

4 Open Burners

140,000 BTUH

Modular

4 Open Burners

Natural Gas and Liquid Propane Available

(Image shows M45R)

Range Size: 34"W x 36.38"H x 38"D

Modular Size: 34"W x 10"H x 38"D

Model

Base

Top

130,000 BTUH

Standard Oven

2 Front-Fired Hot Tops

90,000 BTUH

Storage Base

2 Front-Fired Hot Tops

90,000 BTUH

Modular

2 Front-Fired Hot Tops

Natural Gas and Liquid Propane Available

(Image shows M46R)

Range Size: 34"W x 36.38"H x 38"D

Modular Size: 34"W x 10"H x 38"D

Model

Base

Top

130,000 BTUH

Standard Oven

2 Section Even Heat Hot Top

90,000 BTUH

Storage Base

2 Section Even Heat Hot Top

90,000 BTUH

Modular

2 Section Even Heat Hot Top

Natural Gas and Liquid Propane Available

(Image shows M47-23R)

Range Size: 34"W x 36.38"H x 38"D

Modular Size: 34"W x 10"H x 38"D

Burner Rating: 24,000 BTUH

Model

Base

Top

154,000 BTU

Standard Oven

23"W Valve Control Griddle

2 Open Burners

104,000 BTU

Storage Base

23"W Valve Control Griddle

2 Open Burners

104,000 BTU

Modular

23"W Valve Control Griddle

2 Open Burners

Natural Gas and Liquid Propane Available

(Image shows M47R)

Range Size: 34"W x 36.38"H x 38"D

Modular Size: 34"W x 10"H x 38"D

Model

Base

Top

99,000 BTUH

Storage Base

34" Valve Controlled Griddle

99,000 BTUH

Modular

34" Valve Controlled Griddle

139,000 BTUH

Standard Oven

34" Valve Controlled Griddle

Natural Gas and Liquid Propane Available

(Image shows M48-23R)

Range Size: 34"W x 36.38"H x 38"D

Modular Size: 34"W x 10"H x 38"D

Burner Rating: 24,000 BTUH

Model

Base

Top

114,000 BTUH

Storage Base

23" Thermostat Control Griddle
2 Open Burners

114,000 BTUH

Modular

23" Thermostat Control Griddle
2 Open Burners

154,000 BTUH

Standard Oven

23" Thermostat Control Griddle
2 Open Burners

Natural Gas and Liquid Propane Available

(Image shows M48R)

Range Size: 34"W x 36.38"H x 38"D

Modular Size: 34"W x 10"H x 38"D

Model

Base

Top

99,000 BTUH

Storage Base

34"W Thermostat Controlled Griddle

99,000 BTUH

Modular

34"W Thermostat Controlled Griddle

139,000 BTUH

Standard Oven

34"W Thermostat Controlled Griddle

Natural Gas and Liquid Propane Available

(Image shows M54R)

Range Size: 34"W x 36.38"H x 38"D

Modular Size: 34"W x 10"H x 38"D

Burner Rating: 35,000

Model

Base

Top

115,000 BTUH

Storage Base

17"W Front-Fired Hot Top

2 Open Burners

115,000 BTUH

Modular

17"W Front-Fired Hot Top

2 Open Burners

155,000 BTUH

Standard Oven

17"W Front-Fired Hot Top

2 Open Burners

Natural Gas and Liquid Propane Available

(Image shows MST34B)

Range Size: 34"W x 46.25"H x 38"D

Modular Size: 34"W x 24"H x 38"D

Model

Base

Top

90,000 BTUH

Storage Base

34"W Charbroiler

90,000 BTUH

Modular

34"W Charbroiler

W/ ELECTRIC SPARK IGNITION

90,000 BTUH

Storage Base

34"W Charbroiler

Natural Gas and Liquid Propane Available

(Image shows MST42R-E)

Range Size: 34"W x 36.38"H x 38"D

Modular Size: 34"W x 10"H x 38"D

Burner Rating: 35,000

Model

Base

Top

100,000 BTUH

Storage Base

17"W Even Heat Hot Top

2 Open Burners

100,000 BTUH

Modular

17"W Even Heat Hot Top

2 Open Burners

140,000 BTUH

Standard Oven

17"W Even Heat Hot Top

2 Open Burners

Natural Gas and Liquid Propane Available

(Image shows MST42R-E)

Range Size: 34"W x 36.38"H x 38"D

Modular Size: 34"W x 10"H x 38"D

Burner Rating: 35,000

Model

Base

Top

100,000 BTUH

Storage Base

17"W Even Heat Hot Top

2 Open Burners

100,000 BTUH

Modular

17"W Even Heat Hot Top

2 Open Burners

140,000 BTUH

Standard Oven

17"W Even Heat Hot Top

2 Open Burners

Natural Gas and Liquid Propane Available

(Image shows MST42R-E)

Range Size: 34"W x 36.38"H x 38"D

Modular Size: 34"W x 10"H x 38"D

Burner Rating: 35,000

Model

Base

Top

103,000 BTUH

Storage Base

17" Valve Control Griddle

2 Open Burners

103,000 BTUH

Modular Top

17" Valve Control Griddle

2 Open Burners

143,000 BTUH

Standard Oven

17" Valve Control Griddle

2 Open Burners

Natural Gas and Liquid Propane Available

(Image shows MST43R-E)

*valve control may not be as depicted*

Range Size: 34"W x 36.38"H x 38"D

Modular Size: 34"W x 10"H x 38"D

Burner Rating: 24,000

Model

Base

Top

Storage Base

6 Open Burners

Modular

6 Open Burners

Standard Oven

6 Open Burners

Natural Gas and Liquid Propane Available

(Image shows MST44R)

*valve control may not be as depicted*

Range Size: 34"W x 36.38"H x 38"D

Modular Size: 34"W x 10"H x 38"D

Burner Rating: 35,000

Model

Base

Top

140,000 BTUH

Storage Base

4 Open Burners

140,000 BTUH

Modular

4 Open Burners

180,000 BTUH

Standard Oven

4 Open Burners

Natural Gas and Liquid Propane Available

(Image shows MST45R)

*valve control may not be as depicted*

Range Size: 34"W x 36.38"H x 31.5"D

Modular Size: 34"W x 9.5"H x 38"D

Model

Base

Top

90,000 BTUH

Storage Base

2 17" Front-Fired Hot Tops

90,000 BTUH

Modular

2 17" Front-Fired Hot Tops

130,000 BTUH

Standard Oven

2 17" Front-Fired Hot Tops

Natural Gas and Liquid Propane Available

(Image shows MST46R)

*valve control may not be as depicted*

Range Size: 34"W x 36.38"H x 38"D

Modular Size: 34"W x 10"H x 38"D

Model

Base

Top

90,000 BTUH

Storage Base

2 17" Even Heat Hot Tops

90,000 BTUH

Modular

2 17" Even Heat Hot Tops

130,000 BTUH

Standard Oven

2 17" Even Heat Hot Tops

Natural Gas and Liquid Propane Available

(Image shows MST47R)

*valve control may not be as depicted*

Range Size: 34"W x 36.38"H x 38"D

Modular Size: 34"W x 9.5"H x 38"D

Model

Base

Top

99,000 BTUH

Storage Base

34" Valve Controlled Griddle

99,000 BTUH

Modular

34"W Valve Controlled Griddle

139,000 BTUH

Standard Oven

34"W Valve Controlled Griddle

Natural Gas and Liquid Propane Available

(Image shows MST54R)

*valve control may not be as depicted*

Range Size: 34"W x 36.38"H x 38"D

Modular Size: 34"W x 10"H x 38"D

Burner Rating: 35,000

Model

Base

Top

115,000 BTUH

Storage Base

17"W Front-Fired Hot Top

2 Open Burners

115,000 BTUH

Modular

17"W Front-Fired Hot Top

2 Open Burners

155,000 BTUH

Standard Oven

17"W Front-Fired Hot Top

2 Open Burners

36" WIDE HEAVY-DUTY GAS RANGES

Natural Gas and Liquid Propane Available

(Image shows C836-1)

Range Size: 36"W x 42"H x 39.88"D

Modular Size: 36"W x 10"H x 39.88"D

Model

Base

Top

130,000 BTUH

Standard Oven

36" Manual Valve Control Griddle

90,000 BTUH

Storage Base

36" Manual Valve Control Griddle

90,000 BTUH

Modular

36" Manual Valve Control Griddle

130,000 BTUH

Standard Oven

36" Thermostatic Control Griddle

90,000 BTUH

Storage Base

36" Thermostatic Control Griddle

90,000 BTUH

Modular

36" Thermostatic Control Griddle

Natural Gas and Liquid Propane Available

(Image shows C836-10)

Range Size: 36"W x 42"H x 39.88"D

Modular Size: 36"W x 10"H x 39.88"D

Model

Base

Top

115,000 BTUH

Standard Oven

2 18" Front Fired Hot Tops

75,000 BTUH

Cabinet Base

2 18" Front Fired Hot Tops

75,000 BTUH

Modular

2 18" Front Fired Hot Tops

Natural Gas and Liquid Propane Available

(Image shows C836-36A)

Range Size: 34"W x 36.38"H x 38"D

Modular Size: 34"W x 10"H x 38"D

Model

Base

Top

148,000 BTUH

Standard Oven

36" Broiler

w/ Cast Iron Radiants

148,000 BTUH

Convection Oven

36" Broiler w/

Cast Iron Radiants

108,000 BTUH

Storage Base

36" Broiler w/

Cast Iron Radiants

108,000 BTUH

Modular

36" Broiler w/

Cast Iron Radiants

Natural Gas and Liquid Propane Available

(Image shows C836-6)

Range Size: 36"W x 42"H x 39.88"D

Modular Size: 36"W x 10"H x 39.88"D

Burner Rating: 30,000

Model

Base

Top

180,000 BTUH

Cabinet Base

6 Open Burners

180,000 BTUH

Modular

6 Open Burners

220,000 BTUH

Standard Oven

6 Open Burners

Natural Gas and Liquid Propane Available

(Image shows C836-6SU)

Range Size: 36"W x 42"H x 39.88"D

Modular Size: 36"W x 10"H x 39.88"D

Burner Rating: 30,000

Model

Base

Top

180,000 BTUH

Cabinet Base

6 Step-Up Open Burners

180,000 BTUH

Modular

6 Step-Up Open Burners

220,000 BTUH

Standard Oven

6 Step-Up Open Burners

Natural Gas and Liquid Propane Available

(Image shows C836-7)

Range Size: 36"W x 42"H x 39.88"D

Modular Size: 36"W x 10"H x 39.88"D

Burner Rating: 30,000

Model

Base

Top

120,000 BTUH

Cabinet Base

4 Open Burners

120,000 BTUH

Modular

4 Open Burners

160,000 BTUH

Standard Oven

4 Open Burners

Natural Gas and Liquid Propane Available

(Image shows C836-8)

Range Size: 36"W x 42"H x 39.38"D

Modular Size: 36"W x 10"H x 37.38"D

Model

Base

Top

75,000 BTUH

Cabinet

3 12" Hot Tops

75,000 BTUH

Modular

3 12" Hot Tops

115,000 BTUH

Standard Oven

3 12" Hot Tops

Natural Gas and Liquid Propane Available

(Image shows C836-9)

Range Size: 36"W x 42"H x 39.88"D

Modular Size: 36"W x 10"H x 39.88"D

Model

Base

Top

65,000 BTUH

Cabinet

2 18" Hot Tops

65,000 BTUH

Modular

2 18" Hot Tops

105,000 BTUH

Standard Oven

2 18" Hot Tops

Natural Gas and Liquid Propane Available

(Image shows C836-11)

Range Size: 36"W x 42"H x 39.38"D

Modular Size: 36"W x 10"H x 39.38"D

Model

Base

Top

110,000 BTUH

Standard Oven

1 Front Fired Hot Top

1 Even Heat Hot Top (Left)

70,000 BTUH

Cabinet

1 Front Fired Hot Top

1 Even Heat Hot Top (Left)

70,000 BTUH

Modular

1 Front Fired Hot Top

1 Even Heat Hot Top (Left)

110,000 BTUH

Standard Oven

1 Front Fired Hot Top

1 Even Heat Hot Top (Right)

70,000 BTUH

Cabinet

1 Front Fired Hot Top

1 Even Heat Hot Top (Right)

70,000 BTUH

Modular

1 Front Fired Hot Top

1 Even Heat Hot Top (Right)

Natural Gas and Liquid Propane Available

(Image shows C836-12)

Range Size: 36"W x 42"H x 39.38"D

Modular Size: 36"W x 10"H x 37.38"D

Burner Rating: 30,000 BTUH

Model

Base

Top

150,000 BTUH

Standard Oven

2 Open Burners (Left)

2 12" Hot Top

110,000 BTUH

Cabinet Base

2 Open Burners (Left)

2 12" Hot Top

C0836-12M
110,000 BTUH

Modular

2 Open Burners (Left)

2 12" Hot Top

150,000 BTUH

Standard Oven

2 Open Burners (Center)

2 12" Hot Top

110,000 BTUH

Cabinet Base

2 Open Burners (Center)

2 12" Hot Top

110,000 BTUH

Modular

2 Open Burners (Center)

2 12" Hot Top

150,000 BTUH

Standard Oven

2 Open Burners (Right)

2 12" Hot Top

110,000 BTUH

Cabinet Base

2 Open Burners (Right)

2 12" Hot Top

110,000 BTUH

Modular

2 Open Burners (Right)

2 12" Hot Top

Natural Gas and Liquid Propane Available

(Image shows C836-13)

Range Size: 36"W x 42"H x 39.38"D

Modular Size: 36"W x 10"H x 39.38"D

Burner Rating: 30,000 BTUH

Model

Base

Top

185,000 BTUH

Standard Oven

4 Open Burners

1 12" Hot Top (Right)

145,000 BTUH

Cabinet Base

4 Open Burners

1 12" Hot Top (Right)

145,000 BTUH

Modular

4 Open Burners

1 12" Hot Top (Right)

185,000 BTUH

Standard Oven

4 Open Burners

1 12" Hot Top (Center)

145,000 BTUH

Cabinet Base

4 Open Burners

1 12" Hot Top (Center)

145,000 BTUH

Modular

4 Open Burners

1 12" Hot Top (Center)

185,000 BTUH

Standard Oven

4 Open Burners

1 12" Hot Top (Left)

145,000 BTUH

Cabinet Base

4 Open Burners

1 12" Hot Top (Left)

145,000 BTUH

Modular

4 Open Burners

1 12" Hot Top (Left)

Natural Gas and Liquid Propane Available

(Image shows C836-14)

Range Size: 36"W x 42"H x 39.38"D

Modular Size: 36"W x 10"H x 37.38"D

Burner Rating: 30,000 BTUH

Model

Base

Top

132,500 BTUH

Standard Oven

1 Even Heat Hot Top (Right)

2 Open Burners

92,500 BTUH

Cabinet

1 Even Heat Hot Top (Right)

2 Open Burners

92,500 BTUH

Modular

1 Even Heat Hot Top (Right)

2 Open Burners

132,500 BTUH

Standard Oven

1 Even Heat Hot Top (Left)

2 Open Burners

92,500 BTUH

Cabinet

1 Even Heat Hot Top (Left)

2 Open Burners

92,500 BTUH

Modular

1 Even Heat Hot Top (Left)

2 Open Burners

Natural Gas and Liquid Propane Available

(Image shows C836-15)

Range Size: 36"W x 42"H x 39.38"D

Modular Size: 36"W x 10"H x 39.38"D

Burner Rating: 30,000 BTUH

Model

Base

Top

175,000 BTUH

Standard Oven

3 12" French Tops

3 Open Burners

135,00 BTUH

Cabinet

3 12" French Tops

3 Open Burners

135,00 BTUH

Modular

3 12" French Tops

3 Open Burners

Natural Gas and Liquid Propane Available

(Image shows C836-17R)

Range Size: 36"W x 42"H x 39.38"D

Modular Size: 36"W x 10"H x 39.38"D

Model

Base

Top

137,500 BTUH

Standard Oven

1 Front Fired Hot Top (Left)

2 Open Burners

97,500 BTUH

Cabinet

1 Front Fired Hot Top (Left)

2 Open Burners

97,500 BTUH

Modular

1 Front Fired Hot Top (Left)

2 Open Burners

137,500 BTUH

Standard Oven

1 Front Fired Hot Top

(Right)

2 Open Burners

97,500 BTUH

Cabinet

1 Front Fired Hot Top

(Right)

2 Open Burners

97,500 BTUH

Modular

1 Front Fired Hot Top

(Right)

2 Open Burners

Natural Gas and Liquid Propane Available

(Image shows C836-2)

Range Size: 36"W x 42"H x 39.38"D

Modular Size: 36"W x 10"H x 39.38"D

Model

Base

Top

160,000 BTUH

Standard Oven

24" Manual Control Griddle

2 Open Burners

120,000 BTUH

Storage Base

24" Manual Control Griddle

2 Open Burners

120,000 BTUH

Modular

24" Manual Control Griddle

2 Open Burners

125,000 BTUH

Standard Oven

24" Manual Control Griddle

12" Hot Top

85,000 BTUH

Storage Base

24" Manual Control Griddle

12" Hot Top

85,000 BTUH

Modular

24" Manual Control Griddle

12" Hot Top

Natural Gas and Liquid Propane Available

(Image shows C836-2)

Range Size: 36"W x 42"H x 39.38"D

Modular Size: 36"W x 10"H x 39.38"D

Model

Base

Top

120,000 BTUH

Storage Base

24" Thermostatic Control Griddle

2 Open Burners

120,000 BTUH

Modular

24" Thermostatic Control Griddle

2 Open Burners

85,000 BTUH

Storage Base

24" Thermostatic Control Griddle

12" Hot Top

85,000 BTUH

Modular

24" Thermostatic Control Griddle

12" Hot Top

160,000 BTUH

Standard Oven

24" Thermostatic Control Griddle

2 Open Burners

120,000 BTUH

Storage Base

24" Thermostatic Control Griddle

2 Open Burners

125,000 BTUH

Standard Oven

24" Thermostatic Control Griddle

12" Hot Top

Natural Gas and Liquid Propane Available

(Image shows C836-436A)

Range Size: 36"W x 56.5"H x 37.88"D

Model

Base

Top

175,000 BTUH

Standard Oven

36"W Charbroiler w/

Briquettes

135,000 BTUH

Storage Base

36"W Charbroiler w/

Briquettes

148,000 BTUH

Standard Oven

36"W Charbroiler w/

Cast Iron Radiants

148,000 BTUH

Convection Oven

36"W Charbroiler w/

Cast Iron Radiants

108,000 BTUH

Storage Base

36"W Charbroiler w/

Cast Iron Radiants

175,000 BTUH

Convection Oven

36"W Charbroiler w/

Briquettes

Natural Gas and Liquid Propane Available

(Image shows C836-1)

Range Size: 36"W x 42"H x 39.38"D

Modular Size: 36"W x 10"H x 39.38"D

Model

Base

Top

130,000 BTUH

Standard Oven

18" Manual Control Griddle

2 Open Burners

90,000 BTUH

Storage Base

18" Manual Control Griddle

2 Open Burners

90,000 BTUH

Modular

18" Manual Control Griddle

2 Open Burners

102,000 BTUH

Standard Oven

18" Manual Control Griddle

18" Hot Top

62,500 BTUH

Storage Base

18" Manual Control Griddle

18" Hot Top

62,500 BTUH

Modular

18" Manual Control Griddle

18" Hot Top

Natural Gas and Liquid Propane Available

(Image shows C836-1)

Range Size: 36"W x 42"H x 39.38"D

Modular Size: 36"W x 10"H x 39.38"D

Burner Rating: 30,000

Model

Base

Top

130,000 BTUH

Standard Oven

18" Thermostatic Control Griddle

2 Open Burners

90,000 BTUH

Storage Base

18" Thermostatic Control Griddle

2 Open Burners

90,000 BTUH

Modular

18" Thermostatic Control Griddle

2 Open Burners

102,000 BTUH

Standard Oven

18" Thermostatic Control Griddle

18" Hot Top

62,500 BTUH

Storage Base

18" Thermostatic Control Griddle

18" Hot Top

62,500 BTUH

Modular

18" Thermostatic Control Griddle

18" Hot Top

Natural Gas and Liquid Propane Available

(Image shows C836-11)

Range Size: 36"W x 42"H x 39.38"D

Modular Size: 36"W x 10"H x 37.38"D

Model

Base

Top

110,000 BTUH

Standard Oven

1 Front Fired Hot Top

1 Even Heat Hot Top (Left)

70,000 BTUH

Cabinet

1 Front Fired Hot Top

1 Even Heat Hot Top (Left)

70,000 BTUH

Modular

1 Front Fired Hot Top

1 Even Heat Hot Top (Left)

110,000 BTUH

Standard Oven

1 Front Fired Hot Top

1 Even Heat Hot Top (Right)

70,000 BTUH

Cabinet

1 Front Fired Hot Top

1 Even Heat Hot Top (Right)

70,000 BTUH

Modular

1 Front Fired Hot Top

1 Even Heat Hot Top (Right)

48" WIDE HEAVY-DUTY GAS RANGES

Natural Gas and Liquid Propane Available

(Image shows C0836-48A)

Range Size: 48"W x 36"H x 37.88"D

Modular Size: 48"W x 19"H x 37.88"D

Model

Base

Top

144,000 BTUH

Cabinet Base

48" Manual Valve Control Griddle w/

Cast Iron Radiants

144,000 BTUH

Modular

48" Manual Valve Control Griddle w/

Cast Iron Radiants

Natural Gas and Liquid Propane Available

(Image shows C836-48-1 with optional casters)

Range Size: 48"W x 42"H x 39.88"D

Modular Size: 48"W x 10"H x 39.88"D

Model

Base

Top

160,000 BTUH

Standard Oven

12" Cabinet

48" Manual Valve Control Griddle

120,000 BTUH

12" and 36" Cabinets

48" Manual Valve Control Griddle

120,000 BTUH

Modular

48" Manual Valve Control Griddle

160,000 BTUH

Standard Oven

12" Cabinet

48" Thermostat Control Griddle

120,000 BTUH

12" and 36" Cabinets

48" Thermostat Control Griddle

120,000 BTUH

Modular

48" Thermostat Control Griddle
RESTAURANT ELECTRIC RANGES
36" WIDE RESTAURANT ELECTRIC RANGES

(Image shows S686 with optional casters)

Range Size: 36"W x 47"H x 34.25"D

Model

Base

Top

1 Standard Oven

6 All-Purpose Tubular Element Burners

1 Standard Oven

6 High-Performance Sealed Element Burners

60" WIDE RESTAURANT ELECTRIC RANGES

(Image shows S684)

Range Size: 60"W x 34.25"D x 47"H

Model

Base

Top

2 Standard Ovens

10 All-Purpose Tubular Element Burners

2 Standard Ovens

10 High-Performance Sealed Element Burners
HEAVY-DUTY ELECTRIC RANGES
18" WIDE HEAVY-DUTY ELECTRIC RANGES

Range Size: 18"W x 37.38"H x 36"D

Model

Base

Top

Storage Base

2 Boiling Plates

1 Thermostat Control Heat Zone

Range Size: 18"W x 37.38"H x 33.75"D

Model

Base

Top

Storage Base

18" All-Purpose Plate

36" WIDE HEAVY-DUTY ELECTRIC RANGES

3 Thermostat Control Heat Zones

(Image shows 36ER32)

Range Size: 36"W x 37.38"H x 33.75"D

Model

Base

Top

Standard Oven

2 All-Purpose Plates

(12" and 24")

Storage Base

2 All-Purpose Plates

(12" and 24")

2 Thermostat Control Heat Zones

(Image shows 36ER32-3)

Range Size: 36"W x 37.38"H x 33.75"D

Model

Base

Top

Standard Oven

2 All-Purpose Plates

(12" and 24")

2 12" Open

Tubular Elements

Storage Base

2 All-Purpose Plates

(12" and 24")

2 12" Open

Tubular Elements

(Image shows 36ER33)

Range Size: 36"W x 37.38"H x 33.75"D

Model

Base

Top

Standard Oven

6 Coil Elements

Storage Base

6 Coil Elements

Thermostat Oven Controls

4 Heat Zones

(Image shows 36ER35)

Range Size: 36"W x 37.38"H x 33.75"D

Model

Base

Top

Standard Oven

2 18"W Boiling Plates

Storage Base

2 18"W Boiling Plates

Thermostat Oven Controls

2 Heat Zones

(Image shows 36ER36)

Range Size: 36"W x 37.38"H x 33.75"D

Model

Base

Top

Standard Oven

2 18" x 24" All-Purpose Plates

Storage Base

2 18" x 24" All-Purpose Plates

3 Thermostat Control Heat Zones

(Image shows 36ER38)

Range Size: 36"W x 37.38"H x 33.75"D

Model

Base

Top

Standard Oven

36" Thermostat Controlled Griddle

Storage Base

36" Thermostat Controlled Griddle

Thermostat Oven Controls

6 Heat Zones

(Image shows 36ER39)

Range Size: 36"W x 37.38"H x 33.75"D

Model

Base

Top

Standard Oven

6-Section Boiling Plate

Storage Base

6-Section Boiling Plate