Fall Dessert Menu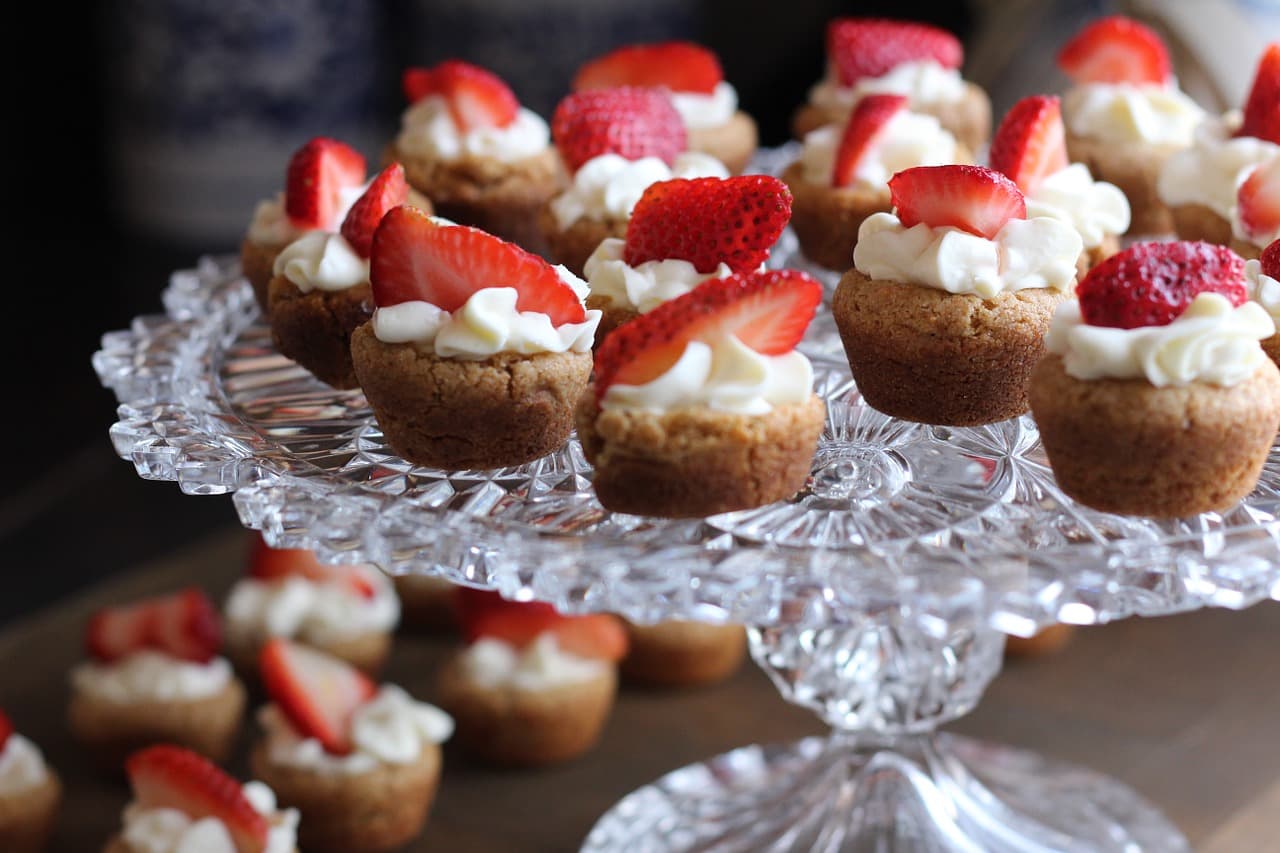 Fall is the time for spice and squash favorites to start to make their way into restaurant menus. Customers demand these seasonal flavors, and food service operators who take heed typically see a boost in profits as a result. We've all poked fun at the pumpkin spice craze, but there's more to fall than just pumpkin! Here are some fall dessert recipe ideas to get your creative juices flowing and your sweet treats in demand.
Caramel Apple Cheesecake Bars
Caramel apples have been around for centuries, and they've permeated fall festivals and holidays throughout the years. But many don't consider the interesting combination of caramel apple and cheesecake! These caramel apple cheesecake bars come from the foodies at QVC and are a perfect addition to your seasonal dessert menu.
Ingredients:
Streusel Topping:
1 cup firmly packed brown sugar

1 cup all-purpose flour

1/4 tsp salt

1/2 cup quick cooking oats

1 stick unsalted butter, softened
Apple Cheesecake Bars
3 Granny Smith apples, peeled, cored, and chopped into 1/4" pieces

1/2 cup + 2 Tbsp white sugar, divided

3/4 tsp ground cinnamon

1/4 tsp ground nutmeg

1-1/2 cups all-purpose flour

1/3 cup firmly packed brown sugar

1-1/2 sticks unsalted butter, softened

2 (8-oz) packages cream cheese, softened

1-1/2 tsp vanilla extract

2 large eggs

1/2 cup caramel sauce, for topping
Preparation:
To prepare the streusel topping, place all the ingredients in a medium-size bowl. Gently, with your fingers, mix the dough until it's crumbly with medium-size pieces. Cover with plastic wrap and refrigerate until needed.

To prepare the apple cheesecake bars, first place an oven rack in the lower-third of the oven and preheat to 350°F. Grease a 9" x 13" baker with cooking spray. Set aside.

Toss the chopped apples, 2 Tbsp sugar, cinnamon, and nutmeg in a medium-size bowl. Set aside. Combine the flour and brown sugar a large bowl. Gently, with your fingers, add the butter and mix the dough until crumbly. Evenly press the mixture into the prepared pan and bake 25–30 minutes, or until light golden brown.

In the bowl of a stand mixer, fitted with a paddle attachment, beat the cream cheese, 1/2 cup sugar, and vanilla at medium speed until smooth. Add the eggs, 1 at a time, and mix until just incorporated. Pour the batter over the warm crust. Evenly spoon the apples (without the liquid it produced) over the cream cheese mixture, and sprinkle the streusel topping on top. Bake for 35–40 minutes, or until the filling is set.

Remove from the oven and place on a cooling rack. Refrigerate for at least 6 hours, or overnight. Cut into desired-size bars and drizzle with caramel sauce before serving.
Salted Caramel Mocha + Nutella Brownies
As if brownies weren't already delicious enough, adding fall flavors like salted caramel and nutty additions like Nutella makes them all the better! This recipe from Half Baked Harvest can add a seasonal twist to a classic favorite, and it's great with a scoop of ice cream and some attention to drizzle detail when plating.
Ingredients:
2 sticks (1 cup OR 16 tablespoons) unsalted butter

4 ounces milk chocolate, chopped

1 1/2 cups granulated sugar

2 tablespoons instant coffee

1 tablespoon vanilla extract

2 tablespoons kahlua (optional, but not really!)

4 large eggs

1 cup unsweetened cocoa powder

1 cup all-purpose flour

1/4 teaspoon kosher salt

1/2 cup nutella

Salted Coffee Caramel (or 1 1/2 cups store-bought salted caramel sauce)

1 cup black coffee

1 1/4 cups brown sugar (add 1/4 white sugar if you like a sweeter cookie)

1 cup canned coconut milk (or heavy cream)

2 tablespoons butter

1 tablespoon Kahlua

maldon salt (flaked sea salt), for sprinkling
Instructions:
For Caramel:
Add the coffee and brown sugar in a medium sauce pot. Bring to a boil and boil 5 minutes or until the mixture has reduced to 1/3 cup.

Slowly add the coconut milk and butter, whisk to combine.

Bring back to a boil, reduce heat to a low boil and cook 5 minutes longer, until the sauce has thickened and coats the back of a spoon. If using a candy thermometer do not let the sauce go above 180 degrees F.

Remove from the heat and stir in the Kahlua and a pinch of salt, set aside.
Brownies
Line a 9x13 inch baking dish with parchment paper or foil, letting the edges overhang from the pan so later you can easily lift the brownies out of the pan. Preheat the oven to 350 degrees F.
Add the butter and milk chocolate to a medium size mixing bowl that is microwave safe. Microwave the butter and chocolate on 30 second intervals, stirring after each interval, until melted and smooth. This takes me about 1 minute and 30 seconds.

To the melted chocolate mixture, add the sugar and instant coffee, whisking until completely combined. Add the vanilla, Kahula and eggs and whisk until smooth.

Stir in the cocoa powder, flour and salt until smooth and just combined. Pour half the batter into the prepared pan.

Dollop teaspoon size amounts of Nutella over the batter.

Drizzle with three-fourths of the caramel (you may need to warm the caramel over the stove if it has set).

Spoon the remaining batter over top, using a spoon to lightly smooth out the batter. It's ok if the batter does not cover up all the Nutella + caramel.

Bake for 25-30 minutes, until the brownies are set on top. Remove from the oven and allow to cool. Just before slicing, heat the remaining caramel over the stove. Cut the brownies into bars and then drizzle the warmed caramel over the brownies. Sprinkle with salt. EAT!
Pumpkin Bread
Ok, so we couldn't NOT have a pumpkin recipe on here! This pumpkin bread is a classic favorite, and it can be served during breakfast, brunch, or as part of your dessert menu. This break is versatile enough to be dressed up with a scoop of ice cream or pared down as a side to compliment a hot beverage. This recipe comes from Hormel Foods.
Ingredients:
1 1/2 cups sugar

1/2 cup vegetable oil

2 large eggs

1 cup canned pumpkin puree

1/2 cup CHI-CHI'S® Thick & Chunky Salsa

3 cups all-purpose flour

1 teaspoon baking soda

3/4 teaspoon salt

1/2 teaspoon ground cinnamon

1/2 teaspoon ground nutmeg
Directions:
Heat oven to 350°F. Lightly oil and flour 9-x 5-inch loaf pan.

In large bowl, combine sugar and oil; mix well. Add eggs, 1 at a time, mixing well after each additon. Add pumpkin and salsa; mix well.

In medium bowl, combine flour, baking soda, salt, cinnamon and nutmeg. Add dry ingredients to pumpkin mixture. Mix just until dry ingredients are moistened.

Spoon pumpkin batter into pan. Bake 1 hour 20 minutes or until wooden pick inserted near center comes out clean. Cool 10 minutes. Remove from pan; cool completely on wire rack.