Buying Guide: How to Buy Merchandisers for Your Foodservice Establishment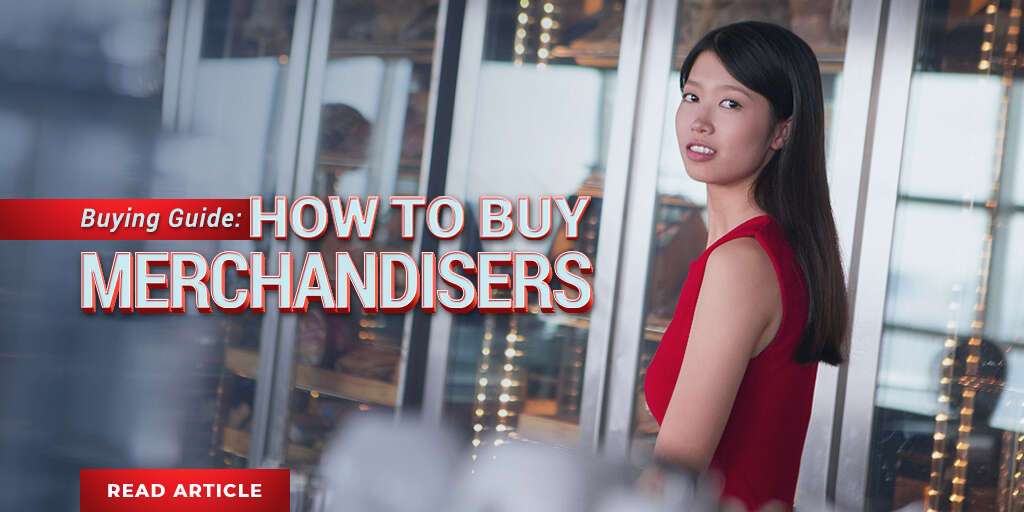 Merchandisers are essential for business, especially in self-service foodservice establishments such as convenience stores and delis. Merchandisers can be refrigerated or non-refrigerated. They are designed to attract customers to buy more of your products. They must be attractive and functional at the same time. A well-designed merchandiser makes more people want to pick up its contents and pay for them at the counter. At the same time, it must have all the features and functionalities needed to ensure that the products on display are kept at safe and constant temperatures.
In this buying guide, we're going to show you the various types of merchandisers, their defining features, and what they are best used for. We're also going to discuss the important features you need to look for and some tips for choosing a merchandiser that suits your needs.
Types of Refrigerated Merchandisers
1. Open-Type Merchandisers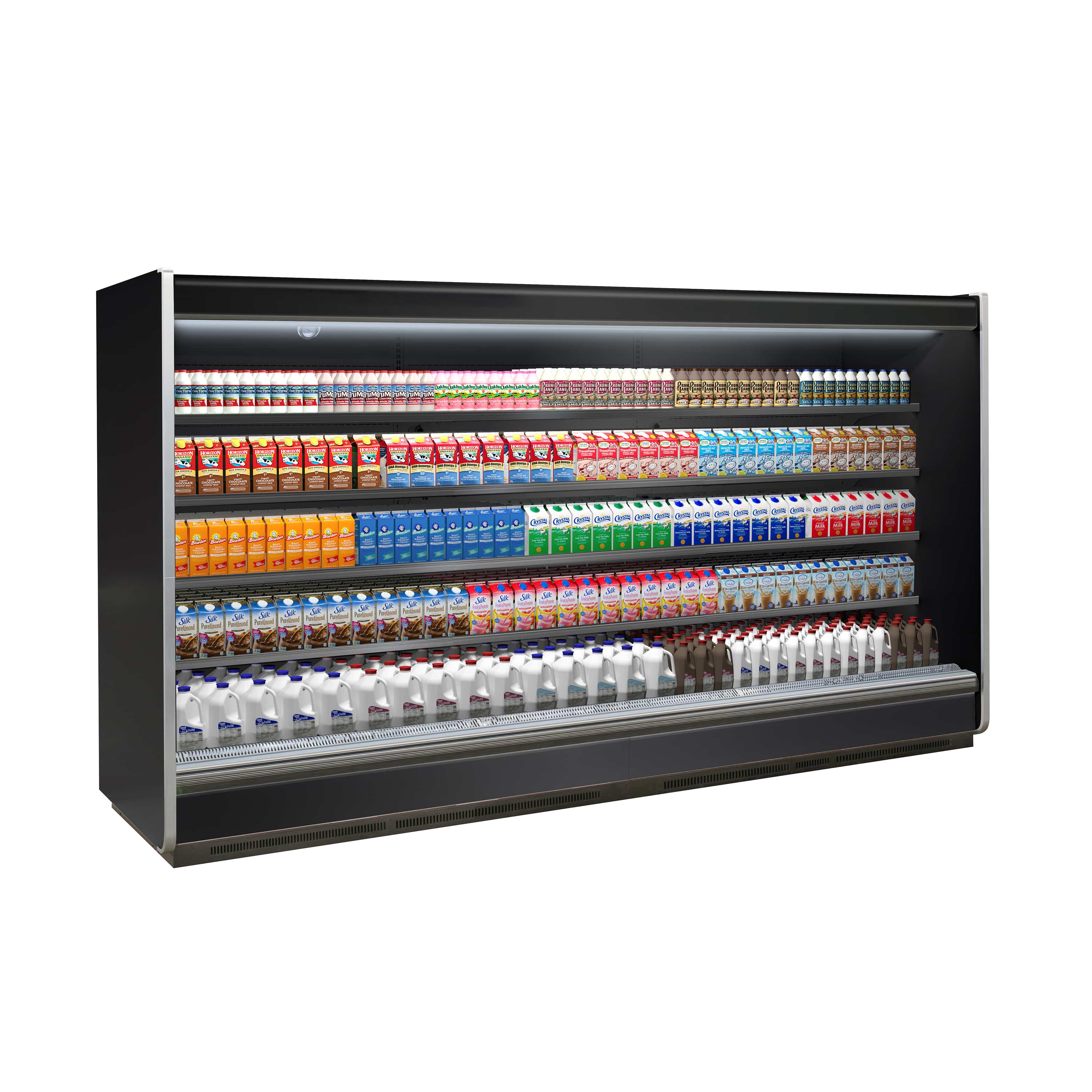 Also known as air curtain merchandisers, open-type merchandisers use an air curtain to keep the cool temperatures of the display area without using a door to seal in the cold air. This type of merchandiser is designed for encouraging customers to make impulse buys while reducing labor costs since customers can easily pick up any item that catches their attention.
Because these merchandisers do not have walls that keep the cold air inside, they must be placed in an area with a relative humidity of 55% and an ambient temperature of 75° F or less. They must also be kept away from HVAC equipment, fans, open doorways, and sunlit areas that may affect the integrity of refrigeration.
Because of their nature, open-type merchandisers use more energy than closed displays. They may be enticing to customers but come with higher energy consumption costs. Make sure you're making full use of this merchandiser by fully stocking it with products so that it operates at full efficiency. Open-type merchandisers should only display pre-packaged goods, such as salads and entrees. Items placed on display should already be cold because merchandisers are not designed to chill warm foods.
Some open-type merchandisers come with a rolldown night cover that insulates the display. Higher-end models may also include lockable covers that provide more security for your food items.
2. Glass-Door Reach-In Merchandisers



As their name implies, these merchandisers have a glass front door that lets customers look at the contents of the interior. Reach-in merchandisers are different from reach-in refrigerators because merchandisers are used only for packaged products. Refrigerators can be used for storing unpackaged food products, such as a pan of sliced apples, because they comply with stricter food zone requirements.
Glass-door merchandisers are often seen in c-stores, delis, and gas stations. Models specifically designed for c-stores have lower heights and smaller footprints that allow them to be placed in establishments that put a premium on space. These merchandisers can also have full glass sides that allow customers to see their contents from all angles, making them perfect for displaying cakes, pastries, and other baked goods.
Most units come with either swing doors or sliding doors. Swing doors can seal in the interior temperatures better, therefore making them more energy-efficient than sliding doors. However, they can potentially take up too much space in establishments where space is limited, creating crowded aisles and causing staff and customers to run into each other.
Sliding doors, on the other hand, are ideal for establishments that need to save up on space because they don't block traffic when the door is open. However, sliding doors aren't as effective as swing doors in sealing and will rack up more in terms of energy costs in the long run.
Whether you choose a swing door or sliding door unit, look for one that has self-closing doors. This prevents the problem of customers accidentally leaving the door open. At the very least, your merchandiser must have an alarm that sounds when the door isn't closed.
Most new models of glass-door merchandisers also come with an array of features that enhance their functionality, such as LED interior lights to attract customers, mirrored panels and transparent shelves for brighter illumination, and pricing strips to let customers know how much they need to pay for their products.
Also, look for a model with double or triple-pane glass. The space between the panes is filled with gas or air that slows down the transfer of heat and cold, further keeping the interior temperatures constant.
3. Enclosed-Top Display Cases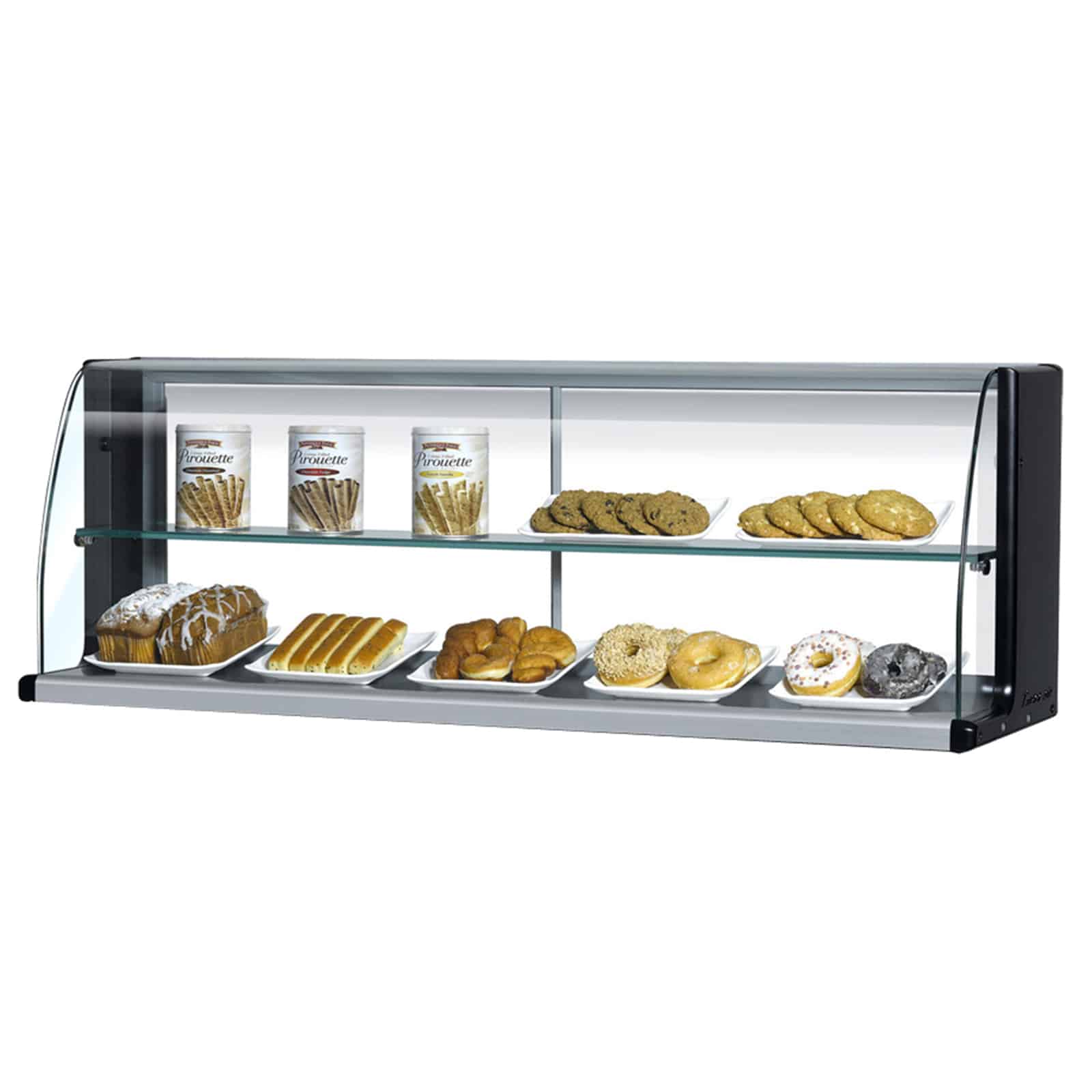 Enclosed-top display cases are designed for showcasing food items, such as salads, cakes, pies, sushi, seafood, and raw meats. Most manufacturers use two types of refrigeration methods for display cases: forced air and gravity coil.
Forced air refrigeration uses a fan to circulate cold air throughout the interior. This method is less expensive but the air that comes in contact with the food can drive away moisture and dry up the food more quickly. The alternative is to use a gravity coil display, which has a coil at the top of the cabinet. The coil emits cold air which then falls down on the food items via gravity.
Enclosed-top merchandisers often have a curved or angled glass front. This helps minimize glare from overhead lighting while making it easier to clean the case.
4. Dual-Temperature Merchandisers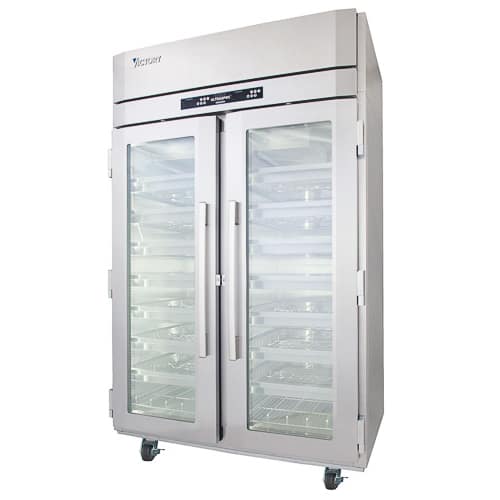 Dual-temperature merchandisers are a combination of the open-type merchandiser and the enclosed-top merchandiser. The open-type section is usually placed on the lower area so customers can easily grab a cold drink, while the enclosed top section displays fresh food items that staff can access from a rear door.
Dual-service merchandisers are often seen in cafés and delis where customers are looking for a refreshing beverage and a quick snack to go with it.
Features to Look for When Buying a Merchandiser
1. Lighting
Light plays a crucial role in making your food products look desirable. Fluorescent lights are great for enhancing the colors of pastries and red meat but they can quickly grow warm and affect the temperature of the interior. LED lights, on the other hand, are bright, energy-efficient, and do not get as warm as fluorescent lights. Plus, there are many merchandisers that use LED lights that mimic the warmth of natural sunlight.
Most merchandisers use top lighting, which is the minimal amount of lighting for display cases. To add brightness, some models are also lit on each shelf. Reflective panels and glass shelves also bounce back all that light for extra illumination. Look for merchandisers with encapsulated lighting. The protective cover around the light keeps \ bulbs from scattering shattered glass all over your food products in case the bulb gets broken.
2. Size
Obviously, any merchandiser you buy must be able to fit in your establishment. Determine how many products you need to display to figure out how much display space you need. Most reach-in merchandisers have an average shelf size of 24" wide x 20" deep. If you have products with a short shelf life or if you have a quick turnaround time, you may get away with investing in a smaller merchandiser in exchange for higher labor costs since staff will have to replenish stocks more often.
Also, consider your clearance requirements for intakes and exhaust as well as for staff and customers accessing your products. At the very least, allow up to 3 feet of extra space in front of the unit to provide room for people to move around the area and 6 inches for the sides and back. Keep in mind as well that merchandisers need access to a power supply and sometimes a drain that is within 6 feet of the unit.
3. Temperature and Humidity
Certain food items need to be displayed at specific temperatures to prevent spoilage. For instance, sushi, chocolate, and deli items have to be kept at temperatures of 40° F and below, while bread, bagels, and chips must be displayed at room temperature using a non-refrigerated display. Other items, such as pizza and pretzels, should be placed in heated merchandisers, while ice cream, raw meats, and seafood must be kept frozen but still within reach to customers. Dual-temperature displays provide the best of both worlds with refrigerated and non-refrigerated sections.
Some foods also require varying humidity levels. Cakes and cupcakes, for example, need to be kept cool and dry to prevent moisture from seeping into them. On the other hand, raw produce such as greens and veggies need to be displayed in a wetter environment to keep them fresh. Depending on the model you choose, you may be able to adjust the temperature and humidity levels to accommodate food items with specific requirements.
Tips for Choosing a Refrigerated Merchandiser
1. Consider what you are selling.
Most merchandisers have standard wire shelves for accommodating a variety of items, from meats to salads and pastries. However, if you're displaying only one type of item, such as beverages, you may want to look at specialty merchandisers for your specific needs. Some models offer self-serve bottle organizers with individual tilted tracks that hold bottles for display. Some manufacturers even offer beer bottle organizers, which are similar to standard organizers but can accommodate the typically smaller sizes of 12 oz. beer bottles.
Wine merchandisers have drawers fitted with circular indentations for holding wine bottles. Underbar wine merchandisers can hold wine bottles horizontally, while taller models can display the bottles tilted at an angle so that customers can read the labels. These merchandisers are set at special temperatures designed for keeping wines.
Another special type of merchandiser is the ice merchandiser. As you can guess from their name, ice merchandisers are used for displaying bags of ice. There are two types of ice merchandisers: cold wall models and auto defrost models. The former uses wires installed into the walls of the unit to keep the interior cold. However, this creates a lot of condensation within the walls and requires frequent defrosting and cleaning. The solution to this is to choose an auto defrost model instead. Auto defrost ice merchandisers have a forced air system that uses fans to circulate cold air into the interior of the merchandiser. This significantly cuts down the amount of condensation that takes place within the walls. It also reduces cleaning and maintenance costs.
3. Determine the design you want.
The appearance of your merchandiser can affect the overall look and feel of your foodservice establishment. Stainless steel is a heavy-duty, hygienic material that is often used for most kitchen equipment. It is sleek and modern but can give off a cold, unwelcoming vibe when displayed in the customer area. An alternative is to use a merchandiser with an exterior finish made from laminated vinyl. Vinyl is durable and chip-resistant, ensuring that the merchandiser will not succumb to wear and tear anytime soon. It can also be customized to achieve any look you want so that it goes with the overall theme of your foodservice establishment.
3. Decide if you want a bottom-mount or top-mount unit.
Most refrigerated merchandisers have bottom-mounted compressors, which raises the lowest shelf to a more accessible level for all customers. Bottom-mount units are also easier to clean and maintain. However, top-mount compressors are better protected from dust and dirt and will therefore not require as much cleaning. They are also slightly more spacious than bottom-mount merchandisers.
4. Choose between self-contained or remote refrigeration.
Most merchandisers have self-contained refrigeration systems, which means the compressor, condenser, and evaporator are all built into the cabinet. Self-contained merchandisers are convenient and easy to use since all components are situated in one place. There is no need to maintain lines going out to an external refrigeration system and the units can easily be relocated as needed. However, self-contained merchandisers can create more heat than remote systems and will require good ventilation for them to work efficiently.
If you're using multiple displays, such as the long banks of merchandisers at grocery stores, it may be more useful to invest in merchandisers with remote systems. Remote merchandisers have the compressor and condenser placed in a separate room, typically the rooftop or outside the building. These are connected to the merchandiser using lines that carry coolant to the unit. Remote merchandisers are ideal for businesses where space and ventilation are limited.

For a wide selection of refrigerated, non-refrigerated, and heated merchandisers, check out CKitchen.com's full array of displays and merchandisers today.