How Social Networks Can Increase the Income of the Restaurant Business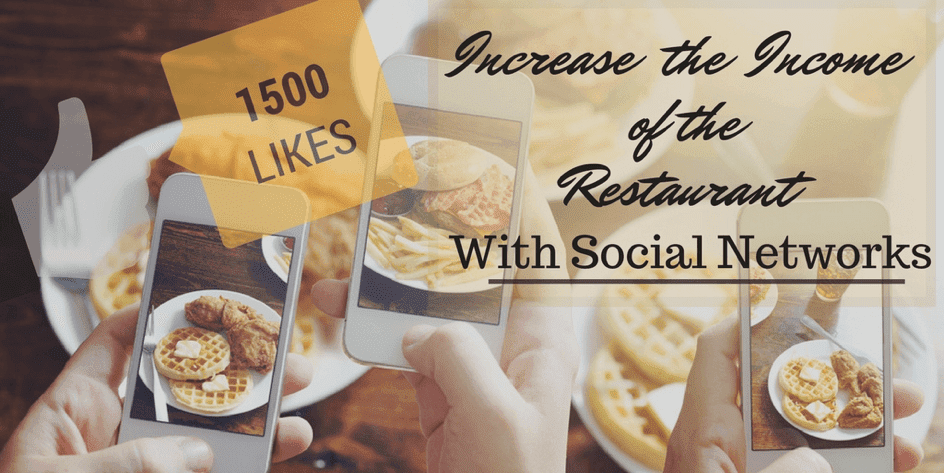 Did you know that 56% of online adults make use of several social media platforms on a daily basis?
Yes, in this tech-craze world, it's absolutely imperative that your restaurant has some form of representation online. Social networks are the in-thing. Before we even go far, a website is an absolute must – in fact, it's non-negotiable. A website is the first portal people have to see what you offer, where you're located, read reviews, and also see other important information about your business. There are, of course, other ways to be present online. And we're going to take a look at how each social media platform can help increase your restaurant's income.
1. Facebook
Facebook is the leading and most widely used social media platform today, with more than 79% of Americans accessing the site on a daily basis. With so much traffic, it's no wonder 2 million businesses advertise themselves on the social platform. As if that wasn't enough incentive, 71% of consumers say that they would gladly recommend a business they have interacted with positively online.
2. Pinterest
When it comes to the best image sharing platforms, Pinterest stands out because of the sheer volume of data shared every minute. There are as many as 100 million food boards on the social media platform. Pinterest is also the third most used social media platform in America, attracting 31% of internet traffic. This platform is especially useful for growing revenue thanks to the fact that 93% of all Pinterest users already use the platform as a means to plan what they want to buy. So make sure you post appetizing pictures of your restaurant's food, menu, and interior to attract more customers.
3. Instagram
If you run a restaurant that features fast food on the menu and your target demographic are teenagers and young adults, you may want to consider investing in an Instagram account. This is because 32% of teenagers state that Instagram to them is the most important social media platform out there. Put another way, the majority of Instagram users are aged between 18 and 29 years. Also, if your restaurant sells pizza, Instagram is the must-post-to platform because pizza is apparently the most widely instagrammed food on the planet!
4. Snapchat
Did you know that 9,000 pictures are shared every second on Snapchat? To put it in perspective, that's 400 million photos every day. It's insane isn't it? That's not all though, because 41% of all 18 – 34-year-olds in the U.S. have some form of Snapchat interaction on a daily basis.
This social media world has indeed opened doors that allow people from all over to connect and share images in record time. This can work for you, or against you. It's clear to see that you need to invest in high quality images of your restaurant and your food in order to capture people's attention and get them sharing your images. The more interactive you are, the more people will share your photos, and the more conversions you'll get. So make sure you take full advantage of Snapchat.
5. Twitter
Increase social media presence with a Twitter account. Believe it or not, but 81% of millennials check their Twitter accounts at least once a day, and no – it's not to see what the President is tweeting about! Idol star judge Katy Perry currently has the most twitter followers – a staggering 100 million people! Can you now understand why sponsors are falling all over each other trying to get her to endorse their products? If you can't afford to have Katy advertise for you, no worries, there are thousands of other equally popular upcoming stars who'll be more than happy to tweet and talk about your restaurant all day long.
Social Media Revolutionizing Small Business Marketing
It's clear to see that social media plays a crucial role in today's business world. To get the most out of this marketing tool, you may need to outsource a social management team to run your SMM accounts. Used effectively, your restaurant will reach a wider audience at a far cheaper price compared to traditional marketing. Social media has indeed revolutionized the way restaurants and other small businesses market themselves. If you haven't started marketing your business on social media, it's high time you get started.