Advances in Technology for Restaurants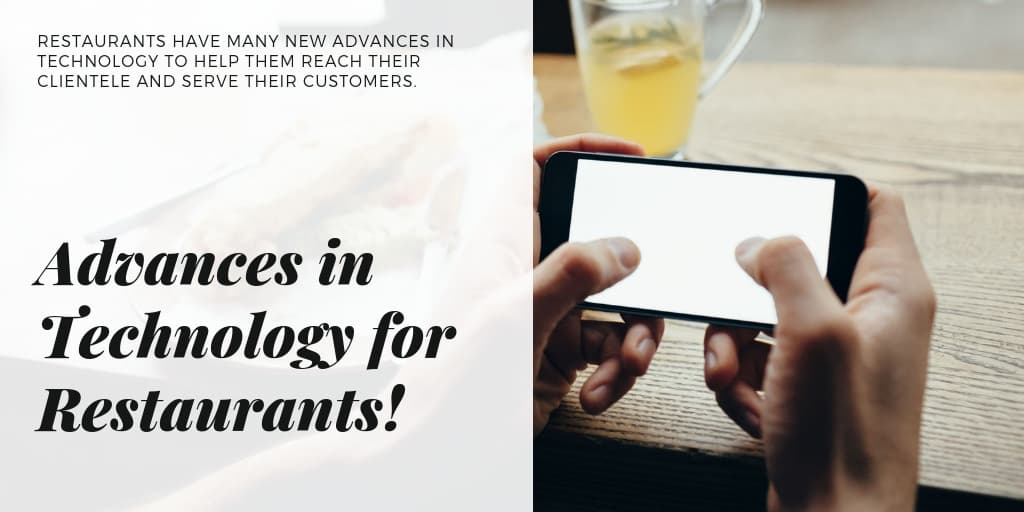 In the early 1900's, restaurants were much different than they are today! Fast forward to 2020, and restaurants have many new advances in technology to help them reach their clientele and serve their customers. From take-out and delivery to marketing and social media, technology has improved the way restaurants reach out and interact with patrons as well as how they operate within their four walls.
In the Kitchen
You've probably been to a restaurant (or maybe you operate one!) that utilizes touchpads at tables for customers to place their own orders. With payroll consuming a large chunk of the finances, this technology can cut down on some of that cost by eliminating the middle-man for some of the ordering process. While this technology may be a good option for some fast-casual establishments, it should be avoided for fine dining, as the human interaction is part of the overall restaurant experience.
Delivery and Take-Out
For many years, the only way one could get restaurant food was to actually go to a restaurant and order. Then came phones and the advent of phone orders. Since then, technology has only taken the process further, allowing customers to order their food online and have it delivered right to their doorstep! Without this technology, many restaurants would lose a huge portion of their profits. About 10% of orders are still made on the phone, while closer to 15% of consumers have placed an order through an online system. The best part about online ordering is that the consumer is completely in charge of what they order. Also, these orders can be sent directly to the kitchen, cutting out the labor costs of a host/hostess as well as a server!
Credit Cards
Think about a life without credit cards, and you're probably harkened back to a time of economic hardships. Credit cards have ushered in a world of possibilities for many restaurants, and anyone not accepting all major credit cards is doing themselves a disservice. The credit card machine has made it easy for transactions to be processed, so ensure that your POS system includes a credit card reader. At the end of the night, these machines do the heavy lifting for you in terms of math and calculations for credit sales, so it makes your life a whole lot easier.
Social Media
With social media comes a host of positives and negatives. While you have the ability to extend your reach further than your immediate clientele, you also may lose customers before they even set foot inside your establishment by a bad review. Facebook, Twitter, Yelp, Foursquare, and the like all help to touch a consumer base of interactive users, so make sure that you have established an online presence. Utilize photos and interactive posts to get your customers engaged and talking about your restaurant, and have employees support your business as well to get brand advocacy rolling.
Technology has taken leaps and bounds in the past hundred years, and your restaurant can reap the benefits! We all know the world is not flat, so step out of that prehistoric mindset and into the modern age of social media, virtual ordering, and interactive technology.