14 Ways To Safely and Successfully Reopen Your Restaurant During the COVID-19 Pandemic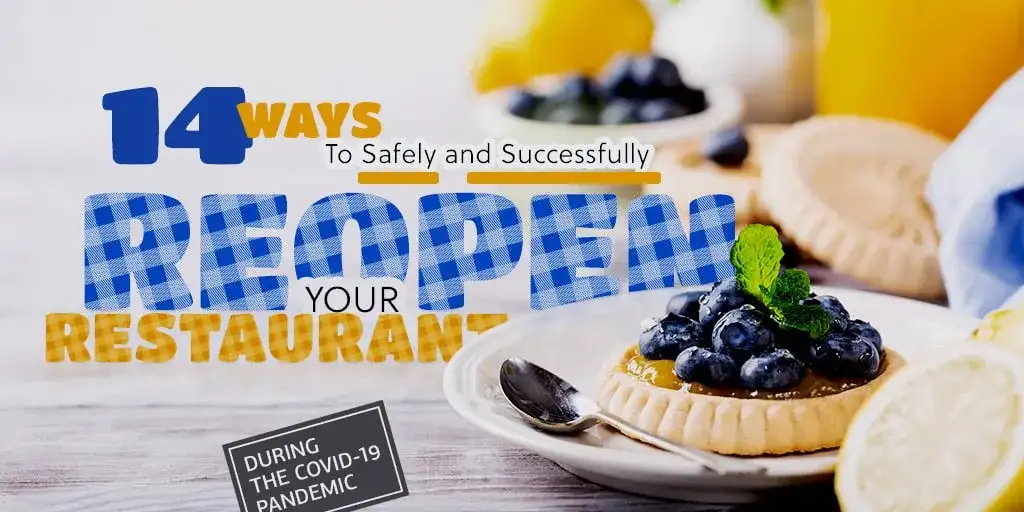 The COVID-19 pandemic has shaken the industry to the core, fundamentally changing the way people dine out. Restaurant sales took a nosedive. The foodservice landscape post-coronavirus may not be what it used to be as dining perceptions are reshaped anew by greater expectations of health, safety, and cleanliness.
Going through the process of reopening your restaurant after or during a crisis like the ongoing coronavirus is a constant balance between jump-starting the economy and protecting public health safety. With new considerations that come into play, you will have to retrofit your operation to accommodate the new set of rules and expectations born out of the COVID-19 outbreak including the reduced capacity to at least 25 percent and group dining limited to people that belong in the same household.
Despite the new challenges, operators are rolling with the punches. With quarantine and lockdown restrictions slowly eased, restaurants are gradually but very carefully reopening with new tricks up their sleeves. Capacity caps may be in place and self-serve might be discouraged, but restaurant sales seem to be on the up once more, according to the latest data by trusted research firms such as The NPD Group and Data Essential. What are restaurant operators doing to reopen safely?
1. Make some room for a socially-distanced dining experience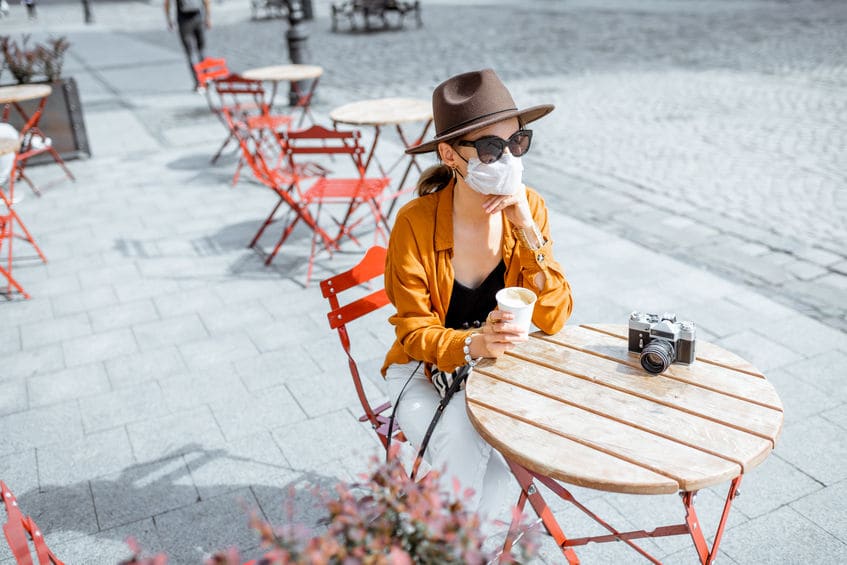 Restaurants are avenues for celebrating connection, interaction, and culture; a way to bring people together. But for now, it wouldn't hurt creating a little space in the name of safety. Dust off those floor plans and figure out how to rearrange your dining area to follow the six-feet distance requirement dictated by social distancing. Dining rooms might feel larger and empty as you might even have to close in-between tables or booths. Conceal the resulting gaps by adding large decors such as floral centerpieces or even mannequins in the case of the Michelin-starred Virginia restaurant The Inn at Little Washington.
2. Create dining space out of your parking area
Some restaurants simply opt to migrate to the outside especially if demand is not as high. Many. however, extend to the parking space or the curbside by adding some outdoor tables and chairs to form parklets. This way, they can accommodate as many customers as possible while providing adequate space to practice physical distancing. Some cities are already offering free temporary 90-day outdoor permits. There are also proposals being made to close streets at certain hours of the day so operators can set up outdoor tables and chairs to serve more customers.
3. Add barriers or partitions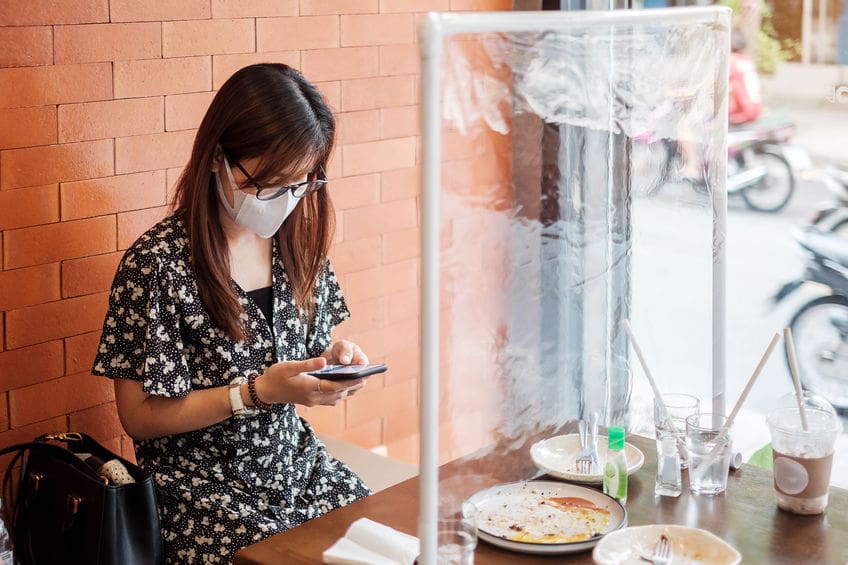 Use floor markers to keep patrons separated while waiting in line or waiting to be seated to prevent overcrowding. Some of the quickest and most economical solutions being adapted by most operators are plastic booth dividers and plexiglass barriers installed in between booths or even in between seats on the same table. These are lightweight but durable so you can move them where they are needed and can be cleaned safely and easily.
French designer Christophe Gernigon developed what's called Plex'Eat, a beautiful and functional plexiglass bubble that surrounds the customer while eating without complicating or interrupting the experience. It looks very much like a lampshade that hangs from a ceiling, and the shape gives that stylish and futuristic vibe. A restaurant in Amsterdam has introduced the concept of "quarantine greenhouses," which are elegant pentagonal glass outdoor dining spaces where two people from the household can safely dine, served by wait staff donning gloves and protective face shields.
4. Digitize menu and order process
The coronavirus pandemic seems to have accelerated the adoption of more advanced systems, as restaurants are leaning heavily towards technology to alleviate the risk of COVID-19 infections. Some operators are swapping out printed menus for disposable or digital ones. Consider hiring a developer or service to create a quick-response or QR code that the guests can simply scan from their phones to pull up your entire menu. You can go a step further with a dynamic QR code that can be tailored to your service so you can make it to show specific promotions, menu items, and even sign-up prompts or surveys. A more economical solution is a printed menu that can be discarded after each use.
You can also have customers order from tablets with anti-microbial screens, or pre-order via phone or online before going to your restaurant to minimize face-to-face interaction. Remember to have safety measures in place to protect against random cancellation of orders.
5. Consider cashless payment processing
More and more operators are also pivoting towards the cashless movement. This solution can be more involved, but they are becoming more essential in this age of COVID-19. Apart from the lack of direct contact, going cashless introduces a ton of benefits including faster transactions, simplified accounting process, and reduced risk of theft. Some even promote gratuity as they can automatically calculate the amount of tip based on the order total.
The wider adoption of cashless payment systems has been in part held back by the perceived lack of security. But contrary to what many people believe, cashless payments are very secure, according to TechXplore. This is made possible through Near Field Communication or NFC, which works by conducting a safe, encrypted transaction by connecting a mobile device with the restaurant's payment terminal.
Mobile wallets such as Apple Pay, Google Pay, and Samsung Pay as well as apps such as Venmo offer a way to remove the hassle of cash payments and fully authenticate the transaction in multiple ways for added security while minimizing the risk that usually comes with sharing the card with someone who can access the credentials or using it on machines with weaker security protocols.
Contactless smart cards such as EMV cards have a microprocessor chip and the traditional magnetic strip that customers can simply tap onto designated point-of-sale or POS systems at the counter to avoid direct contact. There is also technology where QR codes are printed on the bill so that customers can simply scan it to process the payment without having to wait for a card terminal. This is a convenient way for restaurants to integrate cashless processing as it doesn't need special equipment.
For operators who can't enact such change quickly, you can always clean the POS terminal in between transactions or when a different employee uses it.
6. Create a virtual waitlist
Consider switching to a reservation-only model temporarily to avoid overcrowding. Leading reservation platforms such as OpenTable, which usually help operators get more guests through the door, have adjusted their operation to also prevent them from going over their capacity.
For its part, the breakfast restaurant Hatch Early Mood Food in Oklahoma is keeping a crowd from forming by creating a virtual waitlist. Here, diners arrive in their cars and are asked to send a text to the restaurant to inform the staff of their arrival as well as their party size. The customers will then be added to the virtual waitlist and will stay in their cars to be notified when their table is ready. This is a great way to mitigate potential transmission and also reduce the pressure that comes with having patrons in the waiting area.
7. Require masks and temperature checks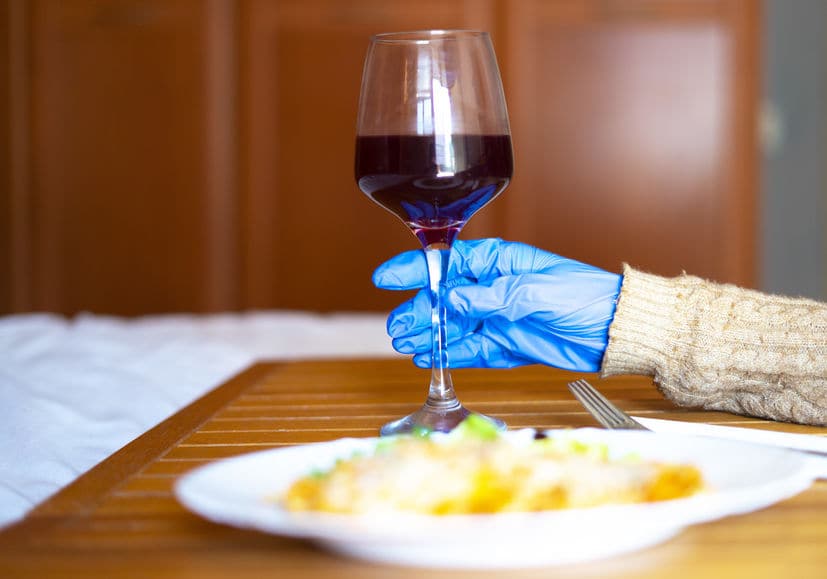 Many operators now require their employees to wear masks, face protective shields, and gloves at all times. It might be better if a staff member seats the customers rather than allowing them to choose a table. Get an infrared thermometer to check the temperatures of both your staff and your customers before they enter your facility. Some operators ask their staff to take temperatures an hour before they arrive at the restaurant and then again before checking in. Austin-based restaurant TLC even takes it a step further by asking employees to fill a health questionnaire before the shift. These are excellent precautionary measures that will not just keep your place safer but will also give guests more confidence in dining at your establishment. While it will slow your service, these initiatives are expected to be received positively by your customers as they reflect the level of care and concern you have for their wellbeing, which is their priority in this COVID-19 age.
8. Put up signs to promote safety practices at all times
Add signage and posters at the entrance and different areas of your restaurant that remind your customers as well as your staff to take safety practices and hygiene seriously. These signs should make your point about the importance of following these now widely known protocols across.
According to Technomic, adherence to the new safety guidelines of both employees and customers prove to be one of the biggest challenges for operators. Retraining staff can go a long way in overcoming this, but regulating customer habits is a whole other story. Customers will have a more involved and active role in ensuring a safer dining experience. The key is to stress the importance of taking these extra steps for their safety. It is not like it will be difficult to do this anyway, as they generally understand the purpose of these changes. They themselves may likely have little tolerance for those who won't comply with the safety protocols in place.
9. Clean and sanitize
frequently
and promote good hand hygiene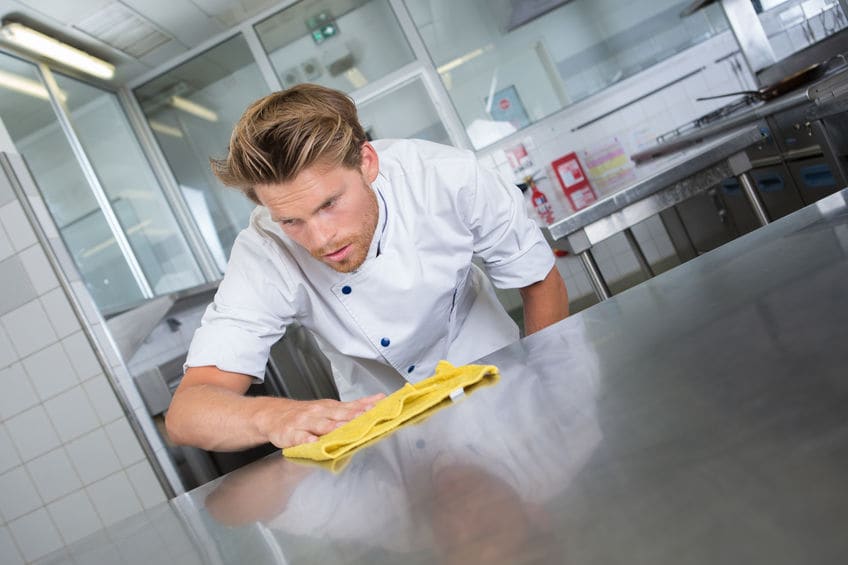 Reopening your restaurant in the coronavirus era means revising your cleaning schedule and daily routine to account for the new safety guidelines. You can't sanitize trays, counters, tables, and food contact surfaces enough, especially in high-traffic areas. Consider cleaning and sanitizing areas even with diners in the room rather than doing it at the end of the day. Disinfect high-touch areas such as doorknobs and handles frequently.
Set up soap dispensers at every hand-washing station in the kitchen and the restroom and be sure to replenish it with soap when it is close to running out. Add hands-free hand sanitizer stations all over the kitchen and customer area to encourage consistent hand hygiene. When it comes to handling money, it might be a bit safer to place the cash on the counter, which is to be sanitized after every transaction. It might take extra time to move the line, but a few seconds won't hurt to make the experience a whole lot safer for everybody. You can read our article on the difference between cleaning, sanitizing, and disinfecting to make sure that you are doing it right. Make it a point to track your supply so you don't run out of cleaning agents, sanitizers, disinfectants, and other essential supplies.
10. Remove general access items
Items that were typically accessible to all customers from the counter or the table such as napkins, condiments, and even silverware might have to be moved behind the counter and provided by request. Consider switching to rolling silverware that are delivered to your customers by a staff member wearing gloves. Set up touchless products such as paper towel dispensers, faucets, toilets, and waste bins at the restroom to reduce transmission.
11. Add protective accessories and equipment to high-traffic areas
Install stainless steel door openers on your doors for hands-free door operation. Doors, doorknobs, and handles are frequently touched and have porous surfaces that can harbor COVID-19 droplets easily and longer than other materials.
Air curtains strengthen your defense against pollution and keep your facility safe and hygienic. This is by creating an invisible air barrier across an entrance to divide two separate rooms or environments. AS a result, outside air, flying insects, and pollutants such as pollen, dust, and fumes are blocked from entering. You can also set up hygiene shields at the counter, which allow your staff to process customer transactions safely and efficiently. This is a clear barrier that can safely sit on a counter or hung on the ceiling. These shields are lightweight and easy to clean and move as needed.
12. Tweak schedule
Schedules will have to be adjusted to eliminate slow hours of the day and maximize labor. You might have to operate on shorter hours, create fewer but longer shifts, or even limit the days you are open for the week. You might have to open later in the day and close earlier than usual. If you have the manpower, extending business hours can help you get as much business as possible to make up for the capacity cap. Limit contact by designating a different team for each shift.
13. Reduce menus and divide up tasks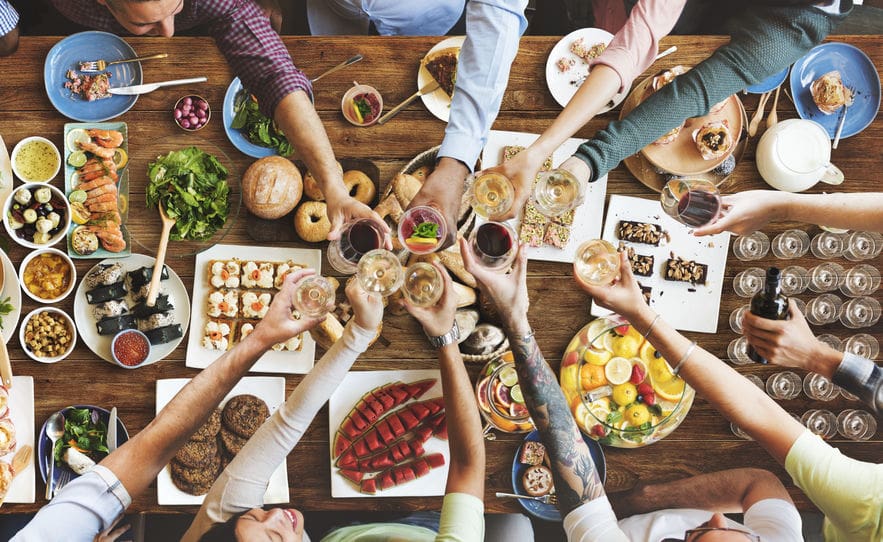 Restaurants and supermarkets alike are also starting to reduce their offerings as a way to cope with the strain that COVID-19 put on staff availability, supply, and demand. Consider focusing on your bestsellers and limiting variations normally offered for each menu item. Unless they are popular, offerings with ingredients that are used on just one or two menu items might have to get the chop. Think about scaling back on add-ons, side dishes, and high-margin items like alcohol or appetizers too, as these are the first things that customers could end up giving up if their budgets worsen due to the pandemic. This tweak could be a great way to keep your operation focused and also helps you reduce the costs. It is believed that this may be the new normal for operators past the pandemic.
You might have to limit the access of staff to items and ingredients that customers could end up touching. Upscale chain Prime Steak Concepts found it best to have a dedicated bartender with the sole task of adding garnish to drinks prepared by another bartender who handles the jiggers, bottles, and ice to limit contact. You may have to stick with single-serve menu items as opposed to shared dishes.
14. Set clear policies for your employees
Don't allow your employees to come in sick, but make sure to discuss a fair arrangement with them so that they won't have to worry about not getting a salary for the day. Learn more about how to manage your staff and how to run your business during the COVID-19 crisis here.
Are these changes going to be permanent?
As the world races to find a solution to fully manage and end the crisis, the future of the restaurant industry remains uncertain. At the rate that the virus has gone so far, the National Restaurant Association or NRA estimates that the coronavirus will leave $240 billion losses in its wake. On top of that, customers are developing new habits and trends involving minimal dining out, and it is getting more difficult to break them by the day.
1. Customers express greater concern over food safety
Eighty-five percent of Americans have made some changes to the food they eat and how to prepare it, as per the 2020 Food and Health Survey by the International Food Information Council or IFIC. The same survey revealed that 49 percent of consumers are concerned about the safety of food prepared outside their homes such as takeout or delivery while 46 percent are practicing extra caution when it comes to eating outside the home.
Another survey by The Washington Post and the University of Maryland from early May reveals that 78 percent are worried about eating at a restaurant. In the latest COVID-19 report dated June 4 by research firm Data Essential, 49 percent of the participants will avoid going to a restaurant and 31 percent are concerned and nervous when they do.
There is still fear that there will be a second wave of cases, with 84 percent of participants on the same Data Essential survey are worried about this very thing happening as people step out into the world after months of quarantine. Even then, 43 percent of consumers still want businesses to reopen, but gradually and carefully. Forty percent would prefer a lockdown again while the remaining 17 percent want businesses to open as planned.
2. Customer interest is shifting towards home-cooked meals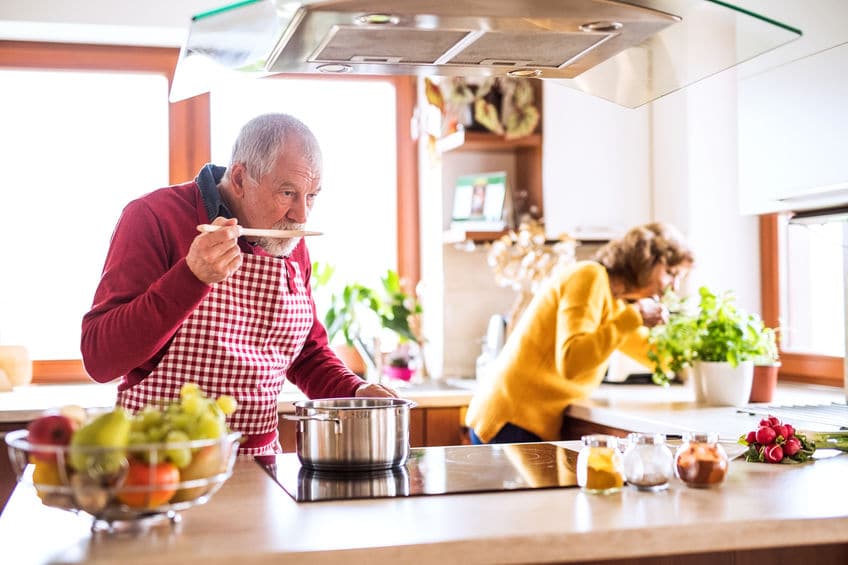 Data gathered by both Data Essential and Simon-Kucher and Partners revealed that more and more are gravitating towards home cooking. The survey from the latter shows that many customers are skipping restaurants for two reasons: health and safety and the enjoyment they get from home cooking. Simon-Kucher and Partners notes that operators will have to work hard to break the newfound habits formed as a result of this new trend. One way is to offer the right incentives. Unfortunately, price and promotions might not cut it this time with health and safety in question, something that home-cooked food can give them.
Especially in the case of fast-food establishments, QSR Magazine believes it will be helpful for operators to have customers rethink the viability of home cooking and leverage the advantages of dining out. This is by highlighting factors such as little preparation time, free delivery, and discounts for family meals in addition to saving them a potentially stressful shopping experience.
Customers are willing to do their part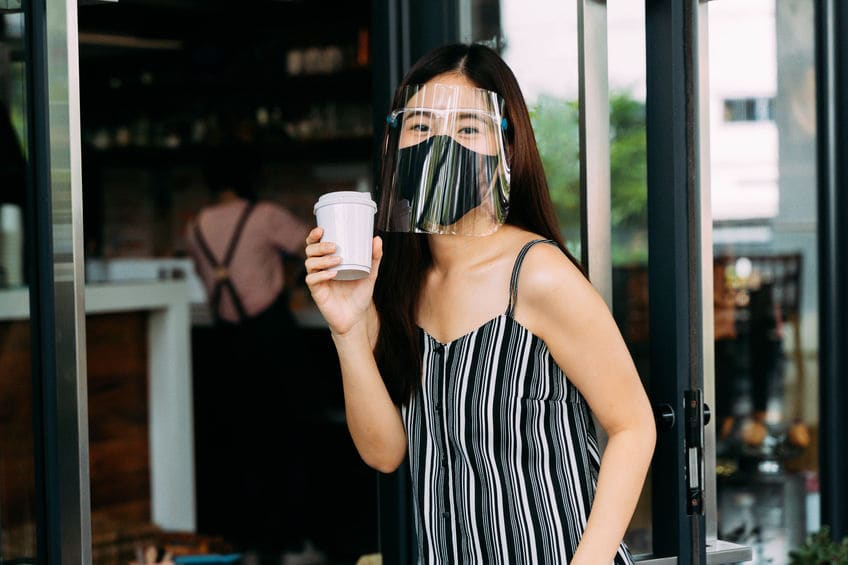 The above mentioned Data Essential survey shows that most customers are walking the same tightrope, prioritizing their safety while taking the initiative to get the economy kick-started once more by patronizing restaurants.
Customers will continue to wear masks and carry hand sanitizers when going out. They are also aware of the latest CDC guidelines about how COVID-19 does not spread easily when touched on surfaces. While many feel safe knowing this, they will continue to take precautionary measures such as washing hands regularly and wiping surfaces. They are also taking the same level of caution for takeout and delivery orders.

Customers will be more than happy to spend money on restaurants to help operators affected by the pandemic and boost the recovery of the economy. This is especially the attitude displayed by Boomers while Millennials are primarily motivated by going to a restaurant to get a meal they are unable to recreate at home. These customers hope that they would help restaurants by tipping workers, rounding up the bill to the nearest dollar, and going to restaurants regularly so they can get more business. Millennials also make it a point to leave positive reviews of the restaurant online on platforms such as Yelp.
Customers are also particular about how you treat your employees as many are advocating for rehiring laid off or furloughed employees, increasing salary, and supporting unionizing and subsidized child care.
Dining out fully reimagined: How will the restaurant industry change after COVID-19?
Restaurants are reopening to a world that is definitely unlike it was before. There are many ways restaurants changed as a response to the COVID-19 pandemic, and there are bound to be more. It is expected that the temporary solutions developed to address the crisis will be fully adopted into the foodservice blueprint permanently. The outbreak also exposed the vulnerabilities of the industry that can use some updating.
1. Higher standards
It is back to the drawing board as new expectations of health and safety emerge. As the industry copes with the damage, stricter policies will be put in place to prevent damage of such catastrophic levels. It is suggested that high standards of quality and safety might be imposed and there will be increased scrutiny on cleanliness and food safety. This is believed to encourage operators to respond quickly to any concern to avoid being tagged as a food establishment that is not 100 percent committed to delivering quality service. Hospitality Tech suggests that there might even be scoring or some sort of quantitative measurement for safety compliance as opposed to just waiting for code violations to pile up before the restaurant feels the repercussions.
2. Integrated delivery service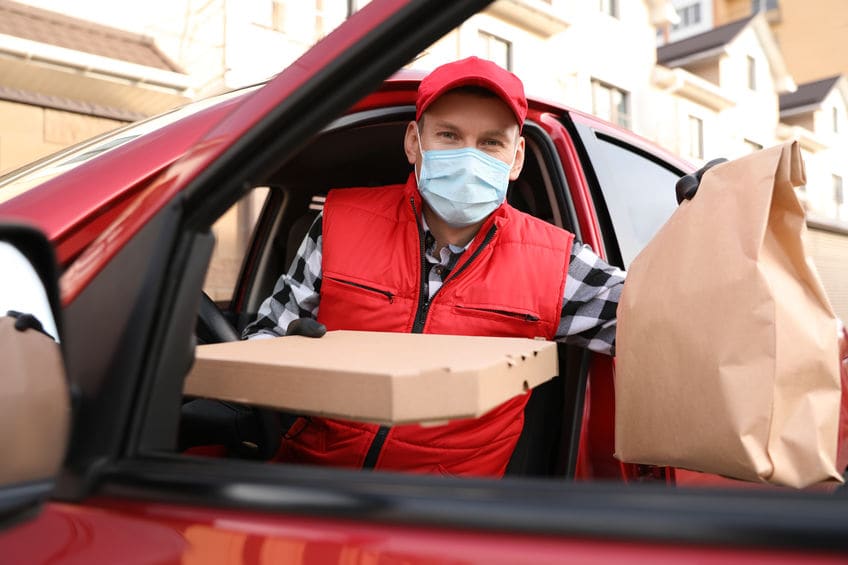 Many operators will have to rethink their sales strategy and might consider integrating off-premise dining as a major channel of their operation from the get-go. Takeout business—including delivery, pick-up, and drive-thru—helped many restaurants stay operational. Some even had to implement it for the first time too. On top of reopening dining rooms, restaurants might find front-door pickups and curbside delivery to be necessary rather than optional moving forward. Keep in mind that customers will still want transparency in how their food is prepared and delivered. The key is to communicate to them the steps you are taking to make sure of that. Your cook staff, delivery staff, and food packers should also wear protective gloves, masks, and hairnets.
3. Supply chain
It is also expected that more focus will be placed on ensuring the smooth flow of the supply chain, which has been severely disrupted by the global pandemic. According to Technomic, operators have been struggling with product shortages, especially animal protein products, forcing them to consider the idea of getting frozen over fresh items.
Hospitality Tech suggests that this could give way to fully configuring and deploying the already existing technology designed to track the supply from its point of growth or creation and its journey to the restaurant. This is by assigning unique codes or GTIN numbers on every container, which means any foodborne illness can be easily tracked right to the root source, resulting in faster and more accurate response to mitigate the damage.
Until fears about infection are alleviated, operators will have to work hard to bring back the level of confidence and comfort consumers had pre-coronavirus by consistently demonstrating to customers that they are taking the necessary steps to assure their safety.
Will the restaurant industry return to its state before COVID-19? What will be the nature of the food industry after the pandemic?
There are lessons to be learned from the pandemic. Every sector of the industry is putting its system under a microscope to find a way to transform or improve practices to be prepared for a pandemic such as the COVID-19. The Food and Agriculture Organization or FAO, for one, is looking to make incremental adjustments to the food system to be more resilient from the threat of an outbreak like this.
Until the world makes monumental strides in the field of medicine and ultimately develops a vaccine, the other side of COVID-19 remains blurry. Even though at the moment, we are simply looking for solutions that will get us through this crisis, these ideas can be potentially woven into the very foundation of every restaurant business model.
Will fast-food restaurants survive COVID-19?
If data from Black Box Intelligence is anything to go by, fast food restaurants are well on their way to return to their pre-pandemic sales performance. The promising numbers started coming in from the middle of May, a month after the segment's worst week. Drive-thru transactions appear to have contributed to that boost, and the quick service and less expensive prices that come with fast food establishments seem to have made them more appealing to consumers as the coronavirus continued its path of economic destruction.
Is it possible for a restaurant to reopen after it closes down?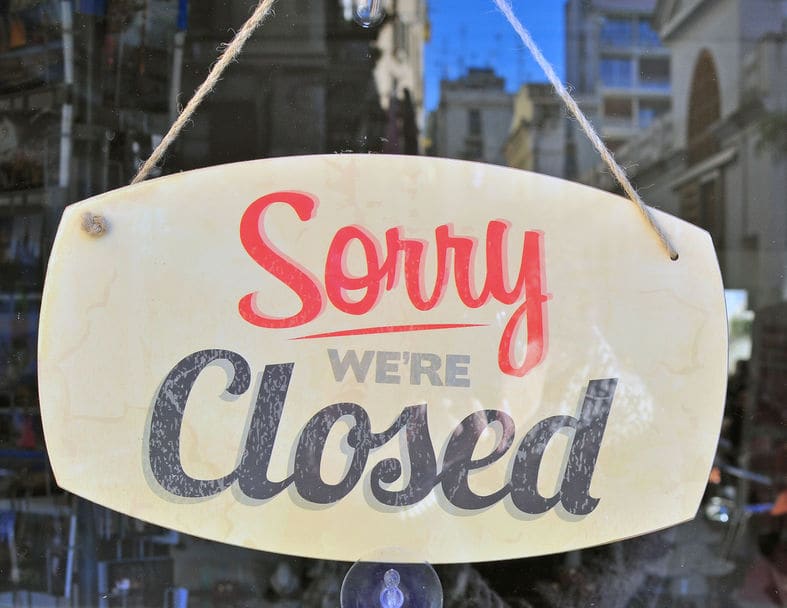 The sad truth is that not all restaurants may survive the heavy blow that the COVID-19 pandemic dealt with. Restaurant closures have become a common sight as the days wore on. Three percent of restaurants have already closed permanently just last March, and more are expected to follow suit. Establishments that are just only several years old and those open for decades alike were unable to survive the economic destruction of COVID-19.
Operations that already have a take-out business as part of their sales strategy before the pandemic are believed to have better chances of returning to profitability much faster. In the end, how the restaurant operators respond to the crisis and the changing landscape it is creating will determine their survival. Complete dedication, commitment, and a sense of responsibility will be crucial to success.
COVID-19 could shape the industry for the years to come
Will the restaurant and bar industry ever fully recover after the pandemic? Only when all states have allowed reopening will we get a better picture of the industry's recovery phase. From there, we will truly see how many permanent restaurant closures we are truly looking at. While customers remain confident that the industry will bounce back from the devastating aftermath left by the COVID-19 crisis, their priorities have changed.
We may have to get used to this new normal of home-cooked meals and booth barriers until major advances in the medical field are made to allow for the development of a vaccine or a reliable program for testing, contact tracing, and isolation.
Getting ready to finally reopen your doors to the public? If you need more restaurant guides to help you get through the COVID-19 pandemic, CKitchen has tons of articles you can check out on our blog.