How to Select Commercial Shelving Units for Kitchen Efficiency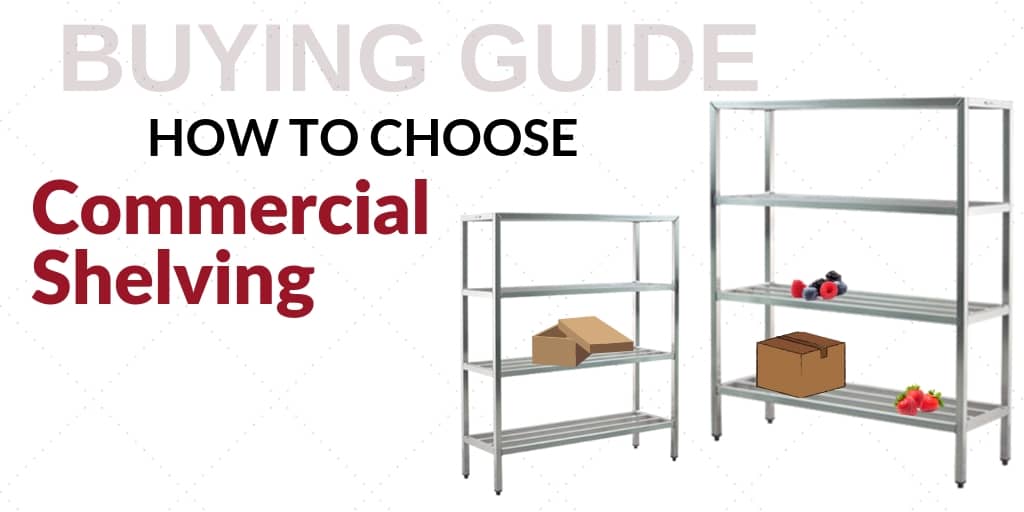 Types
There are three primary types of shelving units, but keep in mind that accessory shelving (like undercounter shelving storage areas for stainless steel tables, for instance) are also available as an accessory to the primary product.
Dunnage Racks
Low, load-bearing dunnage racks are designed to keep heavy items at least 12 inches off the
Best for keeping bulk items off the ground.
Shelving Unit
These independent units can be stored in the kitchen, front-of-house, or within a walk-in unit. These units are extremely versatile and can be combined or shelves can be added. Different manufacturers have different weight capacities. Capacities are tested on an "evenly distributed basis". Casters can be added to make the unit mobile with the sacrifice of limiting the entire unit's capacity.
Best for a wide variety of items, front-of-house display (racks of bread, for instance), permanent storage areas, Walk-In storage.
Wall Shelving
Attaches directly to the wall and is designed to utilize every vertical inch of space in your kitchen. These can fit above other units or tables and work well if you're running low on floor space.
Make sure to secure the wall brackets into beams and not just sheetrock (which won't hold the weight).
Best for storage over appliances, storage over furniture, extra/small item storage.
Specialty Shelving
In addition to primary shelving types, there are some additional types of specialty shelving units that can support your kitchen equipment and items:
Wine Racks
Designed to hold wine bottles at optimal angles with circulation to allow for temperature consistency. These can be chosen in individual wine bottle configurations or full case configurations.
Best for wine bottles, cases of wine.
Pan Racks
Blending shelving and service carts, pan racks utilize narrow rails to hold trays of food which can then be wheeled around.
Best for bakeries, pizzerias.
Security Units
These shelving units can be locked/secured, helping to prevent theft.
Best for alcohol storage, personal Items.
High-Density Shelving
These shelving units can be moved together via a track system to pack the most items in any given area.
Best for heavy storage areas and many items in a little space.
Shelving Options
Shelf Design
Your shelving units can come with two primary types of shelving: solid and vented. Depending on what products you plan to store and where you plan to keep your shelving unit, certain shelving types may be better suited for certain areas and applications in your kitchen:
Solid
Pros:
Easy to clean/sanitize
Ideal for messy prep areas
Cons:
Wet spills can contaminate foods quicker (shelves won't dry quickly)
Frost can build up in freezers
Less circulation
Best for:
Vented
Pros:
Good circulation
Quicker drying
Easy lifting and sliding
Greater visibility
Cons:
Messes can drip through shelves, contaminating all items underneath
Harder to clean
Best for:
Packed Dry Goods
Drying Wet Dishes
Bulk Storage
Worktable Shelving
Material Composition
Similarly, shelving can come in a variety of materials that can determine its longevity based on its use and applications:
Chrome Wire
Designed to increase visibility in non-humid environments.
Best for dry storage, display.
Epoxy Coated Wire
Designed with protection against corrosion. Look for units that have an epoxy coating over a zinc coating. This way, the inevitable scratching of the epoxy won't lead to rusting.
Best for walk-in units, moist or humid areas, and warewashing areas.
Polypropylene / Polymer
Corrosion-resistant and durable, these shelves are dishwasher safe.
A new hybrid wire underneath epoxy has become very popular. The strength of metal with corrosion resistant polymer shelves that can be removed for cleaning. Shelves should be vented.
Best for near seawater or salt air, walk-in boxes, drying rack.
Stainless Steel
Durable and less susceptible to rusting than aluminum.
Best for undercounter shelving with heavy use.
Aluminum
Lighter but more susceptible to oxidation over time.
Best for undercounter shelving with light use, dry storage area.
Stationary vs Mobile
Your shelving unit can come as a stationary unit or as a mobile unit, and depending on the permanence of your shelving area, one may be better suited for your kitchen over the other:
Stationery: should be used in areas of storage permanence where setup isn't often rearranged.
Mobile: these units can be moved about your establishment, allowing for better transportation of stored items from the back- to front-of-house and for better cleaning behind and under the shelving unit. Mobility severely limits load capacity. So if the shelves can handle 600 lbs. each, depending on the caster type, casters will limit the total load to around 500 lbs, decreasing your unit's weight capacity exponentially with each additional shelf. Depending on how many shelves you chose to instal with your unit, this can restrict the types and weights of items you store severely. While there are high end casters that will hold 200-300lbs each, the average casters only hold around 125-150 lbs each for a total load capacity of 500-600 lbs (4 casters x lb capacity of each caster).
Accessories
There are many accessory items available for your shelving unit that can improve the usability of your unit:
Ledges: keep items contained on the shelves with easy-to-install ledge guards.
Further Reading…
Wall Space: people focus on floor space to utilize as storage areas, but many overlook the possibility of utilizing empty wall space as well. Hangers, hooks, and racks are all great tools for storing light items such as linens, mitts, and utensils up and out of the way on your walls. Magnetic strips can be used to affix knives and prep cutlery just above prep tables; Just be sure to always keep meat-cutting knives separate from produce cutlery. You can either use separate strips or color-coded handles on your knives to ensure easy identifiability.
Work Centers: Work centers are created with organization and storage in mind. WIth shelves below and above the work table, workers can take small amounts of surplus items that would be used for the day and store them within reach. This cuts down on labor costs over time, helping to keep your kitchen running smoothly. Make the most of your work center by adding hooks to keep utensils up and off the work surface!
Keep Items Off the Ground: the FDA Food Code stipulates that food items need to be at least six inches off the ground at all times. Dunnage Racks are the perfect solution for the heavier items such as bags of flour, as these racks are usually designed to stand at least a foot off the ground already. Also, ensure your work tables have a lower shelf for added storage areas!
Shelving for Walk-Ins: your walk-in unit is built for cold storage, so make sure you're getting the most out of your investment by also purchasing epoxy-coated or polymer shelving. Both of these materials are built to last through the cold and moisture with little to no corrosion. Take heed when moving shelving in your walk-in to not place them in front of vents, or you'll risk damaging the efficiency and creating warm spots.