The Ultimate Outdoor Dining Checklist for 2022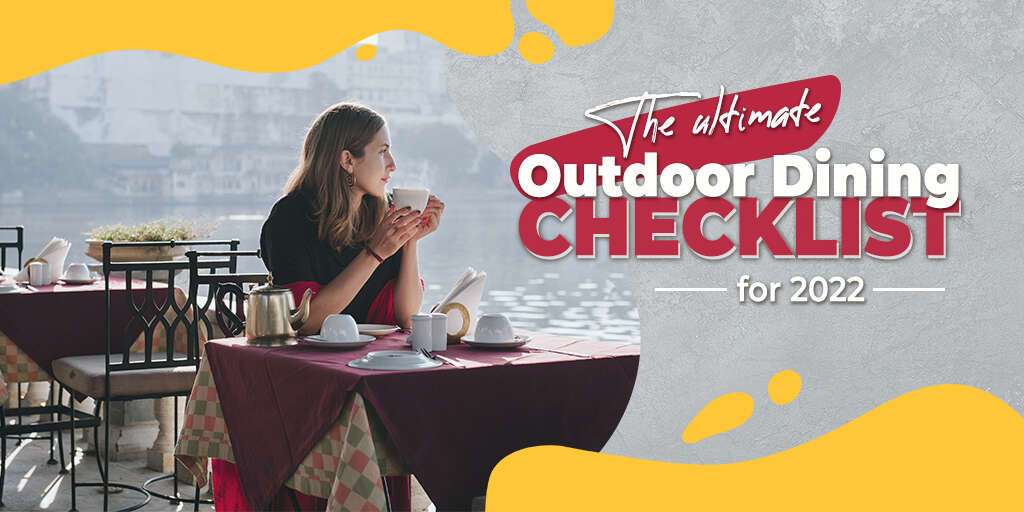 Whether you are extending your dining area outside or making an outdoor restaurant altogether, you need the equipment and supplies listed below to make sure it is a success.
Dining Area
Optimize the space for comfort and style with the right furniture. Chairs and tables must be made with materials and finishes that can weather the outdoor challenges, but they should also create a beautiful space for your customers to enjoy a delicious meal.
Dining chairs
The chair will impact the dining experience from start to finish. So make sure you choose seating that is comfortable, but also tough enough to withstand outside elements and daily use.
Outdoor armchairs offer arm support for customers so they don't have to put their arms on the table. Armless chairs allow you to maximize the outdoor space and they are often stackable for easy storage, although there are also stackable armchairs.
Dining tables
Tables come in tons of styles. If you are adding an outdoor area to your indoor dining room, keep the design uniform or complementary so it really feels like an extension of the inside. The table bases should also be strong to keep the table in place. There are also models that have a dedicated slot for an umbrella.
Depending on your outdoor dining concept, you can opt for vintage-style bases that have a more ornate design or simpler models with a weighted bottom. For larger tables, you want multiple columns to support the heavier weight.
Dining sets, patio tables, and picnic tables are a great way to sit in large groups and families. If you are set up under a pergola, you can go with a spacious setup that includes a couple of outdoor sofa seatings and low-height tables. For something more intimate, you opt for round tables for two.
When it comes to an outdoor bar, you have a wealth of seating options. Bar stools may be backless while chairs with back support come in a few different heights.
A bar stool with a back provides added comfort to your guests that could help them stay longer and order more drinks. Backless, on the other hand, give you a clearer view of the dining area. There are swivel units that give guests more leeway to move while at the bar.
It will come down to your preference. If you want easy storage, go for stacking bar stools.
A major consideration in addition to the style, function, and construction of the furniture, is the height. A few notes:
Standard-height chairs that can work as dining chairs

Higher bar stools at 24 to 27 inches allow guests to reach the height of kitchen counters, which are around 36 inches

Tall bar stools

at 28 to 33 inches high are the best option for drink bars where tables can be up to 42 inches tall

Choosing the right material
Plastic chairs and tabletops are the most economical option for your outdoor dining. They are lightweight, weather-resistant, easy to move, and stay cool in the sun. However, they can't be exposed to direct sunlight for long periods to prevent fading. They are available in plenty of designs, shapes, and colors so you can find the best style for your needs.
Metal chairs and tabletops are dependably built but they don't hide scratches as well as their laminate countertops. Tabletops tend to be reflective, so you might want to adjust your table setting to prevent any glare that can annoy diners.
Metal chairs are durable and have a high weight capacity. They will look good in a classic or cafe setup.
Wood
Wood chairs offer a more natural look and help your customers just sit back and relax. They stay sturdy and will fit in most outdoor concepts. Wooden furniture is the perfect choice for an outdoor restaurant with greenery or any garden setting. Wood tables and chairs are sturdy, but keep in mind that they will need regular maintenance to retain their toughness and appearance.
Laminate is a type of material used on tabletops. Multiple layers of plastic bonded together to create one indestructible piece. Laminate tabletops offer tons of flexibility in terms of design because they can be made to look like other materials, only tougher and easier to clean. The robust construction can withstand heavy use, is highly scratch-resistant, and is very easy to clean.
Wicker
Wicker furniture is a weave of synthetic rattan. To stand up to all outdoor conditions, operators opt for synthetic rattan, which is usually made of coated plastic, to mimic the beautiful appearance of authentic rattan while beefing up its strength.
You end up with a lightweight and easy-to-clean piece of furniture that will perform well no matter the season. Wicker furniture is pretty versatile as it can fit well in a modern setup, but also in a garden setup.
Steel
Steel furniture is a heavy-duty option that can weather the outdoors without occasional indoor storage. You will have to repaint them every now and then when they are scratched or the paint is peeled off. Cushioning will be required to make them more comfortable.
Aluminum
Aluminum is an excellent alternative to steel because it is light, easy to clean, and rust-proof. They need to be placed indoors during winter to maintain durability. Because of the tougher material, they won't be foldable, which means they will require additional storage space compared to foldable counterparts. Light steel chairs, aluminum will also need cushioning.
Fences help you separate the outdoor dining area from the sidewalk or street traffic to give diners privacy.
Shade and Ambiance
Umbrellas provide shade for each guest. Place an umbrella on each table to make the dining a bit more intimate.
There are small and larger umbrellas you can choose from. You can use one for multiple tables as opposed to one umbrella table that can make the space look cramped.
You can also opt for awnings or canopies to keep the entire dining area cool. Retractable versions are great because they can be stashed during bad weather.
Patio covers, pergolas, and gazebos ensure durable and functional shelter that'll attract lovers of outdoor dining even on rainy days.
Signages
Have eye-catching signages that capture customer attention and effectively communicate your menu, promotions, or reminders.
Patio heaters
Be ready when the weather gets cold by setting up patio heaters and outdoor fire pits. Having a patio heater makes it quick and convenient to turn up the heat when needed.
Outdoor fire pits
Apart from raising the temperature to more comfortable levels, outdoor fire pits create a more inviting and cozy space for your guests. These are guaranteed to enhance the ambiance of any outdoor setting and keep them. You can choose from fire bowls or fire pit tables.
When summertime comes, you want to keep your customers cool with portable coolers.

Food and Drinks
Cooking outdoors produces the irresistible smell of barbecue and pizza that could just reel more customers in and get patrons to spend more.
Additionally, it blurs the line between the front and back of the house, creating production transparency that customers respond well to.
You have an array of equipment that you can get made for that.
If you are going for a summer cookout or an outdoor barbecue-style experience, outdoor grills should be on your checklist. These cooking equipment are perfect for cooking proteins and vegetables.
Some units have roll-in domes that protect the food from outdoor elements while also accelerating cooking time. There are portable units, but you can also get built-in units. Mobile units have casters and a built-in tank cart system so you can cook basically anywhere.
Outdoor grills can use charcoal, natural gas, or propane. If you want to keep your daily cooking and grilling simple, charcoal is a great choice, but it can get labor-intensive and time-consuming.
If you anticipate a high volume of orders, natural gas will be your best bet but will require a permanent placement of the grill. Propane will be the ideal option for portable grills.
Outdoor grills come with a great selection of accessories so you can build the best cooking station for your every need.
Outdoor BBQ Grill Utensils
Make grilling safe and easy by having a set of grilling utensils including turning tongs, spatulas, and grip forks.
By enabling you to bring drinks to guests, a portable bar can make your outdoor dining space more profitable. Everything you need to mix drinks can be easily transported, allowing you to prepare the order right in front of your guests. This not only shows your confidence in the safety of your offerings, but it can also entice other guests as they watch others get the treatment.
Food Safety and Sanitation
Handwashing stations
Health and food safety should be prioritized, and one way to do that is to promote hand hygiene. Make sure both your staff and your customer can wash their hands by adding multiple handwashing stations to your outdoor dining setup.
Flytraps and insect zappers
Outdoor dining means you have pests and insects to deal with. This calls for a diligent cleanup process that ensures no food scraps or spills are left. Set up fly traps and insect zappers around the area to minimize this problem. For good measure, use lids to cover the food and beverages as you bring them out to the table.
Trash receptacles
Promote a cleaner space by setting up garbage bins at convenient spots. Make it easy for your customers to throw away the trash. There are garbage bins with a sleeker design that helps them integrate into your aesthetics but also making them still recognizable to guests.
Other items you want include:
Paper towel

Garbage bags

Trash liners

Disposable gloves
Decor
Lighting
The right lighting will set the mood and create a more welcoming space that your guests would love to be in. The proper lighting can also make for a perfect picture that your patrons could share on their social media.
Plants
A little flora will give your outdoor dining space more life. Plants can instantly inject life into your outdoor dining space, helping customers truly relax and enjoy good food.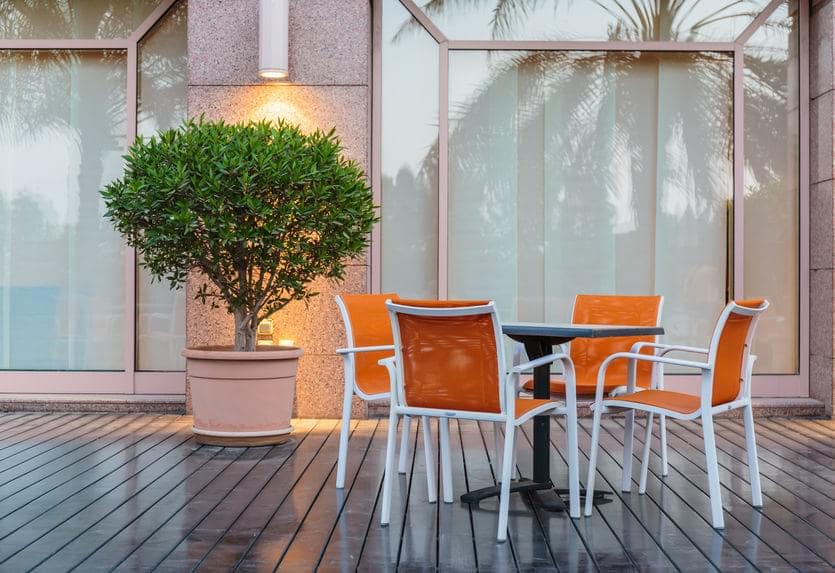 Kitchen Efficiency
Kitchen display systems
If you plan to have both indoor and outdoor dining spaces, you need to make sure that your wait staff can keep up. Kitchen display systems help you keep track of where orders come from. They can be used with tablets from which your staff can input orders, which will then be directed to the appropriate kitchen station.