The Complete Catering Equipment Checklist for 2021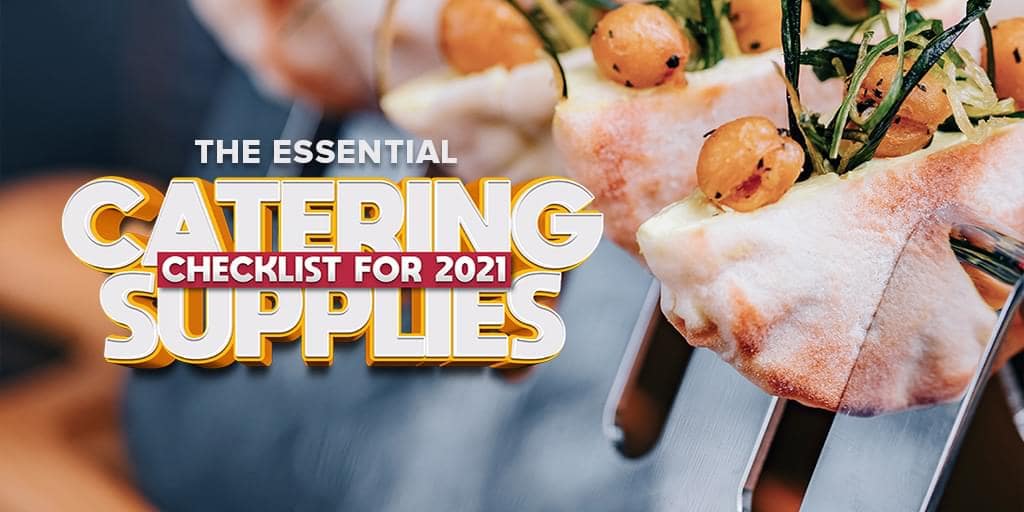 Starting a catering business? Make sure you are stocked with the proper equipment and supplies to help you prepare, cook, pack, and serve food. If you don't know where to start, we've put the ultimate catering checklist for you below!
Most equipment and supplies are available in a wide array of styles and finishes so they can easily fit into the theme of the event of the type of service.
Table Setting
The goal is for the table setting to create a comfortable and presentable space for your guests to dine. Keep the style of your tableware uniform so they are presentable. Strike the perfect balance between function and form.
Plates
The kind of wares you will need will depend on the type of event or your style of service. Generally, however, here are the items that should be on your catering checklist.
Dinner Plates
Dinner plates are used to serve main courses. They are around 11 to 12 inches in diameter.
Luncheon Plates
The plates are smaller than dinner plates and ideal for serving small portions of food and lunch items like sandwiches. However, they can be useful in a lot of serving applications.
Salad Plates
Salad plates usually come in two sizes: small (20 cm) and large size (22 cm). They are the perfect size for serving salad for dinner, but they can be used for serving smaller items or holding soup bowls and saucers.
Charger Plates
If you cater to formal events, charger plates will surely be on your catering checklist. Charger plates are a must to elevate the dining atmosphere and set the mood for an upscale dining experience. They are not used to serve food, but rather as the base for the bowls and plates during service. Functionally, they help retain the heat of the wares and catch debris of food that can stain the tablecloth.
Dessert Plate
Dessert plates are great to have if you cater to formal and informal banquets. They are smaller, typically around 18 cm in diameter, but they can be used for serving various foods like snacks, appetizers, and desserts. Other types of wares you might need include:
Soup bowl

: Styles for both formal or informal event available; formal version has lower height

Appetizer plate:

Smaller in size at 17 cm

Bread and butter plate

: 15 cm in diameter; placed next to the fork

Deli plates:

For coleslaw, potato salad, and similar foods

Buffet dishes and platters:

Used for displaying finger food, salads, sauces, and dips

Ramekins

,

sauce cups

, and

sauce boats
Glassware and Cutlery
Water glasses

Wine glasses

Rolled silverware so that they are easier to hand out or grab
Table add-ons
Place items that guests will need during dining, but also take the time to decorate it so it looks more presentable.
Fabric or paper napkins

Sugar holders

Salt and pepper shakers

Tablecloths

Table skirting

Food Display / Buffet
The best catering setup is one with an appetizing display of food. Make sure to set up a buffet on a solid table with a tough surface and a robust base. There are tons of styles you can choose from to give you more flexibility on how to arrange the food.
Catering tables
There are single-tier and two-tier catering tables available in a wide variety of styles and finishes to fit any theme. You can also opt for foldable tables, which are easy to pack and store. Some units even have casters that support and move heavy loads safely.
Portable buffet tables
Portable buffet tables can fit multiple pans of food at a time. They come with slots for food pans or a solid top depending on how you want to display the food. They also have sneeze guards for added protection and are available in various widths.
Hot and cold food tables
These tables provide you a space to set up a spread of cooked meals for guests on food wells or a solid surface. Unlike buffet tables, they generally have a cutting board to provide additional space for food prep and assembly. Cold food tables also available for salad buffets, and can be ice-cooled or powered by a refrigeration system.
Tabletop food bars and buffet warmers
Lightweight and available in various colors, tabletop food bars and buffet warmers are countertop food display units that keep food hot or cold. They are available in various sizes, styles, and finishes.
Tabletop food bars are used for cold drinks and chilled foods. They are designed to be placed on tables, making them very convenient and economical. Non-electric-powered models use ice for cooling but you can upgrade with a chilling system to save time and labor.
Open food bars are used for prepackaged items while there are single and double-sided sneeze guards for salads and non-packaged offerings.
Buffet warmers are typically plugged to an outlet. Some models have a heated base with temperature control while others have insulated wells sized for food pans.
Sneeze guards
Sneeze guards are a great way to protect the food displayed on food table bars or hot food tables while still making it easily accessible to staff or customers. They can be one-sided or double-sided depending on how you set up your buffet.
Chafing dishes
Chafing dishes should be presentable, quick to use, and effective as a food-warming tool. They can be rectangular, round, square, or oval. There are specialized units for soups and coffee. Chafing dishes come in various capacities with larger models offering 8 to 9 quarts.
Chafing dishes can keep the food warm in a few ways: fuel or induction. Those that use fuel cells will require the use of a lighter or match.
Induction chafing dishes are more advanced in that they allow you to adjust the temperature and provide precise and more uniform heating. Keep in mind that they need to be connected to an outlet.
Chafing dishes come in various types of lids. Lift-off and dome covers can be removed completely for full access to the food. For self-serve buffets, you can go with styles that stay connected to the dish.
Retractable roll-top covers that can be flipped up and locked in place for safe use. Hinged lids only open at certain angles, usually at 45 or 90 degrees.
Glass top covers are great because they keep the food visible the entire time, which can improve presentation as well without losing much of the food's heat.
Dish Dispenser
Dish dispensers make sure you always have a clean plate ready for every guest. These dispensers, which can be heated or unheated, are designed to house a large stack of plates safely. When set up near a buffet table, only the very top plate is visible. When that plate is grabbed, the plate below it automatically rises into the top spot.
Heated dispensers keep the plates warm to prevent thermal shock when food is placed, protecting the wares from breakage. Dish dispensers have either a drop-in design or a mobile design. You can also use dispensers for other wares:
Food Display and Utensils
These are other food vessels you can use for offerings that can't be placed on a chafing dish:
Food pans:

Available in various sizes and can be used on food wells for easy heating, chilling, and replenishing
Food risers, display stands, and buffet steps:

Help you arrange food on the table creatively or maximize space while still making everything accessible; accentuate special food items; can be used for bowls, platters, and plates
Soup tureens:

For large amounts of liquid food items like soup

Punch bowls:

For serving punch or displaying and cooling bottled wines
Food labels:

Food labels tell your guests what the dishes are inside of the closed chafing dishes. You can also add information on the ingredients, which will be useful to those with dietary restrictions and allergies.
Decoration
Save clients a headache and increase your profits by renting out decor items like:
Flower vases

Table numbers

Candle holders or lanterns

Food Transport
Food should be served hot and fresh, but you don't want to run out of time cooking and end up serving only part of the crowd. So make sure you have the proper food holding equipment in your catering checklist.
Insulated food pan carriers
These do not require being connected to any power source, but they do a good job of keeping certain types of food at ideal serving temperatures for a short period of time. These food carriers can accommodate multiple pans at a time and are designed to be easy to carry to keep food in the containers during transport.
Plate racks
If you cater to large events, plate racks will speed up your plating. These units are used to stack already plated food, so you can prepare more without running out of counter space. They can be mounted or mobile. Depending on the size of the crowds you serve, you can get units that can support 9 plates up to 48 plates at a time.
Utility carts
Utility carts make it easy for you to safely move basically anything you need across the entire venue. Use them to move heavy items like chafers, insulated food carriers, loaded food pans, and stacks of plates anywhere they are needed.
You can choose from metal and plastic carts with up to three tiers and a capacity ranging from less than 300 lbs to well over 1,500 lbs. There are also service carts for wine bottles and glasses.
Glass racks
Make sure glassware is transported in and out of the event safely with glass racks. They come with individual compartments for each glass and come in various colors for color-coding. They are stackable and can be set on dollies for quick and secure transport.
Some glass racks have a fully enclosed design to keep washed glass clean and safe from bacteria, bugs, and other elements until the next use.
Accessories you may want to consider include ice glass fillers that allow staff to fill multiple glasses with ice all at once while they are still inside the rack to prevent contamination.
Food Warming
Make sure meals don't get cold before everyone is served. This is why cooked food should immediately be stored in a food warmer where taste and quality can remain intact until dinner time.
Holding cabinets
Holding cabinets have a lot more power to them because they use electricity. They can hold cooked food at perfect serving temperatures for longer hours so you can be confident there is always fresh food available throughout the event. They are helpful in pre-set service where the food is brought to the table.
Heat lamps
Heat lamps are a great way to keep finger food and other food items on the buffet platters hot while on display. Bulb-type units are great for a catered setup because they have a sleek and elegant look that would go well with the chafing dishes and the rest of the buffet.
Beverage
Whether you are serving water, juice, coffee, tea, or beer, you will need a beverage dispenser that will make it readily available to guests throughout the event.
Coffee brewers
Coffee urns and airpots will be a great choice because they can hold larger volumes of coffee.
Frozen drink machines
These are perfect for mixing, storing, and dispensing granita, slushies, and cocktails.
Ice dispensers
These provide instant access to fresh, clean ice for refreshments. There are ice dispensers that come with water dispensers as well.
Ice machines
If you plan to make your own ice, you can also invest on an ice machine. There are undercounter models with built-in bins perfect for low to mid-volume ice production.
Insulated beverage carriers
These are lightweight beverage containers with dispensing nozzles and double-wall insulation to keep cold and hot beverages. They have handles molded in for easy carrying. The high-quality plastic construction makes them both durable and light. Additionally, they can be safely stacked together to save space. They come in various capacities and colors so they can blend into your setup.
Portable bars
Unlike a permanent bar, portable bars widen your coverage and help you bring the party to every guest. These portable units provide you with a convenient prep space and storage for bottles, garnishes, and ice so you can mix drinks on the fly. You can choose from a wide array of styles and finishes to fit into the theme of the event.
Mobile ice bins
Mobile ice bins ensure you can get all the ice for drinks or chilled food wherever it is needed. They are available in several finishes that allow them to integrate to the aesthetics or the type of event.
Ice tubs
Ice tubs are lightweight and portable units for chilling canned and bottled drinks or packaged desserts.
Ice scoops
Ice scoops provide a sanitary way to put ice on glasses.

Disposable Catering Supplies
Disposable supplies lessen the risk of damage and simplify cleanup. This makes a more cost-effective option for your clients. There are disposable options for:
Cutlery

Plates

Cups

Napkins

Gloves
Cocktail picks

Foil pans

Aluminum foil

Straws

Trash liners
Garbage bins
Set up trash cans at convenient spots for guests to keep the area as clean as possible before actual cleanup and simplify waste collection.
Handwashing stations
Compact undercounter handwashing stations allow your staff to maintain hand hygiene throughout the event.
Dishwashing
A catering checklist is not complete without proper dishwashing equipment. With stacks of wares to wash and sanitize before and after the event, you need units that can keep up. There are different types you can choose from depending on the size of your operation including ventless models that remove the need for a hood.

Cooking
If cooking on-site is required, you need cooking equipment that offers portability and flexibility. Some of the items you might want to have are:
Mobile cooking carts
This is basically a portable kitchen where you can cook food in front of guests. These units typically use induction stoves and have a base where ingredients, cookware, and serveware are stashed.
Cook-and-hold mobile cabinets
Available in full and half sizes, these cabinets will help you cook and keep food warm until service.