A Complete Smoothie and Juice Bar Equipment Buying Guide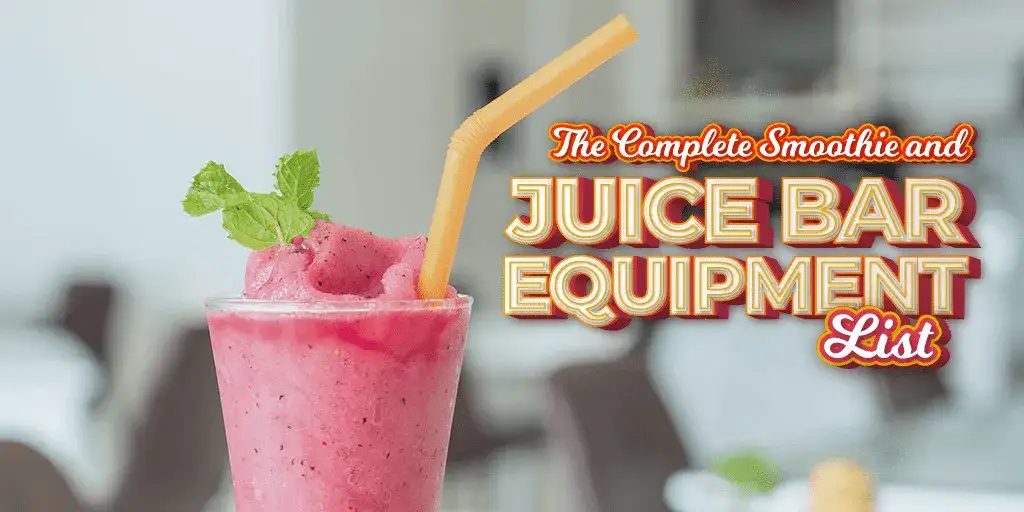 Much of the success of a juice bar or a smoothie bar relies on having the proper tools that will enable you to make each delicious concoction. In this post, we've put together the complete juice bar equipment list that will make the shopping easier for you to ensure you have everything you need to deliver refreshingly nutritious drinks to your customers.
Commercial Juicers
Your juice bar equipment shopping will start with a commercial juicer. There is a wide variety of juicing equipment you can find depending on the type of ingredients you are juicing and the volume of production.
Some juicers allow you to do the juicing manually. These units typically come with a crank or lever, which needs a little elbow grease to operate. Others use electricity to speed up the process so that you only need to load the ingredients and press a button. There are units that can juice dozens of fruits per minute, so you can easily fill pitchers left and right. Choose juicers with a large-capacity feeder so you can load products in bulk at a time.
Here are the types of juicers based on the method of juicing:
Centrifugal juicers:

Once the fruits or vegetables are placed into the feeding tube, centrifugal juicers will cut and grind them through a sharp screen using a blade that spins at high speeds. This process incorporates a lot of air and can cause you to lose a lot of the nutrients and, which makes the juice separate and foam quickly. For this reason, they are not recommended for commercial use but are ideal in a setting where getting the highest juice yield and quality is not a priority.

Masticating juicers:

These juicers use the same approach, but do so at slower speeds so you can get more out of the fruits and vegetables you use while reducing waste. There's not much oxygen that gets introduced into the juice, which slightly improves the yield as well as the quality because it retains more nutrients compared to centrifugal juicers. Masticating juicers can still leave a lot of pulps and chunks in the juice though.

Cold press:

The best choice for juice and smoothie bars is a cold press juicer. Unlike the above juicers, this type of juicer initiates a two-step juicing process to squeeze every last drop and nutrient out of your produce. First, it chops the fruits and vegetables into smaller pieces to the point that it gets a pulpy consistency. From there, it is pressed by a hydraulic press to extract what is touted to be 99 percent pure juice. Products from cold press juicers tend to have a much longer shelf life and do not separate or degrade in quality and taste. For this reason, they are the most expensive out of the three. They are, however, a worthy juice bar equipment investment if you want to deliver the best and most nutritious products to your customers.
There are several types of juicers depending on the fruits or vegetables you plan to use: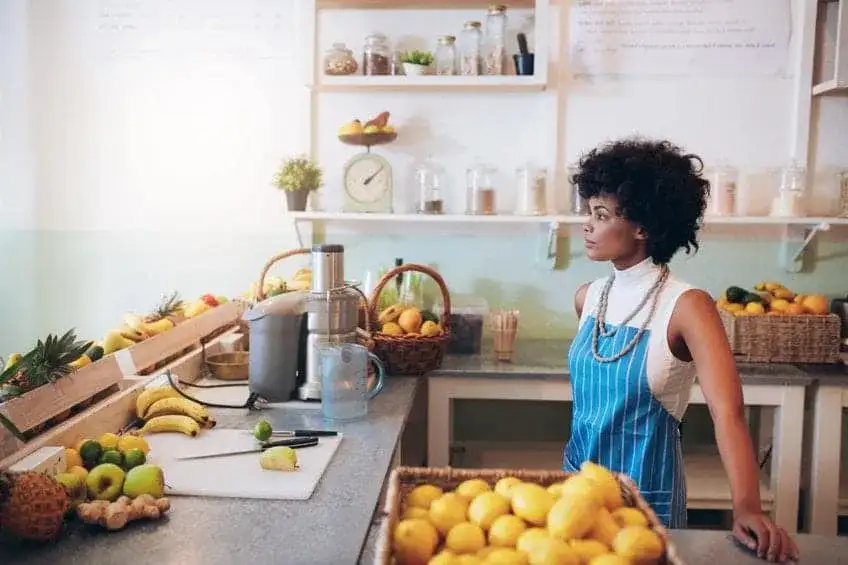 Commercial Blenders
Commercial Blenders are easily the centerpiece of any smoothie bar. You can see these juice bar equipment swirling and grinding everything to a pulpy goodness at just about every front house of the bar.
There are blenders specifically designed for beverages. They come in three types--light-duty, medium-duty, and heavy-duty--depending on the blending power. Your choice will depend on the types of products you plan to blend and the frequency in which you will use them.
You will most likely need multiple blenders to make multiple orders at a time. For a smoothie bar, heavy-duty blenders are the best option because they can handle all-day blending without faltering. Medium-duty blenders will do for small-volume use. The most common jar capacities for commercial blenders are 32 oz, 48 oz, and 64 oz
The jars that come with benders are either made of BPA-free plastic, glass, or stainless steel. The first two are great because they are transparent, so you see what you are blending. The swirling juices and their vibrant colors could even make for mesmerizing entertainment for customers. Plastic jars are light and easy to handle but they can get scratched and stained over time. Glass jars, on the other hand, have a little more weight to them, which help keep them stable during the blending process. However, they are more viable to break when dropped or bumped. Stainless steel jars conceal the contents, but they help retain the cold temperature of the drink.
Some of the blender features you may want to look for when juice bar equipment shopping are as follows:
Multiple or variable speed settings to produce ideal results for each order

Touchpad controls for simpler but more precise operation

Sound enclosures to mitigate noise produced by machines and keep the atmosphere relaxing

Vacuum blending reduces oxidation to create a less foamy drink with enhanced flavor and texture and retain freshness and nutrients
Commercial Refrigerators and Freezers
You will be working with perishables like fruits, vegetables, and milk, which can be delicate to store, so your juice bar equipment should include commercial refrigeration equipment. Make sure you have powerful refrigerators and freezers that will allow you to have a large inventory on hand to meet daily needs. You have a wide variety of products to choose from depending on the size of your inventory and the type of establishment you have. Take note of the space you are working with. Refrigeration equipment will need ventilation to operate safely and properly. If there is not enough room for it to breathe, it will get overworked, heat up space, and could become an unsafe place for your perishables.
Commercial Ice Machines
A juice bar equipment list is not complete without commercial ice machines, which will produce all the ice you need throughout the day. There are air-cooled and water-cooled ice machines you can choose from. An air-cooled one is simpler to set up and is supported in most establishments, but it needs proper clearance to ventilate. There are air-cooled ice machines that use a remote condenser, which can be installed in a separate location so heat is not expelled in the same room. Water-cooled machines won't need additional space and won't produce additional heat, but they need to be connected to a water supply.
Depending on the size of your operation, you need an ice machine head that will require a separate ice bin or undercounter ice maker with a built-in ice bin. Undercounter units can produce as little as 50 bs of ice with the larger units up to 500 lbs. The ice machine head units typically have higher production (up to more than 2,000 lbs daily) capacities and come with advanced features.
Many ice machine heads use touchscreen controls so the entire process can be performed with a few taps. Professional ice makers, like Manitowoc Indigo NXT ice makers, for example, have intelligent features that can handle preventive maintenance, achieve consistent yield regardless of environmental conditions, and send notifications for potential issues or cleaning times.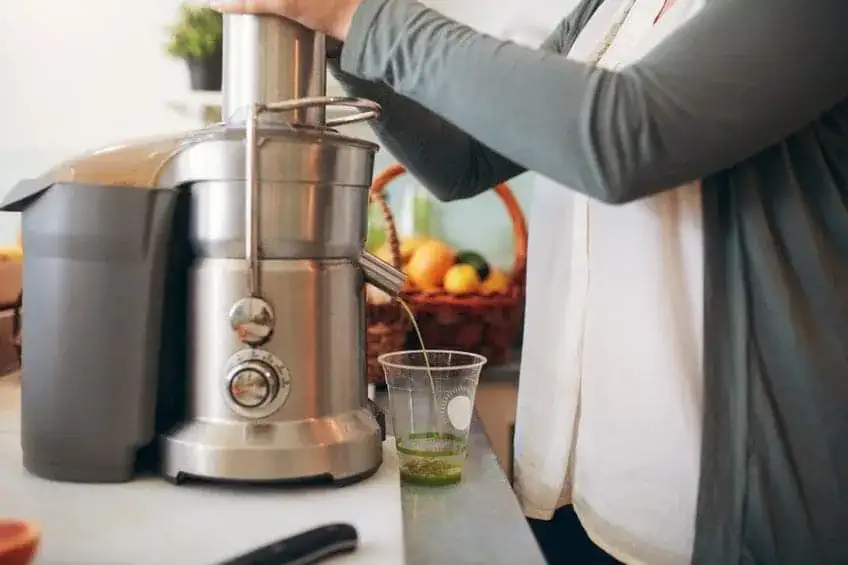 Commercial Glasswashers
Set up a dishwashing station to clean jars, glasses, utensils, and other daily wears. On the other hand, you can get a warewasher to make the job much faster and easier. This washing equipment can clean stacks of wares in a matter of minutes. A glasswasher is designed to wash glassware, which requires gentle water flow to prevent damage and breakage during washing. Glasswashers can wash multiple racks of glasses at a time. Depending on the capacity of the glasswasher, glasses are placed on wire racks, bar storage racks, or large plastic racks. You can opt for an underbar glasswasher that allows you to access clean glasses when you need them and place dirty glasses for washing after use.
A dishtable would also be a helpful addition to create a smoother workflow by providing dedicated space for soiled wares and cleaned wares.
Bar Sinks
A juice bar equipment list always includes professional sinks, and there are a few types you should look into.
If you choose to manually wash dishes, you can set up sinks. There are different styles and sizes to choose from to fit your space and layout. For back-of-the-house use, you will want a three-compartment or four-compartment sink where you have dedicated areas for soaking, rinsing, washing, and sanitizing. You can choose a sink with one or two drainboards where the clean wares can be left to dry sanitarily.
Handwashing stations are a must for any juice bar. Underbar sinks are great for use in employee stations because they can be installed in places that are most convenient to your staff to ensure proper hand hygiene. These underbar one-compartment sinks also offer a quick way to wash blender jars after each use.
Kitchen Prep Tables
You need counter space to place your juicers and perform prep work, so it is important to include prep tables in your juice bar equipment shopping list. There are different types of prep tables depending on the thickness and type of stainless steel used. Tables, where you will place heavy-duty equipment, will require a tough construction for safe weight support. For this, you will need 304 stainless steel with 14 or 16-grade thickness. For small prep use, you can get away with an 18-gauge thickness. You don't want a table that could get too flimsy or unstable for what you are doing.
Commercial Peelers
Fruits and vegetables such as oranges, limes, lemons, pineapples, and mangoes need to be peeled before being juiced. These include citrus fruits, pineapples, mangoes, and many more. Use commercial peelers to easily remove the skin off quickly for less time and labor.
Commercial Kitchen Supplies
Commercial kitchen supplies encompass a wide range of equipment and tools used in professional kitchens for cooking, food preparation, storage, and serving. These supplies are designed for durability and efficiency in a high-volume, fast-paced environment: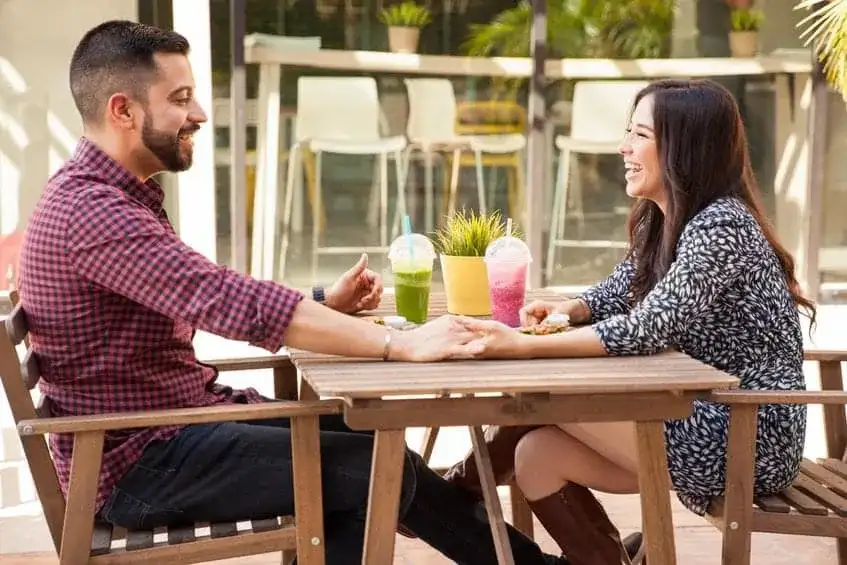 Build a Profitable Juice Bar Smoothie Business Today
With the right juice bar equipment, you are well on your way to building a successful business. Now, the next step is to create an experience that is safe and fast for both your employees and customers. Make sure to check out the CKitchen blog for more tips that can help you make the right decisions when launching your juice bar or smoothie bar.