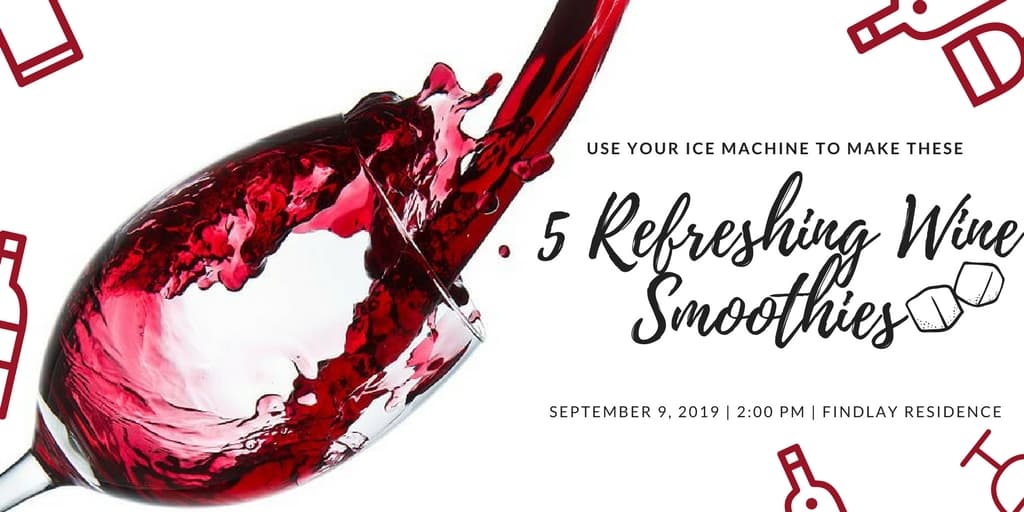 Use Your Ice Machine to Make These 5 Refreshing Wine Smoothies
Cool, fun, refreshing cocktails are always a welcome addition to any summertime meal. It's always nice to go with the standard summer cocktails – mojitos and margaritas, for example. Every once in a while, though, it's a good idea to try something new.
This year, one of the most exciting adult beverages to be introduced is the wine smoothie, a delicious blend of ice from your chest freezer or commercial ice machine, wine, and fruit.
At first glance, these two words don't seem to go together. Smoothies are usually associated with healthy eating. Multiple health gurus recommend drinking green smoothies – a mix of fruit, a leafy green vegetable, and yogurt or nut milk.
While these healthy drinks may taste good, they're probably not what your customers are looking for on a hot summer day.
Not to worry, though! A refreshing wine smoothie will never be confused with a healthy drink concoction.
Why a Wine Smoothie is the Perfect Drink
A wine smoothie might very well be the most perfect drink ever invented. It utilizes two wonderful components – a smooth wine and some cooling ice from your chest freezer or ice machine.
These drinks feel grown-up, but there's a little bit of whimsy thrown into the mix because of the blended ice.
Remember when you were a kid and rolled around and the thought of ice cream and milkshakes sounded like the perfect, most delicious way to cool down on a hot day?
That's what it will feel like to you and your customers when you drink a wine smoothie – fun, delicious, and thoroughly refreshing.
The cool thing about these drinks is that they're a great alternative to a traditional cocktail. Cocktails are great during the summer, but it's definitely fun to mix things up a bit. And while the traditional summer favorite – the margarita – is a wonderful option, a wine smoothie is a great way to keep your drink menu interesting!
Fully Utilize Your Ice Machine with These 5 Refreshing Wine Smoothies
A chest freezer or ice machine is a fairly large purchase for any restaurant owner. You'll be happy to know that when you add these wine smoothies to your drink menu you'll be putting your new investment to good use.
These drinks would definitely fall short without the proper amount of ice. So, have fun and enjoy testing out these five refreshing and delicious wine smoothies.
1. Raspberry Chocolate Wine Smoothie (Cookie Rookie)
This tasty smoothie can be made in one of two different ways. You can just blend up the fruit, wine, and ice from your ice machine. Or, you could add some almond milk into the mix. The fun thing about the Raspberry Chocolate Wine Smoothie is that it's not just your typical sangria smoothie. The twist is that you use chocolate wine, which adds an incredible amount of depth to this drink.


2. Purple School Bus Shot (She Knows)
This delicious drink was developed by She Knows contributor Claire Gallam as a treat to busy, overwhelmed moms. This is a nice quick shot that looks absolutely beautiful. And it's really simple to make, too. It consists of dark red wine and blueberries. Mix in some water and sugar to sweeten and tone down just a bit. Then, you and your customers can have fun knocking back these wonderful treats.


3. Tropical Fruit and Wine Smoothie (Bobby Flay)
Bobby Flay is one of the most famous chefs in the U.S. But his expertise isn't limited to the oven – he makes some killer wine smoothies, too. This Tropical Fruit and Wine Smoothie is one you should try. The orange, mango, and pineapple are incredibly refreshing on a hot day (as is the addition of ice from your chest freezer). Add in a fruity white wine and you'll recreate this masterpiece that your customers will clamor for!

4. Frozémonade (Buzzfeed)
Everyone loves lemonade on a hot summer day, but hard lemonade is much more fun. This delicious smoothie mixes fresh lemonade (lemon juice and sugar) with rosé wine. This wine smoothie will be a delicious addition to any bar food of your choice, including fries, Buffalo wings, and sliders.

5. Pink Champagne and Pomegranate Granita (Buzzfeed)
For those customers who want a classy twist on hard summertime smoothie, the Pink Champagne and Pomegranate Granita is a must! A granita is also called "flavored ice." It's made by adding crushed ice from your ice machine to fruit juice, or in this case – champagne. As Buzzfeed puts it, this appeals to your grownup self as well as your "inner 8-year old princess."

Make Sure to End Your Summer the Right Way – With These Amazing Smoothies
Summer is a great time for restaurant owners. People are hot and don't feel like cooking. There are plenty of tourists around – all of whom come to you to find a delicious meal and a refreshing cocktail.
Don't disappoint your patrons. Make sure to keep your drink menu fresh, interesting, and exciting with these summertime smoothies. They'll intrigue your customers, refresh them, and keep them coming back for more.
Put your chest freezer or ice machine to good use during the last few weeks of summer by trying these and other new cocktail options. You and your patrons won't be sorry!
How is your professional ice machine or chest freezer working for you? If you need a new machine, contact us to find out which models will be a perfect fit for your business.