5 Innovative Contactless Restaurant Design Ideas That Can Significantly Boost Your Profits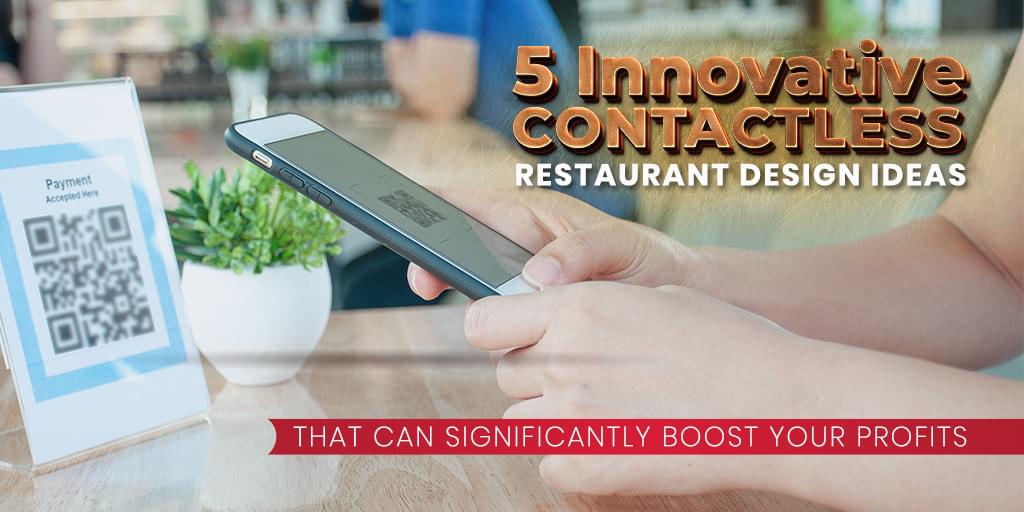 Customer safety is king. This has never been more true in the age of coronavirus. So it is no surprise that the industry is fully embracing the contactless experience. It allows operators to provide the peace of mind diners are after and at the same time streamline their processes and keep the revenue flowing.
The new goal is to create a fast, contactless ordering and checkout journey for customers. And this has inspired a wave of restaurant design innovations that is quickly changing the food-service industry.
If you're thinking about boarding the contactless service train, here are creative tried-and-tested concepts that can help you configure yours.
1. Pickup Cubbies
A cubby is a large storage shelf with multiple compartments for pickup orders. It is usually placed between the front and back of the house and is separate from the dining space so there is no overlap or disruption.
This separation extends to the parking space so customers or delivery persons who arrive to pick up orders can easily pull up and grab the order without falling in line along with people who are dining in. To save time and remove the need for additional staff assistance, you need to set up signages that will direct them to the parking area and the exact location where they will pick up the order.
The challenge with pickup cabbies is that you don't want people arriving at the same time and ending up crowding the station. This means that the timing of the completion and pickup of orders should be meticulously planned. You can set up your software to spread out the orders in accordance with the placement of the specific cubbies that will be accessed. Alternatively, you can adjust the pickup schedule to prevent any pile-up.
You also need to find a way to cut the time customers spend in the pickup station. Make the labels legible and access touchless so customers can find orders without having to touch the bags to read the tags. Some cubbies let customers in with a simple tap or two.
Depending on your setup, you can opt to assign a staff member to monitor the cubbies and even sanitize them after every use.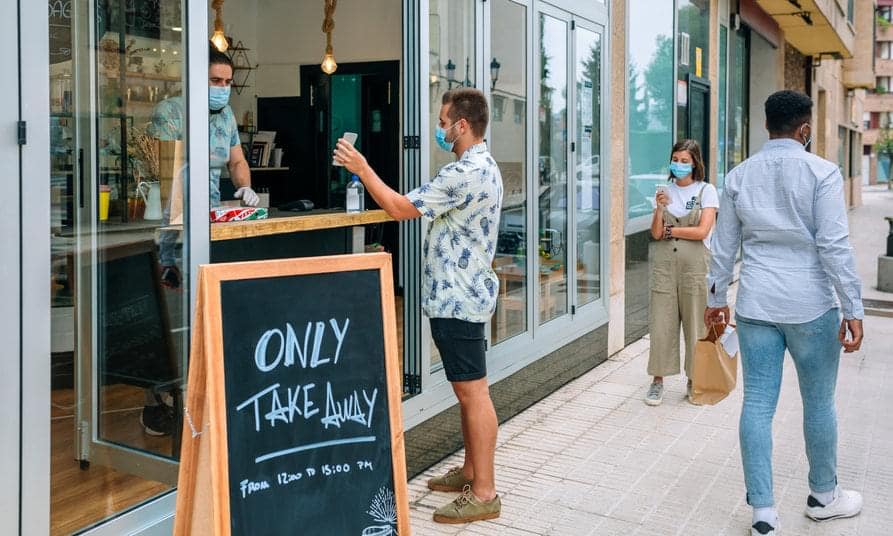 Restaurant Design Tip!
As cubbies will be a typical sight in most restaurants, make sure you put your stamp on yours by making them stand out.
Box'd customized their cubbies

to show fun animation, moving images, and inspirational quotes to add a sense of playfulness. This simple tweak does a good job of making the process entertainment for customers as well while highlighting the technology in a way that is not distracting but stimulating.

Use

creative lighting

to your advantage to create a comfortable and fun atmosphere for your guests. Box'd fitted the walls and floors with LED strip lights that create an ultra-modern look with a lot of movement and energy to elicit a sense of excitement and speed. The lighting serves as separators for the ordering stations but also directs the eyes of the customers toward them. The lights are complemented by wood and shades of blue to add warmth and make the place feel homey and welcoming at the same time.

Some operators are designing their pickup stations to complement the dining space. Pizza Hut placed their cabbies at the front to get the attention of on-the-go customers looking for a quick contactless way to get food.

The cubbies can be placed in a location where dine-in guests are not interrupted by the pickup traffic. This can be achieved by preventing the sense of urgency and haste in the pickup station from bleeding into the dining space. Choose banquette seating with padded backs to help absorb the sound and tamper the high energy.
2. Food Locker Systems
Restaurant design is evolving to include food lockers to the overall lineup in the name of contactless service. These are smart food holding solutions that eliminate labor because they are unmanned and secure. Customers don't have to wait in line or even enter the restaurant. Their orders are placed safely in one of the lockers and are provided with the code via email or text to access their order.
These food lockers are temperature-controlled, so the food stays at the proper serving temperature until it is picked up. Customers and delivery people won't need additional assistance from the staff or won't have to go up to the counter. This reduces congestion and disruption in the workflow. Your staff can focus on cooking up the food and the rest, the food lockers can take care of, allowing you to serve more customers especially during busy hours.
If you want to keep the orders inside the premises, you can instead use heated shelves. The packaged ready-to-eat orders are labeled and arranged on the shelves so your staff can quickly match the orders upon the arrival of the customer or the delivery person. Again, make it easy for your staff to read the names and tags so they won't have to touch the bags.
Restaurant Design Tip!
Food locker systems are easy to integrate into your space. Many of the food locker systems you will find come with various colors to easily match your brand colors or restaurant design. They can also be customized to add logos or any branding.

There are pass-through units that facilitate safer and more efficient loading and unloading of the orders. To ensure security while making access easy, most food locker systems connect to the Wi-Fi to generate codes. They can be integrated with your software to create a seamless process and provide data analytics.
3. Virtual Kiosks
Kiosks are expected to become staples in restaurant design to keep the ordering process contactless. Customers are able to enjoy a faster, safer, and more intuitive way to place orders without in-person contact with servers. At the same time, you can process orders and payments securely and quickly. Plus, depending on the features, kiosks can help you increase average check by tailored upselling and expand your marketing reach by encouraging customers to sign up.
Kiosks should be placed in areas convenient for high foot traffic. For a fully contactless experience, virtual kiosks that use QR codes are being adopted more widely. They remove the need for additional hardware, thus reducing the touchpoints in your restaurant. You can simply put up the QR code on a board, poster, or stand in multiple parts of your restaurant for customers to scan.
Fast-food chain McDonald's is adding self-ordering kiosks to its stores, but is taking it a step further with its new to-go format. This new contactless restaurant design concept features a production space back and kiosks at the front-of-the-house where on-the-go customers can place their orders.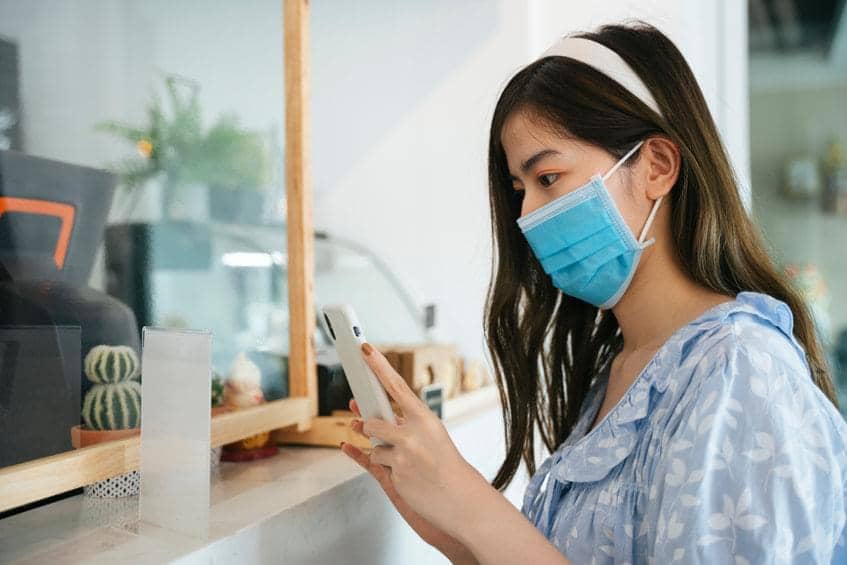 Restaurant Design Tip!
Fast-casual chain Panera

is leaving the choice to the customers through an in-store experience that offers a way for them to order at the counter, at a kiosk, or via their own phone. Customers who opt for a fully contactless experience can order from their smartphones for dine-in, drive-thru, Rapid Pick-Up, or delivery. They will then be notified when the food is ready, reducing interaction and keeping it paperless.

Grupo Gitano is adding

electronic waiting lists with QR codes

to its boho-chic restaurant bars. QR codes are set at every table so guests can order and pay via smartphone.
4. Unused Spaces and Commissary Kitchens
With off-premise business becoming a major stream of revenue rivaling dine-in, the dining space is shrinking as a result. Operators enjoy more flexibility and opportunities to tailor this space for off-premise success. You can convert the space into a dedicated makeline for online, drive-thru, or pickup orders.
Instead of a standalone location, you can also operate out of a commissary kitchen where you can cook your off-premise menu items. The majority of the cooking equipment will be located there so you can keep your restaurant footprint smaller and your real estate costs much cheaper. This leads to huge savings that you can reinvest in a more lucrative location that will provide you the visibility that you need for your restaurant. If you are interested in converting your space into a ghost kitchen or renting a kitchen space for your off-premise operation, this blog post can answer your biggest questions.
Restaurant Design Tip!
Angry Crab was able to make a recently vacated corporate office of theirs into a profitable pickup station. It was fitted with a large garage door for outstanding ventilation and equipped with shelves and counters for the orders. The brand is also making more pickup and to-go stations out of bar tops and hostess stands so customers who order ahead don't have to stand in line with people who are dining in. Although the pickup stations are separate from the main dining space, they have the same branding colors and style so they won't seem disconnected.
5. Drive-Thru Pick-Up Lane
Drive-thru opens up exciting contactless options that make it a reliable source of revenue for many restaurants. Panera is literally doubling down by adding a "rapid pick-up lane" to their new restaurant design, which is conceived as an order-ahead pick-up station.
Upon ordering, customers are asked to provide the color, make, and model of their vehicle so the staff can match the order immediately once they pull up the store. The food can be handled through the window or your staff can step out to put the order on the passenger seat or backseat to prevent any contact. The valet points of Buffalo Wings and Rings work the same way.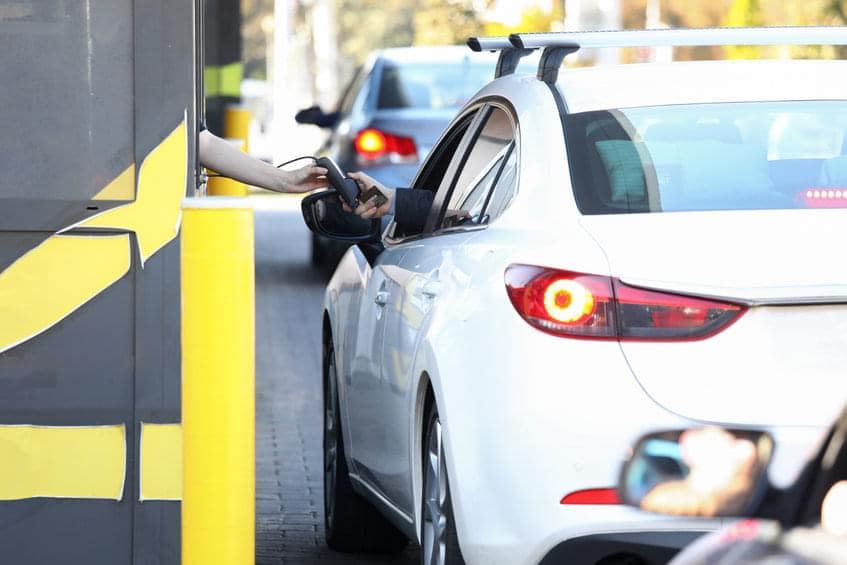 Restaurant Design Tip!
Take it up a notch by adding geo-location features so you know exactly when the customer arrives and have the food waiting for them. The valet station connects to the back of the house and is equipped with food holding equipment, packaging supplies, and a point-of-sale system for a seamless, contactless transaction.