Buying Guide: How to Choose Ice Cream Equipment for Your Foodservice Establishment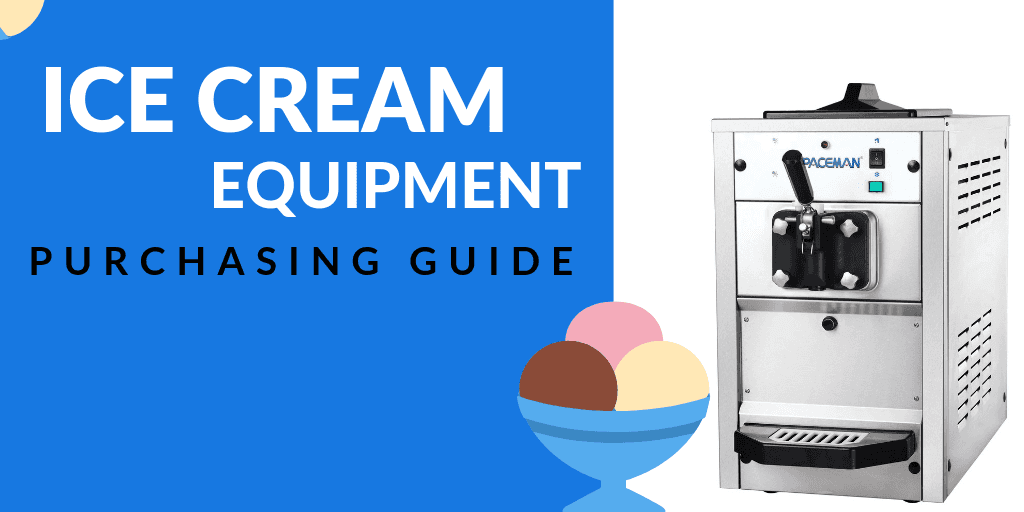 Softserve ice cream, custard, and frozen yogurt are best-sellers, but these three treats have many differences between them despite their similar goodness. With $25 billion spent annually on these treats alone, there's certainly a market for frozen desserts.
Hard Ice Cream
Visual Dipping Cabinet
These typically have sliding glass lids for quick access to product while allowing for customers to easily view product without opening the lid. These ice cream display cabinets have a 4-28 three gallon can holding capacity with a cold wall refrigeration system and a reverse condensing fan motor. Visual cabinets have dimensions ranging from 50 3/4" H x 47 1/2" W x 28 1/4" D up to 52 1/5" H x 49" W x 28 1/2" D.
Best if employees are serving guests (rather than guests serving themselves).

Horizontal Dipping Cabinet
Unlike visual cabinets, these feature a stainless steel top with dual access removable lids. You can either serve or store ice cream in this unit, and the unit's exterior ranges in size from 34 1/4" H x 30 5/8" W x 31" D up to 34 1/4" H x 43 1/4" W x 31" D and has a holding capacity of 7 or 13 three gallon cans.
Best for self-serve areas like buffet lines.

Upright Ice Cream Merchandiser
Freezer merchandisers are great for pre-packaged ice cream goods like ice pops, cartons of ice cream, and anything else fit for a self-serve area. These merchandisers are typically reserved for self-serve locations.
Best for self-serve areas, impulse-buy areas, grocery stores.
Countertop Ice Cream Merchandiser
For smaller establishments like concessions or gas stations who don't plan to serve a lot of pre-packaged ice cream product but plan to offer these goods, a countertop merchandiser is a great space-saving solution.
Best for be behind the counter or in self-serve areas for customer access, pre-packaged ice cream products.
Blast Chiller
Ice cream comes out of the batch freezer at a temperature of +19°/+16°F; at this point it still contains 30% water, which is responsible for rapid aging. Instead, shock freeze at 0°F or +10°F; the water in the ice cream is transformed into micro-crystals that maintain initial quality intact and do not ruin the structure. Check out our guide on Blast Chillers.
Best for hard ice cream, increasing duration of preserved ice cream.
Chest Freezers
These units are perfect for storing extra gallons of ice cream after your initial bulk purchases. Remember that most hard ice cream suppliers require storage at -20 degrees and your standard walk-in usually ranges from 0 to -10, so investing in a chest freezer is essential for proper storage.
Best for hard ice cream storage, impulse-buy areas for the customer, self-serve of prepackaged frozen treats.
Drop-In Freezer
These drop-in units can be incorporated right into your counter to store popsicles, ice cream sandwiches, and other frozen treats.
Best for concession stands, ice cream shops.
Hardening and Holding Cabinet
Yet another solution for storing bulk amounts of hard ice cream is your ice cream hardening and holding cabinet. These storage solutions hold up to 43 standard 3-gallon cans.
Best for hard ice cream storage.
Dipping Cabinet with Rail
This storage and prep solution has a rail for toppings up top, with refrigerated, frozen, or dipping cabinet space below.
Best for sundae station, ice cream prep area.
Frost Top
These frozen surfaces make for easy prep of ice cream blends and mixes without allowing the ice cream to melt in the process. These trendy, cold slab units up the ante for ice cream customization!
Best for mix-ins prep area.
Soft Ice Cream and Gelato
Soft Serve Machine
These machines can serve soft-serve ice cream, frozen yogurt, and custard. There are pump fed and gravity feed units, each with it's own benefits and drawbacks. Read more about soft serve ice cream machines in 'Further Reading'.
Best for soft-serve ice cream, frozen yogurt, custard.
Gelato Merchandiser
While not technically a soft-serve ice cream, gelato certainly is a more delicate frozen treat. Serve gelato, sorbet, and Italian ice in these specialized dipping cabinets.
Best for gelato, italian Ice, sorbet.
Accessories
Ice Cream Disher or Dipper
Portioning tools like an ice cream disher help to not only ensure similar scoop sizes but are also great at creating a smooth, rounded scoop every time. Be sure to store these in your dipper well between use. Dippers utilize defrosted liquid in the handle for easier scooping.
Best for hard ice cream, gelato, sorbet.
Dipper Well
When your ice cream dishers and dippers are not in use, you'll want to store them in a filled dipper well. This keeps the scoop clean while ensuring that ice cream transfer between flavors is kept to a minimum.
Best for hard ice cream, gelato, sorbet.
Toppings Dispenser
Liquid or gel-like toppings like hot fudge, caramel, and marshmallow drizzle are best suited for toppings dispensers where they're ready for easy, clean dispensation via a pump.
Best for self-serve areas, at the end of an ice cream self-serve line, end of ice cream prep lines.
Further Reading
What exactly makes soft serve different from hard ice cream? Aside from the obvious difference in texture, the preparation is altered as well (contributing to the difference in the product). At the time of freezing, soft serve ice cream preparation introduces air, giving it the lighter, softer texture. Ice cream and custard are only differentiated in the commercial world by the addition of egg yolk for a smoother, thicker texture. Only 1.4% of egg yolk by weight legally needs to be added for a genuine custard, but many vendors add more than the legal requirement. Furthermore, frozen yogurt is the conglomerate of an ice cream base with yogurt cultures.
All ice cream must be frozen quickly to avoid crystallization. With soft serve, this is accomplished by a special machine at the point of sale. Pre-mixed product is introduced to the storage chamber of the machine where it is kept at 3°C. When a product is drawn from the draw valve, fresh mix combined with the targeted quantity of air is introduced to the freezing chamber either by gravity or pump. It is then churned and quick frozen and stored until required. You can order the pre-mixed product in three forms: liquid, powdered, or ultra-heat treated.
Soft serve ice cream machines are available in two models:
Countertop: best suited for small operations with only a single flavor.
Floor: these can vary in size but also bring with it the potential added benefit of twist flavors in addition to single flavors as well.
These machines are also rated based on how much ice cream they produce in a minute. For instance, a machine that produces two to three servings per minute is a low-volume machine. Medium-volume machines should produce at least four to five servings per minute, and high-volume machines must produce at least seven servings of soft serve each minute.
There are several additional features to keep in mind when selecting your soft serve machine:
Gravity-Fed vs Pressurized
Low Mix Shutoffs and Alerts
Energy Conservation
Cleaning Features
Water- vs Air-Cooled
Combination Equipment and Storage