Checklist for Opening a Restaurant: Guide on Professional Kitchen Appliances List You'll Need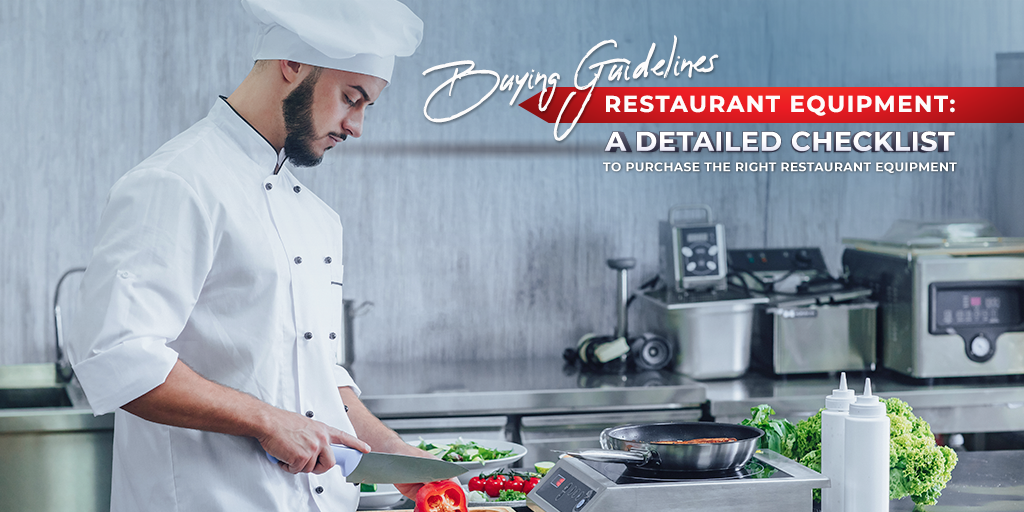 Having a commercial kitchen appliances list is integral when you're setting up a restaurant. However, the restaurant equipment list needs to be practical, and you must take into consideration a variety of factors before you prepare it. Commercial kitchen equipment is expensive and takes up a considerable portion of the budget you allocate toward setting up a food business. It's important to understand the various factors that determine the utility of an appliance before you create a restaurant kitchen appliances list for your establishment.
Alongside commercial kitchen appliances, having a plan for the general restaurant equipment supply is equally important as this will factor into your running costs and impact the margins you make from your restaurant. Other factors such as user-friendliness and space occupied by each machine are also extremely important when you're preparing a kitchen or bar equipment checklist. We explain essential factors to account for when making your kitchen's checklist, and also the most important pieces of equipment required to run both a quick-service and full-service establishment in the upcoming sections.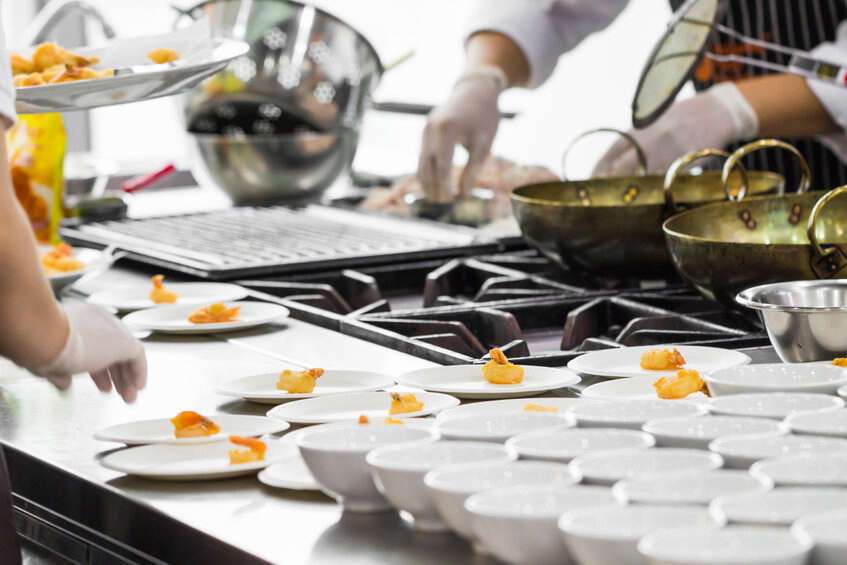 Here are some important parameters you need to look out for when you're preparing a list to buy equipment for your commercial kitchen:
1. Restaurant Requirements
Your restaurant's theme, concept, and type is the determining factor when creating a kitchen appliances list. The kind of equipment used by a fast food outlet and a fine-dining restaurant is drastically different. Understanding your restaurant's requirements would also require you to design the menu beforehand. Be sure to do the requisite amount of research for each piece of equipment you plan on acquiring before you step out to shop.
2. Investment & Returns
A budget is extremely important before you begin preparing a restaurant equipment list. It's even more important to stick to the budget you set for yourself. While a lot of equipment might seem very important when you're trying to outfit your commercial kitchen, you must zero in on only the essentials to avoid overspending. Also, make sure you have a solid plan in place to recover the investment cost of all the equipment you purchase for your business.
3. Space Matters
Make sure that you know your kitchen's square footage and layout before you order equipment for your establishment. It's also essential that you make a note of equipment sizes so that you have an idea about how much space will be occupied. Procuring equipment that's either too large or too small for your kitchen will lead to a cluttered kitchen or one that is incapable of servicing your establishment's requirements. Lastly, it's important to ensure there's ample space in the kitchen for your staff to work comfortably.
4. Utility & Usability
All equipment you put on the kitchen appliance list must be of use to the operations at your establishment. Commercial kitchen equipment you procure also should be high on the usability scale. Equipment that's too complicated to use will confuse employees and delay the rate of operations. Appliances that are low on user-friendliness also affect the accuracy and efficiency of your employees.
5. Rate of Operations & Speed
Commercial kitchen equipment needs to be quick behind the counter. This is especially important during rush hour as the rate of incoming orders increases very swiftly. Before you draw up a restaurant opening checklist, make sure you factor in the speed of each piece. This is especially important in the case of food preparation and cooking equipment.
6. Service, Maintenance, & Upkeep
Regular maintenance and service ensure the equipment you purchase lasts long. The durability of each machine is essential when you run a large-scale commercial food operation. You cannot afford to have repeatedly malfunctioning equipment in your arsenal. Ask the manufacturer about service schedules, the maintenance required, and draw up detailed cleaning schedules for your staff to follow.
7. Energy Efficiency
Commercial kitchen equipment consumes fairly large amounts of power, and it's important to consider this when preparing your checklist. Incorporate machinery that's energy-efficient so you can slash a considerable amount from your monthly power bills. Operating energy-efficient equipment also comes with other benefits such as rebates from the authorities.
8. Equipment Material
The design, construction, and material influence the lifespan of kitchen equipment to a large extent. Material such as stainless steel is often preferred due to its corrosion resistance, durability, and resilience. High-grade aluminum, wood, and synthetic polymers are also increasingly popular in newer models.
9. New vs Used Restaurant Equipment
Both new and used equipment have their pros and cons. It's important to consider what works best for your establishment and its requirements before you decide on purchasing new or used equipment. While new equipment can get you legitimate warranties from the company, used equipment can help you save a lot on upfront costs, however, you will have to pay for the maintenance and service charges. While equipment such as refrigerators & freezers is better bought, new, long-lasting equipment like ranges can be bought in a refurbished state.
10. Commercial Kitchen Safety & Security
Ensure you place the safety of both your staff and customers at the forefront when you're drawing up a kitchen appliance or bar equipment checklist. Try and have your staff trained in fire safety measures, and ascertain the safety ratings of all the equipment you plan on procuring for your restaurant.
11. Request a Demo Before Buying Restaurant Equipment
Never buy equipment without verifying its performance at the dealership. Always request a demonstration before purchasing any equipment on your kitchen appliance checklist. Also, make sure your staff will be comfortable using the equipment. Don't forget to request a thorough check and test run once your equipment has been installed at your establishment.
Commercial Kitchen Equipment List for Quick & Full-service
To meet customers' needs, you must set up quick and full-service operations while opening a restaurant. Here is what you will need:
1. Commercial Ovens
Ovens are one of the most essential pieces of equipment for a commercial kitchen. The type and concept of your restaurant determine the type of oven you will need. Ovens are commonly available in convection and combination models. While bakeries and pizzerias require deck-type, conveyor, and heavy-duty ovens, fine-dining restaurants might rely on floor and stackable models.
2. Ranges & Ventilation Hoods
Commercial ranges form the backbone of all cooking equipment on the checklist. They're available in gas and electric models, with each having its benefits and drawbacks. Ventilation hoods on the other hand are essential in making the environment within the kitchen comfortable for your staff. Pungent odors and oil fumes are easily dealt with when you outfit the kitchen with a vent hood.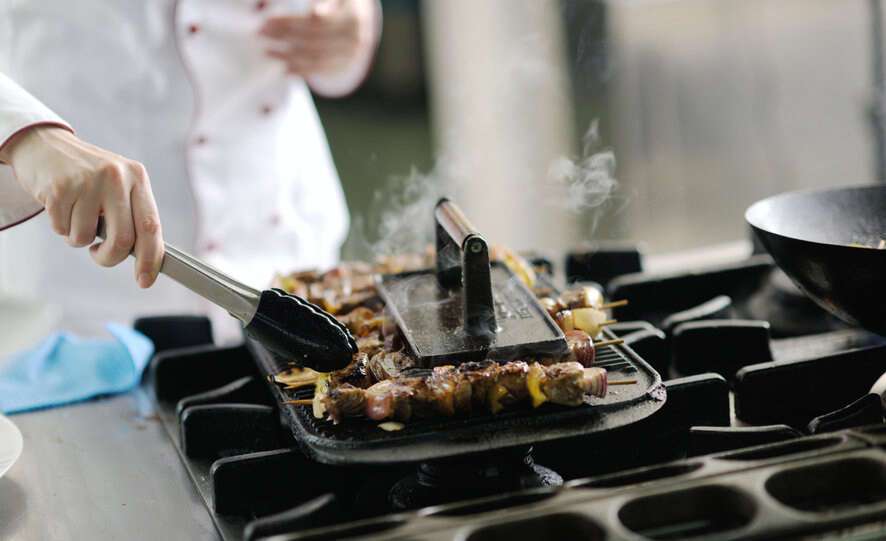 3. Food Processors
Food prep utilizes the maximum amount of time in a commercial kitchen. Ensure you add fast and high-volume food processors to the restaurant kitchen equipment list to ensure your operation runs smoothly. Batch bowl and continuous feed processors are among the most preferred options.
4. Commercial Refrigerators & Freezers
Refrigeration is essential for extending the shelf life of raw material. Invest in high-quality professional refrigerators and freezers to ensure your restaurant can rest easy when it comes to cold storage. Freezers and refrigerators are available in walk-in, reach-in, roll-through, under-counter, and pass-through models with varying condenser options.
5. Safety Equipment
Assemble safety kits that include fire extinguishers, first aid kits, personal protective equipment, cameras, and rubber mats to ensure your staff and customers are safe in the event of an emergency.
6. Cooking Equipment
Don't forget to add high-quality & reliable commercial cooking equipment that includes utensils, cutlery, and accessories to your general restaurant equipment supply list. Sort these items based on shifts to ensure smooth and unhindered operations.
7. Serving Utensils
The dishes, bowls, and cutlery you serve food on are just as important as the quality of food you prepare. These materials add both aesthetic value and comfort to your offerings. Equip your kitchen with serving ware of various sizes and patterns to address your customers' needs.
8. Commercial Food Storage Containers
Food storage containers are essential when you're looking to organize and safely store all the raw material used in your commercial kitchen. Ingredient bins, canisters, large cans, and boxes are all important tools to help you store your material efficiently.
9. Commercial Dishwashers
Ware washing equipment such as kitchen sinks and commercial dishwashers are integral to the sanitation facilities and overall operations at your establishment. Outfit your kitchen with the best ware wash facilities to ensure you serve safe, healthy, and clean food to your customers.
10. Gas & Electric Grills
Commercial grills are great when you're planning on providing an array of breakfast and fast food options to customers. They also bring in an outdoor feel. Grills are available in both gas and electric options. While gas options are cost-effective, they also come with an increased fire hazard, on the other hand, electric grills are safer, but are also more expensive to maintain.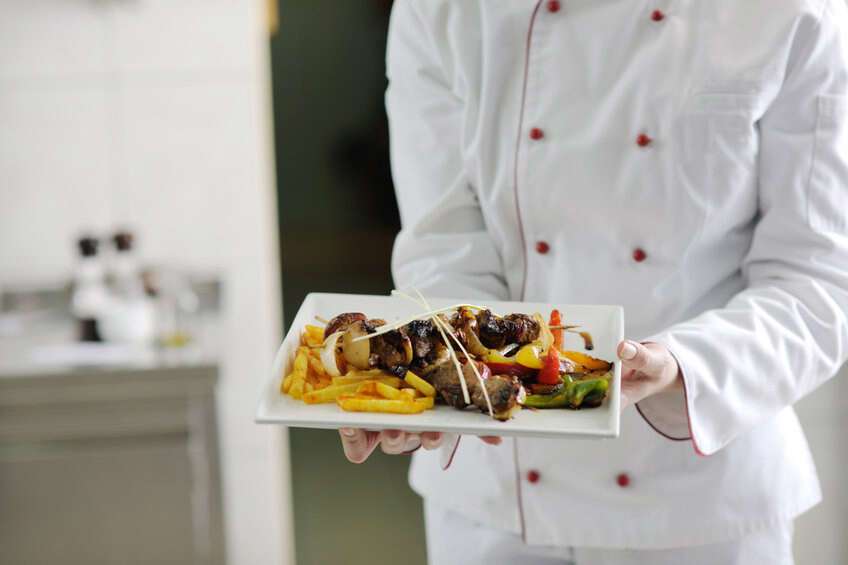 Choose the Equipment That's Right for Your Restaurant
Restaurant equipment is the core factor to the success of your commercial kitchen business. It's important to consider all the variables involved before you prepare a detailed restaurant equipment list. Following the guidelines mentioned above and sticking to the essentials is sure to bring about ease of operation & profit.