A Beginner's Guide to Commercial Kitchen Cost: How Much Does it Cost to Buy Restaurant Equipment?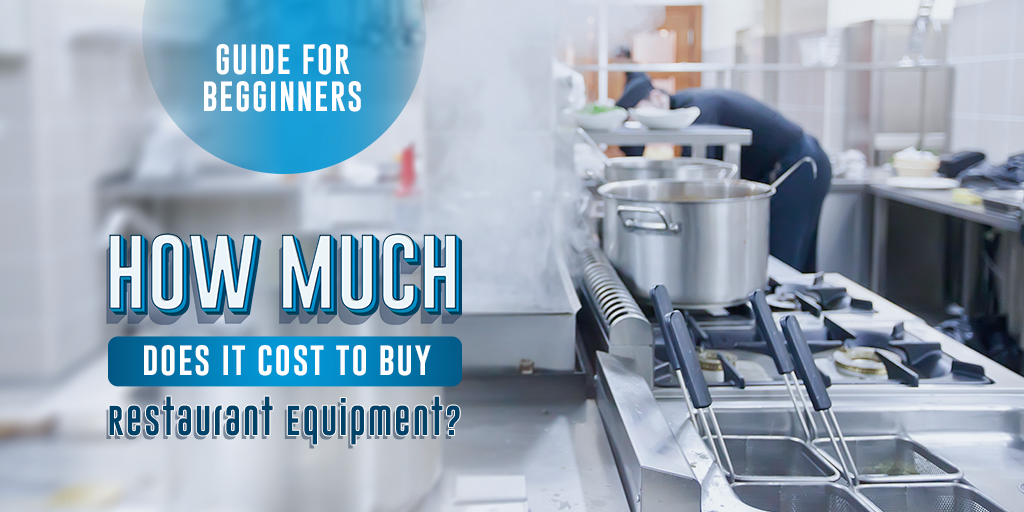 Starting a restaurant is an ambitious endeavor that involves a lot of effort and finances. While a good chunk of your starting capital goes towards securing a location for your restaurant, a good portion of it should also be reserved for something equally, if not more important - restaurant equipment costs. Kitchen equipment decides nearly all facets of what you will offer to your potential customers, and the themes you can experiment with at the kitchen. Quality, which is of the utmost importance when it comes to a successful restaurant, is also determined by the nature of the commercial kitchen equipment you use.
Depending on the size & scope of your establishment, the number of customers you intend on serving, and the types of dishes you want on your menu, restaurant equipment costs can vary. There are various factors that aspiring business owners must consider before they settle on any particular unit of equipment for their commercial kitchen. Read on as we discuss in detail the average cost of restaurant equipment and what you need to look out for when you're setting up your food business.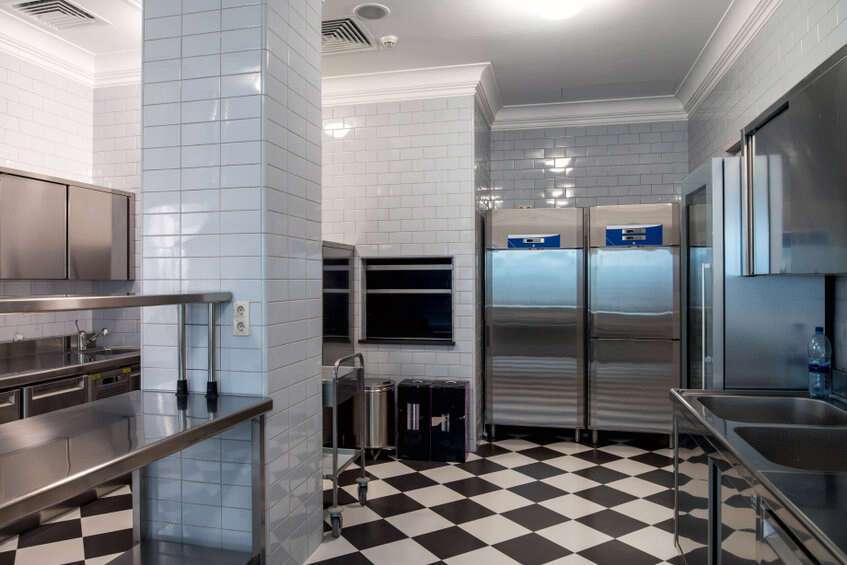 How to Choose the Right Restaurant Kitchen Equipment
Since the cost of restaurant equipment is going to use up a fair bit of your starting investment, it's important to choose equipment that is suited to your business plan and method of operation. Here are some important factors to watch out for when choosing commercial kitchen equipment:
Understand the Extent & Scope of Your Restaurant Kitchen
The type of equipment you induct will depend on the size of your kitchen and what you intend to put on your restaurant's menu. Large kitchens can serve a lot of people and hence require high-volume equipment. On the other hand, small kitchens are capable of taking only a modest number of orders at once. Also factor in the type of food you want to serve.
Restaurant Equipment Features
As a business owner, you must pay attention to the fine details when purchasing equipment. When you ask the question 'how much does kitchen equipment cost for a restaurant?', it's also important to follow up with understanding the features of the equipment you plan on buying. While a particular model might be endowed with several features, it might not necessarily be the right fit for your kitchen. Choose equipment with features that are best suited for your business.
Energy Consumption & Efficiency in Commercial Kitchens
Most of the modern commercial kitchen appliances run on electricity and consume a fair deal of power. Owning energy-efficient appliances enables you to cut down on your running costs. However, energy-efficient appliances are slightly more expensive than their counterparts. While this might take away from your starting capital, the reduction in running costs will help you save an ample amount of money in the long run.
The Equipment Retailer & Their Size of Operations
While most business owners think equipment pieces are priced the same across retailers, this is anything but true. The size of your retailers' operations and their relationship with the manufacturing companies is bound to affect the prices of the products they have on offer. Large retailers are often more capable of offering the best prices on products when compared to their small to mid-range competitors.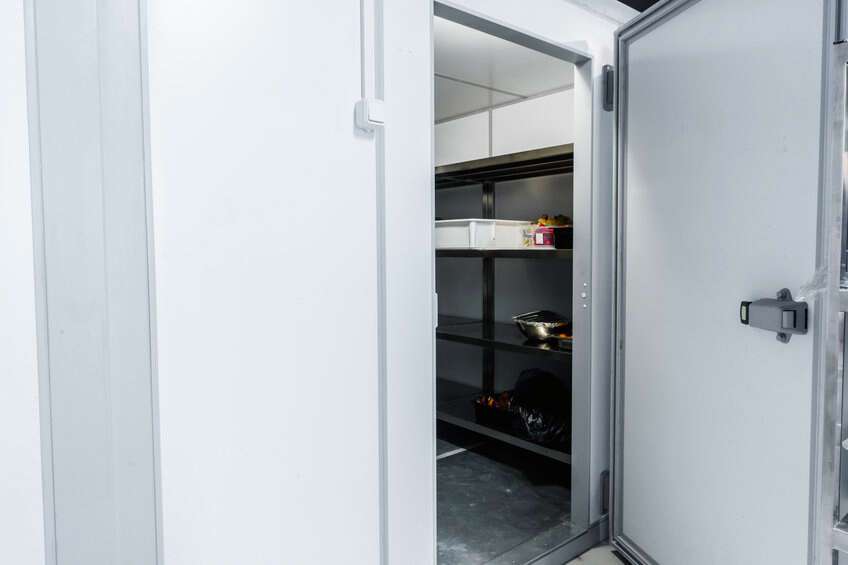 Shipping & Delivery Service for Your Restaurant
While purchasing restaurant equipment is one part of the deal, shipping these large appliances and ensuring they're set up the right way is another. Retailers with large logistical networks and warehouses are often more capable of shipping products efficiently and on time. Several retailers would also be willing to offer free shipping on especially large appliances.
Commercial Kitchen Equipment List Every Restaurant Needs
Here's a list of essential restaurant equipment that every commercial food business requires:
Commercial ovens

Commercial ranges & griddles

Ventilation hoods

Commercial mixers, blenders & food processors

Cutting boards & food slicers

Commercial ice makers

Sinks & dishwashing equipment

Racks, shelves, and storage containers

Kitchen smallware
How to Choose Restaurant Suppliers?
Restaurants are businesses that are in constant need of supplies. Having reliable suppliers will not only help you save up on restaurant equipment costs but will also help you mitigate your running expenses. Try to strike a balance between the quality of equipment, price, and the timeline of delivery to help you seek out a trusted vendor. Identify your needs and do extensive research on local suppliers that have built a name for themselves. Once you narrow down your list, contact each of them personally and try to draw up a deal that works best for your establishment. Always try to stick to your budget and make decisions based on the average cost of restaurant kitchen equipment.
How Much Does It Cost to Open a Restaurant?
Starting a restaurant can cost anywhere from 150,000 USD to 800,000 USD depending on the size, location, and type of food offered. Your expenses comprise both - startup costs and running expenses. Deposits for a commercial space, restaurant equipment costs, permits & licenses, decor & interiors, administrative costs, technological expenses, and marketing costs encompass startup expenses. On the other hand, running costs are of two types - fixed and variable. The former includes lease or rent charges, ongoing marketing costs, monthly insurance premiums, and license fees, while the latter involves the costs of sold items, utilities, and processing fees. Take into consideration a detailed estimate of all these expenses before you apply for financial assistance so you know how much money you will need to get through the first few months of business.
Commercial Kitchen Costs for Small Businesses
Small restaurants and those establishments that serve niche cuisines require equipment that is of a smaller range and capacity. While this might mean the amount you spend on a single piece of equipment is lower when compared to your larger competitors, it also means you might have to purchase specialized equipment to prepare unique dishes on your establishment's menu.
Essential Restaurant Equipment List for Small & Niche Establishments
Here's a list of must-have equipment for your small restaurant and their estimated costs:
Reach-in refrigerators & freezers:

3000 to 8000 USD

Commercial convection ovens:

Gas: 800 to 4000 USD, Electric: 1000 to 5000 USD

Ranges & Griddles:

Gas: 1500 to 6000 USD, Electric: 1000 to 8000 USD

Food Processors:

500 to 2000 USD

Ice machines:

2500 to 8000 USD

Commercial Sinks:

1000 to 3500 USD

Restaurant Equipment Costs for Mid- to Large-Sized Businesses
Restaurants with a fairly large client base require high-volume equipment. The average cost of restaurant kitchen equipment for such establishments will be higher compared to those used by smaller restaurants due to the capacities of these machines.
Essential Restaurant Equipment List for Mid to Large Sized Establishments
Here's a concise list of machinery you will require for your restaurant with their corresponding price ranges:
Cooking Equipment

includes machines such as ovens, ranges, griddles, fryers, broilers, toasters, coffee & beverage machines, and microwave ovens. Prices range between 2,000 to 15,000 USD.

Food Holding Equipment

includes

holding cabinets, warmers, fry warmers, food wells, and steam tables. Equipment costs lie between 2000 to 10,000 USD per unit.

Commercial Refrigeration

such as

refrigerators, freezers,

commercial ice maker machines

, and cold beverage dispensers comprise this section. The prices are between 3000 to 20000 USD.

Food Prep Equipment

includes

food processors, mixers, slicers, and meat grinders. The prices for quality products are in the range of 500 to 4000 USD.

Storage

equipment includes

shelves, carts, racks, sheet pans, and drying racks. Prices are often between 200 and 3000 USD.

Ware wash equipment

includes

commercial sinks and dishwashers. They usually cost anywhere between 1000 and 8000 USD.

Janitorial supplies

include

r

ecycling bins, mops, mop sinks, sanitizers, and dustpans. The average cost ranges between 100 to 1000USD.
Restaurant Equipment Upgrade Costs for Established Businesses
How much does kitchen equipment cost for a restaurant that is already established? Upgrading kitchen equipment allows you to use the best equipment in the business and remain competitive. Electronic appliances with short lifespans are the most important tools to be upgraded from time to time. Speak with your retailer to explore exchange offers to help you get a discount on the newer models of equipment.
Food preparation equipment:

Upgrades cost between 500 to 3000 USD.

Dishwashing equipment:

Prices range from 2000 to 8000 USD.

Microwaves:

Upgrades for microwaves cost between 700 to 4000 USD.

Ice makers:

Upgrades for ice makers range between 3000 to 8000 USD.
Leases and rentals often come with lower upfront costs when compared to owning equipment. While rentals might cost you a considerable amount of money in maintenance charges, lease agreements often include the cost of repairs & maintenance. Leasing options are of several types, ranging from lessors allowing business owners to lease equipment for a stipulated period, to options that allow business owners to buy the equipment following the end of the lease period.
Most restaurant equipment leases cost anywhere between 100 to 600 USD per month to lease. On the other hand, leasing a complete set of restaurant equipment can cost your establishment anywhere between 1000 to 6000 USD per month. Leasing is available not only for the large restaurant appliances, but also for the smaller necessities like cutlery, utensils, and linens.
What are The Biggest Costs When Opening a Restaurant?
While restaurant equipment costs comprise some of the major expenses when starting a restaurant, other major expenses such as rent for a commercial space, renovations, labor costs, and marketing are equally important. Draw up a detailed budget with a financial advisor and explore financing options to help you get started with your business plans.
Now that you understand the major costs of starting a restaurant and the various facets of restaurant equipment costs, you can begin delving into the nitty-gritty of equipment that's best suited to your establishment's needs. Be sure to negotiate the best deals with your supplier to save up on your starting capital and to help you with your running costs.