Increase the Restaurant's Menu for the Аutumn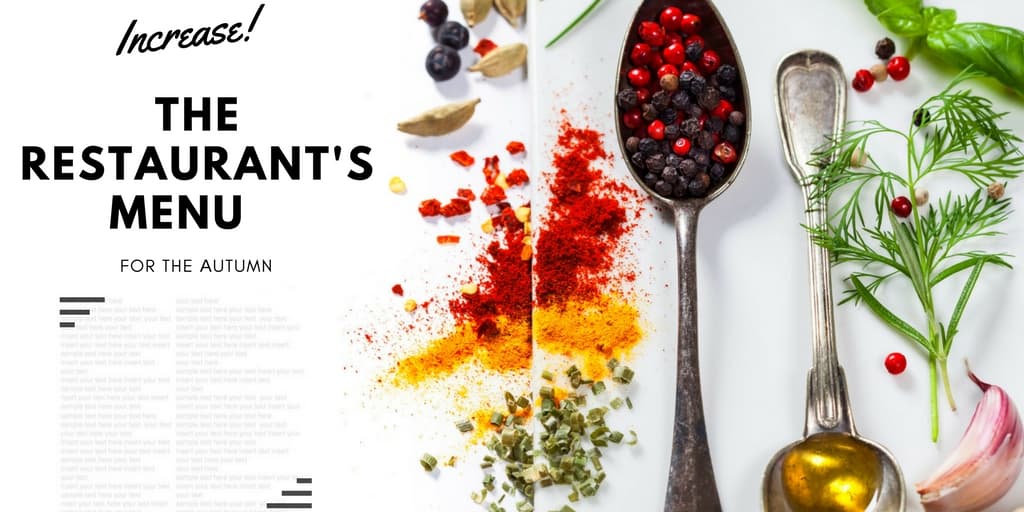 Are you wondering how you can best increase your restaurant's menu for autumn?

Autumn is a great time to introduce new foods and beverages to your restaurant menu. As the weather changes and the north winds bring the cold, rain, and possibly snow, your menu should reflect this through a careful selection of comfort foods such as hearty soups, broths, and hot beverages. Here are our top six ways to increase your restaurant's menu this autumn.
1. Add More Dishes
Think of steamy chicken and mushroom soup served with garlic bread or croutons. Or sweet and sour pumpkin soup garnished with peppermint. How about just good old pumpkin pie? You would be surprised by how many people will come to your restaurant to eat something they grew up eating. There is a reason fast food sells – it's comfort food. If you are a restaurant looking to attract customers in autumn, look to adding more of these heartwarming dishes to your menu.
2. Add New Drinks
Autumn provides the perfect time to add a whole new variety of drinks to your menu. Think hot beverages, teas, infusions and even martinis. Here are the top 10 Autumn drinks to add to your menu: Hot apple cider, pumpkin smoothie, pumpkin spiced latte, cranberry martini, apple pie shot, apple orchard punch, hot cranberry tea, warm and spicy autumn punch, luscious eggnog, coffee liqueur.
3. Offer Group Specials
Offer group specials such as 'buy one drink get one free for a friend.' This is a two-fold marketing strategy that also ensures people come in groups or pairs. This marketing tool is the perfect way to introduce new autumn drinks to your audience. You'll enjoy the new patronage as people bring their friends, loved ones, and colleagues to your restaurant.
4. Create a Vegan Menu
A lot of times, vegans and those who are vegan-conscious don't have restaurants that can meet and cater to their needs. Creating a vegan menu is one sure fire way of increasing your restaurant menu and attracting a whole new clientele. You don't have to do anything dramatic. Offer several vegan-friendly delicious soups, main meals, and desserts. You'll be amazed by how fast word-of-mouth marketing works in your favor if you do this right.
5. Add Specialty Foods
As mentioned, autumn is a very special season that allows you the opportunity to add a lot of new dishes and drinks to your menu. One quick way to set your restaurant apart is to offer specialty foods. If you don't offer halal food, this might be a great time to start thinking about catering to people who are sensitive to how food is prepared.
6. Offer Football Season Meals
With football season kicking off this fall, why not create special meals that people can enjoy while watching the game? You can create a delivery system so people can order from your restaurant online. If you have space in your restaurant, why not open it up so that fans can come and enjoy a good meal post-match?
Set Your Restaurant Apart With a New Menu
Done right, a revamped menu, one that caters to more people and takes into account people from different faiths and backgrounds will do wonders for your business. It's one of the easiest ways to distinguish your restaurant and make yourself stand apart. Yes, it will take you having to spend more on marketing and advertising, but if you offer food that no one else in the city is offering, and if your customer service is excellent, you'll be well on your way to having a very successful must-eat-from restaurant.