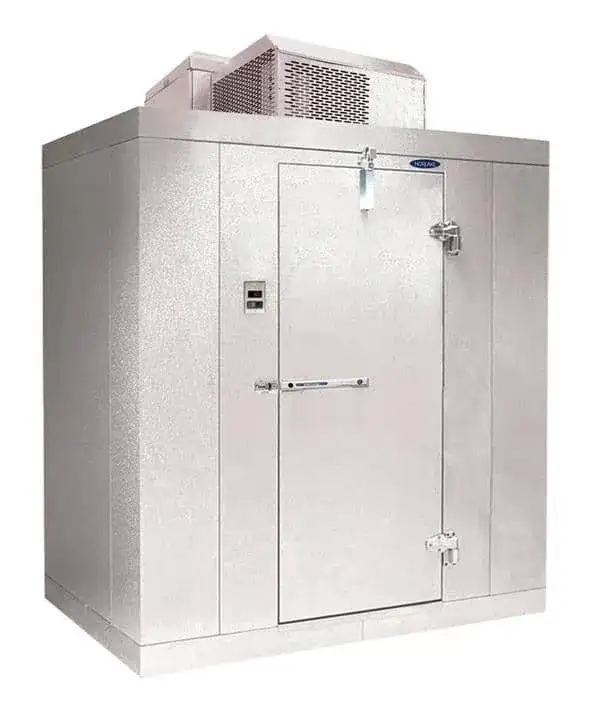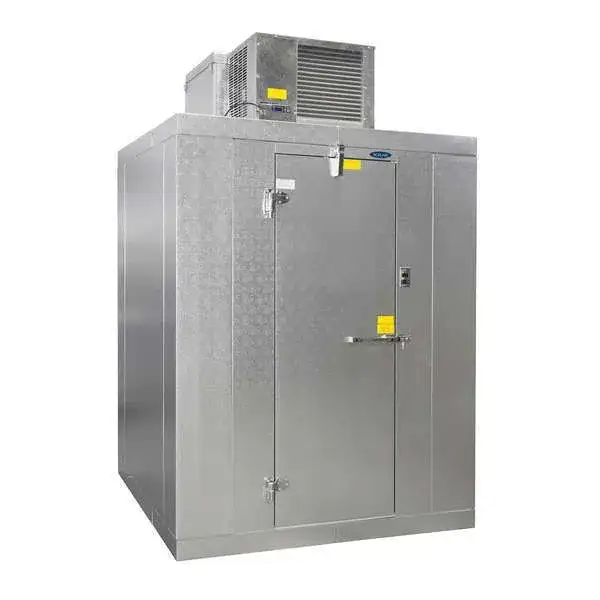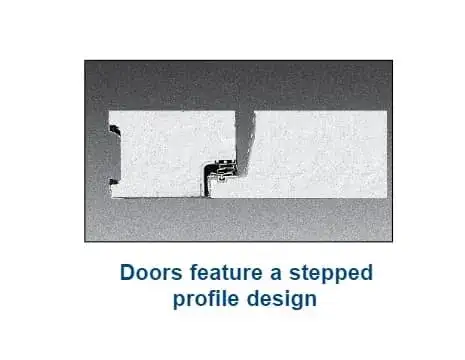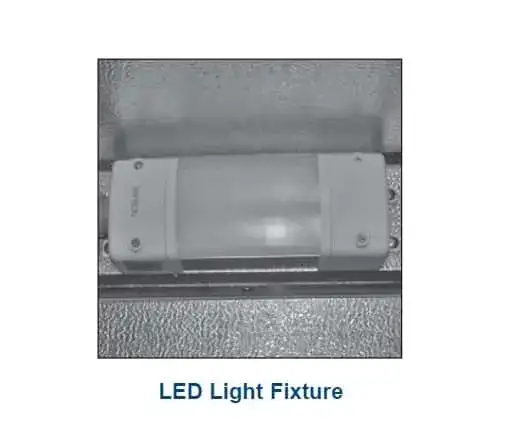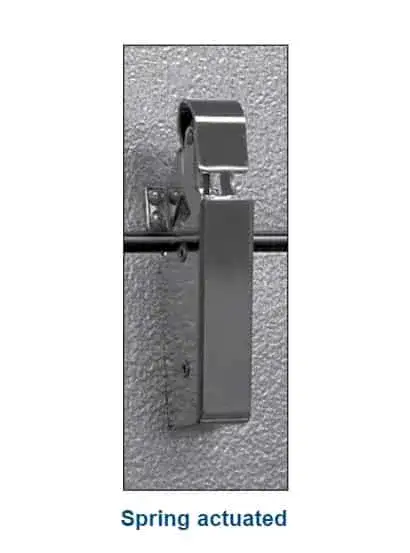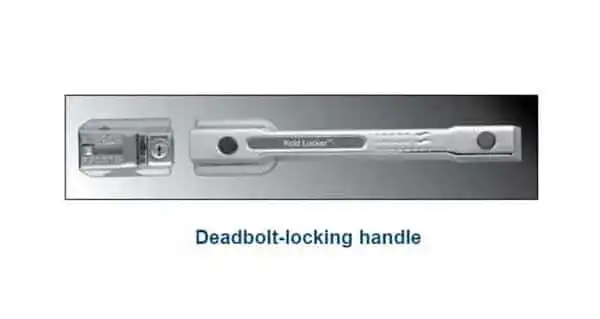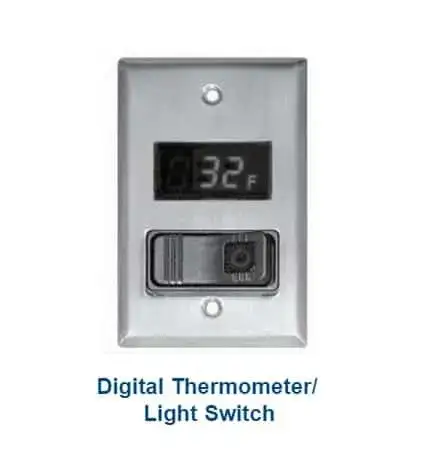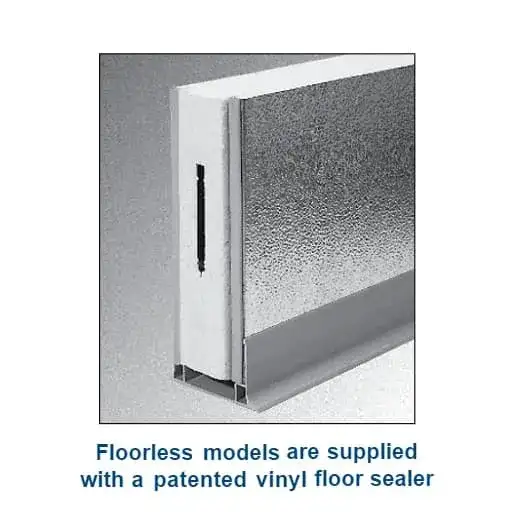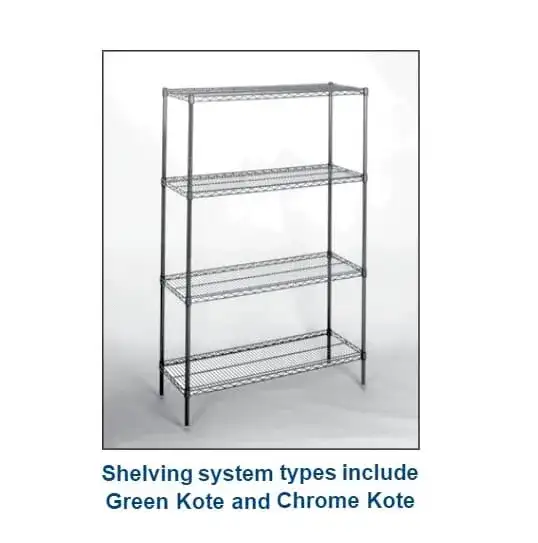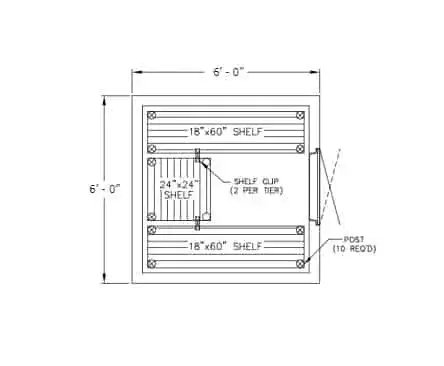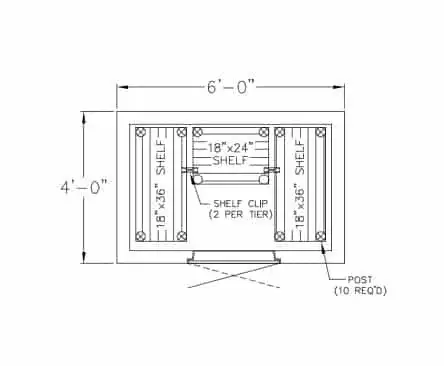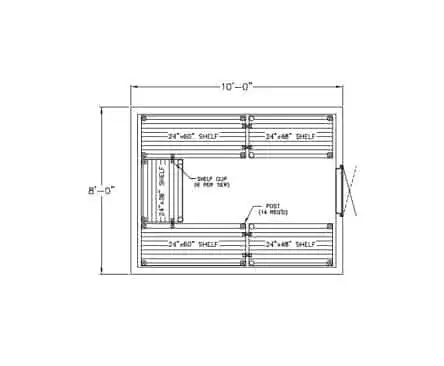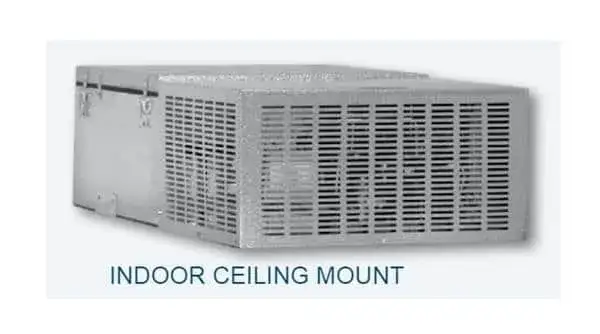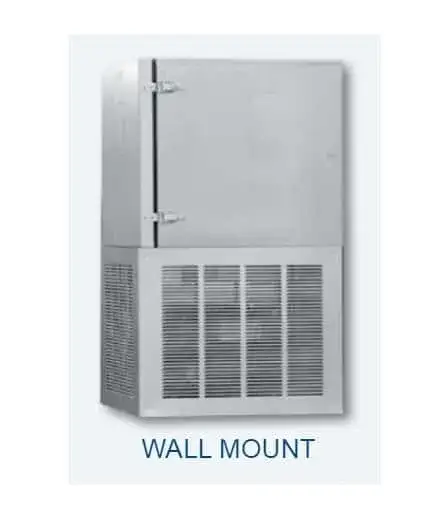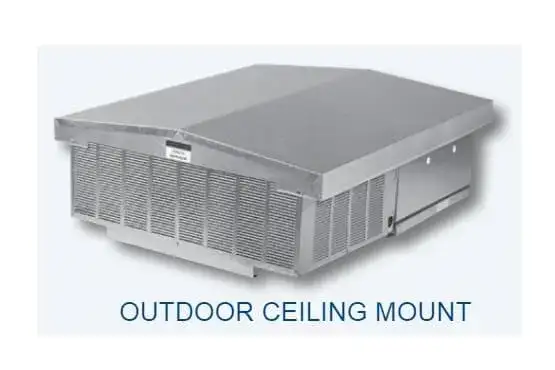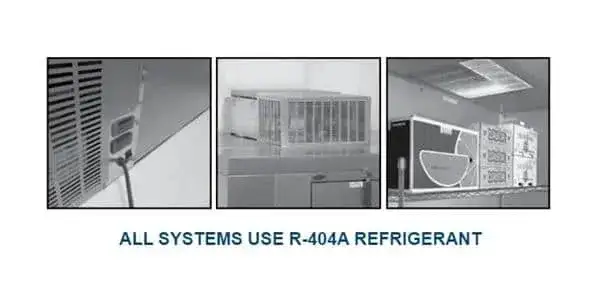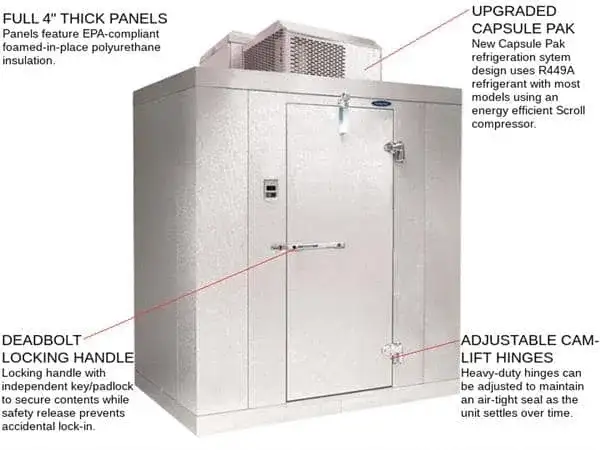 Nor-Lake
KLF66-C 6' x 6' x 6'-7" H Kold Locker Indoor Freezer with floor

You will earn 13927 Reward Points.
Product Protection
Coverage starting at
2023 model, meets the newest EPA and DOE codes.
A refrigeration Technician is not required.
Our Exclusive FREE extras:
Stainless Steel 30'' x 36'' door kick-plate
Standard features
Full 4" thick panels foamed-in-place with HFC-245fa polyurethane insulation which is CFC and HCFC free
Free electronic controls and digital thermometer
Note! Refrigeration systems weigh 175lbs to 350lbs. and may require a hoist. The electrical hook-up may require a licensed electrician.
Nor-Lake KLF66-C Specifications
| | |
| --- | --- |
| Series | Kold Locker |
| Brand | Nor-Lake |
| Made in | USA |
| Temperature | -10 |
| Gauge | 26 Gauge |
| Category | Walk In Freezer, Modular, Self-Contained |
| Capacity | 168 Cubic Feet |
| Compressor Location | Top Mounted/Ceiling Mounted |
| Door Type | Solid |
| Door Design | Swing |
| With Floor | Floorless |
| Temperature Range | 10 - -8 Degrees F |
| Usage | Indoor |
| Voltage | 208-230 Volts |
| Width (in) | 72 |
| Height (in) | 79 |
| Depth (in) | 72 |
| Weight | 1076.00 |
Nor-Lake KLF66-C Description
Kold Locker™, Indoor -10°F Freezer, 6' x 6' x 6'-7" H, with floor, 26 gauge embossed coated steel interior & exterior finish, self-closing door, locking deadbolt handle, CPF075PC-S-0, R290 Capsule Pak Refrigeration, 115v/60/1-ph
If your business requires a large amount of indoor freezer space the KLF66-C 6' x 6' x 6'-7" H Kold Locker from NorLake is an excellent walk-in option. A total of 168 cu. ft. of refrigerated space is offered by this commercial walk-in freezer .
Both the interior and exterior of panels feature 26 gauge steel with a corrosion-resistant embossed stucco coating. The 4" thick panels are filled in with foamed-in-place insulation and have an R-value of 32. Each panel has male and female rails that self-align mechanically, the panels are then tightened together with foamed-in-place cam locking fasteners for an airtight seal. Panel gaskets located on the outer perimeter of the corner panels are continuous without cuts or breaks. Edge caps on ceiling and floor panels are foamed-in-place that keep them in place through the life of the unit.
This walk-in unit comes standard with a 26" wide door with a stepped profile that servers as a barrier to airflow. An upgraded 30" wide door kit that comes with a stainless steel kick plate is available at no extra cost. Two cam-lift hinges are included with the door and can be installed on the right or left. These hinges are field-adjustable to make sure the door swings freely while providing an airtight seal. A spring-assisted door closer is included to keep the door from being left ajar. The door comes pre-hung on a 4' wide panel complete with a vapor proof LED light controlled by a switch connected to an exterior indicator light, magnetic stainless steel trim, a replaceable perimeter heating wire, and digital thermometer. Items inside are kept secure by the NL 9800 deadbolt handle that comes with an independent key/padlock feature. To keep workers from getting locked inside the walk-in a safety release is included.
The temperature inside this walk-in freezer reaches a brisk temperature of -10°F thanks to the ceiling-mounted RCPF075JC-S-4-EV Capsule Pak Refrigeration System that provides 2637 BTU/hr of cooling. The temperature inside the walk-in is adjusted with the Enviro-Control™ electronic controller system, it is also used to set the automatic defrost timer. Drain lines are not required thanks to the automatic condensate vaporizer included with the unit. The automatic condensate vaporizer ships loose and needs to be wired in the field.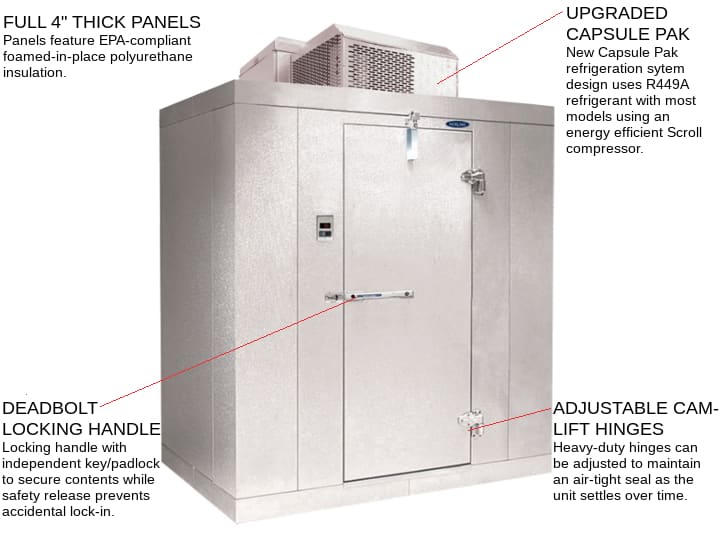 STANDARD MODELS SHIP THE SAME DAY
DOE compliant
USDA accepted
Magnetic gasket
15 year panel warranty
Cooler or freezer models
Indoor or outdoor models
26" wide, self-closing door
CN UL flame spread listed
Perimeter door heater wire
Floor double sweep gasket
Spring actuated door closer
Sizes from 4' x 6' to 10' x 14'
Two temperatures: +35°F, -10°F
18 months parts & labor warranty
Digital thermometer and light switch
Heavy duty adjustable cam-lift hinges
Three heights: 6'7" & 7'7" with floor; 7'4" floorless
Air-cooled condensing unit (wall mount - 10 day ship)
Smooth aluminum interior floor (on models with floor)
Floorless models supplied with NSF listed vinyl sealers
Oregon State listed, City of Houston listed & California State listed
Automatic condensate vaporizer. No drain line required on indoor units
Capsule Pak™ refrigeration system (ceiling or wall mount) (ordered separately)
Full 4" thick panels foamed-in-place with EPA-compliant polyurethane insulation
Deadbolt locking handle with independent key/padlock feature and inside safety release
Time clock or electronic control provided for automatic defrost on both coolers and freezers
26 gauge corrosion resistant stucco embossed coated steel on all surfaces except interior floor
NSF, UL flame spread 25 or less on all foam cores; UL and CSA electrical listing on door sections
UL, C-UL listing on complete Capsule Pak™ refrigeration systems (see page 11 for listed components)
High output low profile LED light positioned above the door to prevent interference with shelving or product
Indoor Models
Hot gas condensate vaporizer available on many models
Outdoor Models
Refrigeration hood
-20°F ambient controls
White membrane roof and trim
Optional Features
Exterior ramp
Electric vaporizer
Floor tread plate kit
U-shaped shelving system
Door hood (outdoor models)
Five year compressor warranty
Condensing unit air deflector kit
Heights: 8'7" with floor, 8'4" without floor
Leak detector/alarm (may be a requirement in some areas)
Heater kit for outdoor use where ambient conditions may go below 32°F
Note: (Most options are available two weeks from receipt of order. Please contact us for specific questions)
Videos
NOTE! This is a general product line video and does not necessarily reflect the listed model.
Nor-Lake KLF66-C Accessories
Nor-Lake KLF66-C Parts
All Nor-Lake KLF66-C Parts
Nor-Lake KLF66-C Reviews
recommend
this product
1 of 4 reviews
Jacob X (Chicago, IL)
Beverly Hills, California, USA
Verified User
November 02, 2020
Looking very impressive. We received our walk-in freezer on time. It was packaged very securely and runs great. Installation was simple and fast. Perfect for our needs. The freezer is meant to take food business to the next level.
Recommended Product
Pros: Durable and easy to maintain
Brent M (Webbers Falls, Oklahoma)
Verified User
July 08, 2020
Stan W (Columbus, Ohio)
Verified User
February 10, 2019
Scott L (Teague, Texas)
Verified User
May 06, 2017
Questions and Answers
Items Related to Nor-Lake KLF66-C