Top-Quality Bar Supplies and Other Ways to Attract Customers to Your Bar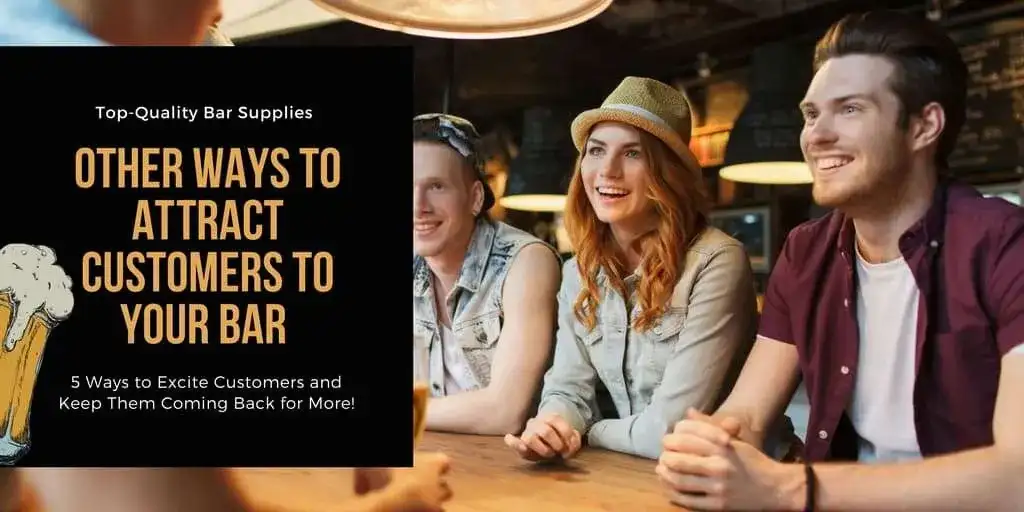 Owning a restaurant or bar is a really exciting endeavor. But it can be a challenge, too – especially when it comes to repeat customers.
What can you do to keep customers coming back time after time to your bar?
One way is to use the best kitchen and bar supplies around, like Advance Tabco products.
Another way is to pay attention to your business plan, marketing endeavors, and the items on your menu.
5 Ways to Excite Customers and Keep Them Coming Back for More
If you want to take your bar to the next level and continually attract customers to your bar, here are some tips from the top bar and restaurateurs around, including improvements you can make to your bar, your drinks and food, and your marketing endeavors to entice customers into your establishment.
1. Regularly Implement Bar Promotion Ideas
Whether you're a restaurateur with a bar or your establishment is simply a bar or pub, you need to promote it on a regular basis.
Most bars and restaurants do weeknight happy hours. But there are more inventive ways to promote your bar.
You can have #martiniMondays, for example. Lower the price of your martinis every Monday, or offer a new, specially crafted Martini each week. If you do a good job with your martini recipes, customers will be curious enough to come back each Monday to try the next featured martini.
Another idea is to promote your bars to local businesses. Tuesday is often the most productive day of the week for most businesses. Reward those hard workers with discounts or specials for entrepreneurs, colleagues, or other business associates.
2. Hold Theme Nights
Everyone loves a party, but rarely does anyone have the opportunity to dress up. Give them the opportunity to get lost in character by holding themed party nights. A 1920s speakeasy event is always fun. So, too, are Mardi Gras and disco nights.
3. Get Involved in Charity
A great way to drum up business and do some good for the world (or your community at the very least) is to hold charity events. You can have auctions, or donate a portion of your earnings for the evening to a charity of your choice.
4. Appreciation Days
Do you appreciate the work of those who serve and protect your community? Then you should hold an Appreciation Day. Firefighters, police, military veterans, or emergency responders get a discount. Or, you can do a "pay it forward" kind of thing and have those who come to your bar contribute whatever they want to a drink fund for whoever you're honoring that day.
5. Focus Your Efforts on Marketing
Marketing is important for every single business owner. Jon Taffer, a restaurateur who has helped over 50 businesses turn their failing business into a profit, points to lack of marketing as one of the main reasons bar businesses fail.
According to an interview with Taffer in Business Insider, he says there are three areas of marketing to focus on. These include:
The new customer
Frequency
Spending programs
You'll always need new customers. Even the loyalist of customers has to eat or drink elsewhere from time to time. That's why it's important to spend some of your marketing money on appealing to new customers.
Frequency programs are those that appeal to your existing customers. It includes some of the promotional ideas listed above and is one of the things (besides great food and drinks!) that will keep customers coming back.
Spending programs are used to get customers to spend more money each time they come into your establishment. That's why offering food along with your drinks might be a great idea.
Why Your Bar Supplies Are So Important
If all your marketing and promotional efforts go as planned, you will have a full establishment night after night. There's nothing like running out of bar supplies to put a damper on the fun your customers have and on your bottom line.
Not only do you need to make sure you're consistently well-stocked, but you also need to make sure you have the best bar supplies that your budget will allow. Whether it's the ingredients in your cocktails, the brand of beer you supply, or the ingredients used to make your famous sliders – they should be the best ingredients around. The quality will translate to your bottom line. The better your food and drinks taste – because of high-quality ingredients – the more likely people will be to spend money.
Other bar supplies include those that are used to run the bar – your cookware, drink mixers, sinks, professional refrigerators, ice makers, etc.
The high the quality of these bar supplies, the better. Why? Quality might mean you spend more now, but you'll save time and money in the long run because those supplies will keep on working for years.
Stay Focused on Quality and Your Bar Will Be a Hit
Your bar is your dream. Entrepreneurship is your dream. To keep your dreams alive, put into practice some of the tips above. But most importantly, focus on quality.
Quality service, quality bar dishes and drinks, and quality bar equipment and supplies. Whether you choose to deck your bar with Advance Tabco supplies or those from another company – make sure the quality is there.
When you focus on quality, your customers notice. And they appreciate it. Attention to quality and detail like that will not only help you get new customers – it will help you gain loyal customers who keep coming back time and again.