5 Smart Ways to Improve Your Food Delivery Service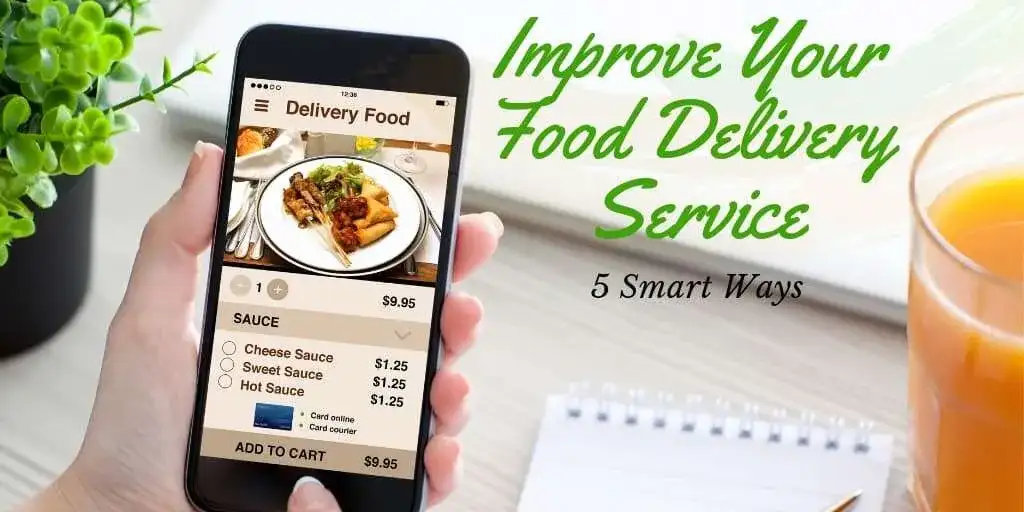 Food delivery is the future of the foodservice industry. Customers are constantly expecting new ways to make their dining experience more convenient, and having hot, delicious food fully prepared, packed, and delivered to their doorstep is the ultimate form of convenience that restaurants can offer.
If you haven't started offering food delivery yet, now is the perfect time to start. And if you have been delivering your meals to customers for a while now but are searching for ways to make the most out of this service, here are some ways you can upgrade your service to improve customer satisfaction and increase repeat orders.
1. Take advantage of technology
Along with food delivery, online ordering is at the top of the list of foodservice trends that are not likely going away anytime soon. Tech-savvy millennials are starting to make up a huge portion of the market, which means restaurants will have to adapt to the new technologies their customers are using to get in touch with them.

You can start by teaming up with third-party online ordering systems, such as FoodPanda and Zomato. These are popular platforms that can quickly provide you access to their thousands of users. However, if you want to take control of the user experience and incorporate your brand into the online ordering platform, you need to invest in the services of a professional to build your online ordering website and a mobile app to go with it.
2. Create a simple, easy-to-use online menu


Post your menu on all your online platforms, including your website, social media, and all ordering platforms you have partnered with. Place your bestselling dishes at the top of the page, where customers will see them first. Make sure to include all pertinent information about each dish, including their ingredients, add-ons, and allergen information.

It's important that you include all possible add-ons because this minimizes the chance of customers making special requests that may be easily missed by busy kitchen staff. Don't forget to keep your descriptions clear, and vivid. Just because you have to make them simple doesn't mean you can't use sensory words to engage your customers and encourage them to order from you.
3. Standardize the delivery procedure
Create a simple, efficient procedure that all employees must abide by when fulfilling delivery orders. Start by setting aside a separate area of your restaurant for accommodating and processing deliveries. If you're taking orders online, print the order ticket and use the same ticket down the service line, from the cooking to packing to delivery.

Ask for customers' phone number so you can contact them quickly and let them know their order is being prepared. This is also a great time to confirm their delivery address and ask for available landmarks to help reduce the delivery time. Of course, it's still important that drivers know their delivery area like the back of their hands and kitchen staff are clear about their duties when fulfilling deliveries. During packing, label each item as packed once placed in the bag and attach the ticket to the delivery bag so you can customer can check that all items have been delivered.
4. Provide high-quality service


The ultimate aim of providing food delivery service is to provide the same quality of service that customers would have if they chose to dine in-house. This means you need to get the packaging right. Start with choosing strong, sturdy packaging that will not sag in the warmth of your food products.

Make sure packaging materials are tightly sealed using tapes or staples to keep food from spilling. No customer wants to see part of their meal running out of its container and into the food delivery bag. It's also important to train delivery drivers to handle the items with care to preserve the presentation of the food item. A messed up meal may still taste great, but if it isn't appetizing at first glance, you've lost some points.
5. Team up with food delivery services
Aggregator delivery services work with restaurants to promote their menus, collect orders, and, in some cases, provide delivery services in specific areas. There are a few advantages to this. First, you don't have to set up your own online ordering page and optimize it to attract customers because you already have a proven and optimized platform for that. Second, customers are already flocking to these services. You only need to set up your menu so they can check it out and order from you. They also have access to helpful tools such as ratings, reviews, and prices to help make the experience easier for them.

Some services, such as GrubHub, also have their own drivers, which means you don't have to pay for extra overhead costs such as wages and insurance. Most aggregator delivery services operate on a commission basis, providing a win-win situation for all involved.