Project Advice: Induction vs. Gas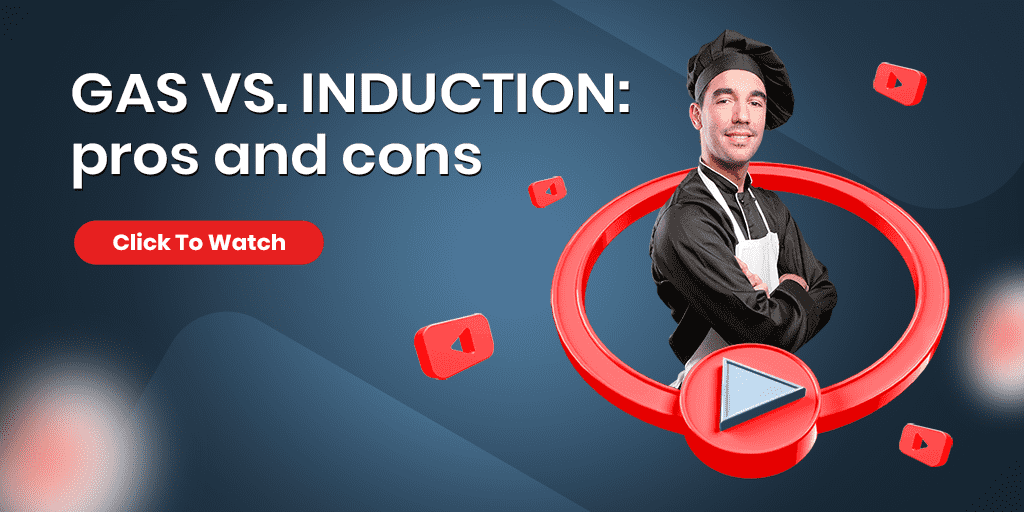 Don't Go It Alone
This article is aimed at the newcomer planning to open a restaurant or similar food service related business. However, there are items touched on that make it a worthwhile read even for veteran operators.
You've heard many dinner guests at your home tell you that "This is the best meal we have ever had. Why don't you open a restaurant?"
"So what do I do now?" you ask yourself.
The next steps that you take can help stack the odds of success in your favor….
It is essential that you establish a team that will advise you and protect your interests. Some team members can include an attorney, accountant, food service equipment consultant, architect/designer and a food service operations specialist all working together, will strengthen your project's likelihood for success.
We will discuss some of the do's and don'ts of setting up a profitable venture.

Your attorney is responsible to review and trademark your business name and advise you on all documents before you sign on the dotted line…especially your lease. There is a lot of important and sometimes confusing information in that fine print. In addition, they can properly guide you in the establishment of business incorporation and licensing processes.
Your accountant will aid in your development of a cost analysis of your operation. This will become a part of the business plan that will be essential information to present to investors and/or commercial lenders and financial institutions.
Food Service Equipment consulting services are essential in matching your menu needs to the equipment necessary for receiving, preparation, cooking, safely storing, and presenting to your guest. Health codes, sanitation, safe food handling and hazard control (see HACCP), fire code compliance, employee safety compliance, ADA (American Disability Act) requirements, work flow efficiencies, as well as energy and water conservation are all incorporated into the design and specifications of your project.
In addition, a complete set of food service equipment related utility requirement drawings that encompass drainage, water, gas, steam, electric, cooking ventilation with related information and calculations is provided. All this vital information will coordinate the architect, various engineers, various trades as well as the general contractor. The vital players will build your project.
A food service operation specialist will provide guidance that will cover organizing, menu and beverage development, analyze food costs, and contribute to the business plan information, handle POS and payroll systems, telecom and credit card accounts, gift cards, employee recruiting and training and on line profile.
For new or refurbished spaces, an Architect/Designer will provide the aesthetics as well as the technical information and coordination that will bring your project to life. They will define all codes and ordinances, coordinate trades, provide engineering services, seal and expedite all of the drawings and paperwork through the building department (DOB) that would also include Fire and Health departments (DOH).
Interior designers will create the ambience in the selection of wall, floor, and ceiling, detail and finishes. Many will also include services for logos, business cards, signage, menus and even letterhead to provide a polished and professional image to your business.
This issue's equipment focus:
Ranges, Electric vs Gas…. the operating cost gap is closing fast.
Recently a client that builds first rate senior adult living complexes called and asked me for my opinion concerning a new location that is under consideration. This location would not have access to gas. The question specifically asked, what was my opinion concerning the use of electric cooking equipment? I explained that the cost of electricity per BTU was higher than natural or propane gas. However, there were many technological advances in efficiency with regard to electric cooking equipment today that brings their operating cost much closer to gas and may actually be less costly to maintain.
The first example of this is the electric induction range. Chefs marvel at the speed of cooking and achieving boiling temperatures. This amazing cooking technology is almost counterintuitive. Imagine putting a saucepan on any type of gas or electric range and when removing it from its heat source and placing your hand quickly on to the burner grating. Well that experience is quite different with induction cooking because the surface would actually be cool to the touch. That is the "magic". All of the heat goes directly into the vessel. Important? Yes and that is where the efficiency is. There is no wasted energy. It all goes into the vessel and not up into the exhaust flue, or into the room creating more heat that will have to be cooled, adding to the cost savings of an operation as well. This would make it possible to go from braising at high temps and immediately melting butter or chocolate without any scalding...resulting in total control.
How does induction work? When you turn on the burner, an electric current runs through the coil below the cooking surface generating a fluctuating magnetic field, but no heat on the burner itself. However, once you set an iron based pan on the burner, the magnetic field induces many smaller electric currents that heats the pan's metal surface.
Impressed? Well, there is more…. In the earlier stages of development only Ferris cookware that would attract a magnet would be compatible with the induction range. But that is no longer the case. A prominent induction top manufacturer now has units that work with all types of metal pots and pans.
In addition to cooking, induction technology is now being used for high volume warming, taking the place of sterno powered chafing dishes. Again, controllable heat will allow for warming and not overcooking the product.
Having no flame will provide a safer work condition with less risk of burns to employees and guests as well as decreasing the potential of fire hazards. Maintaining the food serving temperature will not add any heat to the room's ambient temperature as well.
The application of induction has also been utilized in griddle tops.
Remember to contact ckitchen/E Friedman Associates when you need to know and want to get it done right.
Lenny Teller
Food Service Equipment