Guide to Walk-in Refrigerators and Freezers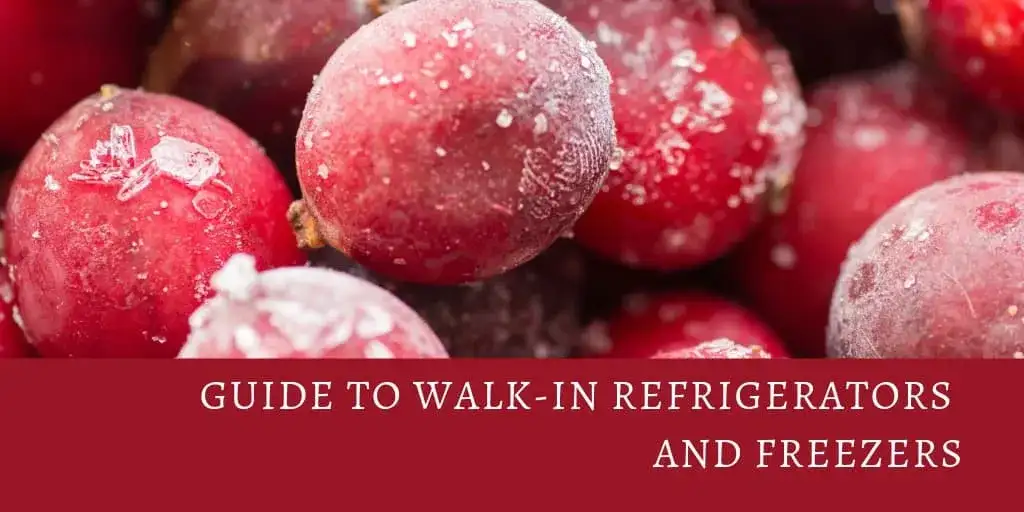 Walk-in refrigerators and freezers may be pre-engineered (or prefabricated) in standard or customized sizes or built into kitchens. They may be located inside or outside a facility, built with or without floors and may contain in-place or remote condensers.
Capacities/Footprints: Prefab walk-ins can be constructed to fit any operation's storage space needs. Walk-ins can start as small as 5' x 6' and range up to warehouse-sized units located outside and are even available as two-story structures. However, just about any pre-existing storage space can be converted into a walk-in cooler with foamed-in-place insulation panels and proper refrigeration components. In figuring capacity, on average, 1-cu.-ft. of open storage area will accommodate about 28 lbs. of solid food. Energy Source(s): Small 5' x 6' walk-ins typically include a 1/2-hp compressor when used as a cooler and should be able to maintain a 35F. (or below) box temperature. When used as a freezer, walk-ins should have a 1-hp compressor and be able to maintain as low as -10F box temperature. These compressors will generally run on 115/60/1 voltage. Larger units generally require proportionally larger compressors and may use 208/220V/1 or 3 phase.
Manufacturing Method: Most walk-in boxes, given their cold-holding storage functions, are made using prefabricated panels with urethane insulation or other materials such as high-density urethane or fiberglass sandwiched between aluminum, stainless steel or other skin metals like Galvalume or Galvanized metal. Manufacturers rate panel insulation with an R-value and most major manufacturers' using foamed-in-place urethane panels are rated around R-30, for 4' of insulation. Panels are also available with 5' and 6' of insulation with higher R-values. The higher the insulative value, the faster the return on investment, as electricity costs have skyrocketed lately. Polystyrene insulated units are manufactured by simply laminating (gluing) the outer metal skin onto foam blocks which have been known to delaminate after time. Polystyrene also has a lower R factor then Foamed-in-place panels. Most panels are mass-produced in standard sizes, normally 1', 2' and 4' in width, and heights of 7 1/2', 8 1/2' and 9 1/2'.
Standard Features: Quality door designs are vital to the effective use of walk-ins, as doors receive the maximum stress during use. Rigid, reinforced doorframes and heavy-duty hinges provide maximum durability. Swing-out doors in widths of 24 to 34 inch are available and may be left- or right-hinged. Sliding doors are also available for walk-ins. Deadbolt locking handles are standard on many models. Inside door releases are a standard safety feature that operators can specify as a push-bar for hands-free operation. Walk-ins are available with self-contained refrigeration systems, in which the evaporator coil and compressor/condenser are mounted together on a frame, interconnected with pre-charged refrigeration lines and mounted on a ceiling or sidewall. Much like an in wall air conditioner, they don't require a refrigeration technician.
New Features/Technology/Options: An air circulation system that allows a walk-in to draw in cold outside air when the exterior temperature is colder than the interior box temperature is available to supplement a unit's compressor. Another option is a pressure relief valve designed to eliminate the slight vacuum created when warmer air enters a walk-in freezer and expands when the door is closed, which can make it difficult for staff to open a unit.
Key Kitchen Applications: Walk-in refrigerators and freezers are primarily used to keep product chilled or frozen and safely hold large quantities of both raw and cooked products to support daily production activities and preserve an inventory.
Purchasing Guidelines: Factors for operators to consider when deciding whether to purchase a walk-in include: amount of storage space needed, a location convenient to work areas and drain lines (for some systems), and type and condition of floor and ceilings to ensure proper load bearing, level and ventilation. Speaking of ventilation, the ambient temperature around the compressor should be no more than 80 degrees F. If the indoor temperature is too high and there is no way to bring ample ventilation, remoting the compressor outdoors should be considered.
Maintenance Requirements: Outer construction of stainless steel is the most durable and easiest to maintain. Aluminum outer construction is cheaper, but dents easily and is more difficult to clean. A compromise may be Galvalume coated sheet metal which is stronger than aluminum but has a rust resistant coating (enamel coatings are available as well but not as prevalent). Compressor/condenser units should be in easily accessible areas, and multiple remote units should be grouped together to ease maintenance and servicing. Preventative maintenance for walk-in refrigeration systems involves ensuring proper airflow and ventilation areas and routine cleaning of condenser coils by a certified technician.
Food Safety and Sanitation Essentials: If possible, designate separate sections of a walk-in cooler for raw and ready-to-eat products. This will minimize the chances of cross-contamination. Place at least one accurate thermometer in the warmest part of the walk-in cooler to measure the air temperature. Keep shelves at least 6 inch off the floor for ease of cleaning.
Walk-in Coolers and Freezers are not designed to bring down temperature. There are special blast chillers and shock freezers designed to pull the temperature down quickly. Placing warm or even room temperature product into a walk-in box can damage the refrigeration system by over stressing it and may lead to food spoilage inside a cooler or freezer. It can take up to 12 hours to cool down a dense product and all the while, it is spoiling in the center.