Fun Kids' Menu Ideas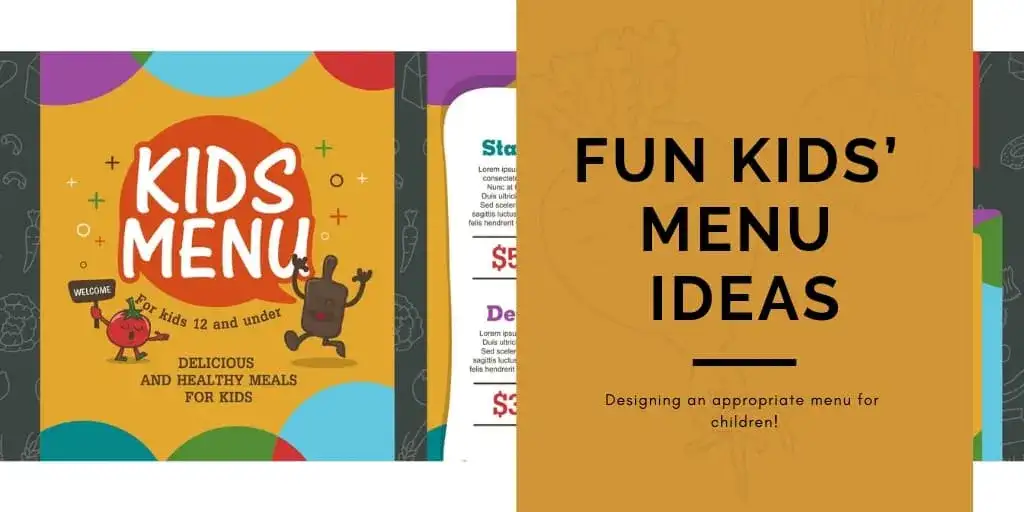 Most restaurants have taken the time to create a kids' menu, and 90% of parents agree that having a kids' menu is important when eating out. Investing the effort in creating a fun and nutritious menu for children can make or break the difference between success and failure, and many children aged 3-8 who typically order from the kids' menu have enough know-all to make their own informed decisions or have a large say in what they want to order. Designing an appropriate menu for children can boost ticket sales and cater to a population subset that simply should not be overlooked.
DESIGN
Children's menus are typically separate from your standard selections, and properly designing them to appeal to those children who may be ordering is an essential part of marketing for kids. In fact, children from about age five and on can have a strong influence on their parents' decision-making!
Setup: Children up to age 5 may be satisfied with the typical placemat-style menu, but from 5-teen, those aged children don't want to be treated like 'kids'. Consider creating a standard fold-style menu for kids who don't want to be looked at as such but who may not be able to consume adult-sized portions.

Descriptions: Don't have condescending descriptions or labels on your menu. Cutesy names like 'kiddies' and 'tiny tots' can come off as diminutive to children who want to be like an adult but really should be ordering from a children's menu.

Imagery: Children tend to be more visual than adults, so having imagery to assist those who may not even be able to read yet can help guide them to the selections they may want.
MENU ITEMS
Kids' menus not only have smaller portions, but they cater to the simpler tastebuds of tots. The best way to design a kids' menu is to consider 'children's' cuisine' (think: french fries, hamburgers, etc) as of equal importance to nutrition, as ultimately the parent will be making the final say.
Preparation: Typical children's menus have a wide selection of fried foods. While most kids like these dishes, they're found to be some of the least nutritious. Consider baked french fries over fried or having a different side item altogether! Large chains like McDonald's are already switching to nutritious sides like apple slices and milk.

Selection: While bland and filling foods tend to work well for most children, some ethnic and exotic items can also work well! For instance, many don't consider that squash or cheese ravioli are both 'exotic' (like something from an adult menu) but with a kid's flare. Consider taking adult selections and simplifying them for a children's menu.
Plate items so that they're safe and easy for kids to help themselves. Even consider plating them to mimic adult dishes but with kids' menu selections! Also, don't forget to price your kids' menu appropriately. In general, kid selections should be ½ to ⅓ the cost of an adult counterpart. By blending kid-friendly selections with adult-conscious nutrition, you can be sure to have a successful kids' menu!