Take A Hint From Chain Restaurants And Target Customers With Limited-Time Offers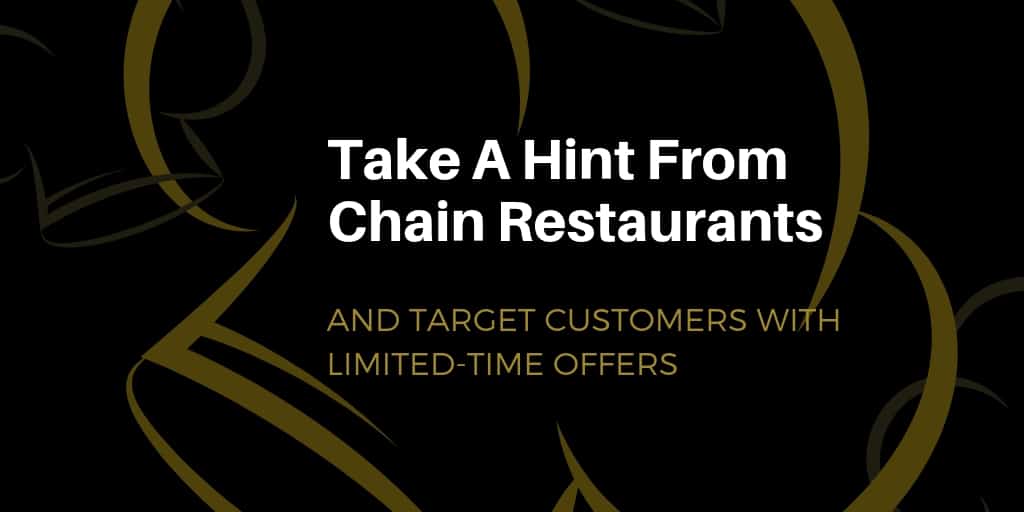 Restaurants across the country use many different promotions to draw in new customers. One simply has to turn on the television to see innumerable advertisements that broadcast limited-time flavors and special culinary giveaways. The reasoning behind this strategy is simple - when people are told that a reward is only available for a certain amount of time, the value of the gift or object is perceived as greater than usual. In turn, these patrons flock to the nearest establishment to experience a new idea as soon as possible. Local restaurants that wish to increase their customer base can take a page out of the book of international chains and implement one-time promotions.
For example, McDonald's manufactures a delicious, minty beverage that it dubs the Shamrock Shake. This item is only offered at select locations through the month of March in celebration of St. Patrick's Day. Despite the fact that the drink is high in sugar, fat and calories, it has gathered somewhat of a cult following and has resulted in increased business for the already-successful McDonald's.
Since the spring is approaching quickly, chefs can may want to consider dishes and meals that target the return of warmer weather. These recipes should be relatively light in flavor and consistency, because no one likes to be weighed down by heavy food when the weather is so nice. Pasta and beans are a good choice for cooks because they can be prepared quickly and easily.
Cooking Light has a few ideas for such fare, including adding citrus juices and mint leaves to cold whole-wheat pasta for a clean, fresh feel. Pine nuts and other fresh vegetables can be added in accordance with a spring theme. Owners should plan the release of a limited-time spring meal around a specific day or evening, and make an event out of the promotion. This way, customers can experience a fun dining atmosphere while sampling new cuisine. Don't forget to put tables outside during this time - people love dining al fresco.Restaurant equipment like the Frymaster GPC-SC Pasta Magic cooker can be used to prepare large amounts of pasta before these promotional giveaways. The reduced cost of this device will be a welcome relief to restaurants looking to remain within an operational budget, and owners everywhere should begin preparing tasty pasta dishes for the spring.