Increasing Ticket Averages and Tips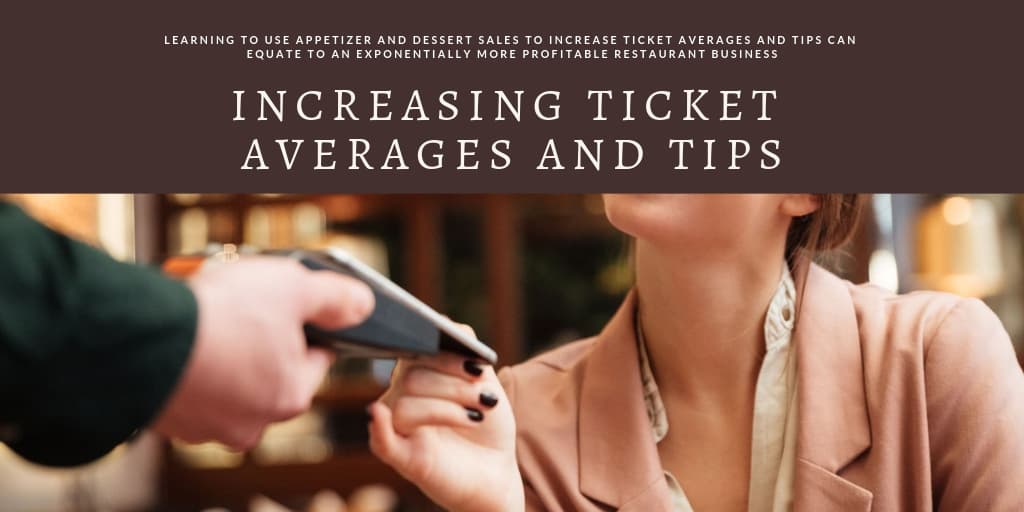 While creating menus, serving customers, and cooking delicious dishes are all part of the satisfaction of working in the restaurant business, it is still ultimately a business. Sales are what drives the success of any business, and restaurants are no different! This is especially desirable for employees who also earn tip-based wages, as larger ticket sales can equate to larger tips! Learning to use appetizer and dessert sales to increase ticket averages and tips can equate to an exponentially more profitable restaurant business.
Would you like fries with that? We've all heard the suggestive-selling techniques commonly used at fast-food chains. Or, Would you like the large for a quarter more? Even theater concessions utilize upselling techniques to increase profits! Your restaurant should be no different. By combining the use of upselling as suggestive-selling in regards to appetizers and desserts, you can increase your ticket averages and even tips!
Suggestive Selling
Suggestive selling implies that you suggest an additional item in addition to their order to coax additional sales from your customers. This is why many waiters and waitresses are instructed to ask if guests would like to look at a dessert menu. By simply offering the menu, customers who may not have originally considered getting a dessert may be persuaded by simply offering the prospect of temptation. Suggestive selling offers a cue to your customers rather than utilizing 'hard sell' techniques, so they're less intrusive and offensive than many other techniques (and usually more successful!). McDonald's uses this technique often with their extra value meals. Affirmative answers to creating a meal over a simple sandwich add an average of $1 and the profits total in the millions annually by these simple suggestions! Suggestive sales are typically driven by customer temptation rather than your employees' sales skills. But as with most skills, if an employee knows additional ways to suggestive sell a product, then they will likely be more successful.
Upselling
Upselling is a way to increase the sizes or quantities of an order. For instance, if somebody originally orders a small ice cream, you may upsell that to a medium for 'x amount' of dollars. This takes an item that was already requested and boosts its effectiveness in your ticket sales, thus increasing the final profit. Upselling can be made easier through the use of bundled packages. That is, consider taking some of your already-established menu items and creating bundled options for your employees to upsell. If your two-top table is already ordering one full meal each, you may have a bundled package where they get two meals plus a dessert to share for 'x dollars'. By upselling to this bundled package, your customer feels like they're getting a deal while your restaurant profits from the additional sale.
At the end of the day, using both techniques of suggestive selling and upselling will, combined, rake in an extra profit for your restaurant. Guests will feel as though they've saved money (like using a coupon for something they may not have typically purchased), and restaurants will see an increase in business through average ticket sales and tips!