Kitchen Design - Refrigerators, Freezers, and Ice Machines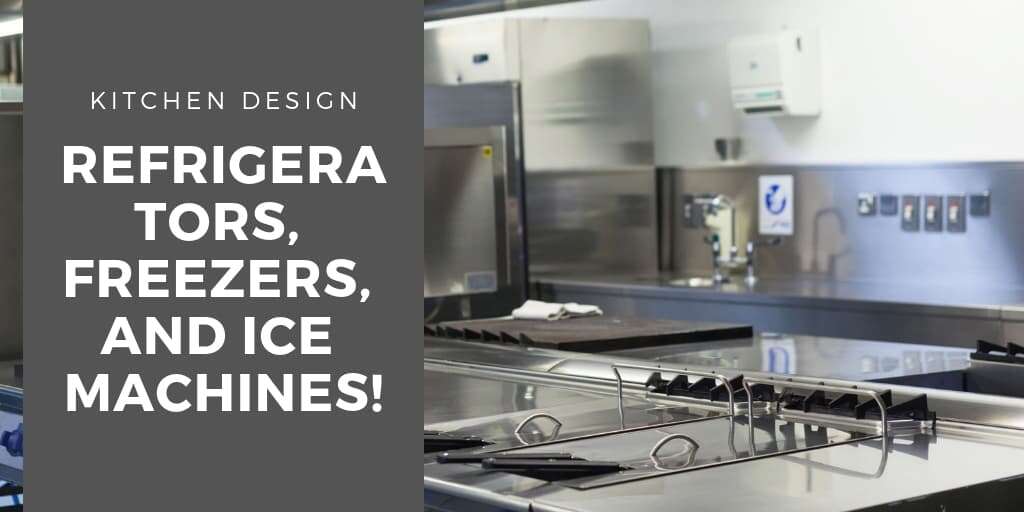 When it comes to designing your kitchen, there are certain appliances that take up the bulk of your space. Refrigerators, freezers, and ice machines are a pivotal area of any back-of-house operations, and their layout can affect the efficiency, workflow, and comfort in your kitchen. While contracting a specialist will alleviate the need for you to worry about any layout issues, here are a few things your professional designer will look for when planning your kitchen layout.

Airflow
Refrigeration and cooling units sometimes need a little extra wiggle-room in order to keep air circulating through the vents and fans. While this will certainly be included in your layout plans, things shift during operation. At the end of the workday, always make a quick check to ensure that your refrigerators, freezers, and icemakers have a few inches on each side for proper airflow.
Cooking Equipment
One can logically deduce that keeping refrigeration units away from cooking units will help the efficiency of both appliances, however the new technology available on the market today is properly engineered and built to properly function under these conditions. Now you can have a refrigeration unit near your workspace to limit unnecessary movement and stress!
When there is a need for reaching a refrigerator or a freezer near the cooking line, bottom-mounted units will tend to work better drawing cooler air closer to the floor level (and away from the cooking height). An additional advantage is that the work height of the bottom of the refrigerator (often used for storage) will be raised 24" off of the floor.
When a properly designed kitchen exhaust system is planned along with tempered/conditioned supply air the issues concerning greasy air buildup and overheated workspace is eliminated.
Ice Machines
The hotter the surrounding air is, the less ice an ice machine will produce. Thus, for maximum output and efficiency, it's best to place ice machines in a cool, separate area. In addition, stored ice will tend to melt and re-freeze causing it to block up. Keep in mind that it will still need to be easily accessible to staff, so keeping it close to the main kitchen is key to accessibility.
Blast Chillers
Blast chillers are used to quickly cook food for refrigeration, helping to reduce the strain on your refrigerator or freezer. When it comes to kitchen layout, these blast chillers are best placed at the end of your cookline where hot foods can be transferred to the chiller easily and then to your refrigeration unit.
While all of these tips are good to keep in mind, rest assured that a professional design and consulting agent will do the majority of the work for you! As your kitchen grows and evolves, these tips are good to keep in the back of your head should you decide to shift any appliances.