Buying Guide: How to Choose Cold Beverage Equipment and Accessories for Your Foodservice Establishment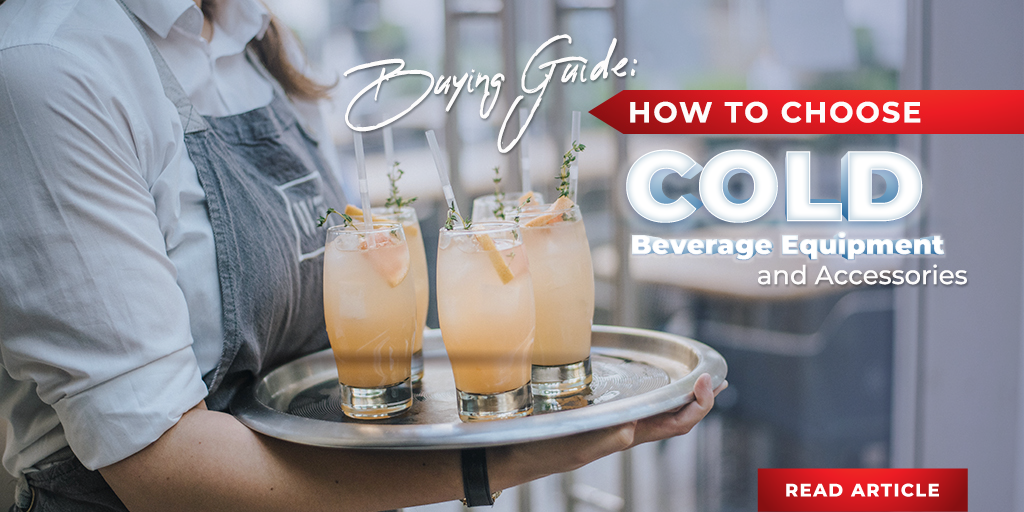 Dispensers and Accessories
Prepared and pre-made drinks alike need to be stored properly and within easy access to either your employees or your guests unless you're making drinks on an individual basis. These dispensers and accessories help to take bulk amounts of beverage and save them for easy serving when the time arises.
Cold, pre-made drinks can easily be stored in beverage dispensers during peak hours behind the counter. While some may opt for guests to have access to these dispensers at casual buffets, these are more optimal for bulk drink storage with easy-pour spouts for employee access only.

Juice dispensers can be taken to the location of a catering event alongside carriers or can also be utilized as an aesthetically pleasing dispensing station at the end of a buffet line. They're used as a visually appealing way to display your beverages for easy access.

Iced tea is best made in batches, but storing these large batches can be a hassle when it comes time to dispense into cups. Iced tea dispensers are specifically designed to hold large volumes of iced tea, and many choose to buy two or more for different flavor options (sweet tea, unsweetened tea, fruit-flavored teas, etc). Again, while these can be accessible by customers at a casual buffet, they're many times better suited for employee access only.

Serving juices and other cold beverages with table service requires more pleasing aesthetics, and stainless steel beverage servers are an attractive way to bring refills to the table for guests.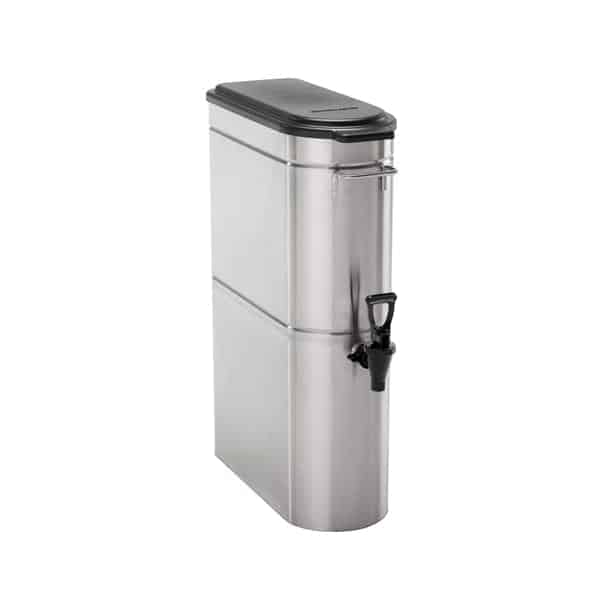 Frozen Drink Equipment
While the perception is that blended beverages sell best in the summer months (and rightly so!), a frozen alcoholic drink menu can be used year-round. The key to a successfully frozen specialty drink menu lies in ingenuity, keeping in mind the wide range of pallets as well as what could be modified as a seasonal drink!
Pre-made frozen drinks can be stored in food-safe frozen drink machines that are designed to agitate the ice to keep the drinks consistently mixed and evenly frozen. Simply fill the cavities before peak hours to ensure that you'll have frozen beverages on hand to serve your customers without having to prepare individual batches.

While some drink mixers are designed to agitate chilled beverages, there are also drink mixers designed to blend soft ice creams into milkshakes or similarly to blend topping-type ingredients into soft ice cream for a unique dessert.

Blended drinks like daiquiris and margaritas require a blender, so make sure to invest in one that is durable and versatile and can handle peak traffic times.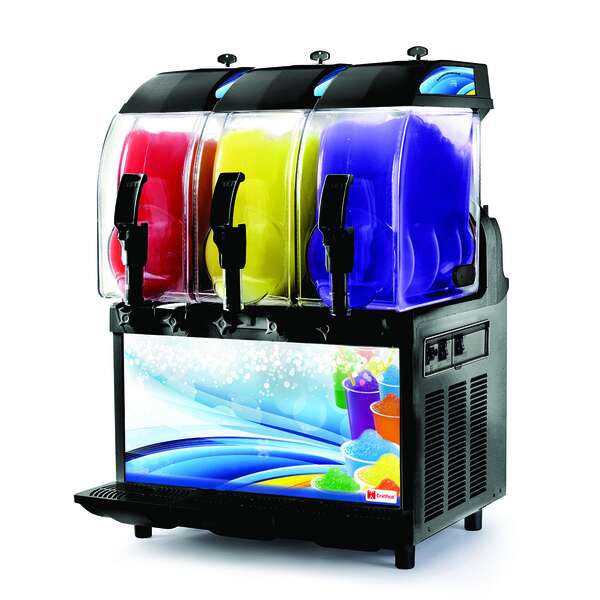 Bar Beverage Equipment
Any restaurant with a dedicated bar will need to invest in additional equipment specifically designed for the bar area. Many of these units tend to take up less space and are specialized for bartending purposes. In the realm of restaurant beverages, soda has unanimously ruled for years. But a more quality and value-minded customer base has started to grow, demanding a better beverage in exchange for their hard-earned money. A patron planning to order a drink other than the free tap water may forego the well-liked familiarity of a soda in order to pay a little more for a specialty alcoholic beverage, especially if it seems worth the cost.
Here are some specific bar beverage items to consider in addition to your standard bar equipment purchases:
Tower heads are built to work in conjunction with beer coolers or direct draw systems and are designed for dispensing beer. These dispensers are available in several options for dispensing different numbers of beer.

Direct draw draft systems are one of the most common forms of dispensing systems for restaurants. They keep all components of the equipment in one place as opposed to storing kegs in a separate cooler. Here, your keg is kept a few feet from the faucet - usually in a refrigerated unit just underneath - and CO2 is injected in order to push the beer up and through the tap line. In these systems, you only have about 5 feet of tubing to work with, making it efficient and easy to maintain. These systems work for a multitude of situations but are ideal for bars that would like to store their selection of beer underneath the counter or for portable bars, as kegs don't need to be in a specialized cooler room.



Juicing Equipment
Both fast-food service and sit-down restaurants alike tend to offer the same lineup of beverages: soft drinks, lemonade, iced tea, water...and maybe alcohol. It should seem strange that the drink selection offered with your quick to-go meals could potentially be the same selection you have at your luxurious five-course meal (albeit you may have the bonus of free refills at your dine-in experience). Even more so, health-conscious consumers may find themselves at an impasse when they would not choose a soft drink and would prefer not to drink alcohol as well. Homemade juices can spruce up decadent and casual menus alike!

Specialty orange juice machines make a great display piece while catering to customers with a love for juice. For large quantities of juice - whether your restaurant is buffet-style, quick-service, or simply just a juice bar - you'll want to consider investing in a Grindmaster Automatic Juicer which has the ability to juice 45 oranges/minute.

In order to create 100% juice products, your best bet is to fresh-press the juice on location (and perhaps even on demand). For smaller batches, a centrifugal juicer is enough to do the trick. For individual servings, the Hamilton Beach Manual Juicer is perfect, allowing for fresh-pressed juice on-demand for each customer.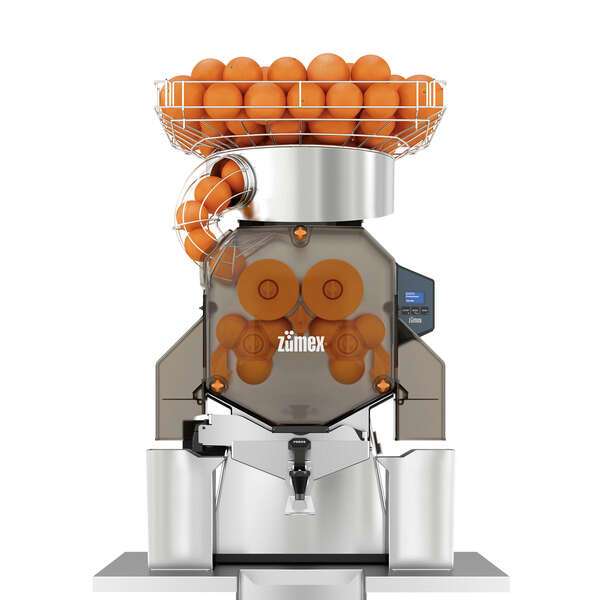 Pulp and Juice Extractors
Centrifugal juicers aren't as efficient at extracting pulp, but a pulp and juice extractor can ensure large batches of the freshly juiced product without the pulp.

High-Powered Drink Blender
If you're looking to create juices with fruits that have pulps with a good texture, then using a high-powered drink blender achieves a smooth result in a short period of time. These are best for small batches.