Did You Know: Dough Sheeters Cleaning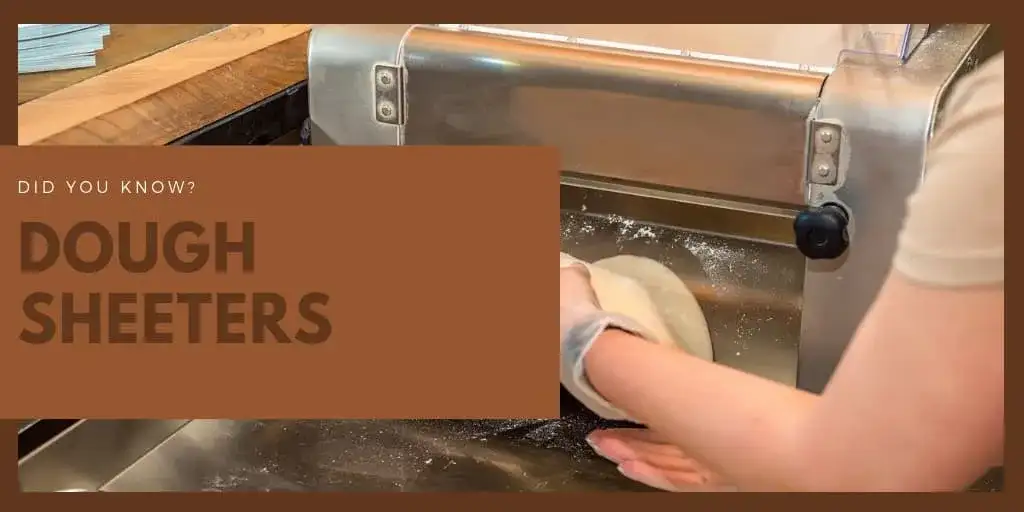 Kitchen space is a commodity for many restaurants, so investing in equipment that can do the job of several pieces of machinery can save precious space while cutting costs. Dough sheeters are a great example of a piece of equipment that can wear multiple hats, benefiting a range of chef specialties and restaurant themes. From bakeries to pizzerias, restaurants should consider investing in a dough sheeter to boost production and decrease labor costs.
There are many different types of dough sheeters, but Doyon comes out on top when it comes to quality in a name-brand. The parts that come with your dough sheeter should be cleaned regularly and replaced with identical parts to ensure that your equipment stays ready and in working condition. There are a few parts to keep in mind with your sheeter:
Belt: There are several different types of belting material used on sheeters from rubber, nylon, Teflon and even natural fabric or cotton. The application will determine the correct belt to use. Some belts are connected by glue, while others have stainless steel clipper lacing. You'll know when your belt needs replaced if the edges start to fray. Also, your sheeter may not be tracking properly, which can cause extra wear and tear, so make sure to get regular tuneups to tighten the tracking on your sheeter.

Scrapers: This keeps the dough from sticking to the rollers, and scrapers can consist of either plastic or steel. Because the rollers are difficult to replace, ensuring that your scrapers are maintained can prevent them from damaging expensive rollers.

Moving Parts: Sheeters have several moving parts; From chains to sprockets, keep all moving parts well-oiled.
Keeping your sheeter maintained will ensure its longevity, and then you can focus on all of the interesting products that it can produce!
Laminated Dough: A specialty class of pastry known as laminated dough can become unwieldy in large batches. Think: light, puff pastries or flaky croissants. Large sheeters can help to cut out the labor costs, making laminated dough a regular menu item that otherwise would have been too costly for small operations.

Pies: Rolling out a few pie crusts may not seem too difficult, but even a small bakery or restaurant can sell several pies in a single day. Cutting out labor and time with a sheeter frees up employees for more important tasks.

Cinnamon Rolls: Consider that cinnamon rolls require a large amount of thin pastry to be rolled into the classic 'cinnamon bun' look. It's more than one may think, and sheeters can help decrease time spent on this labor-intensive task.

Fondant: One may not think of fondant as benefiting from a sheeter, but any baker who has worked with cakes and fondant knows how much time and effort it takes to roll enough fondant for even the smallest of cakes.

Pizza Dough: Sheeters are especially great for pizzerias who sell large amounts of pizza and who may also roll out their own crusts. High volume pizzerias really should consider sheeters a necessity to keep labor costs down and profits up.
If you don't have a sheeter, consider the investment - especially if you run a bakery or pizzeria. They're easy to maintain, and the potential is enormous!
JENIFER AQUINO
Sales Consultant
CKitchen.com
E Friedman Associates Inc
T: 800-555-0666 x 1975
D: 516-882-1975
jenifer@ckitchen.com