How to Make the Perfect Homestyle Pizza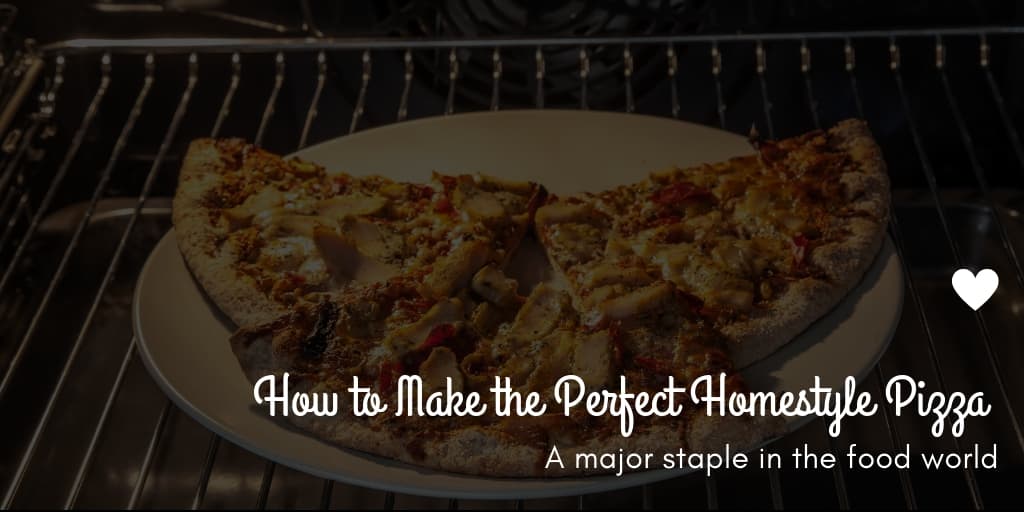 Let's face it: pizza has become a major staple in the food world. When people don't feel like making dinner, they get pizza. On football Sundays, they get pizza. For birthday parties, they get pizza. I think you get the idea. Since people don't always have the time, energy, or equipment to make their own pizzas at home, though, they turn to the next best thing: ordering pizza. Therefore, as a foodservice establishment, it is important to know how to make the perfect homestyle pizza for these people to order and take home.
Equipment
In order to make the perfect homestyle pizza, there are three essential pieces of kitchen equipment you will need. These include a standing mixer, a pizza peel, and a ceramic baking stone.
A standing mixer works quickly to create the wet elastic dough that you need. If you decide against the standing mixer, you may use your hands, but just know that this will be much more difficult and time consuming. Whatever you do, do not use a food processor to make the dough, as this will just tear it apart instead of kneading it.
A peel is a perfect piece of equipment to help with shaping your dough, and sliding your pies in and out of the oven when the time comes. Wooden peels are preferred by most. If you do not have a peel, a floured cutting board will do the job.
Lastly, you will need a ceramic pizza stone which is crucial for generating the high, dry heat required for a perfectly crisp crust. It is nearly impossible to make a perfect pizza without a ceramic pizza stone for baking the pizza on.
Dough
The perfect dough is considered to have a slightly tangy taste from fermentation. In addition, it should be wheaty-tasting, rather than yeasty-tasting. In order to make this happen, be sure to use a minimal amount of yeast for a slow rise, as well as a good blend of all-purpose and high-gluten bread flours.
Furthermore, the trick to making the best possible pizza dough is to work with enough dough to stretch it thin without tearing it. You'll want to knead it extensively so that you can stretch it thin enough to see through it.
Another trick is to let your dough rise at room temperature for a day, or in the refrigerator for a few days. If you are looking to speed up the rise, you can slightly warm the dough in a tepid oven. Just keep in mind that the slower the rise, the more flavorful and manageable the crust will be.
Once the dough has doubled in volume, gently push it down, divide it into smaller pieces if you wish, and round each piece into a ball, using a lightly floured work surface. If needed before shaping, the balls of dough may sit on a floured surface under plastic wrap or can be stored in the refrigerator for hours.
When you are ready to shape the balls of dough, keep your hands dusted with flour the entire time. Use a minimal amount of flour on your peel to keep the dough from drying out, and never pull on the dough as it will toughen and tear over time. Rather, hold the dough by the rim and let it's own weight help to shape it. You may also use the backs of your hands to gently stretch the dough into shape. Even try tossing it if you're feeling brave enough! Believe it or not, this really does work. Whatever you do, though, do not use a rolling pin, as this will push out all of the air pockets that are meant to enliven the crust when baked.
Toppings
First is the sauce. For a basic tomato sauce with lots of tomato flavor, use well-drained whole canned tomatoes processed in a blender or food processor. Cook this tomato puree with some garlic and a pinch of chile flake in some extra-virgin olive oil. You should use quite a bit of oil, as this is what carries the flavor and makes the sauce a perfect consistency to spread easily in a thin layer over the crust. Lastly, don't forget your herbs: fresh basil, oregano, thyme, sage, rosemary, and the like.
Next is the cheese. Try blending whole-milk, low-moisture mozzarella cheese with a second more flavorful option, such as smoked mozzarella, provolone, asiago, fontina, or pecorino. Whatever cheeses you decide on, don't forget to top it off with some fresh-grated Parmesan!
You may choose to keep your pizza simple and traditional, by using only a basic tomato sauce and a mix of cheeses, or you may choose to add a variety of additional toppings to spice things up a bit. Try adding some bacon, sausage, pepperoni, ham, chicken, peppers, onions, mushrooms, or pineapple. You could even put a little of everything on your pizza - one slice of everything! This is your very own homemade pizza, after all.