The Ultimate Cold Beverage Dispenser Guide: Soda Fountains, Slushy Machines, Frozen & Cocktail Drink Machines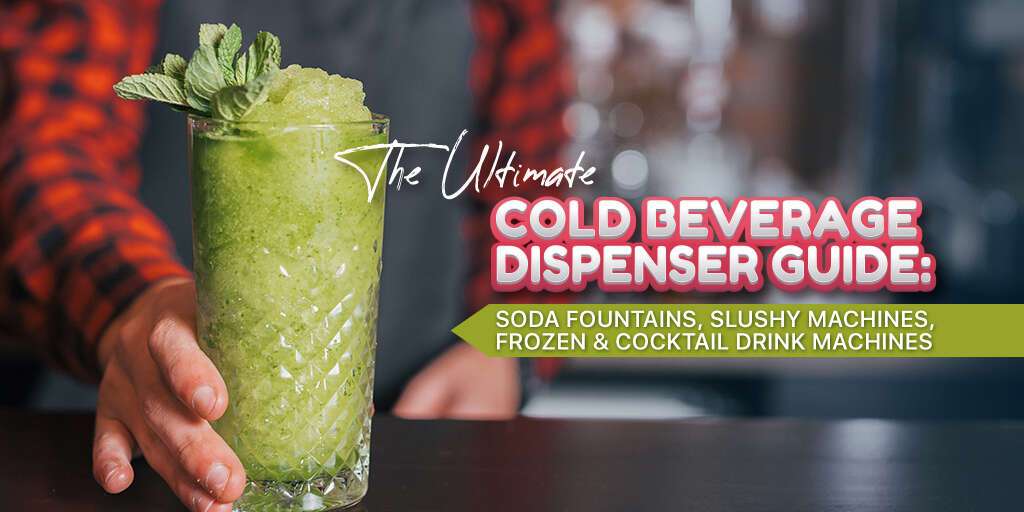 When it comes to chilled drinks, there is an array of beverage dispensers you can choose from, and we've compiled them all in this blog post to make your shopping easier.
Soda Fountains
Soda fountains produce and dispense soft drinks. They have multiple dispense valves depending on the capacity. There can be two valves or as many as 16 valves. To boost merchandising capabilities, many are decked out with colorful graphics that catch the attention of the customer and at the same time help them identify the flavors you have on offer. Others have a simpler, low-profile design.
Some beverage systems have built-in ice dispensers and can support top-mounted or bottom-mounted ice machines so you have everything you need to serve ice-cold drinks from the same beverage station. Commercial ice machines can produce different types of ice including full-dice, half-dice, flake, and nugget ice. They are available in a wide range of capacities but it is recommended to choose a unit with production capacity relative to the capacity of the soda fountain of your choosing. Beverage dispensers without ice bins use an internal refrigerator to keep products chilled to perfection.
Soda dispensers have a lever or push-button dispensing system. The former facilitates a hand-free operation because you only need to push it with the cup, but you will need to hold it until it is full because it needs a level of force to keep the lever working. The push-button design removes that problem because customers can set the glasses down and wait for it to be filled.
When shopping for soda beverage dispensers, you will encounter two types: pre-mix or post-mix soda fountains. Both are designed to combine syrup with carbonated water, but there is an extra step for post-mix units explained in detail below:
Premix
A pre-mix beverage dispenser is a simple system that produces exactly the brand-name soft drinks sold in bottles or cans. This type of cold beverage dispenser uses ready-to-drink syrup contained in large stainless steel tanks, so half of the process is complete.
As the pressurized carbon dioxide gas comes into contact with the top of the soda, the syrup is pumped and starts making its way through a dip-tube and then cooled through a cold plate before it is dispensed.
Post-mix cold beverage dispensers don't need a water line so they are easier to integrate in most establishments including concession stands.
Post-Mix
Post-mix soda drink dispensers go through a more complex process, but the result is a high-quality beverage tailored to the taste of your customer. These dispensers make the drink from scratch before it is dispensed into the cup. Some even give you the ability to fully customize each cup to create a litany of beverage combinations that will satisfy even the most discerning taste buds.
Although they cost more upfront compared to pre-mix dispensers, these units generate lower costs per beverage and increase profit margins, which make them a better long-term investment.
Like the premix cold beverage dispensers, post-mix units make soda by first combining water and carbon dioxide to create carbonated water. This is chilled in addition to the syrup, which is pumped from a bag-in-box container through a separate line. The two are blended together real-time in the mixing valve and dispensed in the set ratio to achieve desired sweetness and flavor.
High-end post-mix dispensers give you the ability to add bursts of flavor to the drink. These units usually offer four to eight flavors to create a wide array of combos. Most brands typically used keypads to incorporate flavor into the drink. Some post-mix cold beverage dispensers like the units from Cornelius come with touchscreen controls that allow users to scroll through the interface to select the flavors and brands they want.
Post-mix cold beverage dispensers have a countertop or drop-in design. The countertop units are easier to set up and can be mounted with an ice machine at the top. Drop-in units go into a dedicated cutout on your counter, which helps conceal the bottom-mounted ice bin.
Unlike premix beverage dispensers, these units require a water supply. Therefore, it is recommended to use a water filter to produce clean, great-tasting soda that is safe to drink and free from contaminants. A water filtration system also protects your equipment from damage by eliminating sediment and other particles that could clog up components.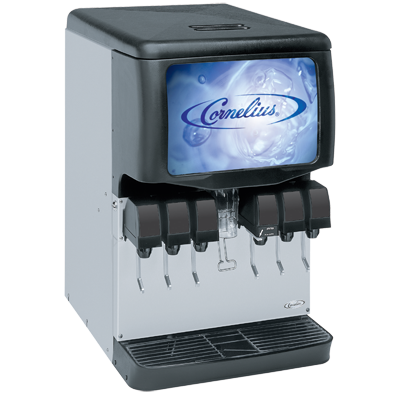 Slushy and Frozen Drink Machines
Slushy machines are versatile cold beverage dispensers that can make an assortment of frozen drinks including slushies, granitas, smoothies, coffee, and lemonade. When shopping, you might encounter names like granita machines or frozen beverage dispensers.
Slushy machines have transparent bowls or windows so customers can see the vibrant drinks swirling nonstop, making the product more attractive and irresistible.
These frozen beverage dispensers are available in three types depending on the mechanism used to produce the drink. The simplest to operate are the standard pourover slushy machines, which are manually refilled once a certain amount of product has been dispensed.
This manual labor is eliminated with auto-fill slushy machines, which are connected to a reservoir so the bowl is refilled as needed. You can choose between liquid autofill machines and powder autofill machines based on the product mix you use. The former holds liquid product mix while the latter holds and combines the powdered mix with the water. Autofill slushy machines will require an external pump for water.
Frozen drink machines can have one or multiple hoppers, with each one able to hold 1 to 3 gallons of the product. You can choose from countertop and floor models, depending on the space available and the number of people you are serving on a daily basis.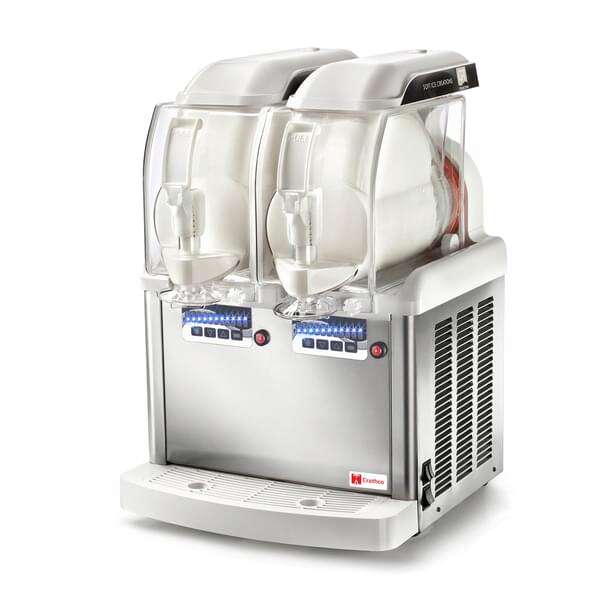 Cocktail Machines
Cocktail machines help you make large batches of margaritas, daiquiris, and other frozen cocktail concoctions with consistent thickness in each cup. These cold beverage dispensers allow you to make adjustments to the viscosity and thickness of the product to achieve the perfect drink. Some frozen beverage dispensers are designed to make cocktails among other products, so they are labeled as "alcohol-ready".
Not all frozen drink machines are equipped to make alcoholic drinks because of the differences in the ingredients used. When you add alcohol to a drink, it can prolong the freezing time, which, in turn, lowers the hourly production capacity. Plus, this would require additional maintenance that you wouldn't normally do on standard frozen beverage dispensers.
Cocktail machines are great for use in bars, nightclubs, and restaurants. You will find that cocktail machines can also be used to make an array of non-carbonated beverages.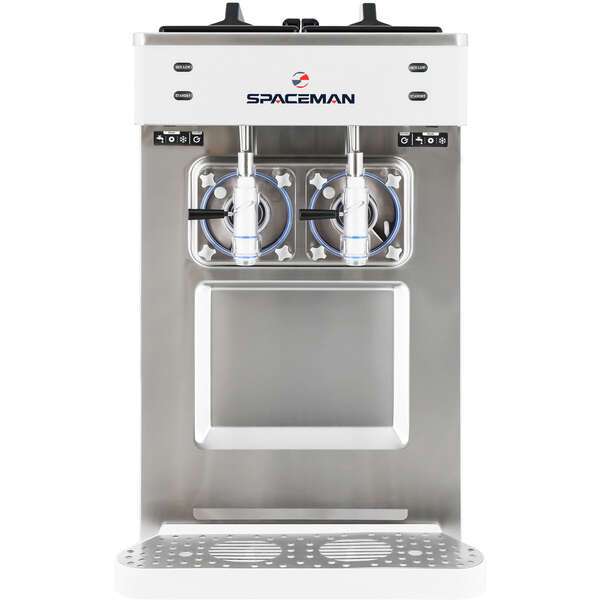 The Best Beverage Dispensers For Your Needs
A beverage menu is only as good as the equipment you use to make it, so it is important to find the right setup that can help you achieve the best quality and taste you're after. If you need more help in choosing the cold beverage dispensers for your operation, don't hesitate to contact us.