5 Marketing Tips for a Bar Owner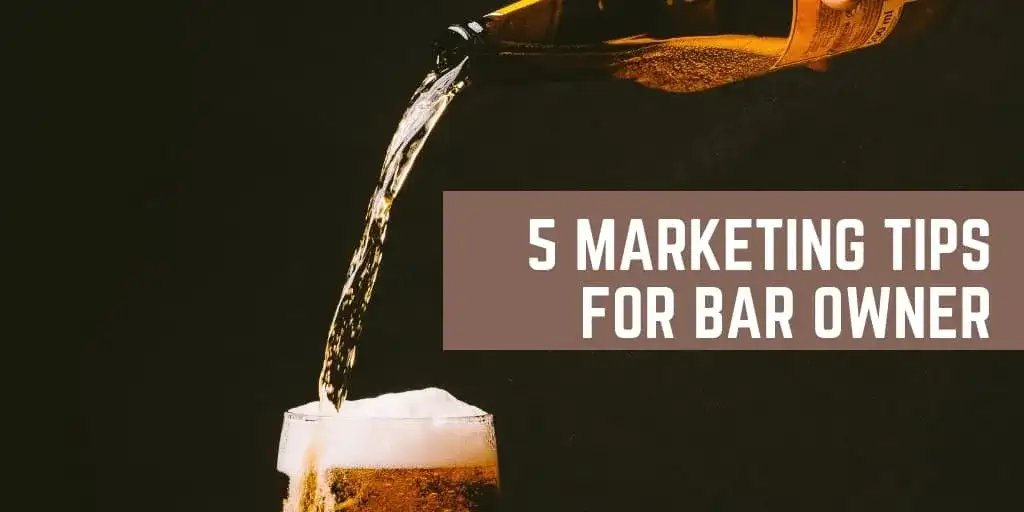 Whether you own a dance club, a local pub, or a bar/restaurant, the end goal is always to fill the place and fill the cups, right?
Easier said than done.
It's important as a bar owner to constantly be reworking your branding and marketing strategies to see what the successful competition is doing, as well as what you can do to set yourself apart.
Here are five tips to consider to help increase the foot traffic in your bar and increase your popularity with your crowd:
1. Curb Appeal
Everyone judges a book by it's cover. Well, everyone judges your bar by what it looks like from the outside.
Considering this fact, here are a few details to remember:
Signage. Your outdoor bar signage should be visable and readable both during the day and at night. That might mean you need to add some lighting to your current sign so that it is visible at night. If your sign is a lit sign, make sure it is functioning properly and does not have any burnt out bulbs. Less is more! Don't add tons of road signs to try to draw too much attention, because it makes you look cheap and desperate. Do a little competitive analysis and see what your competition is doing around and you and make sure you stand out from them rather than blending in.

Landscape. If you have Italian Cuisine, palm trees out front may put off the wrong idea. Consider what your brand is and be consistent with your landscaping. Do the colors, textures, and other elements of your landscaping blend in with your neighbors, or do you stand out (tastefully)? You want to get the attention of people going by.

Parking. Bars are open late. Which means your patrons are heading to their cars late at night, in the dark, possibly tipsy, and that can be a huge liability, as well as a determining factor on whether or not they come out at your bar. Make sure your parking area is safe, clearly marked, monitored (if necessary), well-lit, and branded to your bar in terms of landscaping, signage, etc.
2. Stay current with designs and trends.
Just because your bar has been operating since 1945, doesn't mean it has to LOOK that way.
Having a bar that is on trend and looks and feels up to date on codes, safety procedures, etc. is a huge factor to getting people to become frequent visitors. Current trends include semi-dark tones, using natural materials-brick, wood or stone, dark wood furniture, and industrial styling.
Try having a unique focal point for example: huge ceiling fans, a marquee light, lights made out of beer kegs, etc. The embodiment of one unique idea in your bar increases the attractiveness for visitors by 35%.
3. Keep them coming back.
The atmosphere, the experience and the memories are what keep people returning to a bar as well as telling their friends about it.
Your restaurant might serve really good food, but if the atmosphere sucks, the décor is drab, the staff is rude, the energy is low, you're going to be missing out on a lot of business. A great vibe can outweigh superb food any day. Generally speaking, people go out to eat for the experience, so make sure you give them a good one! Consider these factors:
Cleanliness. If your tables are sticky, the ketchup bottles have ketchup caked in the lids, the silverware is covered in water spots, the floors are covered in crumbs, there are dirty-smelling rags on the bar, you've missed the mark. As an old restaurant owner once said "If you've got time to lean, you've got time to clean." Make sure your employees are constantly cleaning, wiping, and keeping your bar in top-notch condition. Keeping your bathrooms in order is a huge indicator on how clean the rest of your restaurant is as well!
Employees. Your employees are your face of your brand. You want to make sure every single employee is taught and provides top customer service. Your kitchen staff, hostess, bartenders, busboys and managers all contribute to the vibe and energy of your bar. Every single employee should be respectful, friendly and helpful to each other as well as the customers. Make sure their vibe matches your bars vibe. Are you a low-key intimate bar? Then your staff should act mellow, soft voices, and calm. Are you a dance club with pounding music? Then a little swaying to the music, smiling faces, giggling, and professional flirting might be the way to act.

Your employees should both look and act the part to give your bar the vibe you are trying to portray.

Sound. Creating the mood for your bar heavily relies on the sound. If your bar is a quite romantic get-up, having loud music playing, might kill the mood. Also, you don't want to hear banging and yelling in the kitchen or gossiping and chatting by the wait staff. What is your brand? Work through your acoustics accordingly to make sure that you create the ambiance you're going for.
4. Specials and discounts.
Don't forget about simple marketing ideas like specials and discounts on beer!
Bouncebacks are a super simple way to get your customers to return to you bar again and again. You can over vouchers (or even have them printed right on their receipt) for $5, $10, or $20 off their next visit. You can set whatever parameters you want, such as valid on food purchases only, or with order of $50 or more, etc.
Offering special signature cocktails or discounts on certain pours of beer is usually a great way to show off your bartenders skills and introduce specialty drinks to your brand.
Hosting fun events such as beer tastings or promoting silly specials such as "skunk beer" specials for domestic beers, are a fun way to get groups to join at your bar.
Fishbowl recently reported bars are missing out on not doing BOGO promotions. Offer buy-one-get-one signature drinks, food, or beer.
5. Presentation of the beer
Set yourself apart. Make your beer so pretty that all your people want to take pictures, snap selfies, and share it on social media!
There is something about beer being presented in tiny cups that makes you want to take a picture.
Creating a unique experience in the presentation is enough to get people to talk about your bar long after their visit. Teaching them to pour their own draft, serving flights of beer on wooden disks, or giving patrons a branded mug to take home with them, all add to the experience of their visit.