Buying Guide: How to Choose Warewashers for Your Foodservice Establishment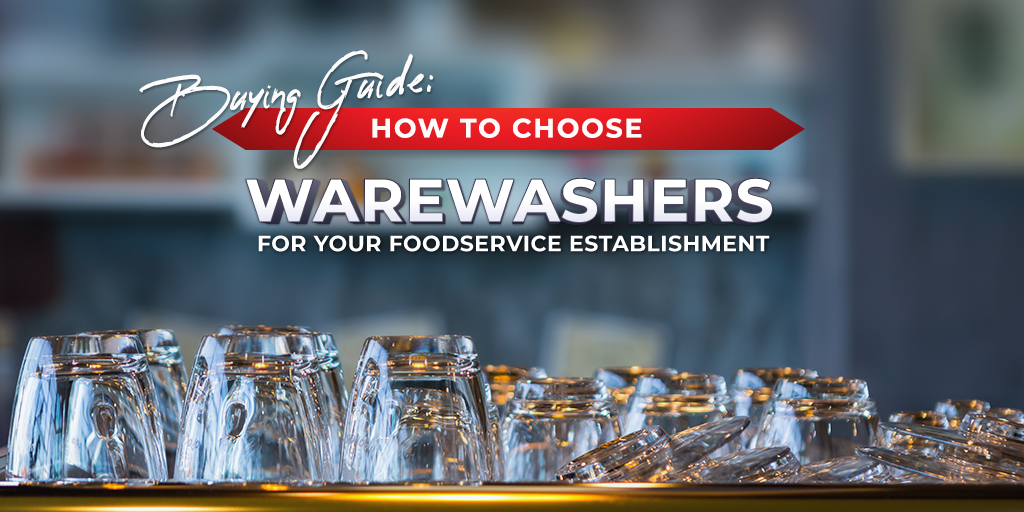 Conveyor
Large, powerful, and designed for heavy use. These units can be made in high-temp or low-temp models with some having Energy Star labels to indicate less electricity consumption. These can process 350-1000 racks per day! Circular conveyor or "carousel" dishwashers oval-shaped and use a rack conveyor dishwasher as one of its legs.
Best for cafeterias, institutions, hospitals, high-volume operations, universities, health care facilities.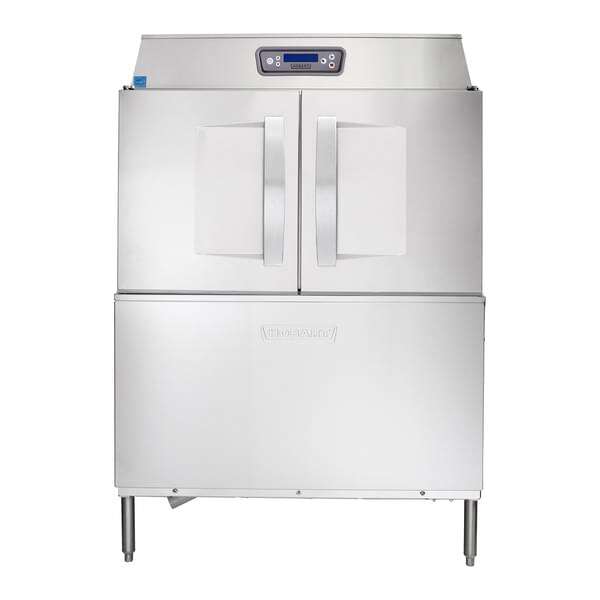 Door type/rack
As a smaller version of the conveyor washer, these units are designed to connect to dishtables. Compatible racks are filled with dirty dishes, slid into the cavity of the washer, and cleaned within moments. These can also come in high- or low-temp designs and can process around 30-350 racks per day. These are available in single and duel-rack models.

Best for standard restaurants, diners, cafes, kitchens with space for a warewasher with a footprint, schools, small-medium kitchens.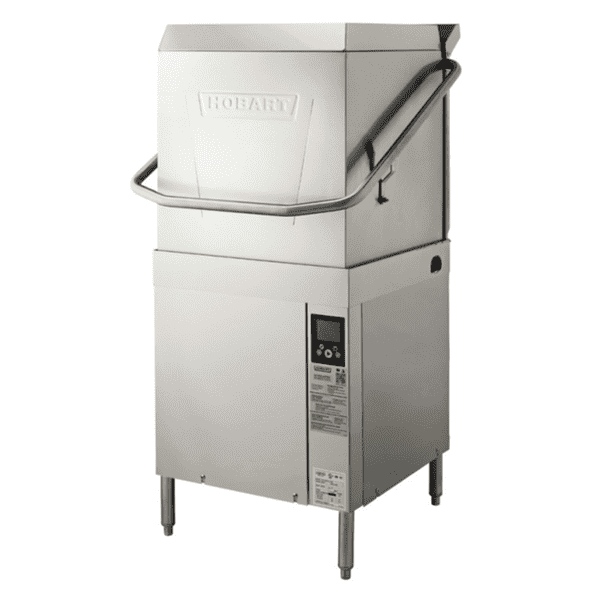 Undercounter
With the ability to clean 20-45 racks at a time, undercounter units are compact but can clean fewer dishes than its counterparts. These units fit conveniently under worktables or other areas and are also available in high- and low-temp models.
Best for compact kitchens, low-volume needs, front-of-house, bars.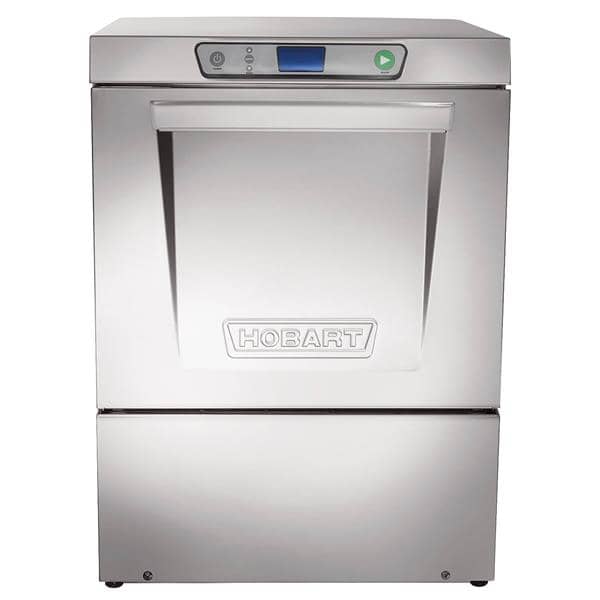 Upright/Underbar Glass Washer
Also known as bar glass washers, these are available in two main options: manual washers with suction cup bottoms or electric upright glass washers powered by electric motors. Both options can speed up tedious washing work for the specific needs of glass cleaning in a bar area.
Best for bar areas, underbar washing needs, glasswashing needs for a bar area.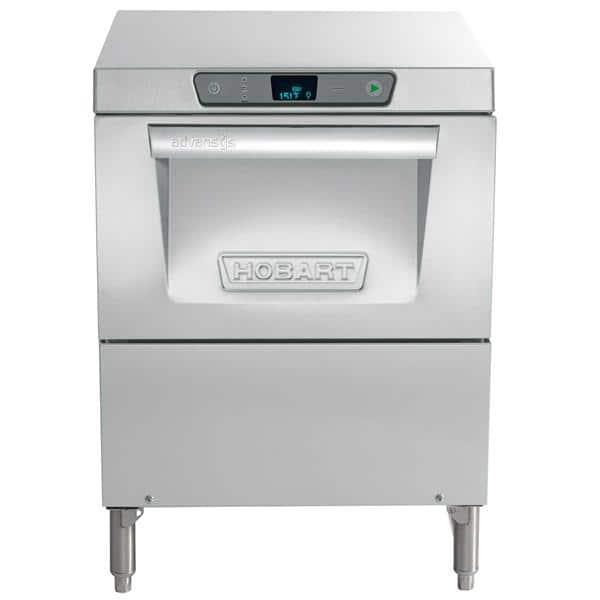 While you should always look for the Energy Star label, there are new energy efficient ventless dishwashers on the market that are also worth considering. Typically, traditional dishwashers have a vent to expel the warm air from the system after washing cycles, requiring your kitchen to have a hood. Each cycle operates independently of one another, but the energy efficient ventless dishwashers have found a way to not only utilize the output vapor and heat from cycles but to also reduce energy consumption as well as water consumption!
Energy Recovery System: The new energy efficient ventless door-type dishwashers utilize an energy recovery system. This condensing cycle captures outgoing water vapor and utilizes it to preheat inlet water up to 140 degrees, helping your dishwasher to work less in order to boost water temperatures up to the desired level. This water is then used for the final rinse cycle.
Benefits: because the outgoing vapor is utilized for preheating inlet water, there's no need for a vent or hood! Its energy efficiency helps to save your restaurant money in utility bills:
The more cycles you have, the higher the recovery savings
ENERGY STAR® qualified, uses only .74 gallons of water per rack
Saves as much as $5,068 the first year and $1,568 every year after on the total of your utilities
Specialty Warewashers
In addition, there are a few specialty warewashing machines that may be better suited for certain applications:
Glass Washers: for bars or wineries that primarily serve drinks, a glass washer is a perfect fit for dishwashing needs.
Utensil Washers: if you're a larger operation with hundreds of utensils needing to be washed on a daily basis, opt for an additional utensil washer to supplement your conveyor warewasher to keep up with the high-volume outputs.
Pot & Pan Washer: restaurants with lots of pots and pans will benefit from a pot and pan washer which utilize higher water pressures (which would damage fragile dishware) and typically include:
separate wash and rinse tanks
Adjustable Wash and Rinse Cycles with a Selector Switch
High-velocity Spray Nozzles Designed for Fast Stripping Action
An External Pre-Rinse Wash-Down Hose
Automatic Fill Functions on Utensil Models
Heavy-Duty Racking Systems
A Loading Ramp or Pit Grid for Rack Washers
High vs Low Temp
While both high- and low-temp warewashers will require detergent and rinsing chemicals, there are many distinguishing factors that can make one option better for certain operations and needs over the other.
High-Temp Model
Wash: 150-160 degrees
Rinse: 180 degrees
Sanitizing through heat, these models require a condensate hood due to high heating temperatures, adding to initial cost and footprint. Some may not need a sanitizer due to higher temperatures, which sanitize naturally (making them better for certain dishware materials). Can be more expensive to purchase but less expensive to operate.

Low-Temp Model
Wash: 120-140 degrees
Rinse: Same
Because temperatures aren't high enough to sanitize dishes, these units require the use of chemical sanitizing agents. These units may not require a hood, making them easier to install in some cases (and cheaper). Keep in mind that the chemical sanitizers may damage certain dishware materials.
When shopping for sanitizing chemicals for low-temp models, be sure that the sanitizer works with your warewasher as well as with your dishes. Certain commercial dishwashing units may only accept powder, liquid, or solid detergent, and some metal products are made with materials that wear after washing because they require a metal safe detergent.


Booster Heater
While considered an accessory to your dishwasher, a booster heater can raise the temperature of your rinse cycle water for cleaner results and faster drying times.
Electric booster heaters: These have been the traditional first-choice for restaurants and work well in areas with low electricity utility costs.
Gas boosters: Natural gas tends to heat water twice as quickly as electric and at 30-50% lower cost than electric. Keep in mind that these units will need to be vented out.
Also, some booster heaters can be purchased as an addition (which is typically cheaper than buying them built into the system ahead of time), but you'll have to run more plumbing to accommodate. Temperature rise is typically broken down into 40-degree rise and 60-degree rise (most recommended because most people don't keep their hot water temp at 140).
Be sure to purchase a booster that is sized correctly for your unit.

Additional Features to Consider for Your Dishroom
Commercial dishwashers can be equipped with additional features and items for special needs or to improve efficiency and user comfort. Here are a few to consider:
Disposers: Rather than chucking waste into the trash bin, utilize a disposer to cut out some of the food waste before putting dishes into your warewashing machine.
Pulpers/Extractors: With the ability to process hundreds of pounds of waste, pulpers and extractors are a great way to cut down on waste removal costs.
Dehydrators/Biodigesters: These alternative means to waste disposal can help cut down on the cost of traditional trash dumps and can also help the environment!
Grease Traps: Also known as grease interceptors, grease recovery devices, and grease converters, these systems typically connect via a flow restrictor on the inlet side (to slow incoming water to allow it to redirect through the system). As water flows in the unit, grease, and other solids accumulate at the top of the static water, effectively trapping greasy goo that is unfit for processing in wastewater.
Drying Racks: High-Temp models dry dishes quicker, but you'll likely want to invest in a drying rack to save your employees the requirement of having to dry each dish by hand afterward (never store wet dishes, as these can be breeding grounds for bacteria and mold).
Rinse Stations/Hoses: The addition of a rinse station can improve the efficiency and results from your dishwasher, as it allows an employee the chance to 'pre-screen' the dishes for large pieces of debris, helping to give your warewasher a 'leg up' on the process.