4 Staff Management Tips to Avoid High Employee Turnover Rates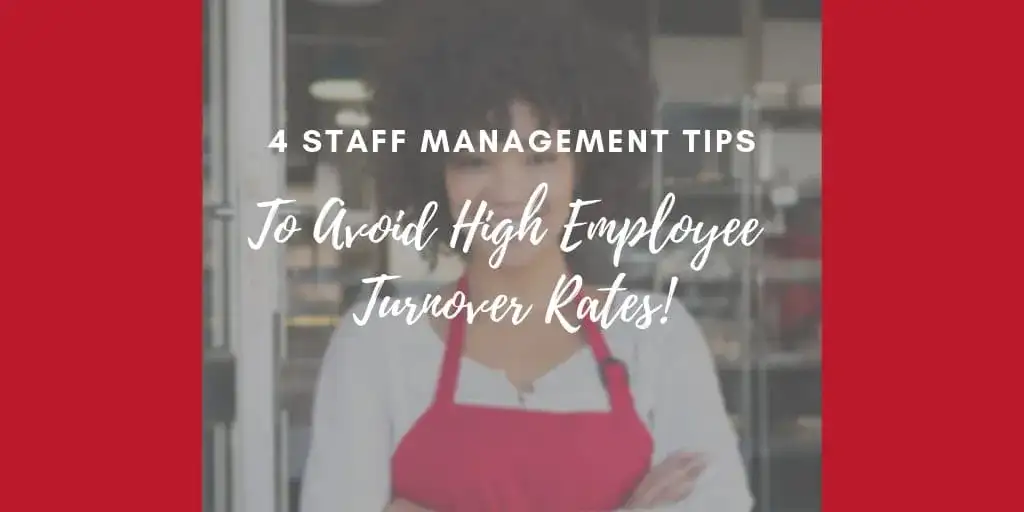 Foodservice establishments face the relentless challenge of keeping staff from leaving. There are many reasons why restaurant owners must keep employees from leaving frequently. Not only does a high turnover rate decrease staff morale and productivity, it also increases the cost of hiring and training new employees and negatively affects your restaurant's bottom line.
While most managers think giving employees a raise is the only way to keep them from jumping ship, there are a few other things you can do to retain staff and keep them loyal to the company.
Promote staff internally.
According to the study, the biggest reason employees leave the restaurant is because they receive an offer for a higher position in another company. You can prevent this from happening by encouraging your staff with promotions. It's a win-win situation for both employer and employee, since you get to keep your workers and reduce costly turnover and your workers receive upgraded benefits and get promoted to a challenging position that is more suited to their skills.
Provide attractive benefits and make sure workers are aware of them.
Most restaurant workers believe they're only receiving cash compensation for their work, but all employers are required by law to provide healthcare coverage, which is a substantial amount. Your staff should be aware of this. If not, create a detailed statement of all employee perks and benefits so they understand what they are receiving from you.
It's also important to provide a benefits package that includes perks that are becoming standard in the foodservice industry, such as an extra level of life or disability insurance and coverage of dental, optical, and wellness benefits. Younger generations will also appreciate non-traditional, inclusive benefits, such as longer maternity leaves or leaves for workers who need to assist family members.
Provide bonuses.
Research shows new staff who were referred by existing employees are far more likely to stay longer than workers who learned about the job opening from other sources. Take advantage of this by offering a referral bonus system that rewards those who bring in new staff. Offering hefty sign-on bonuses for the new hires is also a great way to attract better talent and give them a good first impression. Retention bonuses are also effective at keeping staff, especially as the bonuses increase the longer they stay. Unfortunately, the TDn2K study says restaurants aren't offering retention bonuses as they should.
And while businesses usually reward employees after looking at traditional metrics such as sales and profits, it's never a bad idea to provide bonuses for jobs well done in other areas, such as quality and customer service. Bonuses don't have to be huge. As research shows, smaller but more frequent rewards are far more powerful at keeping employees happy and willing to stay than a one-time reward.
Offer continuous training opportunities.
People don't want a dead-end job where they have no room to grow. When an employee leaves, one of the most likely reasons is because they feel they have no other viable career advancement options in your company, aside from the fact that they believe they can find more room for growth in other companies.
Provide regular career planning sessions, where your staff can map out the direction they want to take in their career with your company. This helps them create a vision of their future with you as an employer and allows them to see that what is important to them matters to you as well.