How To Survive Restaurant Staff Shortage And Retain Your Current Employees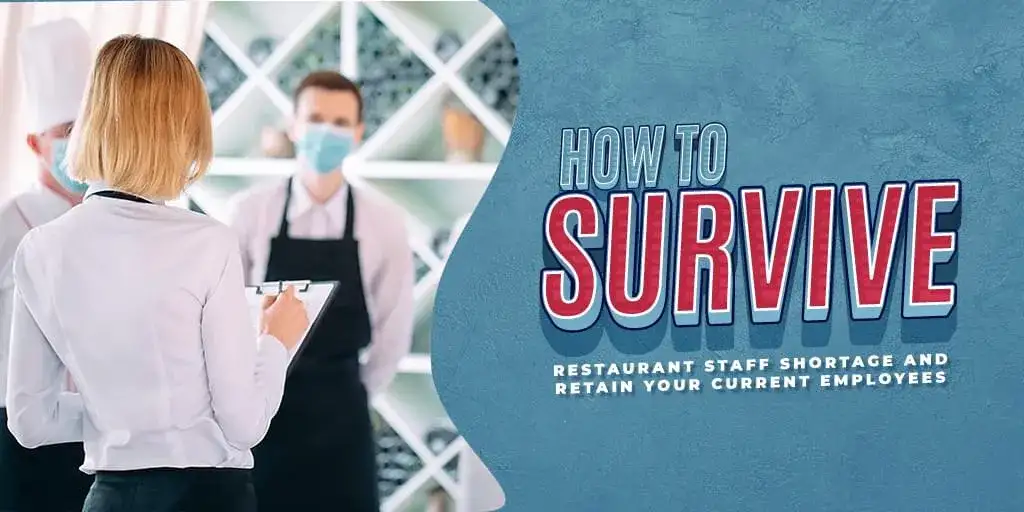 Bar and restaurant employees are not returning to work at the same rate they were before. If you are an operator struggling to find enough staff to keep your business running, it might be time to bring in automated equipment to fill the gap and support your restaurant staff. If you're wondering which equipment you should consider, we list them all below along with a few tips for reorienting your workflow to save time and labor.
Determine if the roles you are filling in can be delegated to a piece of equipment. By automating parts of your processes throughout your operation, your staff is not stretched too thin and can do more things faster and more efficiently. There are a lot of options out there for you that you can implement for this purpose.
Self-Cleaning Equipment
You want your restaurant employees to use their time on cooking and preparation, so any piece of equipment that is easy to clean or can initiate self-cleaning will be a great investment for your bar or restaurant. Self-cleaning technology can be found in a wide variety of equipment including fryers, ovens, and hood systems. Cleaning a fryer manually, for example, can be especially time-consuming, so switching to a unit that automates this process will allow your employees to do more.
You may also find that the front-of-the-house requires more cleaning than before due to the coronavirus. It will also be worthwhile to find equipment that will speed up this process and still be able to do it thoroughly.
Many commercial ovens offer excellent programmability features that reduce cooking tasks to a simple tap. It will only take a few seconds for your employees to initiate the cooking process. You can find units that can store up to hundreds of unique recipes, each with multiple stages so the oven can make the adjustments on its own. Your restaurant staff will simply need to press a button to load up the recipe and leave the oven to cook it to perfection.
This removes the need to periodically check the cooking progress or food temperature. This also simplifies the training and onboarding process of restaurant staff, which will be especially advantageous at a time when an employee could be suddenly put out of commission because of coronavirus.
The smarter ovens can connect to Wi-Fi and can be controlled remotely so that there is no need for staff members to physically monitor it regularly. The two best commercial ovens you'd want to invest in include:
A cook-and-hold oven is designed for seamless cooking and minimal manual intervention. After the cooking process is completed, it will automatically shift to holding temperature so the freshly cooked food stays hot and ready to serve. On top of the lower labor, cook-and-hold ovens also help cut down energy costs because they use radiant heating technology. Since they can reach low temperatures, they are also easier to set up in your kitchen because there usually won't be additional ventilation or hood required.
A combi oven can do the job of multiple ovens. It can cook with convection heat, steam, and a combination of both. Some models have additional cooking modes including slow-cooking, rethermalizing, and forced steaming to make them more versatile. There are even combi ovens that can even be programmed to cook overnight. Your employees will only need to push a button or two to initiate all these features.
Rational's combi ovens have advanced technology that helps you plan out your production processes for maximum productivity and efficiency. It also has a cleaning program that cuts down manual labor and does everything in 12 minutes. The cooking suite technology at work in this oven line also lets you adapt to the volume of orders at any given time, so you can cook up everything you need with consistent quality with a few simple taps.
Blast chilling quickly lowers the temperature of the food to seal in the original quality and freshness. These units can reach temperatures much lower than your typical freezer. The extremely cold environment delays bacteria growth and mitigates the breakdown of the taste and overall quality of the food.
You can use a blast chiller to pre-cook a large quantity of dishes at a time. Simply cook all your bestsellers in bulk in your combi oven and then blast-chill everything. Your employees will then cook them up on a griddle as they get the orders. This has helped the Wisconsin-based fast-casual taco restaurant Hiya! Taco produce consistently great-tasting products in short periods.
Designed for pickup and delivery orders, a food locker enables customers or delivery couriers to pick up their orders without requiring the assistance of an employee. They are simply assigned a locker with a corresponding code that they receive through text or email. Upon arrival, all they need to do is scan or input that code to open the locker and get their orders. They come and go without disruption; your restaurant staff remain in the kitchen cooking up orders, not a minute wasted.
If you run a convenience store, bakery, or sell packaged products, an open air merchandiser is one way to cut down the labor. Since these display cases do not have a door or a barrier between the customer and the product, your customers have the ability to grab what they want. They get to the counter faster and without the need for your staff to man the merchandisers and physically hand the products to them.
Double-sided griddles cook both the top and bottom of the food at the same time. There's no need to manually flip the products during cooking, which saves on labor and not to mention cooking time. Clamshell griddles are available in countertop and floor models.
Many commercial ice machines, such as the Manitowoc Indigo NXT units, allow you to perform the entire ice production process from a touchscreen control panel. They are designed for easy navigation, tons of programmability, and excellent customization, so you can access various features and tailor everything to your needs.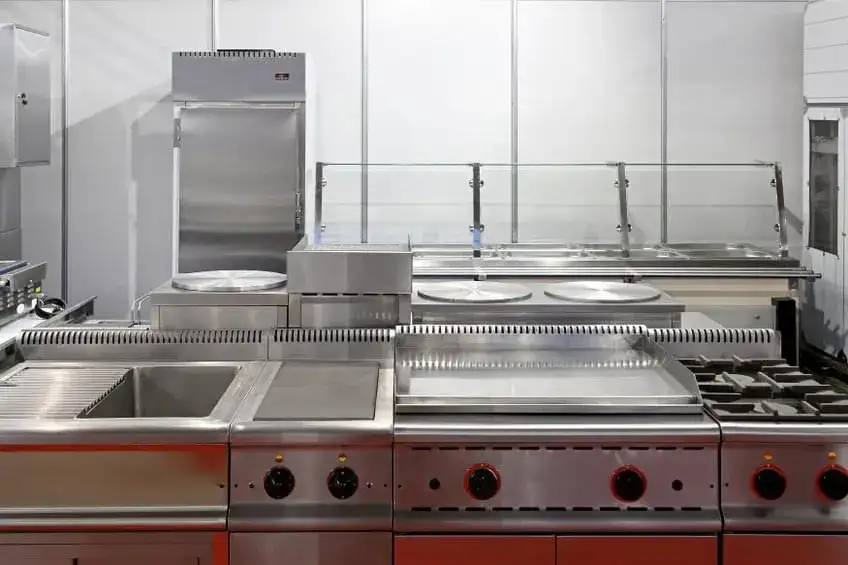 Streamline Your Workflow
In addition to integrating automated equipment to your operation, you might also want to review your current workflow patterns to spot any segment that you can improve or do away with completely.
Rolling silverware and self-service water
According to Fesmag.com, full-service restaurants can save at least more than 500 hours a year without rolling silverware. A more efficient way to do it will be to create a host station where the staff can roll silverware during their shift.
You might also want to quit filling and refilling water cups as needed, which can take up to four minutes per table. A more efficient approach would be to bring empty glasses and a bottle of cold water, which is deemed more upscale because guests get better control in that they can easily get water whenever they want.
Dishwashing room overhaul
A lot of labor goes into warewashing, so it makes sense to give your dishwashing system a little upgrade. If you manually clean your wares, consider investing in a single rack dishwasher.
A lot of brands are coming out with advanced warewashing features that speed up this tedious process. For one, Hobart has developed technology called Automatic Soil Removal to remove the majority of the tough food particles on the wares, so you won't have to manually do it. This drastically cuts down the labor typically involved in the soaking and scraping and eliminates the need for handwashing.
The system also maintains the cleanliness of the water, which means you don't need to change wash tanks as much throughout the day. The system also automatically cleans and delimes, which can take half an hour to do manually. Dishwashers are also getting Wi-Fi connectivity so monitoring can be done remotely. All these features add up to more minutes or hours that your dishwashing staff can devote to other tasks such as small prep, kitchen cleanups, or even assisting in the cookline.
Food Safety Management System
Paperwork is not only fraught with errors but also time-hungry. One way that could really tie an employee to a desk is the traditional pen-and-paper method when it comes to inventory or food management. By migrating to a faster, more accurate software, you can track your supply use or manage food safety in no time and without mistake. Learn about how proper inventory management can help you boost your profits in this blog post.
The Cloud technology typically integrated in these tools makes it possible to log and track information faster and with lower risk of human error. Food management systems provide other benefits including reminders for when it is time to inspect your food safety compliance and gather valuable analytics and reports about the safety of your ingredients to protect from liability.
Other types of food management systems include dedicated software systems including temperature monitoring devices for refrigerators and freezers, and wireless temperature probes.
Smart Point-of-Sale Systems
By connecting your processes to a single system, you will tremendously ease the pressure on your restaurant employees by creating a smoother and faster path between the order placement and fulfillment. Many of these systems are very easy to use and can be operated with little to no training.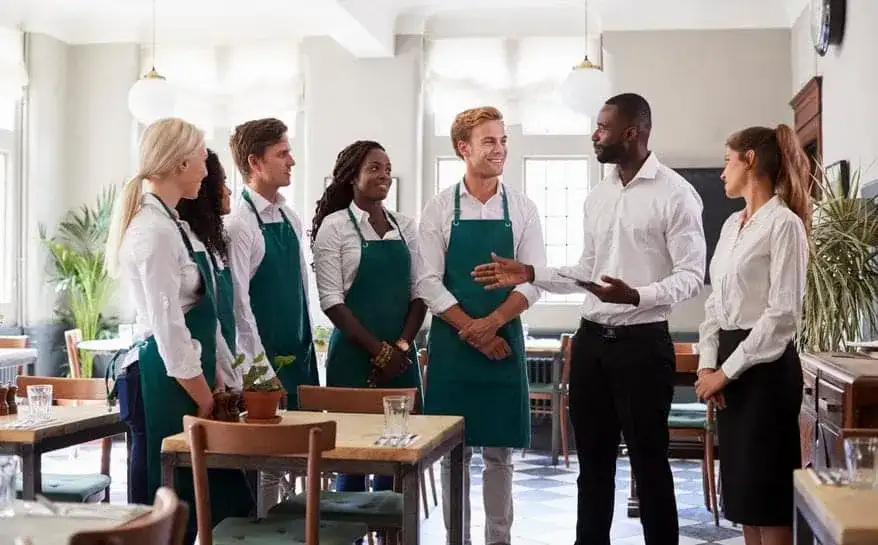 Make Your Current Restaurant Staff Happy
The last thing you want is to lose more people, so make some thoughtful changes to your operation to keep your existing restaurant staff happy. Be more attentive to their needs and do your best to solve any reasonable issues they are having. One of the best things you can do for them is to create a safer and more comfortable environment.
Offering Better Ventilation
Proper ventilation contributes to the safety and comfort of your space. All the equipment running in your restaurant or bar can impact that. For example, commercial refrigerators and freezers with bottom-mounted compressors are more likely to pull in dust, grease, and dirt because the system is closer to the floor. When it gets clogged, it can increase the temperature in the kitchen. So always have your refrigeration equipment serviced and maintained properly and on time.
The same goes for air-cooled ice machines, which emit hot air into the surrounding environment during production. There needs to be adequate airflow in the room to offset the heat in the space and at the same time protect the equipment from damage and being overworked.
Keeping the kitchen cool also means reducing the heat produced by the cooking equipment. Induction hobs are great for this purpose because they heat the cookware, not the surrounding area. This also means your restaurant employees won't burn their hands if they accidentally touch the cooking surface.
If you absolutely need gas equipment for cooking, look for those that use piezo spark ignition. Although not drastic, having enough of these pilots working in your cookline could improve the temperature of your kitchen. At the same time, this system makes the startup as simple as pushing a button. You won't need a lighter or a match and won't have to worry about relighting the pilot because it won't get blown out. Vulcan ranges, for example, have a ratio of one pilot to two burners. This makes them much more efficient but also easier to clean because they are unlikely to get extinguished or clogged with grease.
Keeping Your Restaurant Running
When you have the right equipment, it pays to reconfigure your training process so that the people that do join your staff can do several other things as opposed to one main job. Automated equipment gives you the ability to cross-utilize your restaurant staff, so you can rely on them to step up and take on various roles when needed. It also pays to be honest and sincere with your staff and have them on your side by properly communicating the vision you have for your business and the value they bring.