Generation Z in the Restaurant Workforce: How to Keep Young Foodservice Employees Happy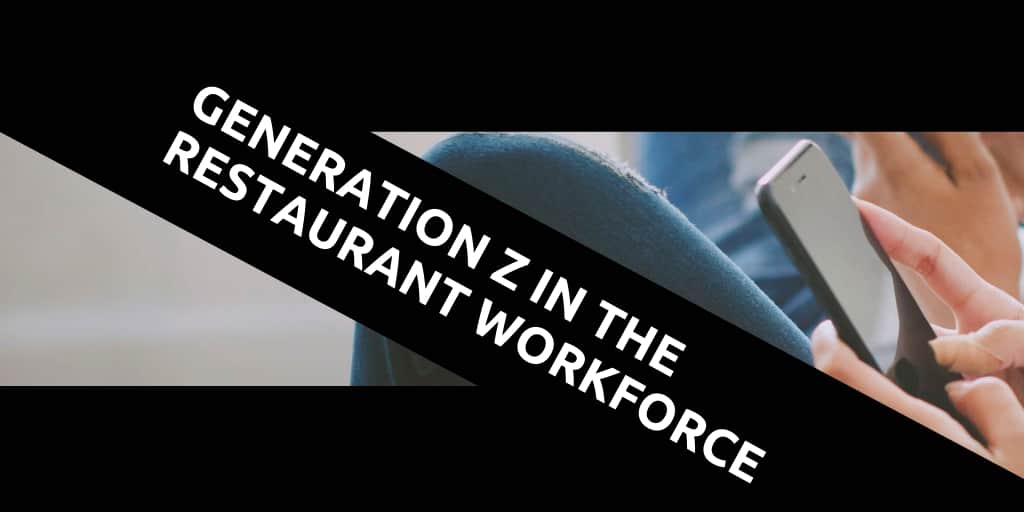 There's a new generation of workers that are entering the foodservice workforce. As the first millennials reach their mid-30s and start stepping into leadership roles, employers are starting to get to know the oldest members of Generation Z.
Gen Z-ers were born 1997 onwards. Having seen their parents get laid off from jobs during the Great Recession and their older brothers and sisters struggle with the student loan crisis, many of them aren't excited to go to college. In fact, many Gen Z-ers are deciding to bypass the college route and create a solid foundation for the future with a career in foodservice.
A study conducted by the National Restaurant Association Educational Foundation and The Center for Generational Kinetics reveals that 84% of the existing Gen Z workforce worked their first job at a foodservice establishment. In 2017, almost a fifth of the entire foodservice workforce was composed of Gen Z-ers. Only the retail industry had a larger fraction of its workforce comprising Gen Z. And as more individuals graduate from high school in the coming years, foodservice operators can expect more of this new generation taking over.
While many employers are still trying to adjust to their millennial staff, foodservice operators have to start learning how to work with the incoming new generation of workers. In many ways, Gen Z-ers are different from their millennial predecessors.
How to Get the Word Out about Job Openings
The most common way that Gen Z-ers look for foodservice jobs is to ask for friends who work in restaurants and other dining establishments. Gen Z-ers also ask their family and friends. Employers who have an employee referral program in place, where staff receives incentives for referring new employees, have an advantage.
The Internet is the second most common way this tech-savvy generation looks for foodservice jobs. They don't just visit job search sites, they also go to the restaurant website directly. Now, more than ever, foodservice operators shouldn't overlook the importance of having their own high-quality website.
Gen Z-ers also visit restaurants and ask if they're looking for help, respond to a Help Wanted ad, go to job fairs, and hear about job openings on social media.
How to Attract Gen Z Employees and Retain Them
With websites like Glassdoor, where employees can provide no-holds-barred, detailed reviews of their employers, foodservice employers should be more careful about maintaining a good reputation as a place to work. The no. 1 thing that Gen Z-ers look for when choosing an employer is how effective they are at creating a positive environment for their staff. They are also more likely to accept a job offer if they hear a recommendation by a relative or friend who works there. If they had a great experience at your restaurant as a customer, they will also be far more likely to want to work for you.
Once you have absorbed Gen Z into the fold, you must concentrate on providing a diverse working environment where they can also learn how to build a financially rewarding career.
Foster a good learning environment.
The goal of Gen Z-ers is long-term career advancement. They have no qualms about starting at the lowest rung of the ladder and working their way up. Many of these young workers work as servers, cashiers, or cooks, but they aim to be promoted to managerial positions or go on to work at restaurants that provide higher levels of service.
According to the survey, a large portion of the Gen Z foodservice workforce, or around two-thirds, are satisfied with their jobs. They say that working in the industry helps them learn how to multitask, work as a team player, and satisfy customer demands.
Provide mentorship opportunities.
Gen Z-ers are eager for training and would jump at the chance to be mentored by more experienced colleagues, whether through a formal on-the-job training program or under more casual tutoring by older workers.
The research, however, shows that several Gen Z-ers don't have a mentor in the workplace.
Diversity and Inclusion
There's a business case for employers that embrace the concept of diversity in the workplace. Research shows that companies in the top 25% in terms of racial and ethnic diversity are more likely to earn more than the industry average.
Gen Z-ers, as well as millennials, are looking for more than diversity in terms of race, ethnicity, or gender. Having grown up in an age of scientific and technological advancements, these generations think differently than their older counterparts. They believe that employers are morally obliged to provide employment opportunities for everyone, regardless of age, gender, ethnicity, or disability.
Financial Stability
Unlike Millennials, who are more concerned about connecting their work to a deeper meaning, Gen Z workers are more interested in building a financially stable career early on.
In the past, financial rewards weren't high on the list of restaurant worker priorities. However, the influx of Gen Z-ers is poised to improve the benefits that foodservice employees receive from their employers.