The Best Refrigerated Display Cases For Supersizing Your Profits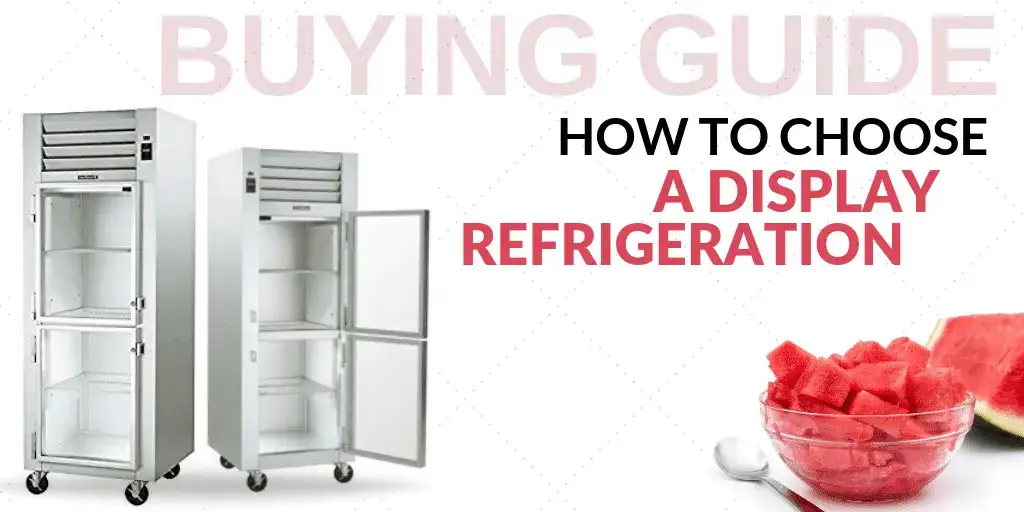 Selling your product is more than just making the food and exchanging it for money. Your profits are dependent on how you market your product, and how you display your products can make or break a sale. Display cases come in many options, and choosing the correct case for your restaurant is key to maximizing your potential profits!
Temperature
Curved display cases come in three main types: refrigerated, non-refrigerated, and dual temperature. Which case you'll need is dependent on the items you wish to display. For instance, sushi restaurants typically require some type of refrigerated case to keep their goods in line with safety codes. Chocolatiers may also find that refrigerated cases are needed to ensure that their products stay fresh and chilled!
There are two types of refrigerated cases: forced air and gravity coil. Forced air refrigerated cases use fans to circulate air while gravity coil cases uses a chilled coil at the top and gravity to drop the air down and over the products. Since forced air systems can dry out products, gravity coil systems are typically best for raw meats and seafood (so the meats aren't constantly feeling the drying effect).
Dual-temperature cases are the perfect middle-ground, providing a restaurant with the ability to display both refrigerated and non-refrigerated items simultaneously. Consider these the perfect fit for establishments like bakeries. Non-refrigerated cases are great for items like bagels and breads with quick turnaround! There are also freezer and open-air cases as well as heated cases, which are ideal for ice cream shops, impulse-buy stores, and pizzerias respectively.
Appearance
Regardless of which temperature case you choose, the appearance of your case can determine the success of your sales. Black back panels can help your colorful products "pop" while white can be easier to keep clean. Ensure that you'll have proper shelving for items you wish to display, and implement stringent rotation guidelines for quality control purposes.
There are two typical styles for glass: straight and curved. Depending on the type of restaurant you have and the look you're going for, you can choose either style! Just be sure to keep the glass interior and exterior clean at all times.
Be sure to install encapsulated lights for safety purposes. Sometimes there are special lights available to enhance the colors of your products. Choose mirrored end and back panels to give a fuller look to your lineup as well!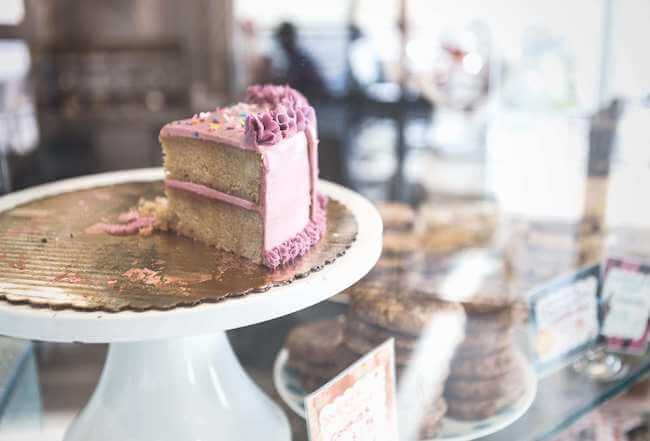 Specifications
Not only should your case be temperature-controlled as per specifications for your products, but you'll also need to ensure that the placement of your case meets certain criteria for exhaust and intake air. Check the product's specifications sheet for requirements before investing in the case to ensure your case is appropriate for your restaurant's constraints.
Now, let's look at all the display refrigeration systems available and see what works best for your establishment.
Note! Most of the units below are available with remote compressors. These require installation by a refrigeration technician, and this adds a lot of cost. Units situated in warm areas will work more efficiently and not add to the already warm ambient temperature if the condenser and compressor are place in a well-ventilated room. If they are placed outdoors, you will need to note that in your order so that an outdoor hood and heater can be included.
Open Top Merchandisers
Best for grab-n-go items in customer-accessible areas, packaged products, bottled beverages.
Also known as air curtain merchandisers, these readily-accessible merchandisers are designed for impulse buys, but remember that all items must be pre-packaged! May be more enticing to customers but also uses more energy.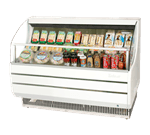 These refrigerated units utilize an air curtain in order to maintain refrigeration within the cavity without the use of a door. Because of their accessibility, customers are more likely to snag a few items from this type of refrigeration unit. There are a few tips to keep in mind when selecting this type of display refrigeration:
Because of the nature of the design, most manufacturers recommend that you place this unit in an area of 55% relative humidity and an ambient temperature of 75 degrees Fahrenheit.

Due to the air curtain, you'll want to keep this unit away from your HVAC, fans, and open doorways in order to maintain the integrity of the refrigeration.

Keep this unit away from sunlit areas.

These units operate most efficiently when fully stocked.

DO NOT display unpackaged or open food items.

Place items in the unit that are already cold, as these display units are not designed to chill warm foods. Rather, they should be considered a 'cold holding unit'.

Utilize a night cover to keep the unit insulated during off hours.

They come in both vertical and horizontal options.
Glass Door Reach-In Refrigerators and Freezers
Best for grab-n-go items in customer-accessible areas and bottled beverages.
Designed with refrigeration and display in mind, merchandising refrigerators have a glass front door to allow for a display of items within the cavity. Look for self-closing doors and double or even triple pane glass.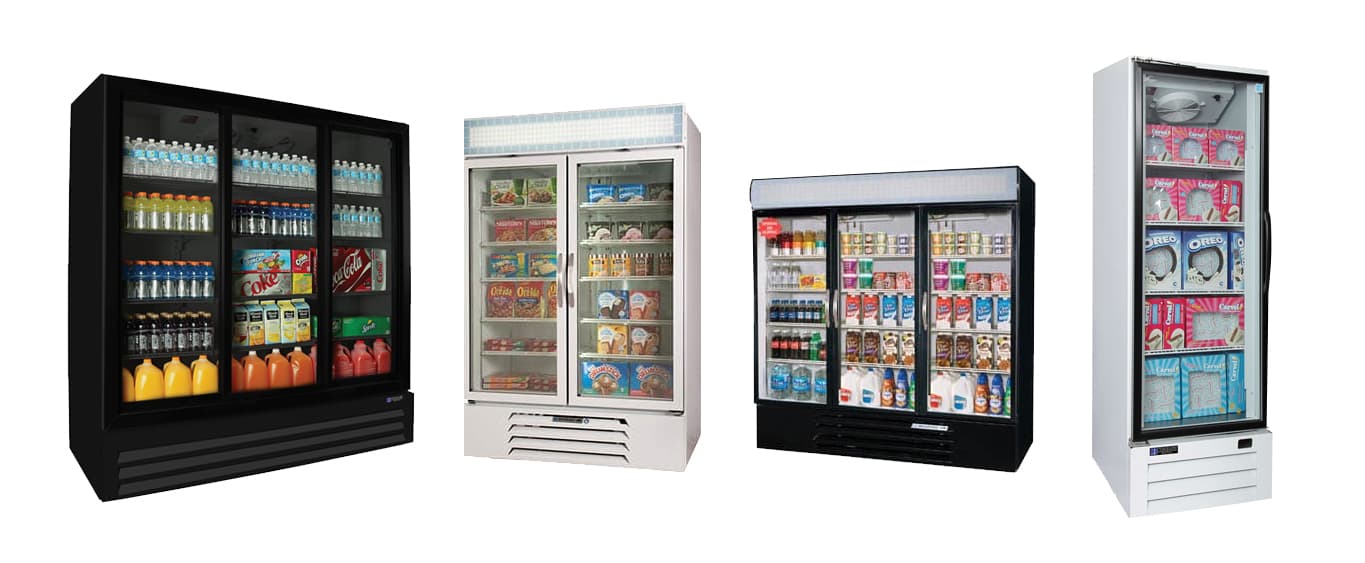 These units can be located in front-of-house or in customer areas. These units come with two door styles:
Swinging
Equipped with an open-stay feature, these doors can potentially block traffic and be an issue for kitchens or establishments with limited space.
Pros: seal better than sliding doors, potentially more energy efficient.
Cons: can block traffic in aisles.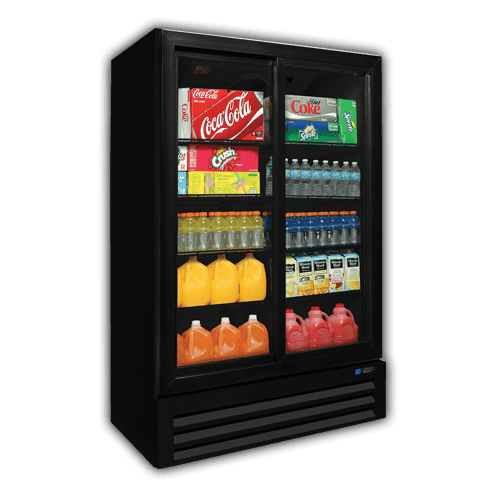 Sliding
Ideal for establishments with limited space and narrow aisles, sliding doors don't block the flow of traffic in a kitchen when opened.
Pros: don't block traffic in aisles.
Cons: only one door can be opened at a time, don't seal as well as swinging doors.
A few additional tips to keep in mind when purchasing a reach-in glass door refrigerator:
Glass door refrigerators

are able to hold packaged and open food products alike, but keep in mind that customer-accessible units (glass door merchandisers) should only store packaged items.

You can enhance the aesthetics of your glass door merchandiser display with bright interior lighting, transparent shelving, mirrored panels, pricing strips, and bottle shelves.

While traditional fluorescent bulbs still achieve desired brightness levels, a new push towards LED lighting is becoming prominent in the industry. LED lights have a brighter output, use less energy, create less heat, and are overall more efficient for lighting your display case.
Glass Door Bar Refrigeration
Best for areas of the bar visible to customers, wine and beer.
This includes refrigeration units designed for underbar displays of beer and wine, making them optimal for increasing bar sales while improving back-bar aesthetics. Look for LED lighting and Stainless or rust-proof interiors.
Undercounter refrigeration is key to utilizing space in a bar setting, but there are many areas behind the bar that are visible to patrons and can benefit from glass door display units. These wine and beer merchandisers can be selected in a variety of sizes from underbar (which can also sit on top of a counter) to a full-sized stand-alone unit. Keep these tips in mind when choosing your glass door bar refrigeration:
Opt for triple-paned glass or thermal doors to maximize the unit's efficiency while reducing the risk of cracks or shatters due to an accidental bump during busy hours.

Keep items neatly organized and bottle labels facing forward on beer so that customers can fully view the selection without assistance before ordering.

Wine merchandisers are specialty types of glass door refrigeration for bars that are intended to display and store wines only.

Shelving can hold wine bottles horizontally (best for out-of-site or underbar units) or at an angle where customers can read labels. Just be sure that all labels are facing outwards.

These units are intended to be set at special temperatures designed specifically for wine storage that may not fall within normal refrigeration ranges of typical refrigerators. Most have drawers that pull out with circular indentations to keep the bottles stable.
Display Cases
Best for deli meats, pies, cakes, side dishes like macaroni salad, coleslaw, and salads, seafood.
Refrigerated display cases are ideal for showcasing items that still require refrigeration, allowing customers full view of their selections for increased sales. See also the special "Merchandiser" section of our website.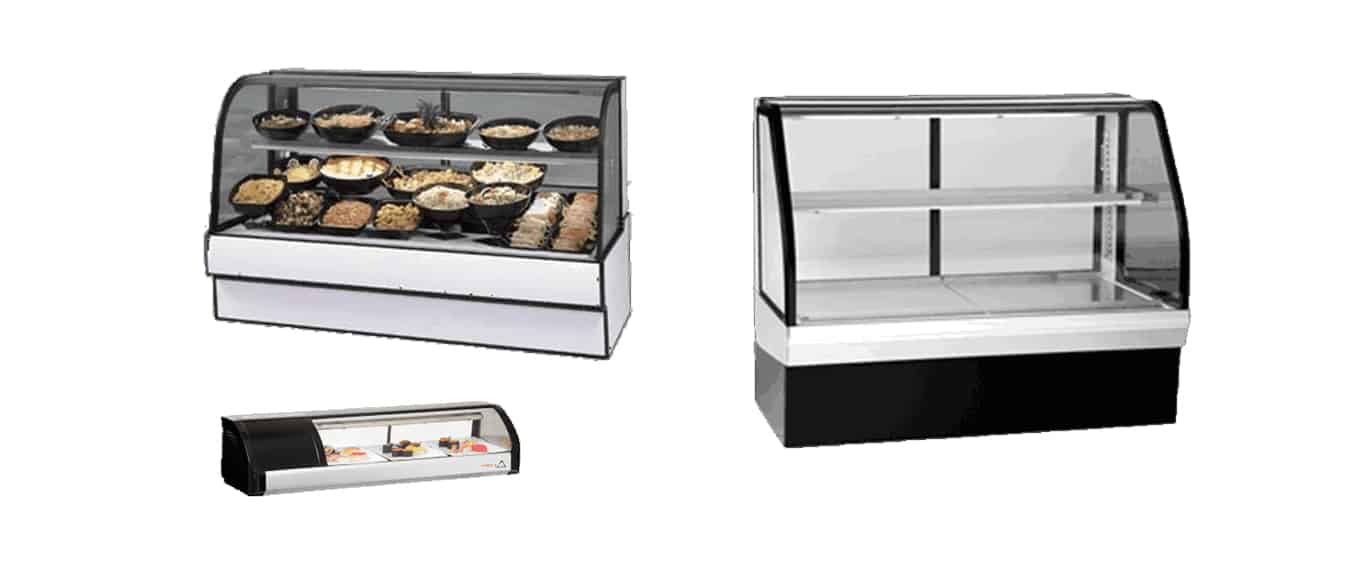 Horizontal Refrigerated Display Cases
There are two types of refrigeration methods available for display cases without air curtains:
Forced Air
Best for prepackaged products and covered pans.
This type of refrigeration relies on fans to circulate cold air within the cavity. These units are less expensive, but items can dry out faster.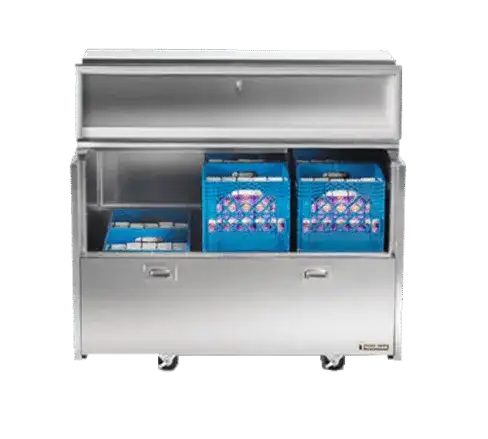 Glosed Display Cases
Best for raw meats, seafood (open sushi included), salads, pies, cakes, danishes.
This refrigeration unit utilizes a coil at the top of the cabinet where cold air is emitted and falls down - via gravity - over the items.
In addition, closed display cases can have a curved glass front or angled front. Both reduce the glare from overhead lighting, so it's mostly user preference that will determine what works best for your establishment. Keep in mind that many models will allow for the front glass to tilt up for easier cleaning.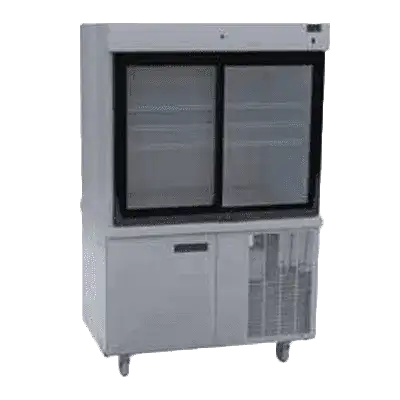 Additional Features to Consider:
End Panels: these can make your case appear fuller, and a mirrored end panel enhances the brightness as well.
Interior: black interiors can minimize the appearance of hardware within the case while allowing colorful products to 'pop'. Mirrored back panels can enhance the appearance of a fresh, full case even when your stock is low. Keep in mind that some health departments prefer and may even require white interiors for sanitation reasons.
Easy Access: accessibility for cleaning should be an important consideration since you may need to clean your unit multiple times a day. Display cases with a lift up front glass are easier to access and clean. While reach-in merchandisers with doors tend to be easy to clean, some curved and angled glass models have a tilting feature to allow the front to open for easy cleaning.
Lighting
Fluorescent Bulbs: some fluorescent bulbs enhance certain colors, which can be beneficial for red meats and pastries. LED lighting is bright and uses less energy.
Top Lighting: typically viewed as the minimal amount of lighting for closed cases.
Shelf Lighting: can add brightness to each shelf rather than simply lighting from one source at the top.
Most health departments require that lights must be encapsulated in your merchandiser so that a broken bulb doesn't throw shards of glass into food areas. While a well-lit case is more attractive, safety is always first. LED lighting does not have this restriction. Consider glass shelving and reflective back panels for lighting improvements.
Sizing
Space Constraints:

as with any piece of equipment, your merchandiser will need to fit into your establishment without disrupting the flow of traffic.

Opt for Oversizing:

remember that your typical traffic patterns may not cater to busy peak hours and, thus, you'll want to invest in a case that is large enough for rush hours and weekends. But make sure that the staff behind the counter can easily move around and pass one another. Three feet is considered minimum.

Consider the Products:

if all of the products in your merchandiser have a short shelf life or quick turnaround time, you may be able to choose a smaller case - but at the sacrifice of increased labor costs. For instance, instead of displaying full-size pans, you would have half-size pans that would be replenished as needed. (Some deli cases have refrigerated storage beneath the display)

Packaging:

whether it's the plastics that your items are packaged in or the flaked ice you're packing around cold foods, keep in mind that the cavity of your merchandiser needs to accommodate both the product and packaging.

Clearance:

intakes and exhausts will will reduce the amount of useable space in your case. If people are working behind the unit, remember to leave enough space for them to work comfortably (at least 3 feet).

Power Source:

Refrigerated and freezer display cases generally require an electrical supply (and some a drain) within 6 feet of the unit.