Bar Equipment List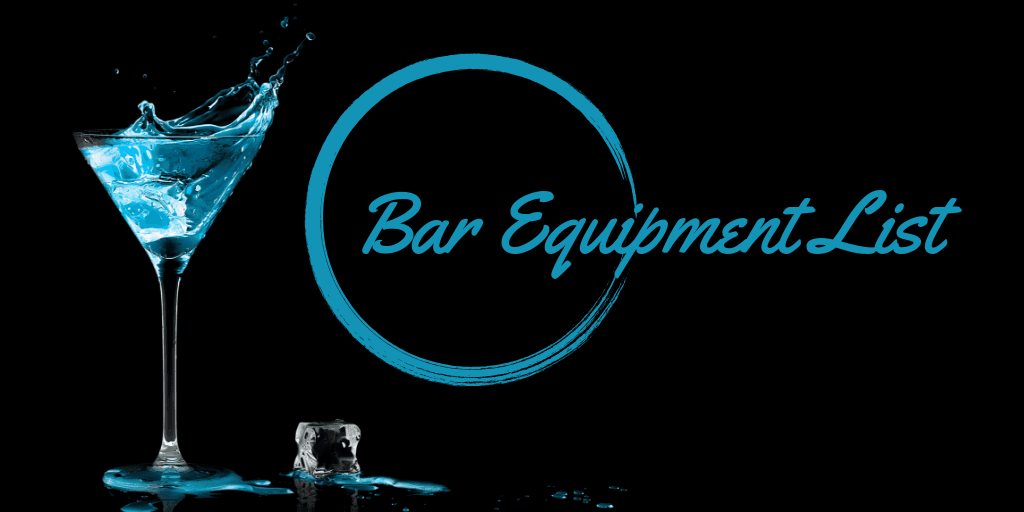 Opening and managing a successful bar frequented by patrons is no easy feat. However, if you do it right, you can reap the rewards of providing the best beers, wines, and liquors in town to an appreciative clientele that regularly keeps coming back.
An important part of running your own bar includes having the proper equipment to let you accomplish your kitchen tasks properly. Having the right machines, tools, and utensils in place makes it easy to prepare thirst-quenching boozy beverages in a pinch and cook your customers' favorite bar snacks to go with their drinks.
Whether you are serving high-end cocktails in a premium lounge, hosting a rowdy, hungry crowd in a sports bar, or tending to local tastes in your friendly neighborhood dive bar, you need to invest in the following pieces of essential equipment for your bar.
Bar Refrigeration and Cooling
Bar Refrigerators
Bars need to choose refrigerators for storing a huge variety of items, from bottled drinks to ingredients for garnishes and bar snacks.
Standard reach-in refrigerators are the most common type of refrigerator. They can easily fit into most spaces and can accommodate items of all shapes and sizes. Reach-ins can go from compact one-section units best for small operations to three-section models that provides plenty of refrigerated storage space.
Large-scale operations serving several hundreds of customers at a time may opt for walk-in units, which provides extensive space for keeping bulk ingredients. They're also useful for storing barrels of beer right before they go to the beer dispenser.
Bars also benefit from using underbar refrigerators, which are low-profile units that can be tucked in under countertops or the bar itself. Underbar refrigerators are great for keeping garnish ingredients close by. This keeps bartenders from having to walk into the kitchen when they run out of lemon slices or mint leaves.


Bottle Coolers
As their name implies, bottle coolers are used to cool a variety of bottled drinks, such as beer, liquors, and juices. Refrigerated bottle coolers are equipped with their own air circulation system to blow cold air throughout the interior and provide balanced cooling for all items.
Bottle coolers may have solid doors, which provides powerful insulation to keep the cold air trapped inside, or glass doors, which allows customers to see inside the cooler without opening the door. Glass door bottle coolers are typically placed at the back of the bar, where it serves as a cold display unit for your products.
Some are available as pass-through coolers, which have doors on the front and back so you can access the interior from any direction. Pass-through bottle coolers can also be easily stocked from a walk-in cooler through the back door.
Some bottle coolers do not have their own refrigeration system. Instead, they use ice to cool the bottles. Non-refrigerated coolers are useful in outdoor applications, such as in a mobile bar or a poolside bar where having a refrigerated cooler that needs to be plugged into an outlet could pose a safety hazard.


Wine Coolers
Wine coolers are designed specifically for wine. Standard refrigerators are too cold for wine. If wine is kept at temperatures below 41° F, which is the typically upper limit for most refrigerators, the wine could freeze into ice and push the cork out. If it is kept at temperatures higher than 70° F, the heat will quickly ruin the flavor and aroma of the wine.
Wine coolers are configured to keep a steady temperature of 45° F to 65° F and humidity levels of 30% to 40% to preserve the quality of wine. Humidity levels are also important since too little humidity can dry out the cork.
Most units are equipped with transparent glass doors to let you display your best wines. They usually have angled shelves that keep the wine bottles tilted to the side. Not only does this make it easy for customers to see the bottles, the slight tilt keeps the cork moist and in place.
Wine coolers can go from full-size models that can contain as many as 300 bottles or more to space-saving underbar units with a capacity of 20 bottles for more modest operations.


Glass Frosters
Pouring beer and cocktail into chilled mugs and frosted glasses is a great way to keep your products cool for a longer period of time. Glass frosters make this possible. You simply have to load the glasses into the unit and take them out when you need a frosted glass to serve with.
Glass frosters may have an open front or top with space-saving sliding doors. Smaller models, which can frost around 90 to 100 mugs at a time, may have swing doors. The largest glass froster units can contain up to 350 glasses or more at a time.


Ice Equipment
Ice Makers
Ice makers are essential to all bar operations. You need to invest in a heavy-duty, high-quality ice maker to ensure your bar is fully equipped and you don't run out of ice in the middle of operations.
Ice makers are connected to a water supply so they can create ice. They are either modular or built with an ice bin or dispenser. A modular ice machines needs to be connected with a bin or dispenser to contain the ice it produces. If you already have an existing ice bin, getting a modular ice machine may be the more economical option. Depending on the brands that you get, you may also need an adaptor so that the ice machine and bin or dispenser seamlessly attach to each other.
If you don't have an ice bin or dispenser yet, it's best to get an ice maker with an ice bin. To find out the size of ice maker you need, determine how much ice you need. A cocktail bar roughly needs 3 lbs. of ice for each customer. If you serve 100 customers every night, you will need an ice maker that can produce 300 lbs. of ice.
Another consideration is the type of ice you want to use. Ice is no longer a mere bar necessity. These days, bars take ice as seriously as they do the actual drinks. Most ice makers can produce full and half-cube ice, which are the most common types of ice for cooling drinks because of their relatively slow melting times.
You will also need to make flake ice, which is essential for the margarita, daiquiri, and other blended drinks. Nugget ice is also popular to the point of enjoying cult-status with some drinkers. Nugget ice is flake ice formed into compact balls of ice that is soft, chewable, and takes on the flavor of the drink it is cooling.


Ice Bins
Standalone ice bins do not have to be attached to ice makers. These are typically built on caster wheels that let you roll them around to any desired spot in the bar. For example, once the ice bin is filled with ice, you can then transport it to the bar area so that the bartender can quickly access ice without going to the kitchen.
Ice bins can contain anywhere from 20 lbs. to 300 lbs. of ice. Choose an ice bin that can accommodate all the ice you need, plus an extra 20% of that to stay on the safe side.
Remember to include an ice scoop with a scoop holder to go with your ice bin. These accessories ensure the ice is kept clean and sanitary and minimizes the risk of cross-contamination.


Beer Equipment
Beer Dispensers
Beer dispensers, also known as kegerators, are used to serve draught beer straight from the barrel. Unlike bottled beers, the yeast in draught beer remains active. The presence of live yeast means draught beer is richer, fuller, and more flavorful than bottled beer. It also has to be stored at certain temperatures to retain the quality of the beer.
Beer dispensers have their own refrigeration system to keep draught beer at optimal temperatures. Kegs are stored inside the unit to keep the beer at low temperatures. Different models can accommodate anywhere from one to five kegs of different sizes. Most beer dispensers can fit at least 1/2 barrel that lets you serve around 100 drinks every night.
Beer dispensers use carbon dioxide to push the beer up to a beer tower and out through a faucet, where it is dispensed into a waiting beer mug. A beer tower may have one or more faucets to allow you to serve more beer at a time. Tower adaptors also let you convert single-faucet beer towers into double or triple-faucet units.


Bar Sinks
Compartment Sinks
Compartment sinks have one to four compartments used for a variety of purposes. Most commercial kitchens have a traditional three-compartment sink used for cleaning glasses, utensils, and food preparation tools. Each compartment has its own purpose in the cleaning process. The first compartment is for rinsing used items, the second for washing with soapy water, and the third for sanitizing each item.
Sinks are typically constructed from durable stainless steel, which is resistant to corrosion and lasts for years. Some have built-in drainboards for drying washed items. They may also have backsplashes to prevent you from making a mess. Some sinks also have storage bases that let you maximize the space underneath the compartment and turn it into a storage area.
Underbar Sinks
Underbar sinks are similar to standard-sized sinks. They also come with one or more compartments to suit different needs. The only difference between is that underbar sinks, as their name implies, are small enough to be fitted below the bar.
These are essential to bartenders because they can be used for dumping unused drink ingredients, cleaning small utensils, or washing hands.
Like regular sinks, underbar sinks may also come with drainboards, backsplashes, storage bases, and other accessories to make them more convenient to use.
The number of compartments you'll need for your sink will be determined by the tasks that your sink needs to perform. While three-compartment sinks are the traditional favorite of many kitchens, there are other options available.
Bar Storage
Dry Bar Storage Cabinets
Bars need non-refrigerated cabinets for storing liquors and spirits that are best kept at room temperatures, such as rum, whiskey, tequila, and other hard liquors. These cabinets have wire shelves that allow you to make the most of the available space. Some models have their own insulation, which is useful in areas with high ambient temperature. You may also want to invest in cabinets open fronts and attractive LED lights to draw attention to your liquors.


Bar Beverage Dispensers
Cocktail Dispensers
When you need to serve a signature drink to a long line of thirsty patrons, having a cocktail dispenser can speed things up for you. Similar to standard cold drink dispensers, cocktail dispensers let you pour alcoholic drinks straight from the tap simply by pulling a lever.
These dispensers can typically hold multiple bottles of liquor on a tray and a bag-in-box mixer. The system uses carbon dioxide to create pressure and push the drink up the tank and out through a faucet. The result is a perfectly, consistently mixed drink all the time. Cocktail dispensers also save a lot of time because they let you pour several glasses of cocktails per minute, as opposed to the one glass of cocktail that is done when made by hand. They also prevent product wastage because the use of faucets minimizes the risk of over pouring.


Frozen Drink Machines
Frozen drink machines are perfect for dispensing frozen cocktails, such as frozen margaritas, wine slushies, and spiked milkshakes. These units are similar to slushie machines. They can make their own ice so there's no need to add ice to them. You simply pour in a pre-made batch of drinks into the tank and the machine freezes the liquid into small, fine ice crystals that create an extra-smooth drink.
Look for a frozen drink machine made specifically for alcoholic drinks. The presence of alcohol makes freezing time slower, and so you need a machine with low enough temperatures to freeze liquids with alcohol. Frozen drink machines can have a single tank or several tanks, which is great if you have different flavors to serve. The tanks have a rotating auger, which moves the drink around the tank and keeps it from separating or turning into a block of ice crystals.
Prepared and pre-made drinks alike need to be stored properly and within easy access to either your employees or your guests unless you're making drinks on an individual basis. These dispensers and accessories help to take bulk amounts of beverage and save them for easy serving when the time arises.


Blenders, Juicers, and Mixers
Bar Blenders
Bar blenders are designed for blending drinks and crushing ice. These are typically available in stainless steel, clear glass, or polycarbonate. Stainless steel is the most durable among the three, but it's an opaque material that prevents you from checking the consistency of the product without opening the lid.
Most bartenders prefer blenders with clear glass or polycarbonate pitchers since they can easily check the product for doneness. Glass is aesthetically pleasing, but it does come with the disadvantages of being heavy and easy to break. Polycarbonate is a lightweight alternative. Plus, it is extremely durable and isn't as prone to breaking as glass.
A key consideration when looking at bar blenders is the horsepower. A blender with higher horsepower can generate more power needed to make several silky smooth blended cocktails without needing a break. Some blenders also have programmable timers that allow you to key in drink recipes so that you can produce the same results over time.
Keep in mind, the more powerful a blender is, the noisier it can get. If you don't want the noise of your blenders ruining the atmosphere in your bar, consider getting sound enclosures to keep the noise to a minimum.


Citrus Juicers
Nothing beats the flavor and quality of freshly squeezed fruit juice, which is why you need citrus juicers so you can quickly extract the juice of a fresh lemon, lime, orange, or any other fruit for your premium cocktails.
The most simple of them is the reamer, a handheld tool with a conical blade that lets you crush the pulp of a fruit and separate it from the juice. A more complex version of the reamer is the squeezer, which has long handles to give you more squeezing power while keeping you from making a mess with your hands. If you need something that works faster, a juice press does the job. You can easily place the cut fruit on the blade, pull a lever, and the machine will extract the juice for you.


Drink Mixers
Also called spindle mixers or flash blenders, these units are typically used for creating a thick, attractive froth for tiki drinks like pearl diver and piña colada.
These stand-up units work by spinning the spindle-shaped agitator to blend the drink from the top down. This introduces air into the cocktail and allows the flavors to rise with the added air, resulting in a light, frothy drink that is typically served in tiki bars.


Bar Tables and Holders
Wine Racks and Bottle Holders
Wine racks and bottle holders are used for holding wine bottles and bottles of liquor in place. Wine racks typically have shelves that are slightly tilted to keep the cork tightly in place and prevent air from seeping in and oxidizing the bottle's contents. Wine racks can be modular units that let you add additional racks as your bar's wine collection grows.
Heavy-duty racks and holders are usually made of stainless steel. Models made of wood are also available. Wooden racks and holders are not as durable as stainless steel, but they are much more attractive and pleasing to the eye. If you prefer wooden wine racks or bottle holders for your bar, look for units that are made from mahogany or redwood. These types of wood do not emit an odor that can affect the flavor of your wines. They are also more durable than other types of wood and can resist rotting, shrinking, or chipping far longer.


Portable Bars
Portable bars are bars on wheels that can be folded up after hours. These mobile bars are perfect for catering events as they can be easily assembled onsite and disassembled after use.
Portable bars have a durable steel frame to provide sturdy support for your bottled drinks and all bartending tasks. They normally come with a sink and a drain and shutoff valve connected to a wastewater bin. Some models may also include built-in ice bins for holding ice for cold drinks.
To make bartending easier on these portable units, they may come with several accessories. Speed rails and folding shelves provide storage and display space for bestselling drinks. Some models may also include beer taps that let you serve draught beer at catering events.
Some high-end models come with LED lighting systems that help you attract attention to the bar. They may also include custom-printed panels that let you put your logo and brand colors in front.


Bar Warewash
Glass Washers
Glass washers are different from regular dishwashers because they have a gentle water flow that's useful for washing sensitive glassware, such as wine and martini glasses that have thin stems that could easily break from high-velocity water flow.
There are two types of glass washers: door and rotary washers. Door washers have a simple construction. You simply open the door, place the glasses, and let the washer do its job. Rotary washers are just as simple to use but have more moving parts. These washers have a rotating rack that moves the glass inside the chamber. You place dirty glasses on the rack and wait for them to come out clean after a rotation.
Glass washers have either a high-temperature or low-temperature sanitation cycle. High-temperature washers wash and rinse at 150° F to 160° F and sanitize at 180° F. The use of heat requires that you include a condensate hood with a high-temperature washer. However, glasses are quickly sanitized by the intense heat, which means you do not need to use chemical sanitizers that may damage the glass.
Low-temperature washers wash and rinse at 120° F to 140° F and use chemical sanitizers to remove microorganisms from glassware. These do not require a condensate hood but can cost more over time because you continuously need to buy sanitizing solutions.


Dishwashers
You also need to invest in a dishwasher to clean up pots, pans, plates, and other items used for preparing, cooking, and serving bar food.
Underbar dishwashers can wash 20 to 30 racks per day and are best for small bars or bars that do not serve a lot of food items. Pass-through door-type dishwashers can accommodate more items at a time. Door-type dishwashers can wash anywhere from 30 to 350 racks every day. Bars that need to wash a high volume of dishes every day may do well to invest in conveyor dishwashers, which can wash up to 1,000 or more racks per day.


Bar Glasses
Having the right glassware is important for serving drinks. It's not just for purposes of presentation. Certain types of glassware are designed to properly maintain the quality and flavor of the drink they contain. For example, tall champagne flutes preserve the carbonation of champagne while wine glasses for red wine have a wider base to allow the wine to breathe and a stem to hold the glass with to prevent the drinker's hands from warming up the drink. The following is a list of bar glasses that would be useful to stock in your bar.
Martini glasses

Margarita glasses

Cocktails glasses

Champagne glasses

Beer mugs

Irish whiskey glasses

Mint julep mugs

Rocks glasses

Pint glasses

Shot glasses

Brandy snifters

Highball glasses

Mixing glasses
Bar Supplies
Every good bar should be stocked with the right kind of tools that allow bartenders to mix great cocktails and serve them to customers in the most efficient way possible.
Coffee Equipment
Coffee Makers and Espresso Machines
If you're serving coffee cocktails, you will need coffee machines alongside your beer and liquor equipment. Many hot coffee-based cocktails, such as Irish coffee, are made using regular drip coffee made using standard coffee makers. Espresso machines, on the other hand, are helpful in making creamy cold coffee cocktails like coffee martini and espresso summer.


Coffee Grinders
Freshly ground coffee beans are essential to making good coffee. For this, you will need burr coffee grinders that can be adjusted to create a fine, powdery grind used for espresso and coarser coffee grounds for standard black coffee.
Choose the right coffee equipment for your bar with this guide.


Cooking Equipment
Fryers
The most popular bar snacks are cooked in a fryer. You will need fryers to make many of your bestselling food products, from onion rings to french fries and buffalo wings.
we help you identify the fryer you need by discussing the different types of fryers in this fryers guide.


Griddles
Griddles are flat-top cooking surfaces that can cook several food items at once. They are perfect for quick-cooking a lot of items, such as burger patties for burger sliders, quesadillas, and chicken fingers.
Find griddles buying guide here.


Ovens
Some of the most common bar snacks are baked in the oven. If you're serving bar nuts, soft pretzels, or mozzarella sticks, you will need an oven to prepare these items.
Let's talk about the factors you need to consider when selecting a specific unit and the features you want to have in your commercial oven.


Ranges
Ranges are versatile pieces of cooking equipment that can do a lot of cooking tasks. You can fry, stir-fry, simmer, boil, and sauté on a range. A lot of models also include an oven base to let you do some low-volume baking.
Here some tips to help you choose the most suitable commercial range for your establishment.
Filtration Equipment
Water Filter Systems
A water filter is crucial if you have an ice maker. Most manufacturers will void the warranty on their ice makers if you're using poor-quality hard water for the unit, which makes having a water filter a must in many cases.
Water filters improve the quality of your water by removing sediments, deposits, minerals, and other substances in the water that can negatively affect the taste and safety of the water. They also help keep your costs low in the long run by minimizing mineral buildup in your ice maker.
Our water filter guide will help you to choose the best one for your foodservice needs.