Buying Guide: How to Choose Griddles for Your Foodservice Establishment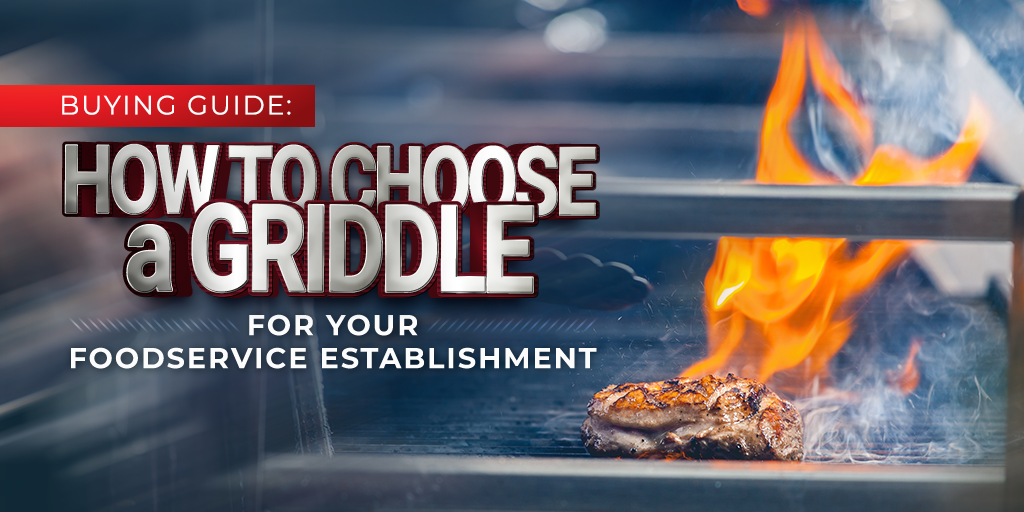 Griddles are a type of range with a flat top, allowing for even heat distribution which makes it ideal for cooking items directly on the surface.
Style/Type
Countertop
These types can be placed on a worktable or above another cooking unit and are easy to move (provided the necessary utility connections and ventilation requirements are met).
Best for the small griddle, usage small, kitchens.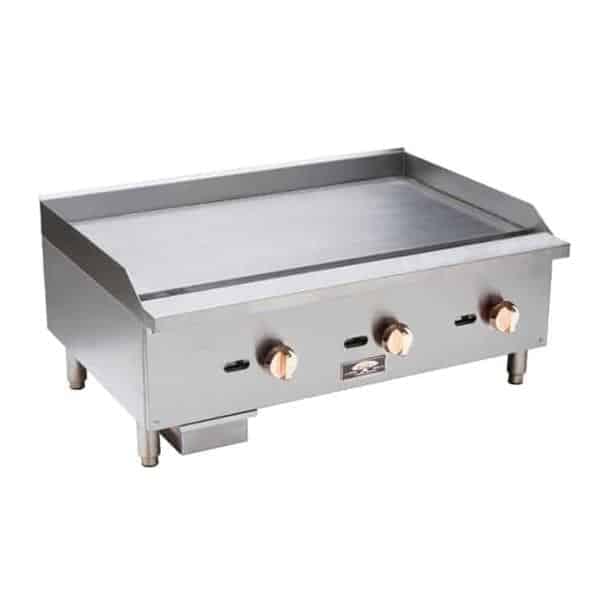 Floor Model
While the griddle surface still is at an accessible height, the unit itself is supported with steel legs in order to have a footprint. These typically come with shelving or drawers underneath to allow for better space usage. Griddles on top of ranges or refrigerated drawer bases are also very popular.
Best for restaurants with heavier griddle usage, kitchens able to sacrifice floor space.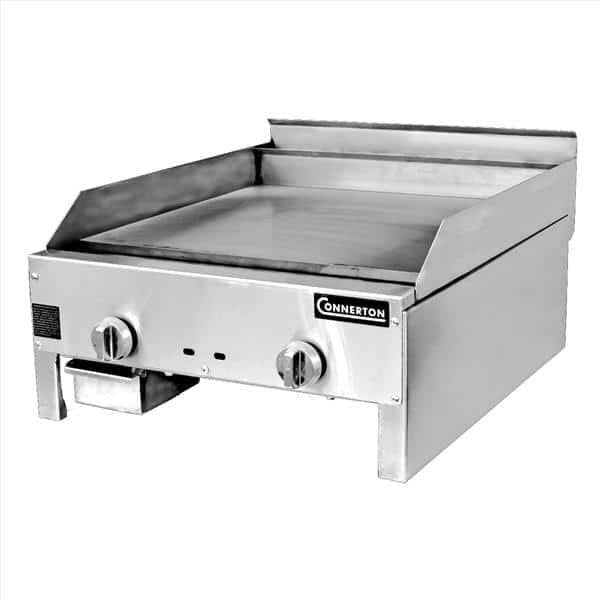 Drop-In
Placed into a cutout section of a work table or other flat surface, drop-in griddles are aesthetically-pleasing and best suited for kitchens looking for consistently flat surfaces.
Best for front-of-house and flat countertop surfaces.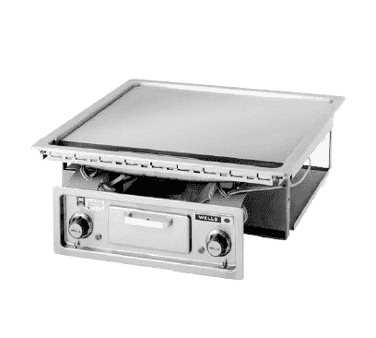 Teppan-Yaki
Drop-in units best suited for Japanese-style hibachi. While similar to drop-ins, the heat for these griddles is only in the middle, allowing the user to push foods to the edges for cooling purposes.
Best for hibachi commercial grills, Japanese restaurants.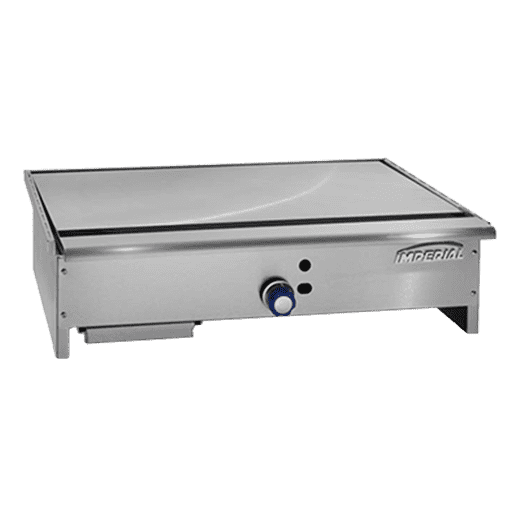 Utility Type
Gas
Pros:
No wait time for heating up the range
Not affected by power outages (other than electronic ignition)
Cons:
Typically more expensive
Will need a gas line hookup
Creates more ambient heat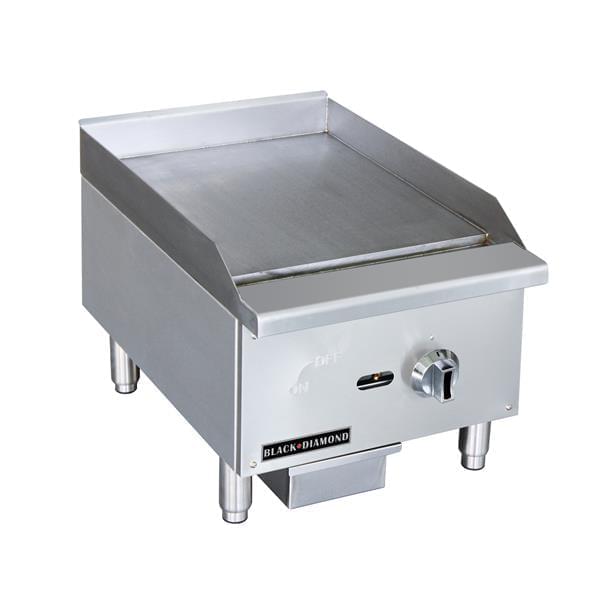 Electric
Pros:
Easier to install
Generally more efficient
May not require the same exhaust system as gas
Easier to clean
Cons:
Requires heating up the range before use
Slower recovery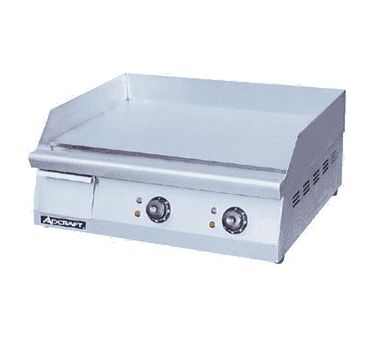 Induction
Pros:
Faster than Electric
Generates heat directly in and across the griddle plate
Reduced ambient heat in the kitchen
Reduced electrical cost as it only works when needed
Cons:
Plates
Type: There are a few material compositions one can consider for their griddle plate:
Steel: this durable option is the traditional choice for griddle tops, as it works well in most applications.
Chrome: simple to clean, these surfaces can feature an easy-release, making them ideal for delicate items like eggs. They also have better heat retention and consume fewer BTUs but can be costly in the initial investment.
Thickness: thicker plates can hold and store more BTUs, allowing for faster heat recovery. This makes them ideal for restaurants heating up frozen items. For establishments mostly serving breakfast, then a thinner plate would be more ideal. Different griddle types generally fall within the same plate thicknesses, but these can differ between manufacturers:
Standard duty: 1/2" thick griddle plate
Medium duty: 3/4" thick griddle plate
Heavy duty: 1" thick plate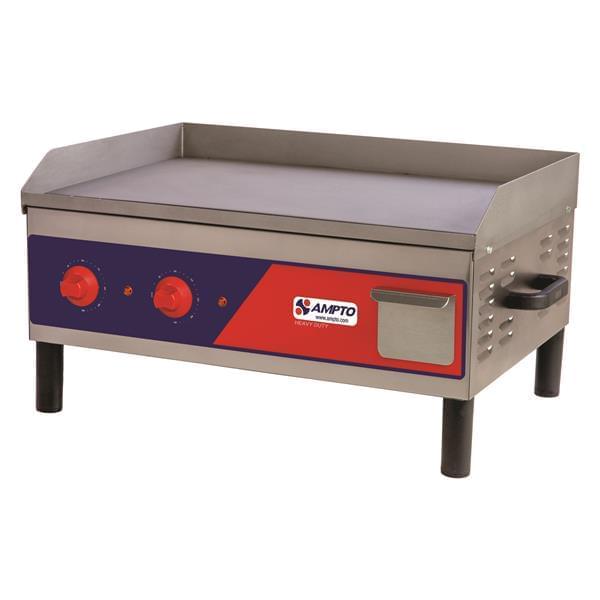 Control Styles
Thermostatic
These controls allow the user to set the griddle at an exact temperature, making them more ideal for delicate items.
Best for eggs, pancakes, delicate items, breakfast foods.
Griddles are a type of range with a flat top, allowing for even heat distribution which makes it ideal for cooking items directly on the surface..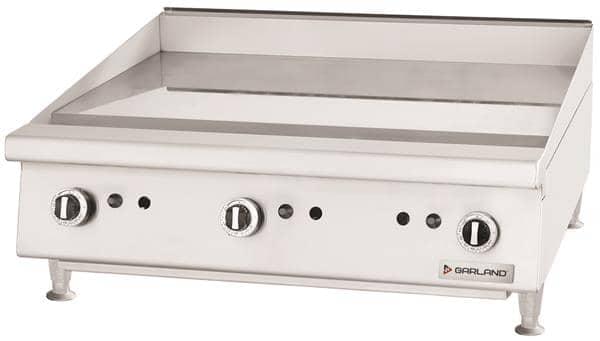 Manual
Rather than utilizing specific temperatures, manual controls allow the user to set the griddle to ranges (low, medium, high). As the plate amasses heat, control may need to be adjusted.
Best for burgers, bacon, cheesesteaks, other meats.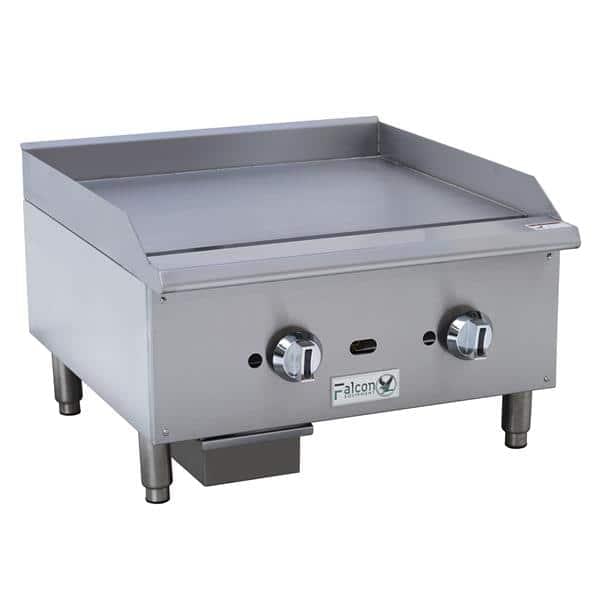 Size
Generally, griddles come in sizes from 12" to 72" wide. When sizing your griddle for your establishment, consider the following details:
Hood Size: Your hood will need to be six inches larger on all sides than the measurements of your griddle. If your griddle is part of a grouping of equipment, then consider the group as a whole as your minimum measurement for sizing your hood appropriatey.
Cooking Zones: If your restaurant cooks both breakfast and lunch items on the griddle, then you may want to consider a griddle with different cooking zones (or two separate griddles). This way you can cook delicate breakfast items alongside tougher meats without overcooking or undercooking items because of the singular cooking temperature.
Note!
How the heating elements are arranged under the griddle will determine if you may have "hot spots" or cooler areas. Also, consider the level of control across the complete hot plate. You may want an area to place product for slower cooking or to keep warm. Or if you are cooking different products, you may want different temperatures across the griddle.