Buying Guide: How to Buy Stainless Steel Sinks for Your Foodservice Establishment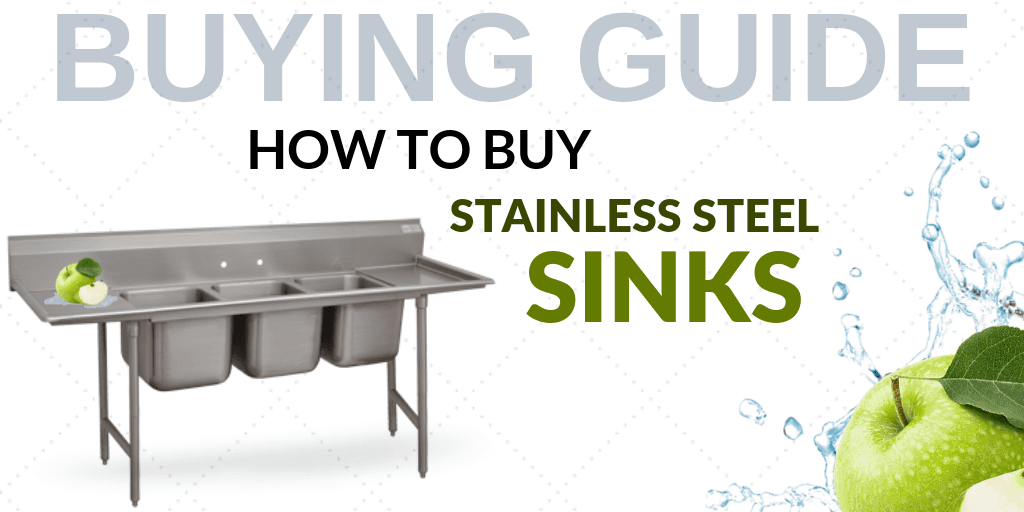 Compartments
The number of compartments you'll need for your sink will be determined by the tasks that your sink needs to perform. While three-compartment sinks are the traditional favorite of many kitchens, there are other options available:
1 Compartment
These sinks cannot be used as a dishwashing area, as they don't have the number of compartments needed to complete the washing process by FDA standards.
Best for small kitchens, utility sinks, hand washing sinks.
2 Compartments
With two compartments, you're able to utilize these sinks for food thawing and preparation purposes (but still not dishwashing).
Best for thawing food, preparation, vegetable cleaning, meat thawing.
Note! You can't use the same sink for Veg. and meats because of cross-contamination.
3 Compartments
The traditional favorite, a three-compartment sink can rinse, wash, and sanitize dishes, is intuitive to use, and has a relatively compact footprint.
Best for dishwashing (rinse, wash, sanitize).
4 Compartments
If you're not scraping for space in your kitchen and tend to have a lot of dishes to clean (or don't have a dishwasher), then a four compartment sink can fit into your operation seamlessly.
Best for dishwashing (scrape, rinse, wash, sanitize), large kitchens with room to spare, extra compartment allows utensils and smaller items to be segregated.
Purpose
There are several areas of your kitchen that can benefit - and many times require - the installation of a sink. Consider these purposes when choosing your sinks:
Gauges
The gauge of your stainless steel basically describes the thickness and, thus, the durability of the steel itself; the lower the gauge, the thicker the steel!
18 Gauge = 0.0500 in (1.27mm)
Lighter and less expensive than 16 or 14 gauge, these are often known as «budget tables» and work best as workstations with light duty. This gauge is not ideal heavy weighted items as it dents and bends easily.
Best for not recommended for sinks.
16 Gauge = 0.0625 in (1.59mm)
As a traditional choice cutting the middle between affordability and durability, 16 gauge is generally fit for most needs.
Best for standard duties.
14 Gauge = 0.0781 inches (1.98mm)
For those who want a sink that can stand up to heavy use. Often the sink of choice for larger operations.
Best for meat prep, institutional.
Types
The different types of stainless steel are determined by the crystalline structure of the steel itself. The differences in structure can determine the steel's durability and resistance to corrosion.
430 – Cheaper and lower quality. Could stain or rust depending on products used and environmental factors (keep it clean and dry to make it last longer). Close enough to regular steel to be magnetic. NOT RECOMMENDED FOR SINKS
304 – More expensive but higher quality (and what we recommend). Virtually stain/rust-proof. Will clean easily. If you are in a very humid environment or very close to the seashore, then you should go with all stainless steel and preferably 304 to make equipment last longer.
Extras
Compartment sinks can come with a variety of accouterments or extras to suit any kitchen:
Drainboards on one or both sides: With drainboards flanking your sink, you can dry dishes or simply have extra table space. Some drainboards come pre-installed while others can be added to your existing unit.
Drilled Holes: In the backsplash, holes can be drilled to accommodate nozzle, gooseneck, or pre-rinse faucets. For 4-compartment sinks, you may find that there are several centers to allow for multiple faucets across the sinks.
Sink Covers: If you don't want one of the basins to be in use for any given purpose, then a sink cover does the job of concealing a basin without obstructing the entire use of the sink itself.
Spray rinse and other faucets: Some sinks come with holes for multiple faucets and some with only one set. Consider the reach of the faucet and if you want to have a separate spray rinse in addition to a faucet.
Flange feet are screwed into the floor and prevent to sink from being bumped out of position (which could cause utility connection breaks).
Lever wastes allow for the drain to be opened or closed easily from the bottom of the sink.
Further Reading…
The FDA Food Code requires that every commercial kitchen needs adequate hand washing and utensil washing facilities available. Based on these codes, you can structure your kitchen's set up to meet these criteria to ensure that you have adequate tools to maintain a safe and sanitary environment for your employees and your guests! Here are a few tips in regards to your kitchen's dishwashers and sinks:
Compartment Sinks: The FDA Code requires a backup plan should your dishwasher ever fail, and this typically involves a three-compartment sink. The biggest factor in choosing a compartment sink is that your largest utensil or pot should be able to be fully submerged in a compartment. This comes into play especially for bakeries or restaurants that utilize large mixing bowls! The three compartments are separated for washing, rinsing, and sanitizing, and you'll invest in the right chemicals for the job.
Prep Area: You cannot use the same sink for washing food as you use for washing dishes, so you'll need a separate sink near the prep area for washing food before using! This keeps the chemicals for washing dishes separate from food that you plan to serve to guests, as chemical contamination is not only foul but also a safety hazard. You can also fill pots to prep food such as kettles and steamers. Many municipalities require a two compartment sink for food prep. You can also invest in a prep table/sink combo to get the best of both worlds in one piece of equipment.
Hand Washing: The Food Code has two stipulations with regards to the placement of hand sinks: They have to be placed in or immediately adjacent to restrooms, and they need to be easily accessible for employees in food preparation, dispensing and dishwashing areas. Hand washing sinks can be small and unobtrusive, so consider investing in a few to ensure that your employees have the easiest access to sanitary conditions to ensure the utmost food safety. Some come with auto floor foot lever faucets but at least opt for wide handle elbow faucets so it does not have to be touched by dirty hands
WE RECOMMEND THAT ALL FOOD SERVICE EQUIPMENT - ESPECIALLY SINKS - HAVE AN NSF (National Sanitation Foundation) STICKER. Inspectors will look for it.