A Guide to Choosing Stainless Steel Tables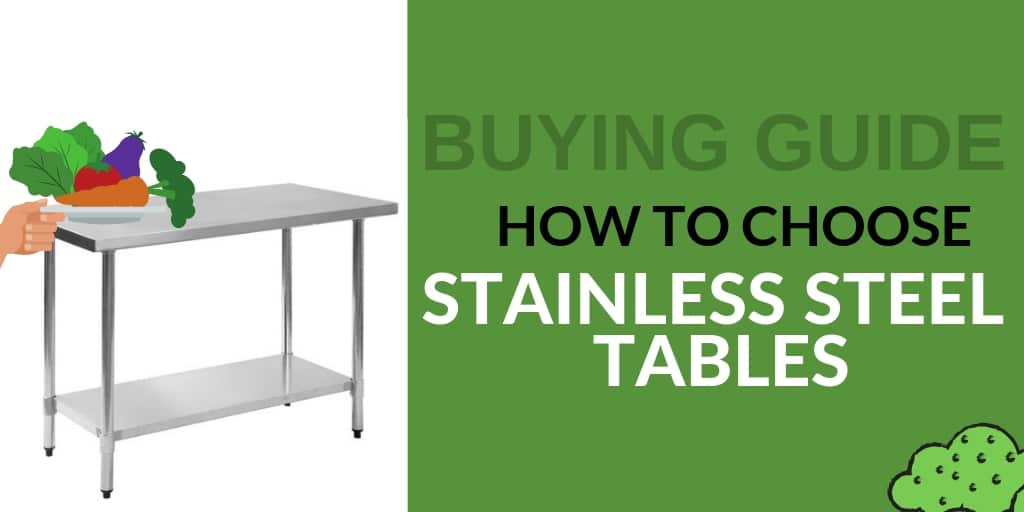 Gauges
The gauge of your stainless steel basically describes the thickness and, thus, durability of the steel itself; the lower the gauge, the thicker the steel!
18 Gauge = 0.0500 in (1.27mm)
Lighter and less expensive than 16 or 14 gauge, these are often known as 'budget tables' and work best as work stations with light duty. This gauge is not ideal for chopping, pounding, or heavy weighted items as it dents and bends easily.
Best for sandwich prep, salad prep, sorting items, general workspace.
16 Gauge = 0.0625 in (1.59mm)
As a traditional choice cutting the middle between affordability and durability, 16 gauge is generally fit for most needs.
Best for standard duties.
14 Gauge = 0.0781 inches (1.98mm)
For those who want a table that can stand up to heavy use. Often the table of choice for butchers, 14 gauge is the thicker of the options and thus is most durable.
Best for meat prep, tenderizing, institutional.
Types
The different types of stainless steel are determined by the crystalline structure of the steel itself. The differences in structure can determine the steel's durability and resistance to corrosion.
430 – Cheaper and lower quality. Could stain or rust depending on products used and environmental factors (keep it clean and dry to make it last longer). Close enough to regular steel to be magnetic.
304 – More expensive but higher quality (and what we recommend). Virtually stain/rust-proof. Will clean easily. If you are in a very humid environment or very close to the seashore, then you should go with all stainless steel and preferably 304 to make equipment last longer.
Underspace Use
Stainless steel tables come with two main options for underspace usage: undershelves or open base. Undershelves may be of a lighter gauge or different stainless type. This may be OK as the undershelf doesn't get nearly the same amount of use, but be sure to check.
**Note! that some lower priced tables come with galvanized legs and/or undershelves. Galvanized coated steel products WILL likely rust in the long term and we don't recommend it. Know what you're purchasing. Some imported brands may claim to be one gauge or type of stainless but turn out to be something else.
Shelving
Pros:
Can store small appliances or food bins
Items lifted off the floor
Cons:
Can be difficult to clean floor underneath if the shelf is too close to the ground
Open Base
Pros:
Great for those with rolling ingredient bins
Easy to clean floor if you remove all items
Cons:
Anything stored underneath will have direct contact with the floor
It's important to note that tables with shelving can come with either stainless steel shelves or galvanized shelves. If you're opting for the latter option, then the legs are usually also galvanized with plastic bullet feet, making it the more affordable (but less durable) option.
Backsplash
Tables can be positioned in the middle of your kitchen or against a wall. Backsplashes are ideal for against-the-wall placement, as it protects the wall from accumulating food particles and makes cleanup easier. Backsplashes come in typically smaller sizes of 1 ½" for lighter duty tables while heavier tables can range upwards of 10" for backsplash height.








Edges Type
Square edges can jut out and be a nuisance, but they're ideal when placed against other flat objects.
Best for placing tables against one another.

Rounded edges make for easier cleaning while square sides make for convenient placement against other items.
Best for single tables.

Utilizes a drip-containing ridge around the perimeter of the table (with rounded edges at the corners).
Best for items to be prepared that have juice or liquid (like meats).
Other Options
In addition to the basics, you may have the option to choose from a variety of other accessories and additions:
Casters:The addition of wheels makes movement of your table and cleanup a breeze.
Welded-In Hand Sink:Adds convenience to your worktable (but isn't ideal if you truly need more workspace).
Drawers:Adding drawers underneath the tabletop allows the user to store ready-to-use items like utensils.
Over shelves and pot racks
Just about anything you can think of. But be sure to sign the factory design drawing to confirm that it's exactly the way you want it.
Tables are typically shipped knocked down and require assembly. You can opt to have the table fully welded and assembled at the factory for a reasonable cost. This will not only save you the hassle of assembling the item(s) but will be much more sturdy.
MAKE SURE IT WILL FIT THROUGH THE DOOR.