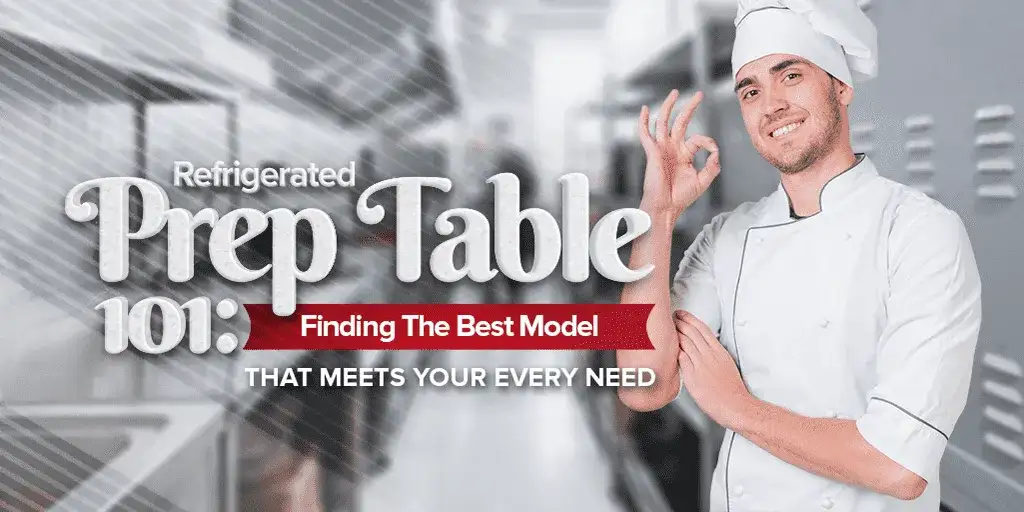 Refrigerated Prep Table 101: Finding The Best Model That Meets Your Every Need
Refrigerated prep tables are simple but extremely functional parts of a smooth-running kitchen. Specifically designed for order assembly, prep tables pack tons of features in a single piece of equipment to create a reliable asset that can improve your operation in a variety of ways.
It is easy to get overwhelmed by the litany of prep tables available in the market today. So if you are not sure which one is best for your needs, we put together a guide that can help you make the right choice.
Prep Table Basics
Not to be confused with chef bases and equipment stands, prep tables are used in pizzerias, salad bars, and sandwich shops for food prep and cold storage. They provide space for performing multiple tasks in a single space by consolidating two stations into one.
Parts of a Prep Table
Pan Rail
At the top of a refrigerated prep table is a pan rail, which is where ingredients and toppings are stored and cooled. This rail features two to three rows of pan slots to create a spread of ingredients visible and accessible to your staff. Each slot fits a predetermined size of the pan.
The rail is either flat or raised in relation to the height of the level of the table top.
Lid/Hood
The pan rail is completely concealed by a hood that keeps pan temperatures cold and protects from contamination. Larger units may have two hoods instead of one to cover the full width as opposed to one heavy lid that can make the opening and closing cumbersome.
Lids are either simply stainless steel or insulated. Stainless steel hoods will do a good job of protecting the ingredients and holding them at safe temperatures for a short time and during slower periods.
As a result, pans will have to be transferred to the base for the night in order to keep them fresh and safe for the following day. An insulated cover will eliminate the need for this extra step.
Refrigerated prep tables come with a selection of hood types. Telescoping lids usually come standard. Other options include hinged flat lids, flat lift-off lids, and clear plexi lids.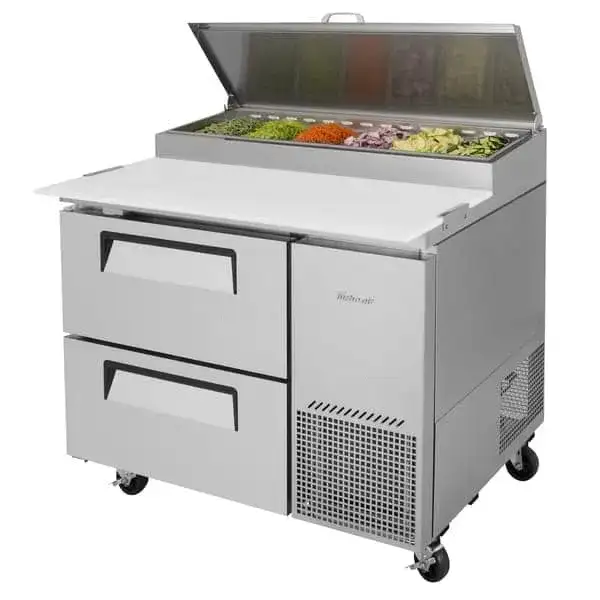 Cutting Board
The cutting board is mounted on brackets at the front of these pans, running the length of the prep table. This gives you a smooth solid surface where these ingredients can be prepped and assembled. Many cutting boards found in refrigerated prep tables are removable for easy and thorough cleaning.
The cutting boards are generally made of polyethylene, although you can also opt for composite cutting boards. These are made of pressed resin-treated wood fibers, which are deemed more knife-friendly and less likely to harbor bacteria.
Depending on the type of prep table, there are narrow and more spacious cutting boards. Models with a "cutting top" have extra-deep cutting boards measuring at least 17" to provide additional prep space, which is useful in assembling larger food items or orders. Cutting board thickness is typically at 0.5".
Refrigerated Base
The base is a refrigerator where bulk ingredients for replenishments are usually stored, so your staff will be able to quickly refill emptied pans.
The base can have drawers or a cabinet. The drawers come with pan slots for quick and precise refilling. The cabinet comes with adjustable wire shelves, which gives you greater flexibility because they can hold larger containers or different size pans.
Cooling System
Forced Air Cooling
Air-cooled prep tables are the most popular choices for many operators. They are the least expensive option available and are easy to use and integrate into most kitchens. You will find forced air cooling systems in most prep tables with flat pan rails.
A fan is mounted on either the back or the front, circulating cold air below and between the pans. Some units also deliver air over the pans. These units are designed so that cold air doesn't dry out the food, but keeps out warm air.
Forced air cooling systems only use a single coil for cooling both the pan rail and the refrigerated base. As a result, these prep tables have a shared temperature zone for both components. This should not be much of an issue for most operators since both sections of the prep table should be running at 41 degrees Fahrenheit anyway.
This method requires ductwork, so there are more moving parts compared to cold wall units. Forced air cooling systems will perform well in lower heat applications and locations where you have better control of the ambient conditions.
Cold Wall
Found in most raised rail prep tables, cold wall systems use conduction to deliver more cooling power. They have copper lines that run around the unit and through the pan wells to evenly cool the products and achieve consistent temperatures. No ductwork or fan is needed, which makes them energy efficient and also easier to maintain.
As an added benefit, cold wall systems allow you to control the temperature of the pan rail and the refrigerated base independently. This can help shave off additional energy costs by turning off the pan rail after business hours. The top rail is also enclosed and separate from the base, which means it is less complicated to clean up spills.
Liquid Cooling System
This is a newer cooling technology available in both raised-rail and flat-rail prep tables. To cool the products, this method delivers cold fluid such as propylene glycol or eutectic liquid through the walls around the food pans.
This method results in consistent operating temperatures and helps maximize storage space with fewer internal elements installed. Liquid cooling requires no defrost cycles or fans and air vents, which makes for easy cleaning as well.
Liquid cooled prep tables also happen to be the most expensive out of the three systems, which may not be the best option for those with a tight budget or just starting out.
Types of Prep Tables
When shopping, you will find at least two types of models depending on the product for which it will be used: sandwich prep tables and pizza prep tables.
Sandwich prep tables have a shallower cutting board especially sized for sandwiches and bread. This configuration also makes them ideal for salad assembly, which is why these tables are also called sandwich/salad prep tables. Pizza prep tables have a larger surface area to accommodate pizzas.
You will also come across mega top tables, which have more pan storage compared to standard models. Whereas regular units have two rows of pans, these models have an additional pan row and a shallower cutting board.
When it comes to pan sizes, most sandwich prep tables accommodate ⅙ size pans although there are units that with ⅓ size pans.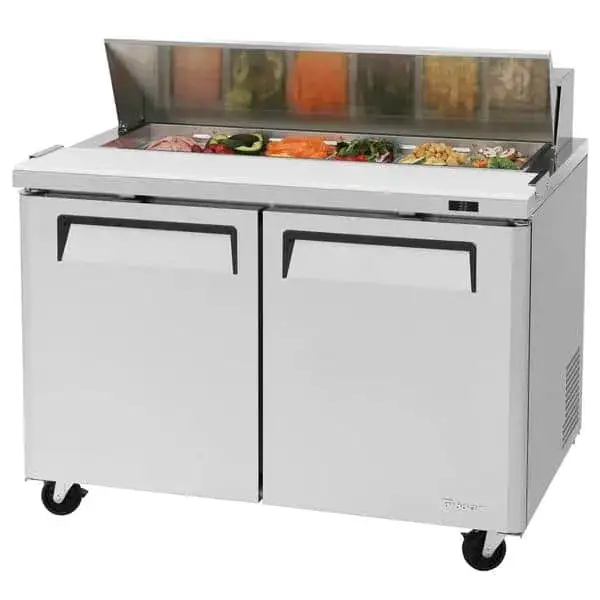 Construction
There are refrigerated prep tables with an all stainless steel construction, which should be the most robust you can find. This will also increase the price, but the upgrade can extend the service life of the unit.
Generally, though, the exterior of most refrigerated prep tables--specifically the top, front, and sides--is made of stainless steel. This provides enhanced defense against damage and corrosion that can be caused by the naturally occurring acids in ingredients like tomatoes.
The back and bottom of the refrigerated prep table are generally constructed with galvanized steel, which is coated with zinc to resist rust. Some models have a stainless steel or a laminate back.
The interior is usually made of stainless steel, painted aluminum, or painted galvanized steel. The doors are typically made of stainless steel and are fully insulated with foamed-in-place, high-density polyurethane at 2-inch thickness. The door liners are typically molded ABS-plastic.
The gauge thickness of your prep table will determine the kind of tasks and intensity in which you can perform them. The three most common gauges for prep tables and commercial work tables, in general, are as follows:
18 Gauge = 0.0500 in (1.27mm) -

These prep tables are the most economical option for operators. These units are designed for light-duty tasks and should be able to handle sandwich and salad prep.
16 Gauge = 0.0625 in (1.59mm) -

This is the sweet spot for most applications because it gives you something much more durable at an affordable price. It can handle chopping, pounding, and heavy items, providing you a more solid option that will better stand up to daily food prep.
14 Gauge = 0.0781 inches (1.98mm) -

This is the most robustly constructed option available. It is ideal for heavy use and can handle tasks like meat prep and tenderizing.
Taking Care of Your Prep Table
Having a proper maintenance and cleaning plan goes a long way in extending its service life and performance.
Typically, prep tables should be cleaned twice a month. This is on top of the daily cleaning in between use or after use.
Bimonthly maintenance will involve clearing the drain lines, cleaning the evaporator coils, fan blades, condensers, and motors. At this point, it is also recommended to check for any refrigeration leaks so you can get ahead of any potential problem.
As a highly used piece of equipment, prep tables tend to get messy especially when the kitchen gets busy. If not cleaned properly, spills from acidic foods like sauces and tomatoes could corrode the table. So make sure that spills are wiped off and food debris is removed.
If these spills are left unchecked or too long, evaporator problems will rear their ugly heads. Units with rails can be maintained with regular wipe downs using warm water, which is then drained into a bucket or down a drain.
FESmag also advises cleaning the compressor coils weekly using chemicals to prevent them from gathering dirt and gunk. This is especially true in pizza prep tables, which have deep fins. Plus, with a lot of dough involved in this type of refrigerated prep table, there is a higher risk of this ingredient squeezing into the coil.
Before you start cleaning, make sure the unit and fans are off. A good old fin brush should get the dough off pretty easily, but for the more stubborn dough that gets into the coil, spraying with warm water and air drying for up to 15 minutes will do the trick.
Choosing a Refrigerated Prep Table
There are a few more considerations in choosing the refrigerated prep table for your business.
Determine the volume of the product that needs to be held
Anticipate the needs of your operation by understanding the production process and evaluating the requirements of your menu. From there, finalize the number of ingredients you have and the volume of each one.

Prep tables have 1/6 size pans while sandwich/salad prep tables typically accommodate 1/3 size pans.

There is a wide range of sizes you can choose from. The most common widths are as follows: 27, 32, 36, 48, 60, 68, 72, 93, and 119 inches. Salad and sandwich prep tables typically start at a width of 27" with the longest at 72". Pizza prep tables are larger

Depending on the model, the interior can fit six to 15 pans.
A prep table as a display unit
If you want guests to choose the ingredients they want on their order, you need a display prep table. There are models that can be upgraded with a screen guard so that the spread of ingredients remains visible to customers without the risk of contamination.
Compressor size
If your kitchen gets extremely hot, a larger compressor will perform well in high-temperature conditions. A smaller compressor is in danger of being overworked in tight spaces where there is not enough cool air.
Drawer or cabinet base?
Drawers have pan slots that hold full-size hotel pans. When choosing drawers, make sure that they open in a way that they can be cleaned easily.
They generally match the size and layout of the pan rail for convenient and lightning-fast refilling. This could mean that you might lose a lot of the space.
If maximizing storage capacity of the base is more important to your operation, a cabinet configuration might be the better choice.
Refrigerated prep tables with doors have one shelf per cabinet that is height adjustable. The slides can also be used to hold sheet pans. This way, you can prepare most used ingredients in bulk using larger containers or prepare multiple pans that can be retrieved and dropped into the well in seconds for quicker replenishment.
Some refrigerated prep tables have both drawers and cabinets to give you more storage flexibility.
Refrigerated prep tables can have one to four doors or two to six drawers. Some cabinets are larger than others, so even longer width prep tables can have two instead of three, resulting in larger compartments.
Rear-mounted or side-mounted?
The refrigeration system of an air-cooled prep table is either mounted on the back or the side. Rear-mounted units will need additional space for them to properly ventilate. These prep tables do not hold full sheet pans because of this placement. If this is a dealbreaker for you, choose a raised rail model instead.
Rear-mounted systems are usually front-breathing units, which means they won't need as much space for clearance since the vents are pulling and expelling air from the front and bottom. They can be set flush against the wall or built into existing counters to create a seamless look.
Side-mounted compressors, which are common on pizza prep tables, provide convenient access to components during cleaning and service without having to move them. Casters also make this easier for prep tables with rear-mounted systems.
You will find that most salad/sandwich prep tables are rear-mounted.
Proper ventilation allows for better air circulation, so the presence of additional vents should be a plus.

General Features
Most refrigerated prep tables have the same set of features.
Self-closing mechanisms

prevent drawers or cabinet drawers from being accidentally left open, which can compromise the freshness of the products and overwork the system. They can be

spring-loaded or cartridge-type

.

Stay-open feature

keeps the door or drawers open when opened at a specific angle, typically at 90 degrees to aid in product loading and unloading.

Alarm

lets you know when the door has been left open for more than 30 seconds.

Digital controls with a LED display

allow you to set and monitor temperature easily.

Self-cleaning condensers

unburden the operator from having to clean the condenser frequently. This feature brushes the condenser daily to prevent dust from accumulating. Thanks to this, you won't have to worry about unexpected breakdowns, performance drops, or equipment damage.

Magnetic one-piece gaskets

around the doors and drawers keep the cold air inside for consistent temperature performance and optimal product freshness. The design of the gasket makes it easy to remove and replace when they wear out.

Automatic evaporator fan motor delay

is another feature in many refrigerated prep tables designed to prevent condensation.

Heavy-duty casters

that are

5" or 6" in diameter are standard in most prep tables.
Drain pans

to catch condensate from the evaporator, helping keep the surrounding area clean and hazard-free.
Special Features and Accessories
There are also optional features and accessories that you can get to customize your prep table to your specific needs. Some of these features come standard, depending on the model you are purchasing.
Expansion valve refrigeration system

is more responsive to temperature changes to improve cooling precision. It usually comes with a hot gas defrost for added energy efficiency.

Adaptive defrost

improves the performance of the prep table and ensures food safety by defrosting

only as needed

. This is by detecting ice in the evaporator or refrigerant lines. This prevents the risk of overworking the system to keep temperatures safe for the contents, which happens during wrongly timed defrost, such as during peak hours, when the doors or drawers are frequently accessed.

Compressor location can be changed to better fit your layout. Most units will have the compressor on the right, but you can have it moved to the left prior to ordering.
Sneeze guards made of either plexiglass or acrylic prevent the spread of bacteria and germs by acting as a protective barrier between the ingredients and customers.
Shorter casters at 2.75" or 3" diameter allow mobility but also keep the height ideal for your layout. Alternatively, you can also swap the casters for steel legs.
Door locks protect contents from tampering.
Door hinging is usually right-
Overshelves with one or two tiers for additional storage to commonly used supplies.
Pot racks for keeping cookware stored and easily accessible.
Service shelf provide a space for staff to place prepared orders for easy access of the wait staff.
Adaptor bars can help you fit pan sizes other than the standard pan size on the prep table.
Crumb catchers make it easy to get rid of food debris to keep the prep table and the surrounding area effortlessly clean.
Interior lights provide clear visibility of the interior so you can find ingredients quickly.
External thermometers can be dial or digital to ensure the operating temperature stays safe and conducive for the products.
Tray slides
Electric condensate evaporators are ideal for use in humid environments. Sometimes labelled as automatic condensate evaporator, they are designed to evaporate the condensate to maintain clean and safe surroundings.
Hot gas defrost is also a non-electric evaporator option that directs the refrigerant line that runs between the compressor and condenser to the drain pan, at that point it is already hot enough to evaporate the condensate.
Door frame heaters are also perfect for refrigerated prep tables set in humid locations. THey ensure no condensate forms around the doors.
Adjustable pan slides can be swapped for shelves to hold sheet pans inside the base
Pan lids can be made of glass or insulated. Glass lids are great for display prep tables because they keep the ingredients visible while still providing cover. Insulated lids allow you to store ingredients in the pan rail overnight.
Pre-assembled drawer cages provide a quick and convenient way to convert a cabinet into a drawer.