Equipment for Your Breakfast Buffet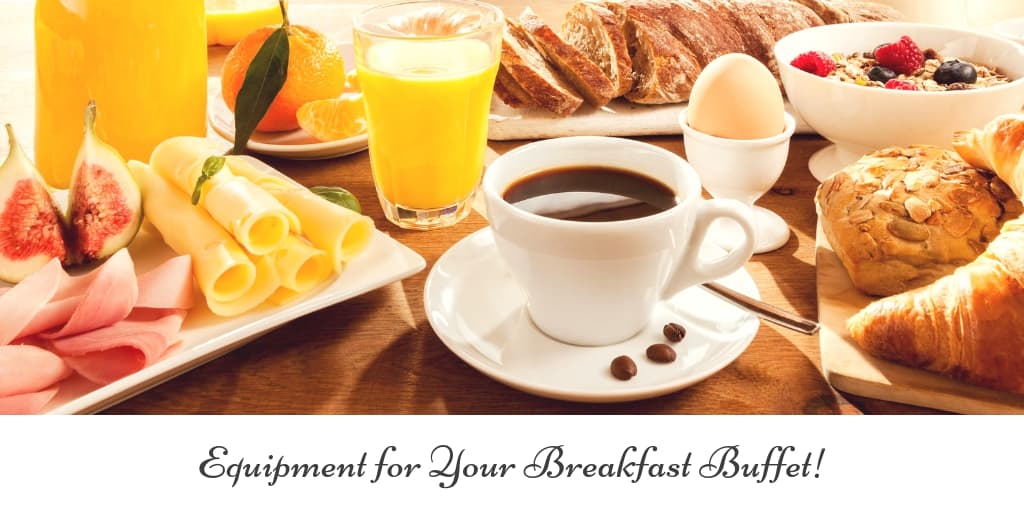 Breakfast is the most important meal of the day - or so some say. While not everyone may agree, it certainly has become a keystone in the diets of many Americans. Restaurants, hotels, hospitals, and every other foodservice outlet imaginable has responded to this demand by providing either a free breakfast (such as is with many hotels), supplying breakfast platters, or providing breakfast buffet lines. Breakfast buffets can be similar to a catering lineup, and many of the pieces of equipment you'd use on a regular basis either in your everyday food preparations or catering can be used for breakfast as well. But breakfast brings with it a few special demands in your equipment.
When consumers think of breakfast items, they may conjure images of coffee, bagels, and eggs (to name a few). A continental breakfast generally consists of juices, hot beverages like coffee, and bread products like bagels or pastries. More goes into the set-up of continental breakfasts than you may first think, though. If your breakfast lineup consists of the typical breakfast items one would think of, then here are a few pieces of equipment that are a must-have:
Buffet Warmer: Eggs, bacon, sausage - any of your hot food items that are prepared in the kitchen will need to retain their safe temperatures on the buffet line.

Cold Food Pans: Think: fruits and other chilled items. These items will quickly spoil if left at room temperature, and cold food pans help them to stay fresh for longer when on your buffet line!

Syrup Warmer: For pancakes, french toast, and other hot items that may need syrup, these warmers are ideal at the end of the line.

Conveyor Toaster: These are a great high-volume way to toast large quantities of items quickly.

Coffee Brewer: You can't forget the coffee, especially for sleepy customers first thing in the morning. Leave sugar packets for those who take their coffee to-go as well.

Beverage Dispenser: Orange juice - or any other fresh juice for that matter - is easily dispensed on demand at a self-serve beverage station.

Serving Tray: Unless you're solely serving plated breakfast items, serving trays are essential to helping guests gather their breakfasts for easy carrying.

Pastry Tongs: These can be great for the breakfast pastries and bread items in your buffet. Ensure that each item has its own tong in order to prevent cross-contamination and to keep guests from using their hands.

Oatmeal Dispenser: Oatmeal is a well-known breakfast item, and oatmeal dispensers help to cut out the mess while being easily accessible.
A great breakfast can be supported by great equipment. Your guests will thank you, and your workflow can be eased with the right selection! Our specialists and designers can work with your situation to find the right equipment for the job.