Buying Guide: How to Choose Buffet Equipment for Your Foodservice Establishment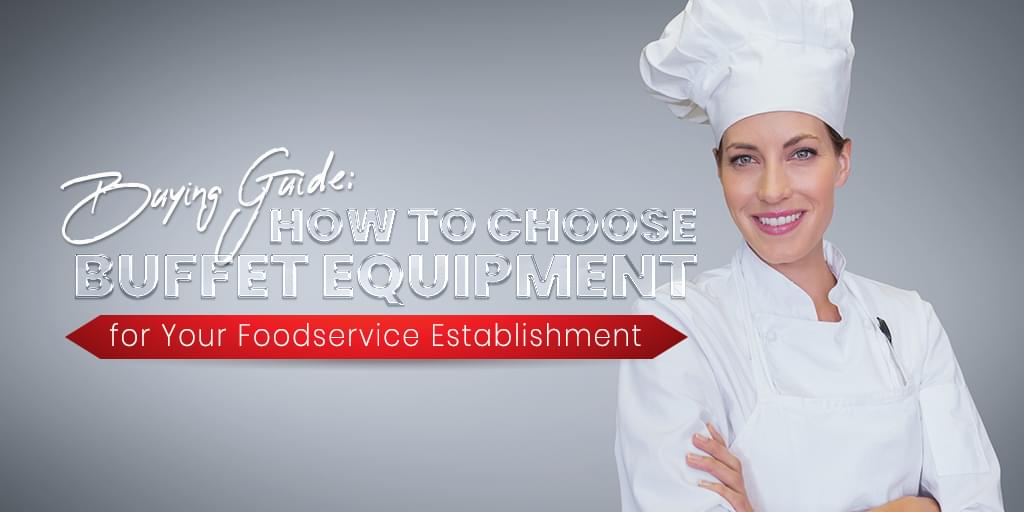 The key to a successful buffet setup is having the equipment to keep bulk amounts of foods both looking, tasting and - in essence - being fresh. Small catering companies to large banquet restaurants and even cafeterias will all need to look into investing in specialty buffet equipment in addition to many of the standard pieces of kitchen equipment you'll already have in back-of-the-house.
Keeping Foods Hot
Drop-In Food Warmers and Bain Marie
Drop-in warming pans and soup warmers keep cooked items at food safe temperatures for extended periods of time, making them great for your hot food on the buffet lineup! Just don't forget to invest in the right size pans to match your warmer.
Best for hot foods on buffet line soups, hot food pans.
Syrup Warmers
If you've got a breakfast or brunch buffet, then a syrup warmer is practically essential to your waffle/pancake station. This keeps syrups in one location (in the warmer at the buffet line) and off the tables.
Best for breakfast and brunch buffets, near the waffle/pancake station, continental breakfasts at hotels.
Warming Drawers
Dinner Rolls? Buns for sandwiches? If you've got any type of pre-made bread that would benefit from a heated drawer, then investing in a warming drawer for your buffet line will keep customers satisfied.
Best for a sandwich station, dinner rolls.
Heat Lamps
These can be purchased as stand-alone units or purchased one-by-one to be installed on the underside of the top of a buffet line for more customization.
Best for customizable heated sections of the buffet line, select pans requiring heat.
Buffet Warmers
These units can be purchased with or without a sneeze guard, and like drop-in units, you'll also need to invest in appropriate pans (although sizing is less of an issue since the pans sit atop a platform rather than in pre-made wells).
Best hot foods on the buffet line, hot food pans.
Heated Shelf
Heated shelves add a layer of portability, bringing the properties of a buffet warmer in a transportable piece of equipment. Place items like pizza or warm pastries on the shelf to keep them at optimal temperatures on your buffet line. You can also place pans atop the shelf like a buffet warmer, depending on your needs.
Best for pizza, stromboli, warm pastries, hot food pans.
Keeping Foods Cold
Cold Food Pans and Serving Counter
As the cold version of a drop-in warmer, cold food pans are built with insulation and drop into a specialty unit to keep foods at optimal, cold temperatures for extended periods of time, making it ideal for salad bars and other chilled food areas of your buffet.
Best for salad bars, dessert bars (puddings etc).
Refrigerated Cabinets
If you're offering pre-packaged items or beverages, then a refrigerated cabinet can keep these items out of the way and stored at food safe, refrigerated temperatures within access of customers at your buffet.
Best for boxed juices and milk for breakfast/brunch buffets, chilled beverages, pre-packaged food items.
Serving Counters
Carving Counters
Equipped with a heating lamp and cutting board, carving counters are ideal for fresh slices of meats. Simply keep one of your staff members on duty to slice meat on demand for guests to give a more upscale feel to the buffet line.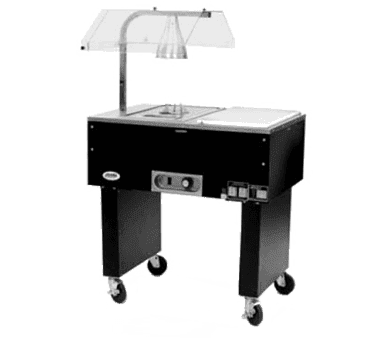 Beverage Serving Counter
Store fruits, beverages, and other pre-packaged items for easy-access. These are ideal for hotels and other self-serve, casual buffets where guests could potentially take select grab-n-go items with them when they leave.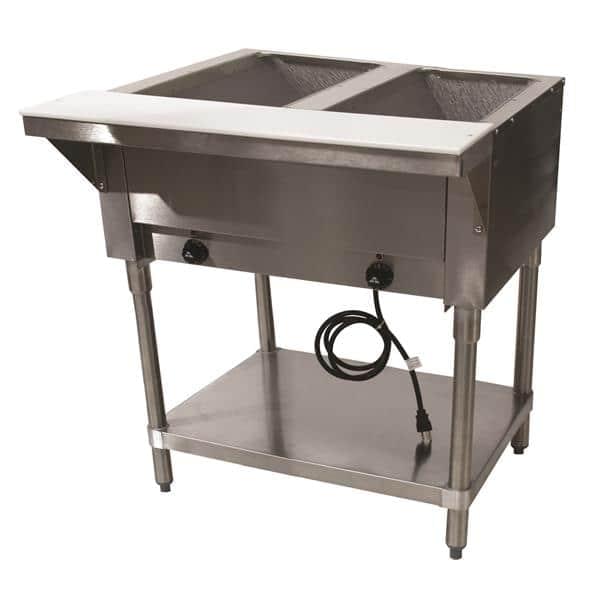 Frost Top Counter
Mechanically-cooled frost top counters have more versatility than drop-in units, as you can simply place items in containers atop the flat surface. Consider this for salad bar areas and small, individual servings of desserts that can be easily picked up (such as tarts or karafs of creme brulee).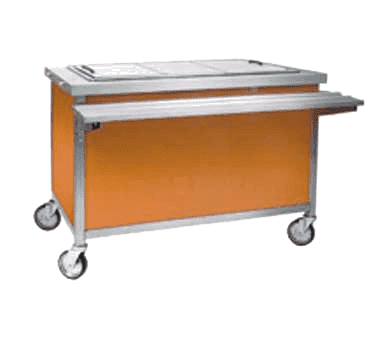 Ice Cream Serving Counter
The bonus at the end of a lunch or dinner buffet is an ice cream bar where guests can either serve themselves scoops of fresh, hard ice cream or an employee can be stationed to service customers who need assistance.
Remember that serving counters accessible by guests should be equipped with sneeze guards to ensure that foods stay free from airborne germs propelled by sneezes and coughs.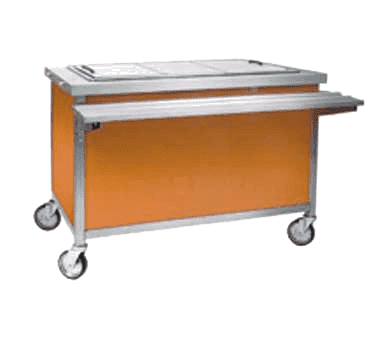 Non-Food Dispensing Equipment
Consider that buffets also require some type of self-service retrieval of non-food items such as plates, utensils, and cups that are easy for guests to access and can regulate without the need for constant employee supervision.
Utensil Holders
Utensil holders come in a variety of shapes and sizes, but the thing to keep in mind is that you'll want enough compartments in your utensil holder to be able to service all of your guests multiple times during peak hours, as they tend to use more than one of each utensil during the course of a meal (one spoon for food and one for stirring coffee or one fork for savory and one for sweets, for instance).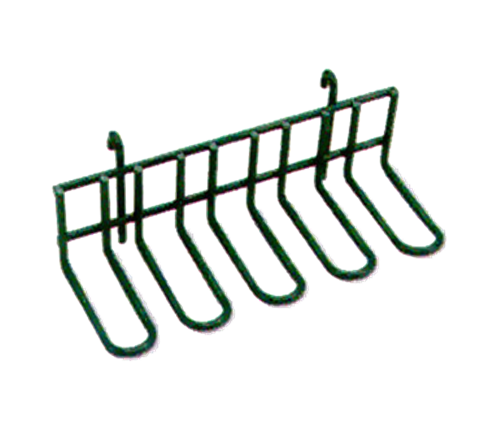 Plate Dispenser
Spring loaded or otherwise, a plate dispenser is essential to safe stacking of available and clean plate wear for guests to easily access at the beginning of the buffet line. Keep in mind that food safety standards typically require guests to get a new plate for every new visit to the buffet, so you'll want to ensure that you're purchasing plate dispensers that can accommodate more than enough plates to serve your guests two or three times over during peak hours.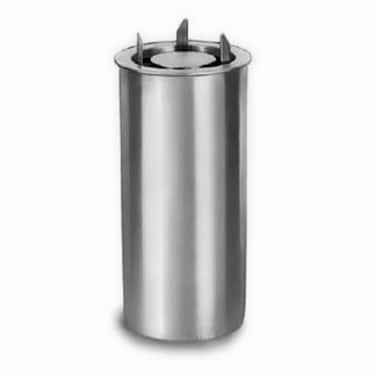 Tray Rack
These racks store trays in a manner that lifts remaining available trays up to an easily-accessible level for guests. Purchase tray racks in a variety of sizes to again accommodate enough trays to serve your guests during your busiest hours.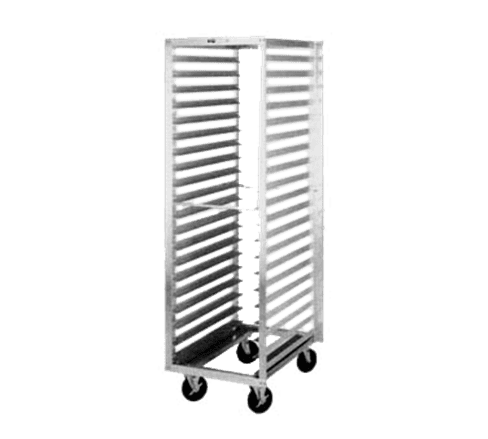 Additional Items for Consideration…
While large pieces of equipment are essential to a buffet setup that caters to rushes in crowds and self-service styles, there are many smaller appliances and features to also take a look at for purchasing: