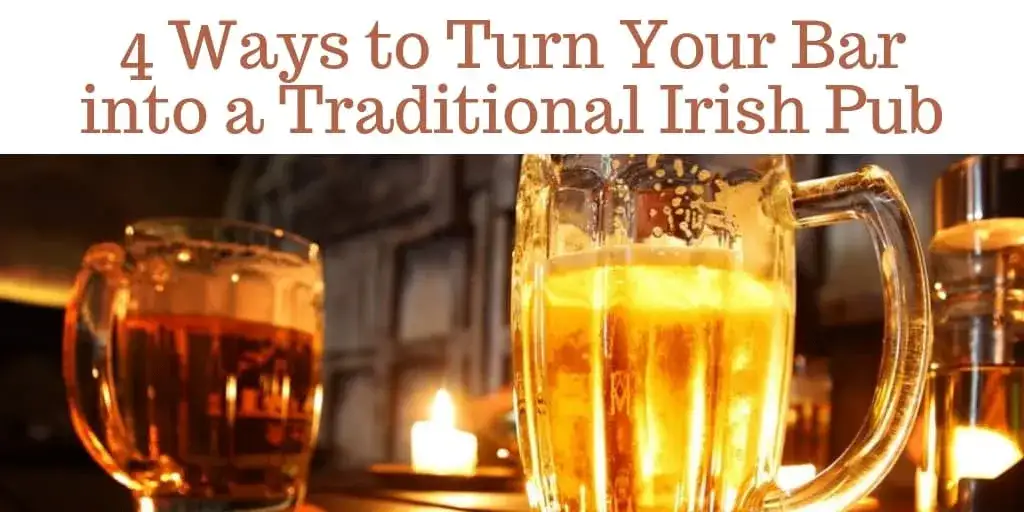 4 Ways to Turn Your Bar into a Traditional Irish Pub
In Ireland, pubs are an essential part of the Irish social scene. They are not just bars; they are social places where people gather to drink, converse, have lunch, make friends, and take a break. Irish pubs tend to offer a warm, cozy, and welcoming atmosphere where you can feel like you are in your home-away-from-home. Because of all of these reasons, it is very common that people wish to turn their bars into traditional Irish pubs.
Offered below, are several detailed tips for turning your bar into a traditional Irish pub:
1.General Appearance

Paint the walls a rich brown shade that is medium-to-dark in color. For accent paint colors in the room, choose green and neutral colors, such as white or cream.

For a bit of extra pub-like appearance, consider adding a dark wood paneling along the lower half of the walls, and then replace the doors to match the wall paneling.

Lastly, install dark hard wood floors - perhaps a little bit distressed, even - for an authentic Irish pub-style appearance.
2. Furniture

Similar to the general appearance of the bar, the furniture in your bar should be dark, as well. In addition, all of your chairs and bar stools should be made of authentic wood.

For the bar stools, choose a tall, dark style to match the rest of your bar. Bar stools without backs on them have the most Irish pub feel to them.

Set up small seating areas that include large chairs and wooden tables. Consider oversized, brown leather arm chairs for this area to add to the Irish pub atmosphere. You may want to add some additional entertainment to this seating area, such as wooden chess sets, a traditional dartboard, or even a television.
3. Wall Art and Decorative Pieces

When deciding on decoration to resemble an authentic Irish pub, remember that showing off Irish heritage with cultural memorabilia is key. This may include Irish symbols such as shamrocks and Celtic symbols, Irish slogans, Irish alcoholic beverage displays, and Irish maps and flags. The flag of Ireland should be placed as a main focal point in the bar.

Irish pubs usually also include dim lighting, with a variety of wooden signs and neon lights.

Old, framed black and white family photos would be perfect to set up around the bar, either hung on the walls, or displayed on shelves.

Exhibit any favorite Irish musicians, artists, sports teams, locations, or landmarks. Framed newspaper articles or photos are a great option for doing this.
4. Extras
Stained-glass windows would certainly create more of an Irish pub feel.

Consider installing a large mirror behind the bar, and even adding the name of your bar to the top of the mirror.

If you have room, consider adding a piano for additional music and entertainment for your customers.
Turning your bar into a traditional Irish pub is an excellent idea, and may even be very beneficial for business. Consider these tips when remodeling your bar, for a fun and easy way to reach your goals.