Evolving Hospital Food Service Trends in a Changing World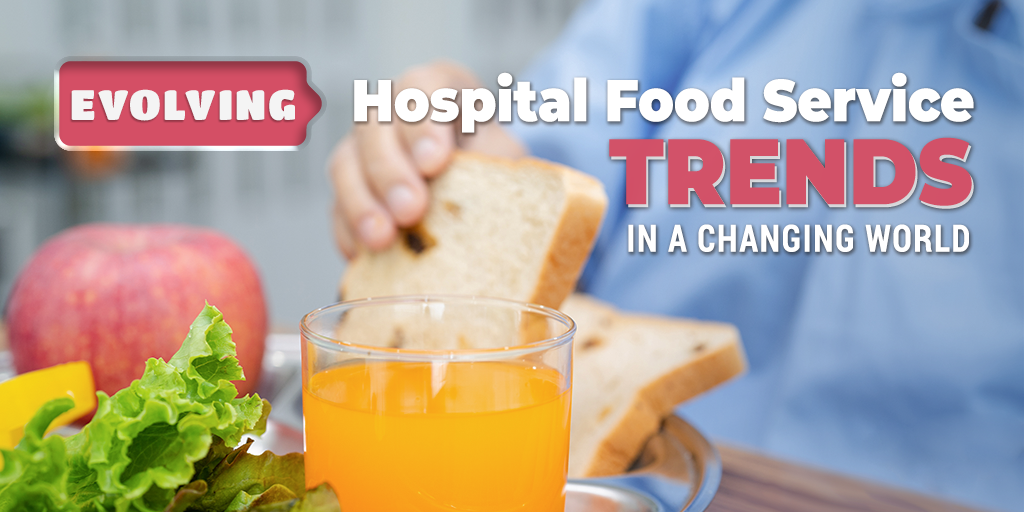 With the worst of the COVID-19 pandemic seemingly behind us, the food service industry is slowly inching towards pre-pandemic levels of operation. This is especially true of the healthcare food service where increasing patient admissions are fueling the industry's recovery. With the change in existing protocols and revisions in daily practices across hospitals, it's important to keep track of the ever-evolving hospital food service trends to ensure you can provide quality food to both patients and healthcare workers.
Though early data for the year 2021 suggests healthcare utilization remains below pre-pandemic levels, the expected return of elective medical procedures is bound to drive healthcare food service and its recovery.
Current Issues Plaguing Healthcare Food Service
Staffing issues continue to dominate the healthcare food service industry following the pandemic. With a limited number of workers on the team, staffing has been kept to a bare minimum in several institutions. Staffing shortages are also accentuated by social distancing protocols still in place. This has restricted in-person dining and delivery systems across healthcare facilities in the country. Over 81% of healthcare food service providers reported that staffing shortages and illness were the prime challenges faced during the pandemic. The same survey also reports that most hospital food service operators are operating with either less than ten or less than twenty-five staff members at any given instant.
Moving forward, the rise in hospital service acquisition will necessitate staffing at pre-pandemic levels. However, the COVID-19 pandemic has taught workforce managers to utilize staff and plan for contingencies beforehand in ways never thought of before. The experience during this period has been essential to administrators that are at the forefront of healthcare food service trends and on-field operations.
Growth & Hospital Food Service Trends
Hospitals rely on a variety of factors that drive the in-house food service industry. Businesses count on visitors coming to see their dear ones as they make up a sizable portion of customers at hospital cafeterias and eateries. The restrictions on visitation have continued well into 2021, and have hampered the growth of the industry. While the expected growth rate is yet to reach pre-2020 levels, business owners are optimistic. This is corroborated by vaccination programs in full swing and a considerable reduction in the number of infections.
Despite short-term negative growth in health care food service and its associated equipment industry, these sectors are poised to grow and register a net growth of over 1.6 billion dollars by 2025. A compounded annual growth rate of over 3% will drive recovery, and the healthcare food service niche is bound to recover strongly in the coming years.
Patient Services & Value-based Healthcare
One of the prime areas of focus concerning hospital food service is patient services and satisfaction. Though food delivery to in-patients took quite a hit during the pandemic, most of it is inching back to normal with the return of tray delivery and service. With the resumption of delivery, an already burdened nursing staff has one less concern to cater to. The prevalence and use of disposable trays, utensils, and cutlery is an important element in developing healthcare food service trends. Guidelines for institutional food service operators given by the CDC are still very much in place, and several business owners are willing to make a permanent switch. The restrictions have helped business owners realize that handling chinaware is more time and resource-intensive than the disposable alternatives.
Hospital food service strategists are also utilizing lessons learned from value-based healthcare approaches to drive patient satisfaction. With a variety of conditions that are impacted by dietary choices, hospitals and nutritionists are actively incentivizing meal kits. These options are especially important for patients being cared for at home or in dedicated facilities. Though initial sales dropped during the pandemic and dented short-term prospects, a renewed demand has pushed growth. Due to a reduction in the availability of other food service options like restaurants and delis, more people are relying on meal kits to cook in the confines of their kitchens. Hospitals have taken up these options quite seriously, an important aspect in the recovery of the meal kit market.
The Status of Retail in Healthcare Food Service
Due to overall staffing shortages, retail has been one of the worst-hit subsectors in the hospital food service industry. This has led to a steep drop in the availability of more exotic dishes and the general variety of items on hospital menus. Reduced outpatient footfall coupled with lower visitation appointments further drove the fall in demand. However, this crisis has led to a rethink among planners looking to maintain a semblance of sustainability in retail operations. To manage the fall in demand and mitigate the losses, several retail outlets have begun offering to-go meals that can be picked up while following all health advisories. This has allowed several staff members to pick up meals at the end of their shift, a steady source of business. The inclusion of easy payment methods has also had a better effect on retail sales, with hospitals offering digital and pay through payroll options for staff. Though recovery is a slow process, certain outlets have seen recovery up to 80% of pre-COVID levels, and look to incorporate renewed hospital food service trends into permanent practice going forward.

Technology in Hospital Food Service Operations
The integration of technology in healthcare has been transformational. This is especially the case with electronic health records. While there are several aspects to be ironed out, the past two years have shown how essential the technology is for improved healthcare delivery. Food and nutrition services within the healthcare setup are looking to integrate with existing electronic health record systems to streamline the approach to health and nutrition.
This is an approach that can improve patient comfort and satisfaction, while also streamlining services offered by auxiliary health workers according to this report. The same study also cites the ongoing inclusion of mobile-phone technology in making healthcare food services more accessible to both patients and staff alike. Mobile-based ordering systems can improve comfort, ease, and drive demand even beyond the pandemic.
Community & The Rise of Mini Markets
To help their staff stay safe and have the convenience of shopping for food within the comfort of their workplace, hospitals are deploying fully stocked mini-markets within their premises. This also helps food and nutrition services within the hospital meet some of its sustainability goals by offering healthy and unprocessed foods to its patrons. Whether it's produce or meal kits, mini markets have proven to be an enduring part of the healthcare food service industry. These markets source most of their material from local farmers and grocers, promoting a boost in the local economy. Success stories from this emerging hospital food service trend will provide a boost to several local economies that require a pick-me-up in times affected by low growth rates and demand deficiencies.
The Demand for Plant-based Food & An Increase in Health-awareness
With the AMA calling for more plant-based options in hospital menus and the active removal of processed meat, more hospitals are looking at including plant-based foods than ever before. This is compounded by an increased rate of patient awareness and health-conscious attitudes shown by the general population. The COVID-19 pandemic only furthered these understandings and has pushed hospitals to actively work toward including healthy, sustainable, and nutritious food in their menus. Organizations like the Coalition for Plant-based Foods in Hospitals make this easy by offering a variety of solutions. More hospitals and physicians are embracing and actively promoting the 'food as medicine & a key contributor to health' philosophy.
This is marked by organizations like this one that provide advisories on specialized plant-based meal plans for patients suffering from chronic conditions. Clean nutrition sourced from plant-based options will contribute greatly to specific diet plans crafted by nutritionists in the years to come.
The Outlook
With a rapid transformation in the way things are done at the hospital, it is only obvious that the healthcare food service industry saw its due share of change too. This has led to several recalibrations and a renewed approach to help provide optimal nutrition to patients and healthcare workers. This period of flux, exacerbated by the pandemic, and the subsequent economic slowdown, has led to several emerging hospital food service trends crafted from learnings gained in the two years. Invaluable lessons gained from staffing restrictions, policy decisions, healthcare & nutrition research, along with awareness will push forward a renewed and sustainable growth for the industry in the near future.