Middleby Pizza Oven Buying Guide - The BEST Pizza Ovens For Your Restaurant or Pizzeria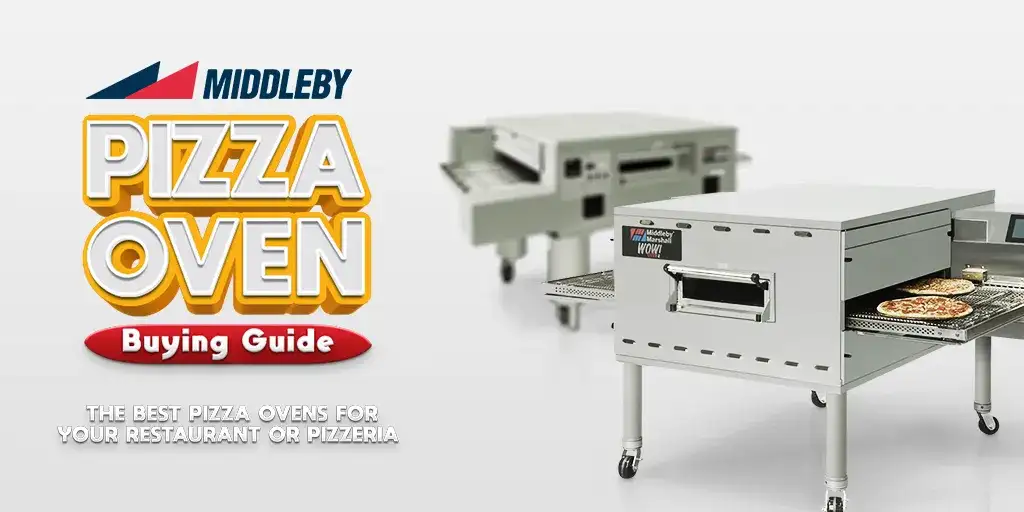 Pizzerias and pizza-delivery businesses have witnessed a surge in popularity. The reason is pizzas can deliver quality and quantity in a small package. Pizza ovens are an essential part of restaurants or pizzerias. Pizza ovens are ideal for making or preparing various pizza styles easily.
In this blog, we discuss the best pizza combinations to choose from, popular types of pizza, how pizza ovens work, and a pizza ovens size guide.

Pizza Ovens Size Guide
There are various Middleby Marshall pizza ovens you can opt for in your restaurant or pizzeria. You can opt for pizza ovens in various sizes. Ideally, you should purchase or opt for pizza ovens depending on the space in your kitchen. There is a negligible difference in terms of procurement cost and larger oven installation. You can opt for Middleby Marshall conveyor pizza ovens in 38", 40", 55", or 70" sizes. With these commercial pizza ovens, you can bake multiple pizza styles simultaneously.
Middleby Marshall 38" Pizza Ovens: Some Middleby Marshall ovens, like WOW! Impingement Plus ventless conveyor ovens come equipped with a 38" long cooking chamber. They measure 26" in width and 65" in length. Additionally, these come equipped with electronic controls and a stainless steel front. For smaller food service establishments or pizzerias, you can opt for Middleby Marshall 38" commercial conveyor style pizza ovens.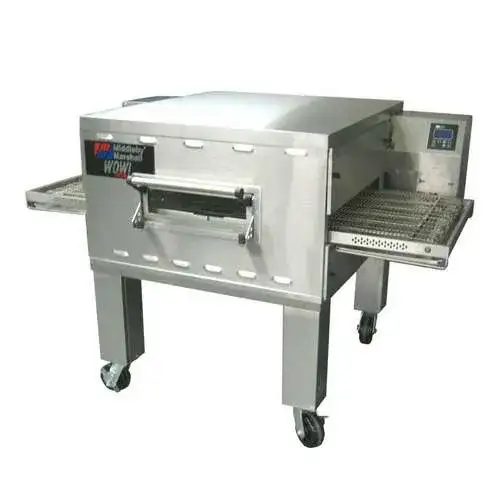 Middleby Marshall 40" Pizza Ovens: A traditional impingement conveyor-style pizza oven comes with a 40" cook chamber. These traditional 40" oven sizes are ideal for small to medium-sized pizzerias or restaurants. The 40" Middleby Marshall pizza ovens come equipped with high-quality casters, electronic controls, and stainless steel bodies.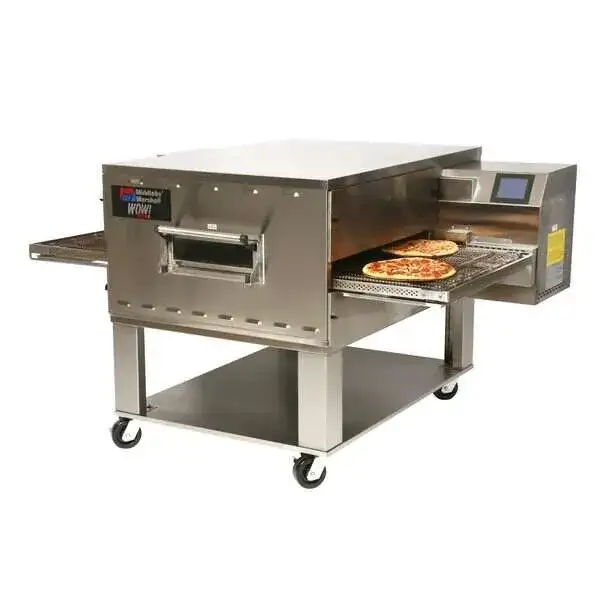 Middleby Marshall 55" Pizza Ovens: You can opt for redirect gas-fired, single deck, 55" conveyor ovens for large volume pizzerias and food service establishments. You can bake large or oversized specialty pizza styles for your patrons with these high-quality ovens from Middleby Marshall. These additionally come equipped with microprocessor-controlled bake time, reversible conveyor direction, and front-loading window for easy operations.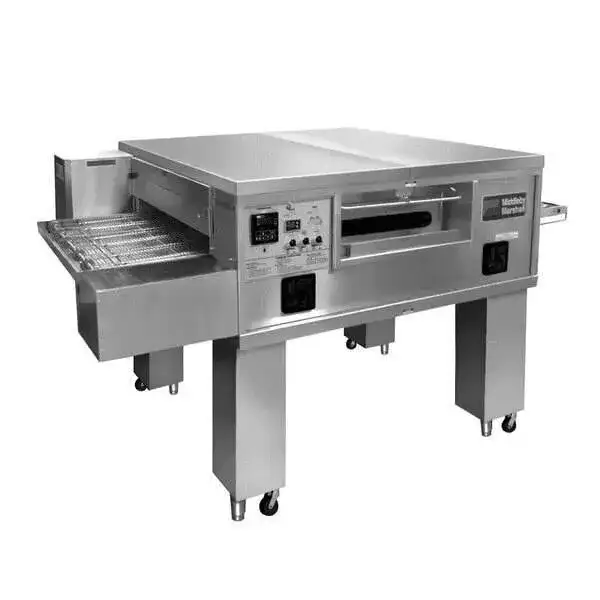 Middleby Marshall 70" Pizza Ovens: The WOW! Impingement Plus Conveyor ovens from Middleby Marshall come equipped with extra-large cooking compartments. These countertop, double-deck conveyor ovens come equipped with a 70" cooking chamber and measure 32" inch in width and 106" inch in length. These highly advanced conveyor ovens from Middleby Marshall have touch screen controls, a stainless steel front for durability, and high-quality casters for greater mobility.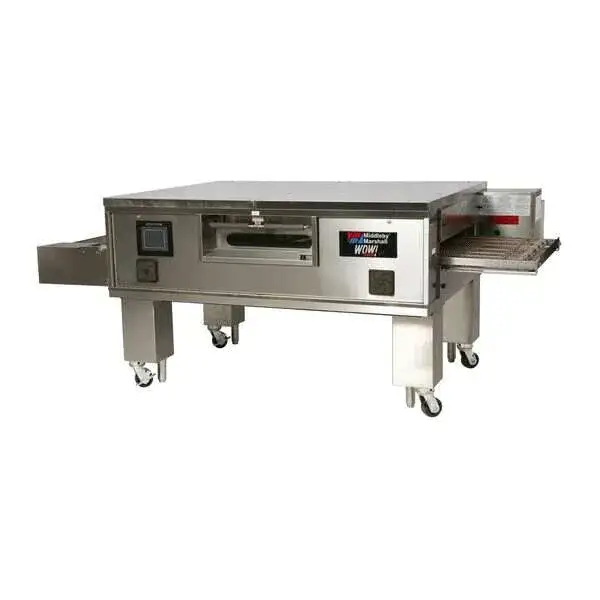 Popular Types of Pizza Styles
There are various types of pizzas that you can bake for your patrons. With Middleby Marshall's ventless conveyor-style pizza ovens, you can create various kinds of delicious pizzas for your patrons. Here we list some popular pizza types that pizza connoisseurs prefer.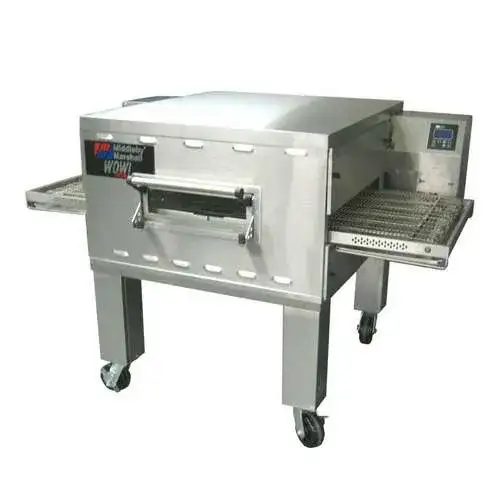 The Best Pizza Combinations
There are various pizza styles or pizza combinations to choose from for your pizzeria or foodservice establishment. With Turbochef high-end conveyor style units, you can cook various traditional or contemporary pizza styles for your patrons. Here we list popular combination pizzas that you can offer at your restaurant or pizzeria:
Hot Wing Pizza: Hot wing pizza is a contemporary pizza combination or pizza style. Chicken pizza is served with buffalo sauce, blue cheese, and bacon in this particular pizza combination.
Pepperoni and Sausage Combo Pizza: The pepperoni and sausage combo pizza is a traditional pizza style, where you can serve crisp pepperoni with tender sausages. You can serve various sausages to your patrons.
Supreme Pizzas: Supreme pizzas are a combination of various ingredients. You can create a superior combination with veggies or meat. To a supreme pizza, you can add pepperoni, sausages, peppers, pickles, mushrooms, onions, tomatoes, and other ingredients.
With the TurboChef Fire series of high-end pizza ovens, you can serve various traditional and contemporary pizza combinations or pizza styles. These come equipped with ventless cooking options that keep the kitchen air clean. The TurboChef series from Middleby is perfect for small to medium-sized pizzerias or restaurants.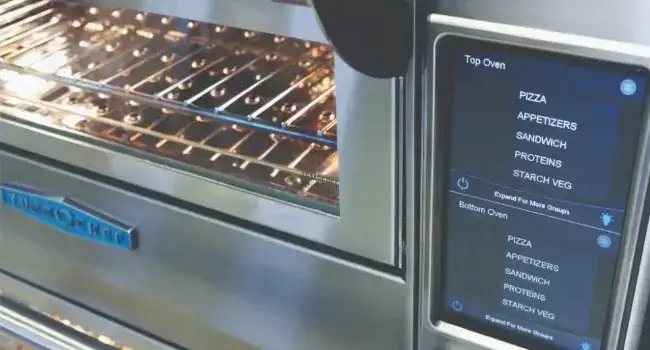 How Do Pizza Ovens Work
Pizza ovens cook or bake pizzas with radiant, conduction, or convection heat. These three primary types of heat exchange work simultaneously to provide a distinct taste or texture.
Radiant Heat:

The radiant heat comes from the actual heat or the heated surface. The heat is similar to a traditional oven broiler.

Conduction Heat:

In conduction heat, the heat is transferred between the substances in contact with each other. For example, the heat from the base of the cooking floor of the oven directly heats the pizza from below.

Convection Heat: Convection heat is derived from the heated air that circulates in the pizza oven. In most traditional pizza ovens, you can control the convection heat by opening or closing the pizza door depending upon your needs.
Contemporary conveyor-style ovens are highly efficient and bake pizzas in a short period. Middleby Marshall conveyor-style pizza ovens incorporate cutting-edge heating technologies. These conveyor-style pizza ovens are durable and can withstand hours of continuous usage. Middleby Marshall pizza ovens allow users to control the airflow inside the pizza cooking chamber to get the desired pizza style. Middleby Marshall uses patented aerodynamic heat movement and variable airflow technology for a hassle-free cooking process.
Middleby Marshall is an industry leader in commercial cooking equipment. They have revolutionized commercial cooking through high-quality commercial conveyor ovens perfect for high-volume food service establishments.